---
Crew
Director – Sarah Smith, Screenplay – Peter Baynham & Sarah Smith, Producer – Steve Peagram, Photography – Jericca Cleland, Music – Harry Gregson-Williams, Animation – Aardman Animation & Sony Pictures Imageworks, Visual Effects Supervisor – Doug Ikeler, Production Design – Yves Barre. Production Company – Aardman Animation/Sony Pictures Animation.
Voices
James McAvoy (Arthur Claus), Hugh Laurie (Steve Claus), Bill Nighy (Grandsanta), Jim Broadbent (Santa Claus), Ashley Jensen (Bryony), Imelda Staunton (Margaret Claus), Marc Wootton (Peter), Eva Longoria (Chief Da Silva), Laura Linney (North Pole Computer)
---
Plot
It is Christmas Eve at the North Pole. Due to the increase in the world's population, this has become a highly militarised operation with Santa's son Steve and an army of elves travelling the world in a large flying craft to deliver presents to all the households. Steve is hoping that his father will announce his retirement after the completion of the duties this year but Santa instead decides to stay on to Steve's annoyance. Ignored in all of this is Santa's younger, more gauche son Arthur who works in the mailroom. As everyone retires for the night, Arthur is horrified to discover that one child's present has been left behind – a bicycle that should go to Gwen Hines in Trelew, Wales. Steve seems disinterested in doing anything about this, citing that the statistics have been highly successful overall and one child is of insignificance. Arthur is horrified that Gwen will wake up and lose faith in the idea of Christmas when she finds nothing under the tree. When their father takes Steve's side, Arthur gets aid from his grandfather who shows him the traditional sleigh that was supposedly junked years ago. Powering the reindeer up with magic dust, he and Arthur set out to deliver Gwen's present, aided by a Bryony, a stowaway elf from the wrapping department. With only a few hours until dawn to deliver Gwen's present, the mission proceeds to go awry as they become lost, the sleigh is damaged, they lose reindeer and are pursued by the Air Force believing them to be a UFO.
---
I walked into the theatre to see Arthur Christmas with all of my prejudices raised against it. For one, there is my built-in resistance against Christmas fantasies. There are banal, insipid films pitched to simplistic feelgood emotions. Few of these are films of any substance or encompass a worldview that extends beyond American middle-class family audiences. My own sensibilities remain more with the darker world of The Nightmare Before Christmas (1993) – I'm not quite enmired enough in cynicism yet that I can hold up Bad Santa (2003) as a the paragon of what a Christmas film should be. To add to one's negative prejudices against Arthur Christmas, it was also packaged in 3D – the needless gimmick de jour that exists for no other purpose than to gouge money from audiences. Furthermore, before sitting to watch the film itself in Canadian theatres, I was forced to watch a videoclip from the soundtrack by the nauseating teen phenomenon of Justin Bieber – one that manages to conduct a rendition of the traditional Santa Claus is Coming to Town with added chorus lines of "shake it, shake it, baby."
On the plus side, Arthur Christmas does come from England's Aardman Animation who have a sterling reputation for their work in Claymation, beginning in the 1980s with the classic Wallace and Gromit shorts A Grand Day Out (1989), The Wrong Trousers (1993) and A Close Shave (1995). The success of these and other works allowed Aardman to expand out onto cinema screens in the 00s with Chicken Run (2000) and Wallace & Gromit in The Curse of the Were-Rabbit (2005). Starting with Flushed Away (2006), Aardman sacrificed Claymation for standard 2D computer-drawn animation. This is clearly a commercial move with computer-drawn animation being far less costly and time-consuming than having to animate three-dimensional clay models one frame at a time. Indeed, with Arthur Christmas, the majority of the animation chores have been handed over to Sony Pictures Animation, the US-based studio that also made Open Season (2006), Surf's Up (2007), Cloudy With a Chance of Meatballs (2009), Hotel Transylvania (2012), The Emoji Movie (2017), Peter Rabbit (2018), The Mitchells vs the Machines (2021), Vivo (2021) and Wish Dragon (2021). With the subsequent The Pirates! Band of Misfits (2012), Aardman took the path of combining both computer-drawn animation and Claymation but did make a turn to regular stop-motion animation with Shaun the Sheep Movie (2015), Early Man (2018) and Farmageddon (2019).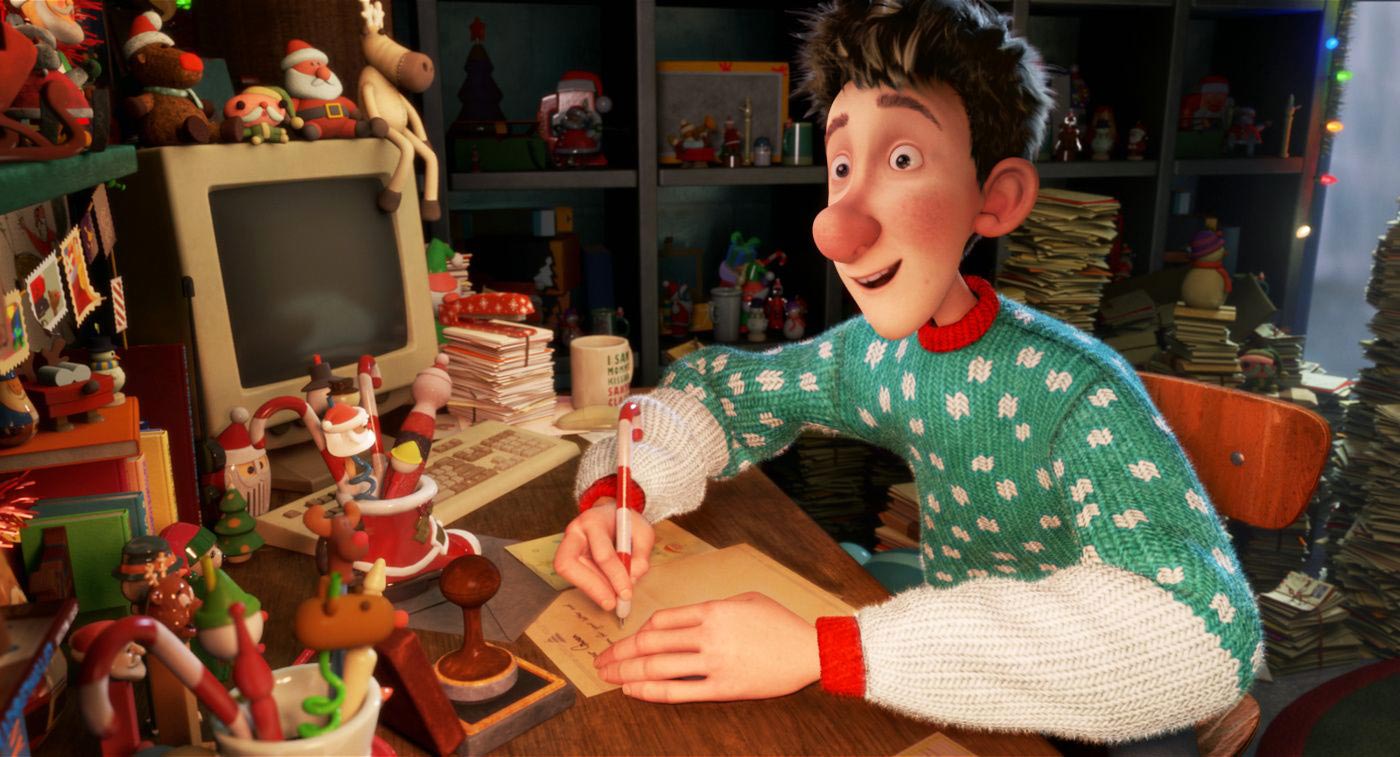 All of that said, I enjoyed Arthur Christmas a good deal more than any of the above listed reasons would have led me to expect. The plot of Santa's sibling or son/daughter having to prove themselves in the eye of the old man is one that has served a good many other Christmas films – see the insipid likes of Single Santa Seeks Mrs. Claus (2004), Santa and Sons & Daughter! (2005), Santa Baby (2006) and Fred Claus (2007) – but Arthur Christmas still manages to get surprising mileage out of it.
The film starts to win you over from its opening scenes where Arthur receives a card from Gwen asking vexatious logical questions about Santa and the North Pole – how so many presents are delivered to all the houses of the world over one night, or "If you live at the North Pole, how come I don't see you on Google Earth?" The scenes with Stephen and the army of elves going into operation commando-styled to deliver the presents en masse are a positively hilarious playing out of the answers to these questions.
Flushed Away was a relative disappointment for Aardman, where their distinctive humour seemed to disappear inside the machinery of the formula animated film. The good news is that this emerges far more successfully in Arthur Christmas. It comes with a sparkly wit and remembers to bring back the characteristically oddball and distinctly British characters that inhabit Aardman's Wallace and Gromit shorts. There is an appealing eccentricity that runs through the film – running gags about a stolen brass mock reindeer, Arthur's light-up fluffy Christmas slippers and especially about Bryony's wrapping skills. At one point, the film sports the appealingly surreal image of elephants, lions and zebras all rising up into the air off the African veldt after being sprinkled with magic dust.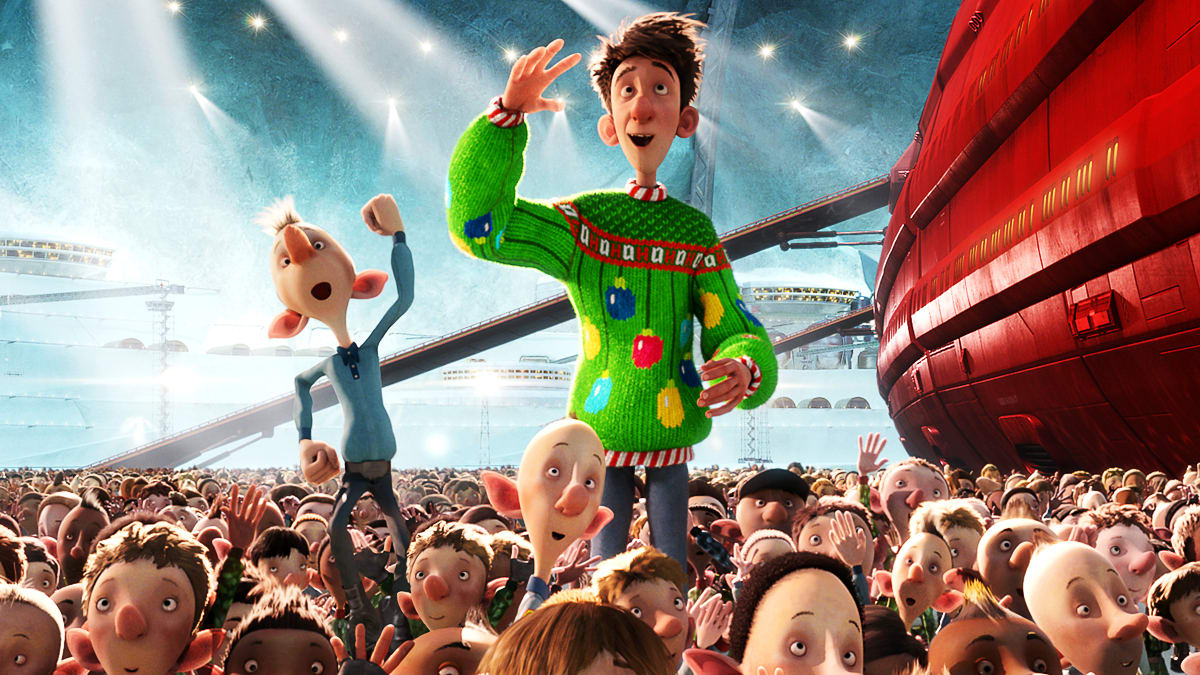 Director Sarah Smith, previously a British tv comedy producer, most notably with the tv series The League of Gentlemen (1999-2002), packs an enormous creativity and energy into every corner of the film. Moreover, the themes that the film champions – of the unassuming underdog winning out over the anonymous mass efficiency process, the belief that everybody counts, the importance of tradition, of Arthur finally being accepted by his father – are delivered in heart-warming ways without the film ever managing a misstep into the mawkish feelgood sentimentality of most other Christmas films.
The film boasts an amazing voice cast. James McAvoy makes for a perfect Arthur, while the unmistakeable tones of Hugh Laurie come through as the pompously clipped Steve. Bill Nighy has a great deal of fun sinking his teeth into the role of Grandsanta, while Imelda Staunton makes a perfectly proper and matter-of-fact Mrs Santa. That said, the winning voice performance comes from Ashley Jensen, probably better known as the female lead and unrequited love interest in Ricky Gervais's Extras (2005-7), whose Scottish wrapping elf manages to steal the entire film.
---
---