---
Crew
Director – Carl Reiner, Screenplay – Phil Alden Robinson, Adaptation – Henry Olek, Based on the Novel Me Two by Ed Davis, Producer – Stephen Friedman, Photography – Richard Kline, Music – Patrick Williams, Special Effects – Bruce Steinhemmer, Production Design – Edward Carfagno. Production Company – Kings Road.
Cast
Steve Martin (Roger Cobb), Lily Tomlin (Edwina Cutwater), Victoria Tennant (Terry Hoskins), Richard Libertini (Prakalasa), Dana Elcar (Burton Schuyler), Jason Bernard (Ty Watell), Madolyn Smith (Peggy Schuyler), Eric Christmas (Fred Hoskins)
---
Plot
Lawyer Roger Cobb is sent to write a will for dying, bedridden millionairess Edwina Cutwater. Edwina wishes to leave her inheritance to Terry Hoskins, her stableman's daughter, so that Edwina's Tibetan guru Prakalasa can transfer Edwina's soul into Terry's body and she can live life freely once again. Roger thinks her crazy and walks out just as Edwina starts to expire. Prakalasa successfully removes Edwina's soul only to drop the bowl containing it out the window onto Roger's head. Roger comes around to now find Edwina inside his body, whereupon a fight for control ensues. They eventually agree to stop fighting in order to return Edwina to Terry's body, only to find that Terry, now heir to Edwina's wealth, has no intention of relinquishing her own body.
---
For a film that one enters with absolutely no expectations, All Of Me is a real delight to discover. There were a good many of these frothy identity exchange comedies made during the 1940s – the likes of Turnabout (1940) and Vice Versa (1947). More than anything though, All Of Me seems to have been inspired more by the early 1980s spate of drag comedies – Tootsie (1982) and Victor/Victoria (1982). For once, All Of Me is a comedy of warm and genuinely funny proportions.
All Of Me was the fourth, last and best team-up of Steve Martin and director Carl Reiner – following The Jerk (1979), Dead Men Don't Wear Plaid (1982) and The Man with Two Brains (1983). Steve Martin has the time of his life and All Of Me is one of the best things he has ever done. [Roxanne (1987) is the other]. Martin manages a particularly funny stride that has half of his body male, the other female. There are scenes standing in the middle of streets wrestling with himself or trying to teach his half-female body to urinate that are hysterical – at one point, he gets to play a man pretending to be a woman being a man in a courtroom scene that is truly amazing. It is one of the great comedy performances.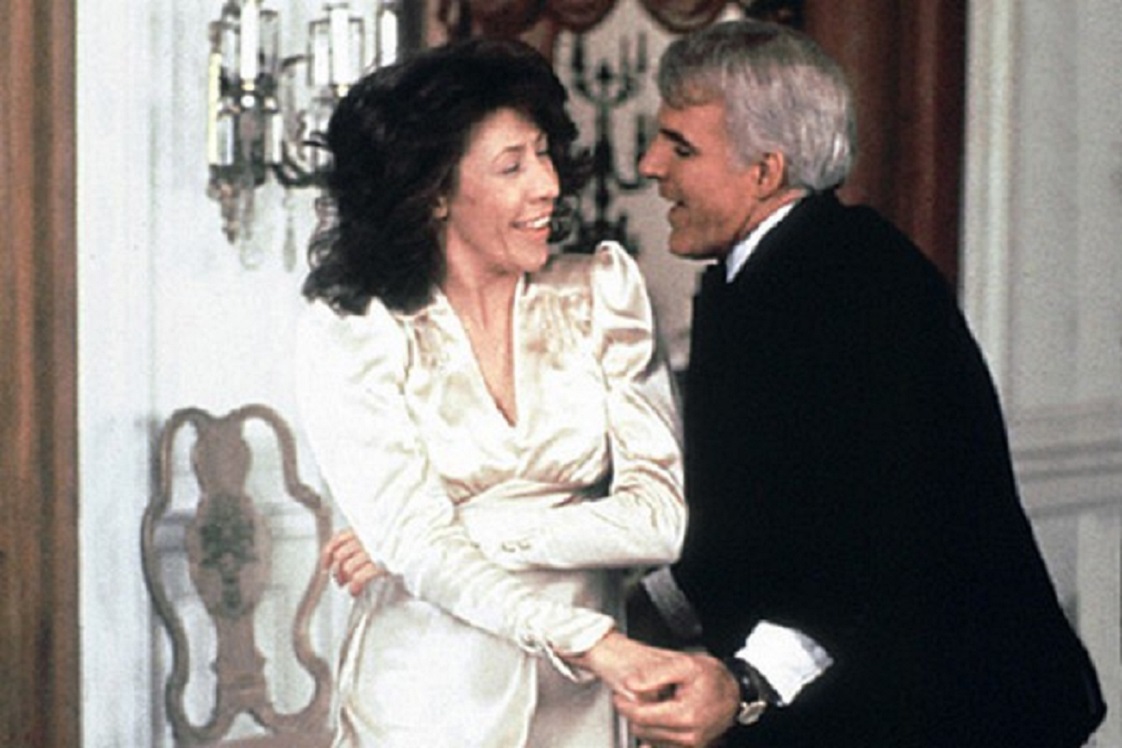 The rest of the casting is an absolute marvel too – Lily Tomlin gives the film its heart to some surprise. Madolyn Smith has a wonderful line in fake orgasms; Richard Libertini is good as the ding-dong guru; even a usually awful actress like Victoria Tennant (Mrs Martin) is persuaded to act (well) towards the better good and deliver a nicely calculated villainous turn. Nor does the hilarity end when the film does – Steve Martin and Lily Tomlin do a wonderfully crazy dance number accompanied by the nutty Richard Libertini on piano – right through the end credits. The film is a delight – this author left with sore ribs.
Carl Reiner is a celebrated comedy actor from the early days of television who later became a director. Reiner has made several forays into genre material with the George Burns Almighty fantasy Oh, God! (1977), Steve Martin's brain transplant comedy The Man with Two Brains (1983) and the psycho-thriller spoof Fatal Instinct (1993). These days he is best known as the father of director/producer Rob Reiner. Screenwriter Phil Alden Robinson later developed an impressive directorial career of his own with the marvellous fantasy film Field of Dreams (1989) and the techno-thriller Sneakers (1992).
---
---