---
Crew
Director – James Frawley, Screenplay – Jack Burns & Jerry Juhl, Producers – Jim Henson & Frank Oz, Photography – Isidore Mankofksy, Music – Paul Williams, Music Arranged and Conducted by Ian Freeborn-Smith, Special Effects – Robbie Knott, Production Design – Joel Schiller. Production Company – ITC.
Cast
Charles Durning (Doc Hopper), Mel Brooks (Professor Max Krassman), Orson Welles (Lew Lord), Paul Williams (Pianist), Dom de Luise (Bernie), James Coburn (El Sleazo Owner), Telly Savalas (El Sleazo Hood), Richard Pryor (Balloon Vendor), Steve Martin (Insolent Waiter), Bob Hope (Ice Cream Vendor), Milton Berle (Mad Man Mooney), Elliott Gould (Beauty Contest MC), Madeline Kahn (El Sleazo Patron), Cloris Leachman (Secretary), Carol Kane (Myth), Edgar Bergen (Himself), Austin Pendleton (Max)
Muppet Performers
Jim Henson (Kermit/Rowlf/Dr Teeth/Waldorf), Frank Oz (Miss Piggy/Fozzie Bear/Animal/Sam the Eagle), Jerry Nelson (Floyd Pepper/Crazy Harry/Robin the Frog/Lew Zealand), Richard Hunt (Scooter/Statler/Sweetums/Janice/Beaker), Dave Golez (The Great Gonzo/Zoot/Dr Bernard Honeydew)
---
Plot
Kermit the Frog is discovered by a talent agent playing banjo in the Florida swamps and told that he has promise. And so Kermit sets out for Hollywood to find fame and fortune. He is joined along the way by a bizarre menagerie of creatures, including Fozzie Bear and the romantically inclined Miss Piggy. He is also followed by fast food chain magnate Doc Hopper who is determined to enlist Kermit as spokesman for his frog-leg burgers. As Doc Hopper employs all means underhand to suborn Kermit, including abducting Miss Piggy, Kermit must make a choice between stopping Hopper and dashing the other Muppets dreams of the big time.
---
The Muppets were one of the unique phenomena of the late 1970s/early 1980s. The Muppets are inextricably linked with the name of their creator Jim Henson. Growing up in Greenville, Mississippi, the young Henson was a fan of puppeteers like Edgar Bergen and The Gumby Show. He was eventually inspired to fashion a puppet of his own, purportedly out of his mother's raincoat. This was Kermit the Frog. Kermit made his first appearance on tv in The Steve Allen Show in 1956. Jim Henson had meanwhile graduated school in Washington and started his own puppetry show Sam and Friends (1955-61), where Kermit soon started making regular appearances. Henson dubbed his creations The Muppets – a concatenation of puppet and marionette. Henson steadily gained fame – one non-Muppet short he created, Timepiece (1965), won an Academy Award.
Jim Henson's calling came with the inauguration of PBS's children's series Sesame Street (1969– ). It was there that Henson created famous characters such as Big Bird, Oscar the Grouch, Bert and Ernie, the Cookie Monster and of course Fozzie Bear. After the success of Sesame Street, Henson tried to launch the Muppets with several tv specials – Hey Cinderella! (1968), Tales from Muppetland: The Frog Prince (1971), The Muppet Musicians of Bremen (1972), The Muppet Valentine Special (1974) and The Muppet Show: Sex and Violence (1974).
For the success that the Muppet phenomenon later found, it is a surprise that it took such difficulty to get the series off the ground. Oddly, the cause of this proved to be the very success of Sesame Street, after which Jim Henson found himself stuck with the children's television label. As a result, no American network displayed any interest in the idea of a primetime puppet show and Henson was only able to find the funding for The Muppet Show from British movie mogul Sir Lew Grade and his ITC Productions.
The Muppet Show hit the airwaves in 1977 and was a smash hit worldwide throughout the four seasons it remained on the air. The cleverness of the show was blending the puppetry with a sly sense of adult humour. Jim Henson borrowed the variety show format but ran it over a wittily meta-fictional series of gags that were slyly winking at the adults and perpetually knocking down the fourth wall. The success of the show was such that Jim Henson and the Muppets graced Time magazine, Miss Piggy was treated as though she were a real star and even underwent mock interviews by glamour magazines, while The Muppet Movie was selected as the recipient of that year's Royal Premiere in London.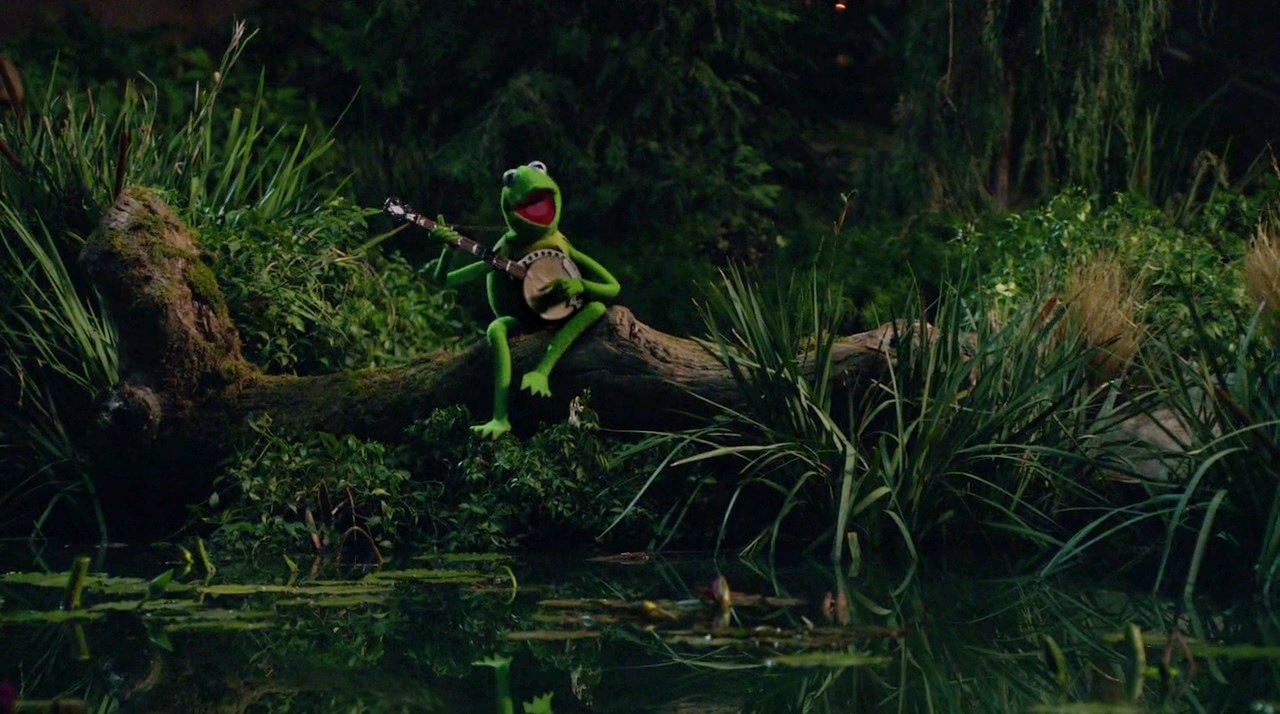 The Muppet Movie was the first and best of the Muppet films. The story very loosely follows Jim Henson's own journey from backwoods Mississippi to Hollywood success (and includes a homage to Sir Lew Grade, who backed The Muppet Show, in the form of Orson Welles's Lew Lord). There is a good deal of ebullient, easy energy to The Muppet Movie. There are few films that do such an effortless job in winning you over and leave all, adults and children alike, entertained.
Jim Henson defuses any comparison to the schmaltziness of Disney talking animals equivalent by planting tongue in cheek whenever the film comes close to taking itself too seriously. Here the film achieves a lunatically surreal level of movie genre parody – taking in everything from MGM musicals to detective flicks, westerns and WWII spy film – simply by having its manic menagerie of characters emerge through saloon swing-doors with frog legs outfitted in cowboy boots, or Kermit tied up with a lamp in front of his face just like a resistance hero in a WWII spy film and the like.
The one-liners come quick, fast and inventive and there are a good many bad puns – "Why are you hopping up and down?" "I'm hopping mad," or "If you were a chicken, you'd be impeck-able". The Muppet Movie also comes with a level of meta-fictional play that is highly amusing – at one point, the characters consult a copy of the screenplay to find out where the others are.
There is a sublimely magical nonchalance to the technical achievements that allow Muppets to ride bicycles, Fozzie to drive a Studebaker, Kermit to sit on a log playing banjo, and Kermit and Fozzie to conduct a dance routine. Paul Williams (a former guest star on the show) turns in a highly enjoyable soundtrack.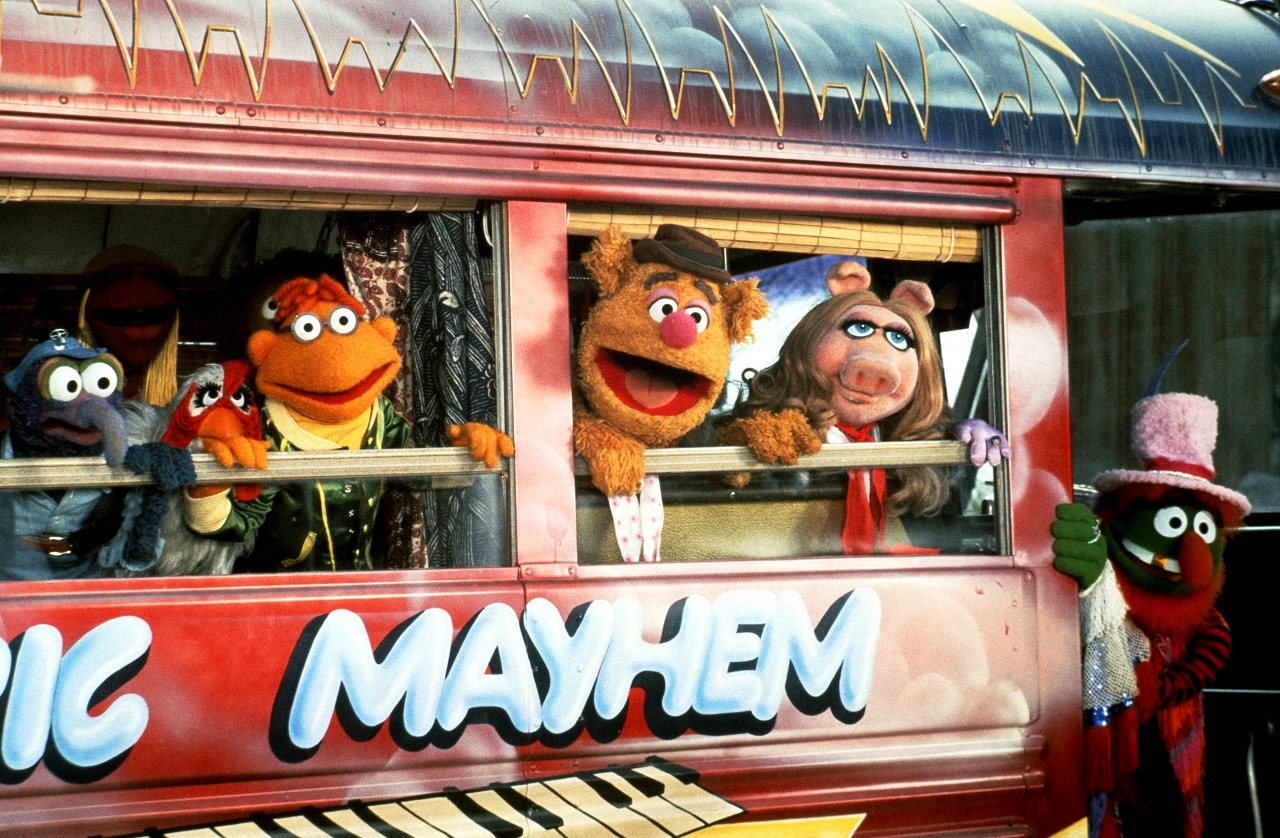 For The Muppet Movie, Jim Henson turned over directorial control to tv director James Frawley, whose one other major film up to that point was the disaster movie parody The Big Bus (1976). For the subsequent films, directorial duties would be handled by Henson and his creative partner Frank Oz. The subsequent Muppet films under Jim Henson were The Great Muppet Caper (1981), which is as good as this, and the so-so The Muppets Take Manhattan (1984). There was a further Muppet spinoff, the animated The Muppet Babies (1984-91), although Henson was only distantly connected to that, and a variety of tv specials.
After this point, Henson began to move away from Muppets. He and Frank Oz co-directed the stunning otherworld fantasy The Dark Crystal (1982) and then Henson solo-directed the muchly underrated Labyrinth (1986), both of which took the simple puppetry of the Muppets to new technical heights using full body suits and radio-controlled and animatronic creations. It is here that Jim Henson began to gain his creative wings as a potentially major fantasy director. Henson also produced The Storyteller (1987) and The Storyteller: The Greek Myths (1990) tv series', exquisitely beautiful full-flowered works of fantasy that used Henson Workshop creations to illustrate tales from myth; as well as Fraggle Rock (1983-8), another attempt to spin off a Muppet-styled series concerning a gonzo wainscot society, which never attained the success of his most famous creations, and the short-lived anthology series The Jim Henson Hour (1989). Henson also produced and provided the creatures for Nicolas Roeg's film adaptation of Roald Dahl's The Witches (1990). Henson's creative career was unfortunately cut short in 1990 when he died of streptococcal pneumonia.
Subsequent to Jim Henson's death, the Henson empire has been creatively inherited by his son Brian. Brain Henson oversaw three new Muppet movies – The Muppet Christmas Carol (1992), Muppet Treasure Island (1996) and Muppets from Space (1999), as well as a short-lived tv series revival Muppets Tonight (1996) and three tv movies It's a Very Merry Muppet Christmas Movie (2002), Kermit's Swamp Years (2002) and The Muppets' Wizard of Oz (2005). All of these are disappointingly lacking in any of the wit and sly audience in-joking that mark Jim Henson's Muppet films. Under Disney, the Muppets made another big screen revival with the more enjoyable The Muppets (2011) followed by Muppets Most Wanted (2014) and the tv series revival The Muppets (2015-6).
Under Brian Henson, Jim Henson Productions continues to produce other films and tv works, including tv series such as the delightful Dinosaurs (1991-3), the short-lived Dog City (1992) about a dog P.I., the abysmal Aliens in the Family (1996), Bear in the Big Blue House (1997-8), Brats of the Lost Nebula (1998), which was cancelled after only one episode, the popular space opera Farscape (1999-2003), and various fantasy mini-series such as Gulliver's Travels (1995) and Jack and the Beanstalk: The Real Story (2001), as well as occasional film ventures such as the Sesame Street spinoff The Adventures of Elmo in Grouchland (1999), Buddy (1997) in which Rene Russo raises a gorilla, Steve Barron's Rat (2000) about a man who transforms into a white rat, the talking dog film Good Boy! (2003), the fantasy film Five Children and It (2004) and the fine otherworld fantasy MirrorMask (2005). Jim Henson's Creature Workshop, the effects company that Henson founded in 1982, has also produced animatronic and puppet creations for numerous high profile films.
---
---