aka Kung Fu Soccer
(Siu Lam Juk Kau)
---
Crew
Director – Stephen Chow, Screenplay – Stephen Chow & Kan-Cheung Tsang, Producer – Kwok-fai Yung, Photography – Pak-huen Kwen & Ting Wo Kwong, Music – Raymond Wong, Visual Effects – Centro Digital Effects, Production Design – Kim Hung Ho. Production Company – Star Overseas/Universe Entertainment
Cast
Stephen Chow (Sing), Man Tat Ng (Fung), Vicki Zhao (Mui), Yut Fei Wong (Ironhead), Patrick Tse (Hung)
---
Plot
In Shanghai in 1981, the soccer player Fung deliberately misses a winning goal. Angry crowds beat him up and break his leg. In the present, Fung is crippled and broken and forced to work as a cleaner for the team manager Hung, who set him up in 1981 and now constantly humiliates him. Fung comes across Sing, a penniless former Shaolin monk, and is amazed by his kung fu moves. He persuades Sing to put his kung fu towards playing soccer. Sing recruits his former fellow monks, who have all fallen on hard times, to become a team. On the field, their startling martial acrobatics and flying moves propel the monks from nowhere to the top of the league. However, Hung prepares to outsmart them by producing his own drug-boosted Evil Team.
---
Stephen Chow is one of the great underrated comic geniuses of Hong Kong cinema. Chow has been appearing in various Hong Kong martial arts films and comedies as an actor since the late 1980s. However, Stephen Chow's real genius emerged when he became a director. He first appeared with the hilarious James Bond spoof From Beijing with Love (1994), which is much funnier than all of the Austin Powers films put together. He next went onto make the hysterical Forbidden City Cop (1996), an indescribable blend of James Bond, The X Files (1993-2002, 2016-8) and period martial arts fantasy; The God of Cookery (1996) about rivalry between television chefs; The King of Comedy (1999), a sharply observed spoof of the Hong Kong film industry; and the children's film CJ7 (2008), Journey to the West: Conquering the Demons (2013) and The Mermaid (2016), as well as producing Dragonball: Evolution (2009) and writing/producing Journey to the West: Demon Chapter (2017).
Chow stars in all his films and directs with a clever and sophisticated blend of comedy. He deserves far wider recognition than he has found so far. That almost seemed on the verge of happening with Shaolin Soccer, which was purchased by Miramax for its US release in 2002 and even given the benefit of a dubbed soundtrack and beefed-up digital effects but met with indifferent response. Although subsequent to this, Chow's Kung Fu Hustle (2004) became a huge crossover success in the West.
Stephen Chow is a particularly witty director. There is not that much of a plot to Shaolin Soccer – everything is geared towards the acrobatics on the field. Chow is sometimes raucous and one-note in his slapstick – the rest of the soccer team only exist as caricatured slapstick foils and there is a good deal of nonsense about people being smashed over the head with bottles and causing piles of toilet paper to fall over in the supermarket.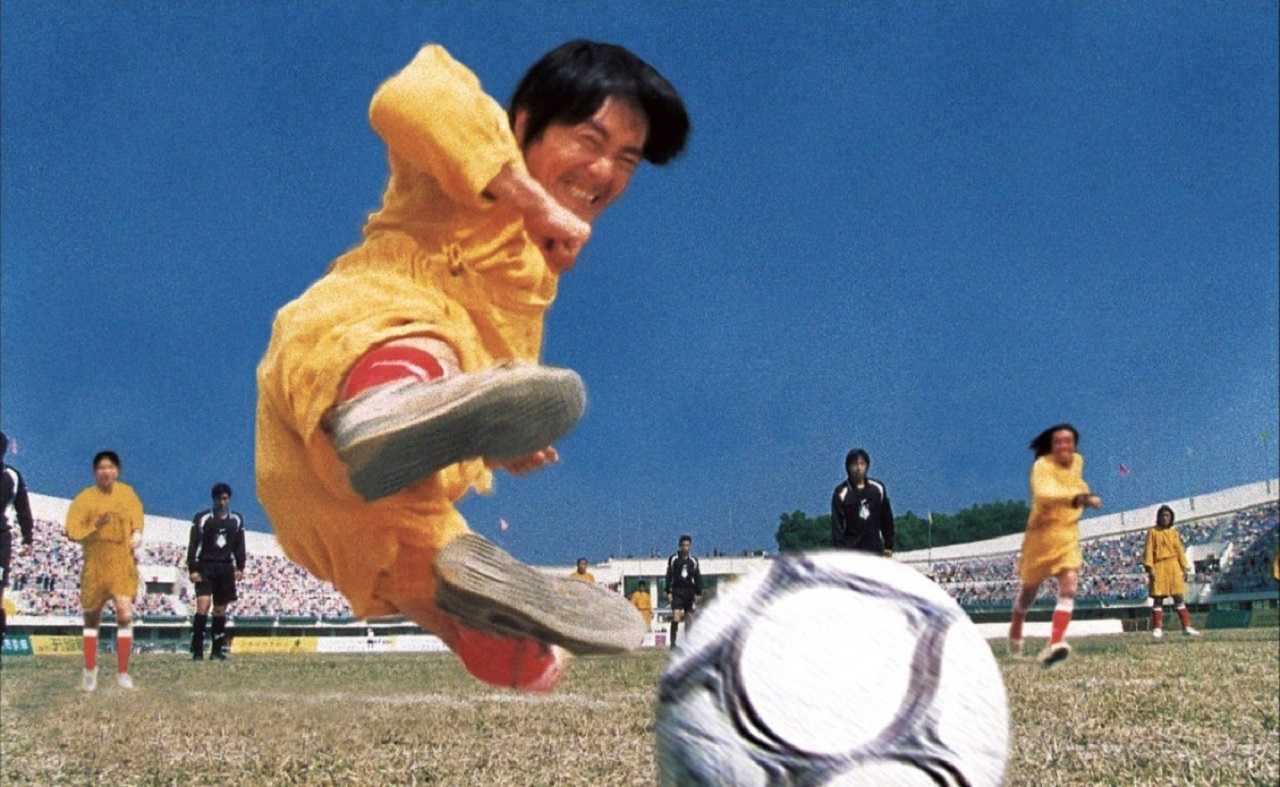 At other times, Chow can be riotously funny. The final image of the film where everybody in the street is using kung fu to kick cars into parks, avoid banana skins and the wonderfully droll image of a group of business men hopping like praying mantises onto a double-decker bus is particularly hysterical. Stephen Chow's films often come with a sophisticated level of meta-fiction – there is one hilarious little scene where everybody in the street outside the bakery starts forming into a musical number before the bad-tempered owner snaps "Get back to reality" at them.
However, it is the visuals that make Shaolin Soccer. In recent years Hollywood has imported the high-energy Hong Kong martial acrobatics in films such as The Matrix (1999) and Crouching Tiger, Hidden Dragon (2000) and a host of others that have copied such moves. In an about move, Stephen Chow borrows the moves back and returns them to Hong Kong cinema, albeit beefed up with a dash of CGI digital trickery. The film is filled with an array of flying mid-air kicks; people twirling in mid-air and on their heads; balls follow curving motions, impact with players and send them flying through the air; to wonderful images of the players frozen in meditation in mid-field.
The film eventually mounts to an amazing climactic game with balls travelling through the air so fast they burst into flame, impacting with goalies and sending the goalie flying twenty feet through the net, or burning their arms and shredding their clothes with the friction, causing shock waves to ripple through the ground, leaving furrows in the dirt, whipping up tornadoes, even causing demonic forces and Yin/Yang shadow shapes to form in the air above the field. Chow even throws in a wonderfully hysterical kung fu baking scene. The result is one of the most unabashedly enjoyable and unpretentiously entertaining film-going experiences one has had in some time.
---
---