---
Crew
Director – Hal Roach, Screenplay – Bernie Giler, John McClain & Mickell Novak, Additional Dialogue – Rian James, Based on the Novel by Thorne Smith, Photography (b&w) – Norbert Brodine, Music – Arthur Morton, Photographic Effects – Roy Seawright, Art Direction – Nicolai Remisoff. Production Company – Hal Roach Studios, Inc.
Cast
John Hubbard (Tim Willows), Carole Landis (Sally Willows), Adolphe Menjou (Phil Manning), William Gargan (Joel Clare), Donald Meek (Henry), Verree Teasdale (Laura Bannister), Mary Astor (Marion Manning), Joyce Compton (Irene Clare), Margaret Roach (Dixie Gale), Inez Courtney (Miss Edwards), Franklin Pangborn (Alan Pingboom), Berton Churchill (Julian Marlowe), Marjorie Main (Nora), Ray Turner (Mose), Murray Alper (Masseur), George Renavent (Mr Ram)
---
Plot
Tim Willows, one of the partners in a New York advertising firm, is constantly arguing with his wife Sally. One evening they are bickering about how little each understands the other. The argument occurs in front of the bust of an Indian idol that they call Mr Ram. Mr Ram comes to life to offer them the opportunity to exchange places. In the morning, the two of them wake up in each other's body. In Tim's body, Sally must navigate a day at the office where she causes chaos with her feminine ways, leaving everyone wondering if Tim has lost his mind. Meanwhile, Tim's masculine ways leave the servants bewildered and causes upset to Sally's society wives.
---
Turnabout was the very first bodyswap comedy. This has seen a number of variants since then. The genderswap theme (where a man and woman switch bodies) we have here has played out in films such as Dating the Enemy (1996), The Hot Chick (2002), It's a Boy Girl Thing (2006) and Never Say Die (2017), as well as lifted wholesale for the very last Star Trek episode Turnabout Intruder (1969). Other bodyswap films offer variants where people switch bodies between old and young, different races or human and animal. (For more detailed discussion of these see Bodyswap and Identity Exchange Films).
Between the late 1930s and throughout the 1940s, Hollywood produced a series of light fantasies involving angels, mischievous ghosts and bodyswaps – see Light Fantasy Films. The genre wasn't started but was popularised by the success of Topper (1937), an appealing screwball comedy in which a dull man's life is thrown into chaos by two ghostly companions. This was adapted from a 1931 novel by Thorne Smith (1892-1934). Smith was a popular writer and there were film adaptations of other works of his during this period with the likes of Night Life of the Gods (1935) wherein a magic ring brings a statue to life and the delightful romantic comedy I Married a Witch (1942), as well as two Topper sequels. Turnabout was based on Smith's 1931 novel of the same name.
Hal Roach (1892-1992) had become one of the top film producers of the silent era. Roach had had enormous success with his comedy shorts during the 1910s and 20s, working with Harold Lloyd (in his early days) and most notably discovering Laurel and Hardy and making the Our Gang shorts. Into the sound era, Roach fell out of popularity due to a misguided business venture with Mussolini's son prior to World War II. He recovered from this and had reasonable success towards the end of the 1930s producing classic films such as Topper, Captain Fury (1939) and Of Mice and Men (1939). In genre material, he also co-directed the prehistoric film One Million B.C. (1940).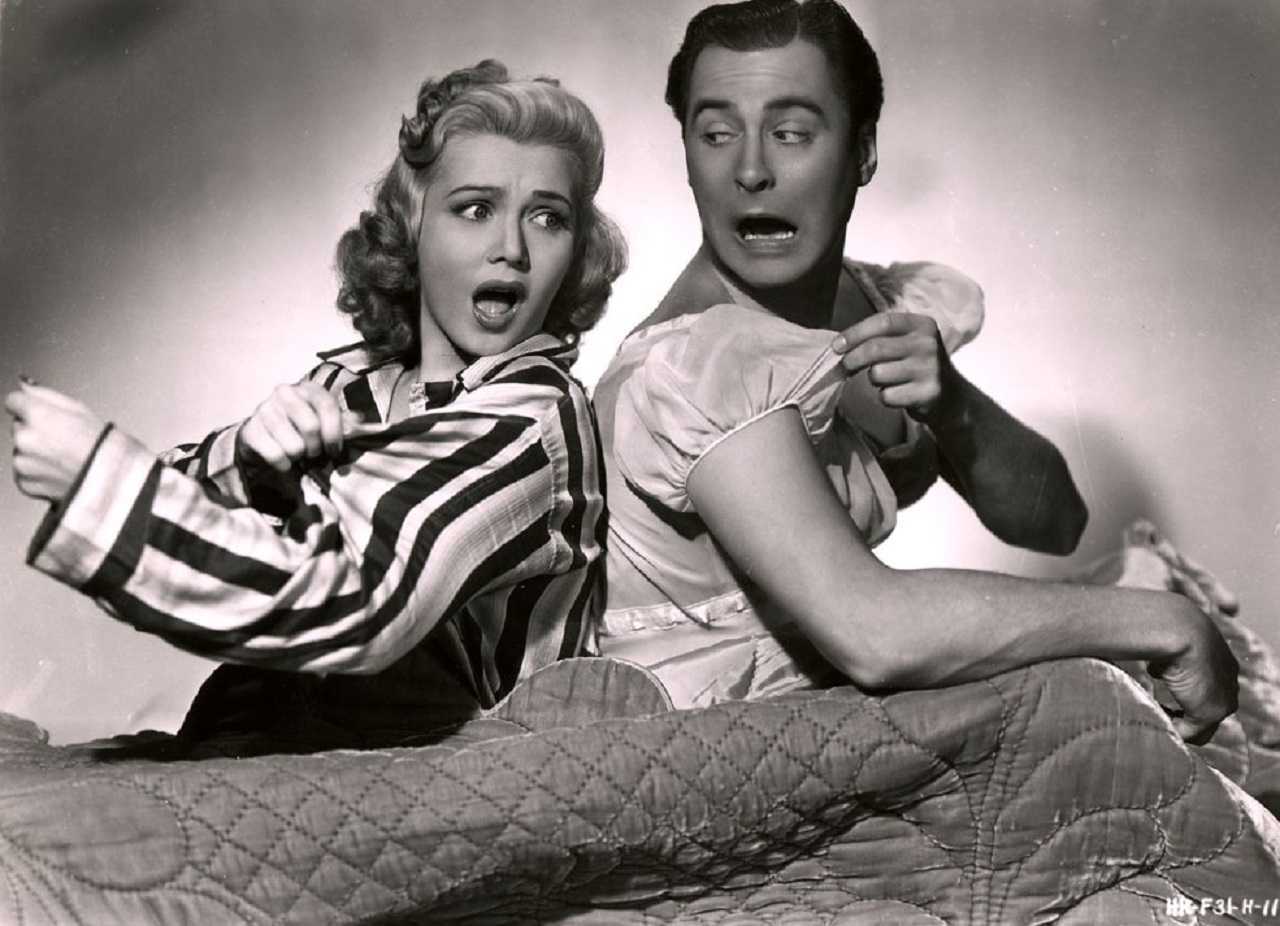 Turnabout emerges as a wonderfully energetic screwball comedy in fairly much the same vein as Topper. The opening scenes following John Hubbard through his usual day at the office are filled with a series of hilarious little vignettes – the new secretary, the judo trainer, the dipsomaniac business partner, the masseur snapping backs into position leaving people walking through the office with crooked necks. This is followed by equally madcap nonsense where John Hubbard goes to buy a puppy for wife Carole Landis but takes the wrong basket home from the pet store resulting in a baby bear loose in the apartment.
This is a film where enjoyment requires you tune out some views of the era. It is the trend these days in so-called Cancel Culture to erase works if they do not reflect modern attitudes, irrespective of any other value they might hold – this is not an outlook Moria agrees with. By all means have a discussion on why a work is offensive but everything else is censorship. Here though you do have to tune out the racially dubious caricature of the happy-go-luck African-American office boy (Ray Turner). It also ends up being one of those Hays Code films that mandates that married couples sleep in separate beds in order to remove even the slightest suggestion of sexuality from the public mind – not to mention that the film drops the section from Thorne Smith's book where the husband becomes pregnant while in the wife's body.
It is also a fantasy dependent on exaggerated gender caricatures. If you are willing to go with the film on this then Turnabout proves hilarious. Just the scenes of Sally in John Hubbard's body dealing with the masseur, judo trainer and hosiery salesman, or of Carole Landis's friends coming around to visit her and finding her climbing the flagpole, or of he/her casually ordering the manservant (Donald Meek) to attend while in the shower can have you laughing mercilessly.
The film was later remade as a short-lived sitcom Turnabout (1979) for NBC with John Shuck and Sharon Gless as the husband and wife, although this only lasted for seven episodes.
---
---