---
Crew
Director – Pete Docter, Co-Director – Kemp Powers, Screenplay – Pete Docter, Mike Jones & Kemp Powers, Producers – Dana Murray, Photography – Matt Aspbury & Ian Megibben, Music – Trent Reznor & Atticus Ross, Jazz Compositions – Jon Batiste, Visual Effects Supervisor – Michael Fong, Animation Supervisors – Jude Brownbill & Bobby Podesta, Production Design – Steve Pilcher. Production Company – Pixar Animation Studios.
Voices
Jamie Foxx (Joe Gardner), Tina Fey (22), Graham Norton (Moonwind), Rachel House (Terry), Richard Ayoade & Alice Braga (Jerry), Phylicia Rashad (Libba Gardner), Donnell Rawlings (Dez), Amir-Khalib Thompson aka Questlove (Lamont 'Curley' Baker), Angela Bassett (Dorothea Williams), Cora Champonnier (Connie), Margo Hall (Melba), Rhodessa Jones (Libby)
---
Plot
Joe Gardner is a high school music teacher in New York City where his passion since a young age has been jazz music. He receives a call from a former pupil asking him to audition for the celebrated jazz singer Dorothea Williams who needs a replacement piano player, which seems a dream come true for Joe. Joe aces the audition and is asked to turn up for the first performance that evening. However, as he leaves the venue, Joe does not look where he is going and falls through a sewer grate. He comes around to find he is in the afterlife on the stairway up into the white light. Fleeing back down the stairway, Joe ends up in the area where unborn souls are readied for their lives. His attempts to escape back to Earth so that he can play with Dorothea that night are thwarted. Joe steals a name badge and poses as one of the mentors who are appointed to help unborn souls find their spark of inspiration throughout life. He is assigned to 22, a soul who steadfastly refuses to be born and has had some of the most esteemed mentors give up on her. When 22 finds Joe's situation, she sets out to aid him. She takes him to The Zone, an area between life and the afterlife that people enter when they meditate. From there they are able to open a portal back to the living world. Joe and 22 fall through but this ends up with 22 inhabiting Joe's body and Joe in the body of a therapy cat. As 22 adjusts to having a living body, Joe tries to navigate her through the living world and the mishaps that occur along the way to make it to his performance that night. Meanwhile the afterlife bureaucrats have discovered that something is wrong and come to bring Joe back.
---
Pixar has been the leaders of the computer animation revolution ever since they made their first full-length film with Toy Story (1995). This was highly successful and Pixar followed with an unbroken string of hits throughout the late 1990s and 2000s with the likes of A Bug's Life (1998), Monsters, Inc. (2001), Finding Nemo (2003), The Incredibles (2004), Cars (2006), Ratatouille (2007), Wall-E (2008) and Up (2009).
The 2010s was a more mixed period for Pixar. It came after a lengthy battle with parent company Disney over regaining the sequel rights to their own characters. The upshot at the end of this was a series of lesser sequels such as Cars 2 (2011), Monsters University (2013), Cars 3 (2017) and Incredibles 2 (2018). During this time, original Pixar works became more sporadic and generally likeable but lesser shadows of the works they were producing a few years earlier with the likes of Brave (2012), The Good Dinosaur (2015), Coco (2017), Onward (2020), Luca (2021), Turning Red (2022) and Elemental (2023). Soul was Pixar's 23rd animated film, the first of theirs to premiere directly via streaming (all due to US theatrical closures over Corona Virus quarantine).
A few years ago, Pixar faced accusations that it had never featured a woman director and a female heroine in any of its films. This led to Brave, which felt an awkward attempt to appease these camps that satisfied nobody. Although I am not aware of any similar vocal campaign, Soul similarly feels like an attempt to head off the accusations about no Pixar film having featured a Black hero or had a Black director. As such, the film is largely centred around Black characters, features a substantially Black voice cast and a Black co-director/co-writer with Kemp Powers who had previously written five episodes of Star Trek: Discovery (2017- ) and the play One Night in Miami (2013), which was adapted into the film One Night in Miami (2020).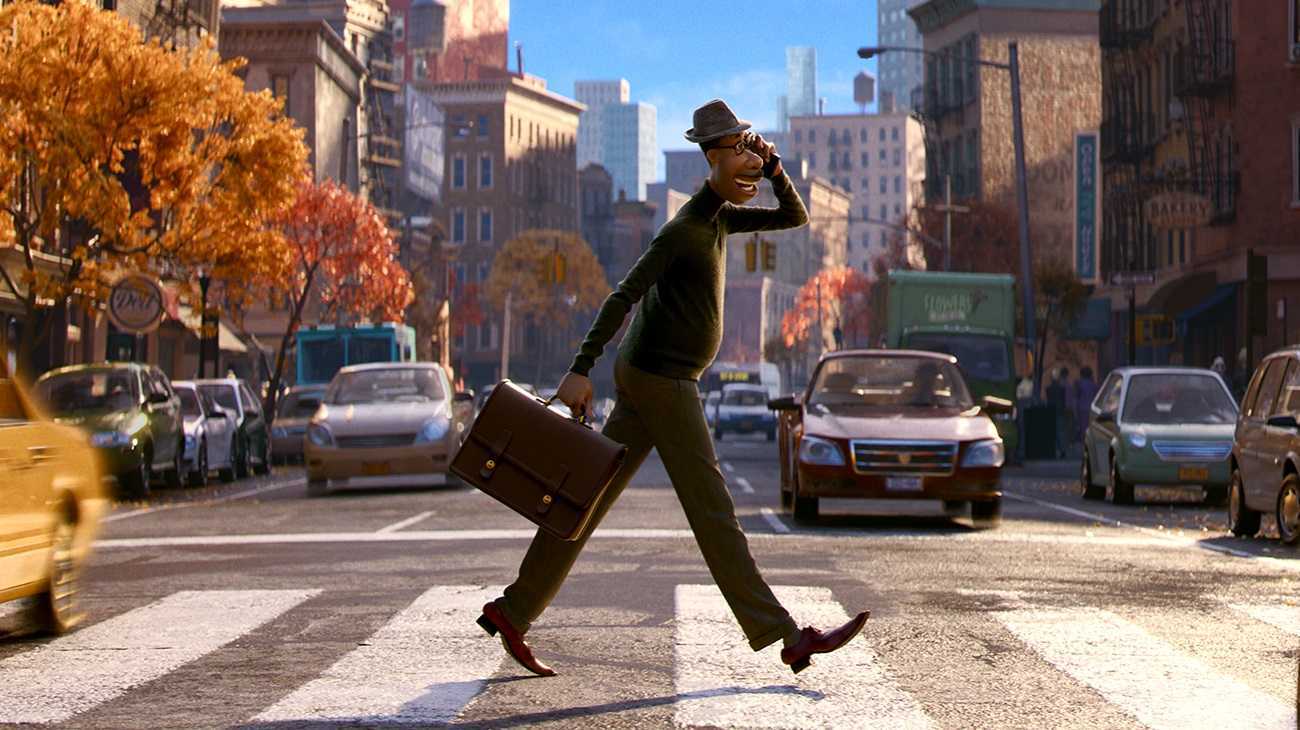 All of that said, just like it was the case with Brave, Soul often feels as though the boy's club at Pixar are reluctant to relinquish the reigns. Though Kemp Powers gets a co-director credit, the role of director is taken by the very white face of Pixar veteran Pete Docter, who also directed Monsters, Inc., Up and Inside Out. The strangest credit on the film is surely that of a score by Trent Reznor and Atticus Ross, better known as the principal forces behind Nine Inch Nails, the prime voices of alienated rage and angst throughout the 1990s/2000s, which surely seem the least likely people you would go to when making a family-friendly film centred around jazz (although there is a separate credit for the jazz compositions).
Soul comes with a head-scratching plot – jazz musician on the cusp of his big break ends up prematurely transported into the afterlife, teams up with an unborn soul to try and get back to his body for his big performance that night only to end up in the body of a cat. It reminds of the time during the early-mid 2000s where Disney were coming up with conceptually bizarre and head-scratching efforts such as The Emperor's New Groove (2000), Brother Bear (2003) and Chicken Little (2005) featuring respectively an Aztec emperor transformed into a llama, an Inuit warrior transformed into a bear and the talking animal fairytale mashed up with an alien invasion tale.
Soul's plot resembles something of the afterlife film Here Comes Mr Jordan (1941), remade as Heaven Can Wait (1978) and Down to Earth (2001), in which a boxer is prematurely taken up to Heaven by an overzealous angel and struggles to get back to compete in the big match while in another body. That maybe and something of Pete Docter's previous film Inside Out with its journey between a character and a misfit entity across an imaginary dreamscape.
That said, Soul is one of the best films to emerge in the uneven period of Pixar films from 2010 onwards. Particularly when the film gets Joe and 22 back down to Earth, which does not occur until nearly halfway into the film, it gets a great deal of amusing mileage out of the mismatched pairing of a novice soul trying to come to an understanding of a human body and the world for the first time and Joe stuck in the body of a cat. Equally, Pete Docter manages to find the sweet, often tearful moments that mark all the great Pixar films – the scenes where 22 manages to inspire Joe's frustrated student (with quotes from George Orwell no less!), connect with his barber and mother, or just some of the paeans to the beauties of ordinary life, and the saddening end where Joe bids goodbye to 22.
What one must also commend is Soul's attempt to portray a very different vision of The Afterlife. As in Inside Out, the film creates a uniquely designed world that leaves you with food for thought. (I am still trying to work out a day after watching the film whether the film's concept of unborn souls comes with an underlying Right to Life agenda or not – the film sits carefully on the edge of the debate ie. it never lets us see whether the souls enter the bodies at the point of conception or birth). What I did like was the film's attempts to break away from traditional visions of Heaven/Hell or angels standing about on fluffy clouds or even for that matter any type of prevailing Judaeo-Christian mythology. Instead of angels, we have heavenly entities that are an interesting array of abstract geometric shapes. The film also has something interesting things to say about creativity – that meditation and creative inspiration come from a thin zone that exists between the living world and the afterlife.
---