---
USA. 2008.
Crew
Director/Screenplay – Michel Gondry, Producers – George Bermann & Julie Fong, Photography – Ellen Kuras, Music – Jean-Michel Bernard, Music Supervisor – Linda Cohen, Visual Effects – Buf Compagnie (Supervisor – Fabrice Lagayette), Production Design – Dan Leigh. Production Company – Partizan Films.
Cast
Jack Black (Jerry), Mos Def (Mike), Melonie Diaz (Alma), Danny Glover (Elroy Fletcher), Mia Farrow (Miss Falewicz), Irv Gooch (Wilson), Chandler Parker (Craig), Arjay Smith (Manny), Quinton Aaron (Q), Gio Perez (Randy), Basia Rosas (Andrea), Tomasz Soltys (Carl), Sigourney Weaver (Ms Lawson)
---
Plot
In Passaic, New Jersey, Elroy Fletcher owns the videostore Be Kind Rewind, which he claims is the birthplace of jazz great Fats Waller. Elroy is being pressured by the city council to raze the property because he is unable to afford to bring it up to building standards. Elroy decides to go away on holiday and leaves the videostore in the charge of his assistant Mike. Mike is joined by his chaotic friend Jerry, despite Elroy's instructions to keep Jerry away from the store. Jerry has a plan to sabotage the electrical power plant next to his trailer home but this goes awry and Jerry returns from his sortie with his head magnetized. Afterwards Mike discovers that the magnetism has wiped every videotape in the store blank. They then receive a visit from Miss Falewicz, sent by Elroy to check on how they are doing, who wants to rent out 'Ghostbusters'. Not wanting to get in trouble, Mike and Jerry decide to shoot their own amateur version of 'Ghostbusters' and substitute it, hoping that Miss Falewicz will not notice the difference. Other customers come asking for films and they are forced to reshoot these too. Suddenly, Mike and Jerry find that their own versions of the films – what they call 'sweded' versions – are becoming in demand and are even more popular than the originals.
---
French director Michel Gondry has become one of the emergent cult directors of the 00s. Gondry started out the 1980s as a music director, making a number of acclaimed and award-winning works for artists like Bjork, Daft Punk, Foo Fighters, Massive Attack, Radiohead, The Rolling Stones, Sinead O'Connor and The White Stripes, among others. Gondry made his feature-film debut with the comedy Human Nature (2001). This did not receive much attention but with the subsequent critically acclaimed hit of Eternal Sunshine of the Spotless Mind (2004), Gondry was discovered by the mainstream.
Gondry then went onto the documentary Dave Chappelle's Block Party (2005) and then the surrealistic The Science of Sleep (2006), which proved to be an eccentric hit on the arthouse circuit. Be Kind Rewind was Michel Gondry's follow-up to The Science of Sleep, although the film received very mixed reviews when it premiered, not being what most people expected after the heights of Eternal Sunshine and The Science of Sleep.
With Be Kind Rewind, Gondry has eccentrically devoted an entire film to the fannish hobby of 'sweding' (which if it is not an actual word should be). What Gondry calls 'sweding' is the art of making fannish copies, spin-offs or parodies of one's favourite films. Fans having been making their own amateur versions of or adventures in the same universe as Star Trek and Star Wars for a number of years – indeed, one would hazard a guess and say that fairly much any film or series that has a fanbase has been subject to some kind of amateur filmmaking. In recent years, these have taken off in a huge way thanks to the popularity of YouTube and online networks. The most popular of these was Raiders of the Lost Ark: The Adaptation (1989), the making of which has apparently been optioned as a film in its own right. Although, unlike the Sigourney Weaver character here, most of the copyright holders have treated these unlicensed borrowings of their creations with more liberal regard.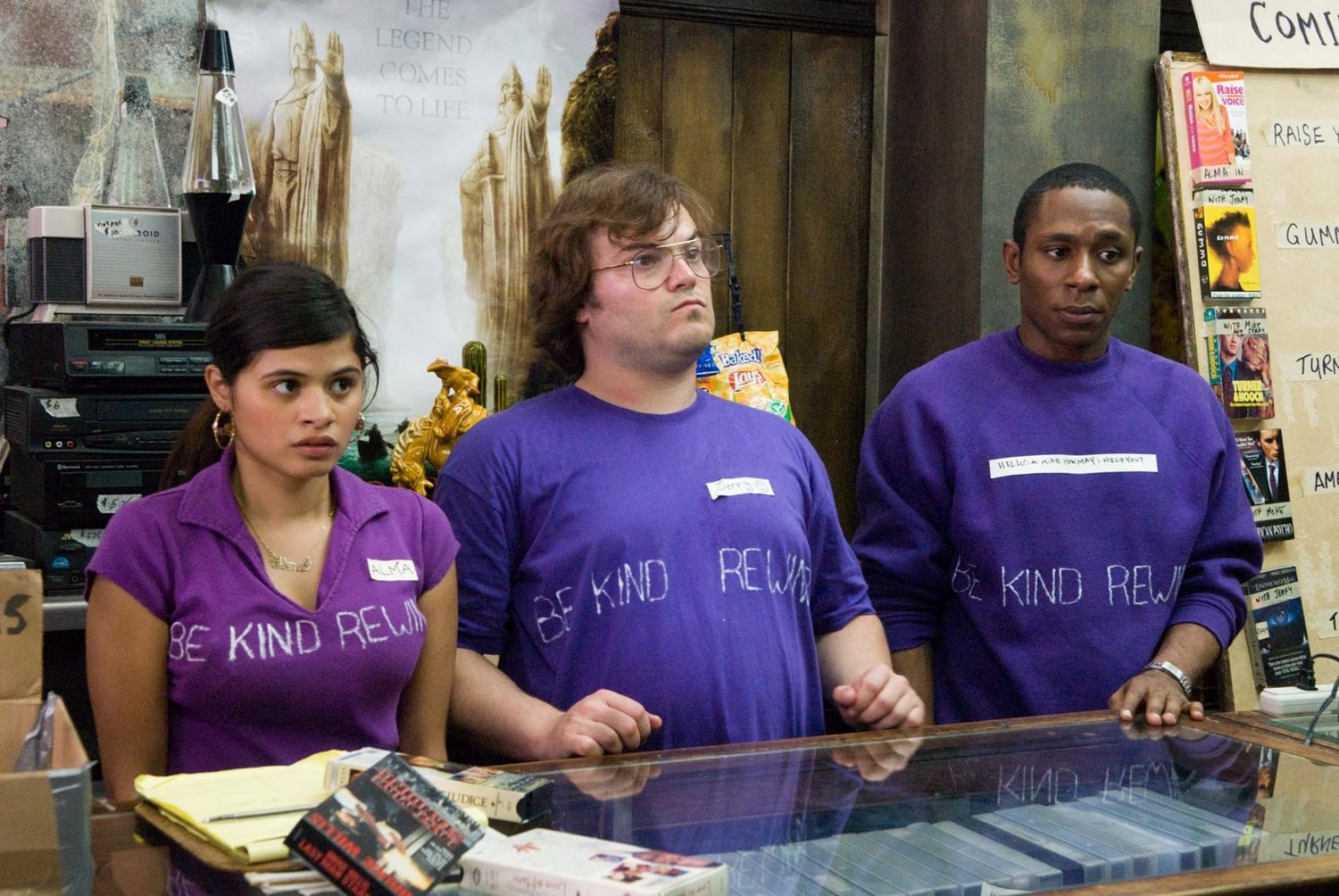 Michel Gondry has been conducting his own form of sweding for a number of years. (Be Kind Rewind's promotional website contains some of the sweded versions of the films we see being shot, as well a sweded version of the film's trailer with Gondry playing all the roles – even a sweded version of the internet itself). Although he doesn't remake other people's films, Gondry premiered the ultra-low tech fan-made look of obvious cardboard sets and people in homemade costumes in various of his video clips, while these cardboard sets feature in the dream sequences in The Science of Sleep.
One suspects that Gondry is indulging a wish fulfilment fantasy when he has this kind of rough-and-ready home-filmmaking becomes even more successful than Hollywood films. The vision here seems almost Utopian at times – the people of Passaic come to prefer Jack and Mike's sweded versions more than the original films, while this is eventually seen as being so successful that they become celebrities and their efforts are able to save the shop from foreclosure. (I am sure that some of the fanboys making sweded films out on the web would give their eyeteeth for such success).
Be Kind Rewind is an amiable film to watch, if not one that is particularly outstanding. There is some fun to be had in watching Michel Gondry's zero budget re-enactments of classic films like King Kong (1933), 2001: A Space Odyssey (1968), Rocky (1976), Ghostbusters (1984), RoboCop (1987), Driving Miss Daisy (1989), Boyz 'n the Hood (1991), The Lion King (1994), Men in Black (1997) and Rush Hour 2 (2001).
Outside of this though, Michel Gondry's characteristically eccentric visuals are somewhat subdued. There is the charming moment with Jack Black and Mos Def climbing over the wall of the power plant and then freezing as the police come where their camouflage costumes perfectly blend into the wire mesh fence. Gondry has fun building the cardboard sets – mocking up electric trains with giant fake steam-train wheels, creating what looks like some sort of giant human organ at one point, and most charmingly a cardboard piano where all the keys have been replaced by human fingers poking through from inside.
Jack Black takes the opportunity to indulge himself and clearly has a great deal of fun. Particularly amusing are the scenes with him walking along the street with magnetized head and attracting every piece of metal he passes. Ultimately though, it is a rather random performance on Black's part where he gives the impression of having played whatever he felt like on any given day. Rapper Mos Def who first turned up in a forgettable performance as Ford Perfect in The Hitchhiker's Guide to the Galaxy (2005) redeems himself here in an amiable performance as Jack Black's offsider. Melonie Diaz fits in appealingly alongside the two of them.
Next up for Michel Gondry was the Interior Design segment of the anthology Tokyo! (2008); the disastrous big-screen adaptation of the masked superhero The Green Hornet (2011) and the charmingly surrealistic romantic whimsy Mood Indigo (2013). He returned to low-tech home inventions in the non-genre Microbe and Gasoline (2015).
---
Trailer here
Sweded trailer with Michel Gondry playing all of the roles here:-
---