USA/UK. 2008.
Crew
Directors – Sam Fell & Robert Stevenhagen, Screenplay – Gary Ross, Screen Story – Will McRobb & Chris Viscardi, Based on the Book by Kate DiCamillo, Producers – Gary Ross & Allison Thomas, Music – William Ross, Animation Supervisor – Gabriele Zuchelli, Production Design – Evgeni Tomov. Production Company – RelativityMedia/Universal/Larger Than Life Productions/Framestore Animation.
Voices
Matthew Broderick (Despereaux Tilling), Dustin Hoffman (Roscuro), Emma Watson (Princess Pea), Tracey Ullman (Miggery Sow), Kevin Kline (Chef Andre), Ciaran Hinds (Botticelli), Robbie Coltrane (Gregory), Stanley Tucci (Boldo), Sigourney Weaver (The Narrator), William H. Macy (Lester Tillings), Tony Hale (Furlough Tillings), Christopher Lloyd (Hovis the Threadmaster), Frances Conroy (Antoinette Tillings)
---
Plot
The rat Roscuro arrives in the kingdom of Dor aboard a ship. It is the kingdom's annual Soup Day where the royal chef Andre is inspired to create a soup that entrances all. Sneaking into the palace, Roscuro is so overcome with the aroma rising from the banquet table that he falls into the queen's plate of soup. She is shocked and has a heart attack. The heartbroken king immediately decrees that soup be banned from the kingdom and all rats exterminated. Roscuro flees down into the dank Ratworld where he is welcomed by the chief rat Botticelli who relishes teaching him how to become a rat. Some years later in Mouseworld, the mouse Despereaux Tilling is born with giant ears and acute senses but a tiny body. It is thought odd by the other mice that Despereaux has no fear of mousetraps or humans. He is taken out by his brother to learn fear and comes across the palace library. Instead of gnawing the books, Despereaux is drawn by the stories, reading one about the princess who is sad because the kingdom has turned grey after soup and rats were banished. Despereaux learns about nobility and heroism in the stories. His curiosity draws him to talk to the Princess Pea. At learning about this, the mice react in horror and banish Despereaux down into Ratworld. There he is befriended by Roscuro. Learning the story of the princess, Roscuro decides to apologize to her, but she instead reacts in fear to his appearance. Hurt by her rejection, Roscuro appeals to the servant girl Miggery Sow who longs to be a princess and comes up with a scheme to abduct Princess Pea and take her down to Ratworld. It is up to the valiant Despereaux to save the day.
---
The Tale of Despereaux was the debut feature film production from Framestore Animation, a subsidiary arm of the British visual effects company Framestore-CFC. Framestore have produced visual effects for a number of films including various of the Harry Potter and James Bond films, Underworld (2003), Thunderbirds (2004), Troy (2004), Superman Returns (2006) and V for Vendetta (2006), among a good many others. Framestore have now branched out into feature production and The Tale of Despereaux was their first (although to date only) film.
The Tale of Despereaux is adapted from an award winning children's book, published in 2003 by US children's author Kate DiCamillo. De Camillo has also written the popular Because of Winn-Dixie (2000), which also became a film, and the Mercy Watson books about a pig. Directors Sam Fell and Robert Stevenhagen are relative newcomers with only Fell having (co)-directed a film before with Aardman's Flushed Away (2006) (which has a number of odd similarities to the plot of The Tale of Despereaux, albeit in a more comedic vein) and who went onto the stop-motion animated ParaNorman (2012). The surprise among the credits is screenwriter/co-producer Gary Ross, better known as the director of films like Pleasantville (1998), Seabiscuit (2003) and The Hunger Games (2012).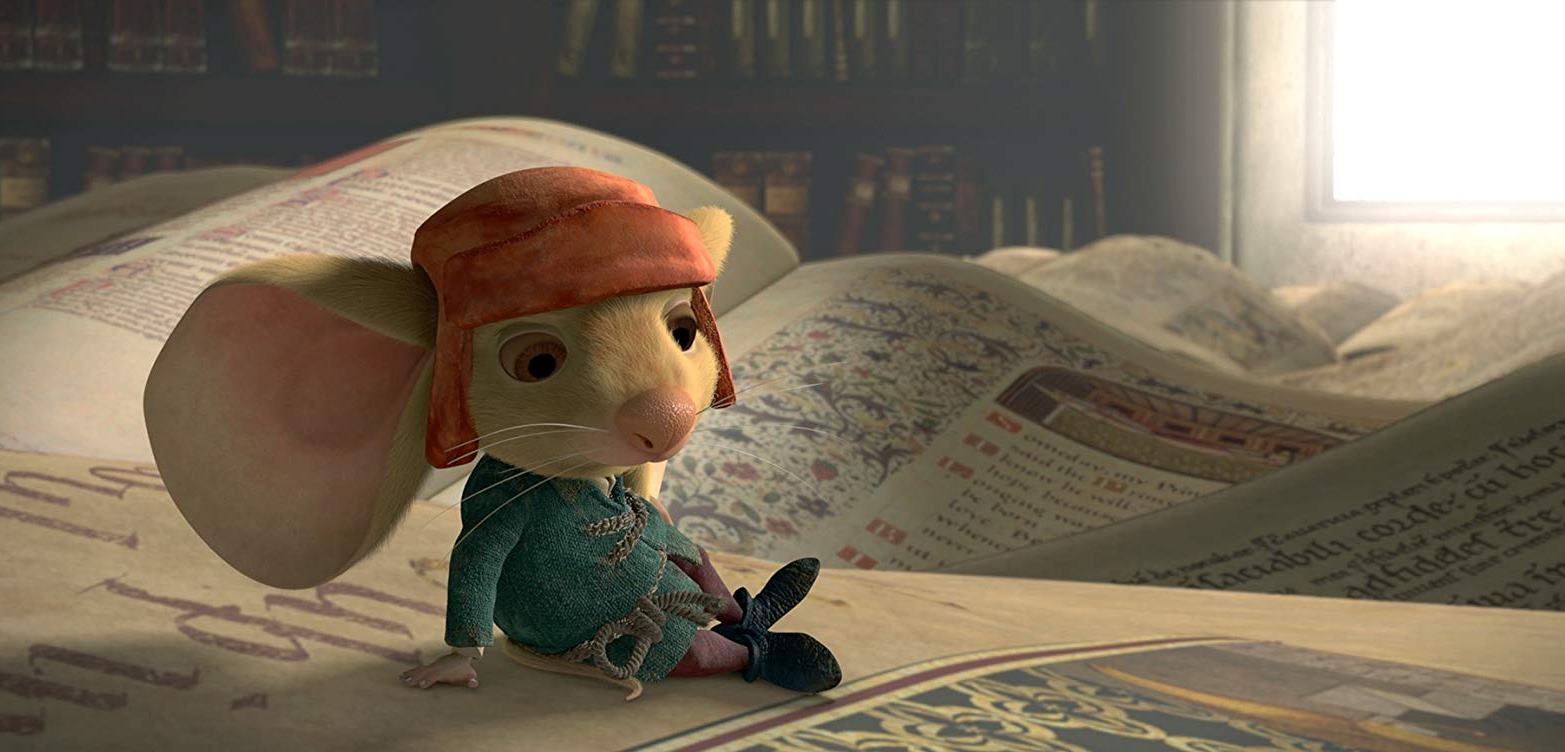 Amid a calendar that is becoming increasingly overstuffed with more and more animated films each year, The Tale of Despereaux holds its own likeably. Sam Fell and Tobert Stevenhagen create a stylised world where the characters have a soft CGI animated depth but are elongated like they had stepped out of The Triplets of Belleville (2003) or Tim Burton's Corpse Bride (2005). Although, the film that one is reminded of the most is Pixar's Ratatouille (2007), another like film about rats and chefs – both have French sounding words in the title and even feature a scene where humans are controlled by rats sitting on their heads.
Fell and Stevenhagen do a lovely job. The characters have a soft tenderness and it is easy to sympathise with the emotions. There are times the film has a tenderly genteel serenity – Roscuro's welcoming into Ratworld, the scenes with Christopher Lloyd at the Threadmaster – here one kept being reminded of The Secret of N.I.M.H. (1982). The story has a strong underlying adult theme about hurt and finding forgiveness, which is a refreshingly mature one to see in a children's film with its usually clearcut and easily identifiable villains and heroes. Not to mention the fact that Framestore have employed an extraordinary name voice cast – there is almost an underlying inferiority complex to this, as though they recognised that to compete with the other animated efforts out there the only way they could get a lead was by bringing in more talent than anybody else.
In a good many ways, The Tale of Despereaux is an old-fashioned animated film. Rather than most modern animation, which is focused around easy humour, cutsie animals and flashy animated flourishes, Despereaux has a more laidback pace. It places its focus on a classic heroic arc, of an archetypal small hero trying to take on a vast world despite hugely outnumbered odds. The story has a reasonable scope to it, perhaps reflecting its literary origins, wheeling around a number of characters and interweaving their storylines.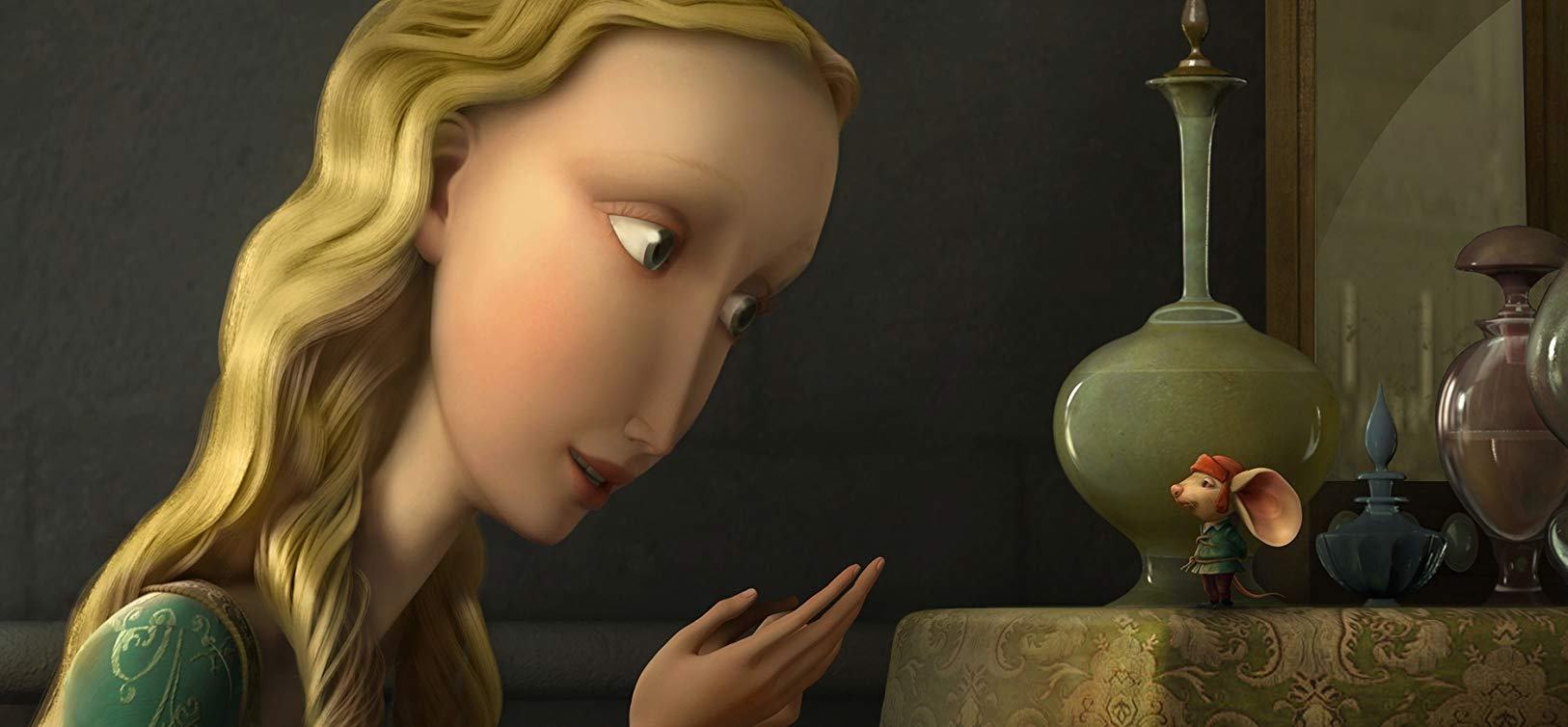 On the other hand, it also leaves some of the plots underwritten – like Roscuro's abrupt decision to turn villain and hatch a scheme to abduct the princess and Miggery's seeming willing compliance with this both abruptly coming from left field. There is also the bizarre figure of a being that comes to life comprised of vegetables to aid Chef Andre, about which nothing is explained at all.
The Tale of Despereaux appears much more subdued when compared to some of the big animated films released around the same time – Bolt (2008), Madagascar: Escape 2 Africa (2008). There is surprisingly little in the way of comedy in the film – the odd slapstick scene with Despereaux riding around on the vegetable man, an appealing scene where Roscuro controls Miggery but she keeps getting his instructions wrong. Mostly it is a film that comes with an old-fashioned reliance on an heroic arc and a hero who upholds the virtue of chivalric manners.
---
---