---
Crew
Director – Jonathan Demme, Screenplay – Adam Brooks, Akosua Busia & Richard La Gravanese, Based on the Novel by Toni Morrison, Producers – Jonathan Demme, Kate Forte, Gary Goeztman, Edward Saxon & Oprah Winfrey, Photography – Tak Fujimoto, Music – Rachel Portman, Visual Effects Supervisor – Steve Rundell, Digital Effects – D-Rez Hollywood, Special Effects Supervisor – John Ottesen & Tom Ward, Makeup Effects – Carl Fullerton & Neal Martz, Production Design – Kristi Zea. Production Company – Harpo Films/Clinica Estetico/Touchstone.
Cast
Oprah Winfrey (Sethe), Danny Glover (Paul D), Thandie Newton (Beloved), Kimberly Elise (Denver), Beah Richards (Grandmother Baby Suggs), Lisa Gay Hamilton (Younger Sethe), Kessia Kordelle (Amy Denver)
---
Plot
Paul D goes to visit Sethe, a woman living alone in a cottage with her teenage daughter Denver. The cottage is haunted but Sethe refuses to move out, while Denver will never go out beyond the yard. Despite this, Paul D moves in and takes up with Sethe. One day they find a girl who has mysteriously appeared on their doorstep. She calls herself Beloved and appears to be intellectually handicapped. However, as Sethe takes Beloved into their midst, the others suspect that Beloved may have returned from the dead.
---
Beloved was one genre entry that received almost no genre press, despite being a substantial (and extremely good) ghost story. The reason for this has a good deal to do with the way the film was pitched – it is a film that comes with Serious Drama written all over it. It is adapted from a celebrated novel written in 1987 by Toni Morrison, one of the most acclaimed African-American writers (the book won a Pulitzer Prize for Literature and is taught in many American literature classes) and was personally shepherded into production by Oprah Winfrey (who also takes a rare opportunity away from trying to be the spiritual mother to the American nation to flex her not inconsiderable abilities as an actress, which have been unused on cinema screens since Spielberg's The Color Purple [1985]). Oprah has brought aboard Jonathan Demme, then riding on the success of his Academy Award as Best Director for The Silence of the Lambs (1991) and the AIDS drama Philadelphia (1994).
Beloved is a stupendous film. The sad fact though is that it was a box-office failure. It is an exceptional film, one that shows Jonathan Demme's talents as a director far better than either the overrated Silence of the Lambs and the simplistically message-heavy Philadelphia. Demme takes his time telling the story. The film is extremely faithful to the novel and as a result reigns in at nearly three hours long.
The story itself unfolds almost elliptically back and forward across time – it is often a puzzle trying to piece together elements of the complex backstory. An extraordinary degree of attention has been placed into creating a sense of authentic-seeming historical verisimilitude. Demme frequently composes long scenes that do not actually carry story but simply exist to accrue detail. The film is also exquisitely photographed.
As a ghost story, Beloved is unique. Jonathan Demme successfully avoids any cliches of the genre ghost story. There are no spectral apparitions, billowing curtains and scared heroines in bosomy nightgowns. It could be called a Magical Realist ghost story, one where the supernatural blends with a superbly well-detailed historical background.
Here Thandie Newton gives an amazingly haunted performance that ranges from a gaping, autistic, child-like blankness to the dangerously seductive. There is a genuinely spooky scene where, in the haunted rhythm of her hesitant, halting, child-like speech, she talks about abandonment by her mother and being in the dark where we suddenly piece together the fact that she may have returned from the dead.
However, the film's greatest impact is not as a ghost story but in the emotional unfoldings of past secrets. There is an absolutely shattering sequence in the middle of the film where we learn just how Oprah Winfrey's daughter died, which may count as one of the most shocking scenes ever put on film. The sheer savagery and intensity of the emotion on Lisa Gay Hamilton's face as she is confronted in the barn is frighteningly raw.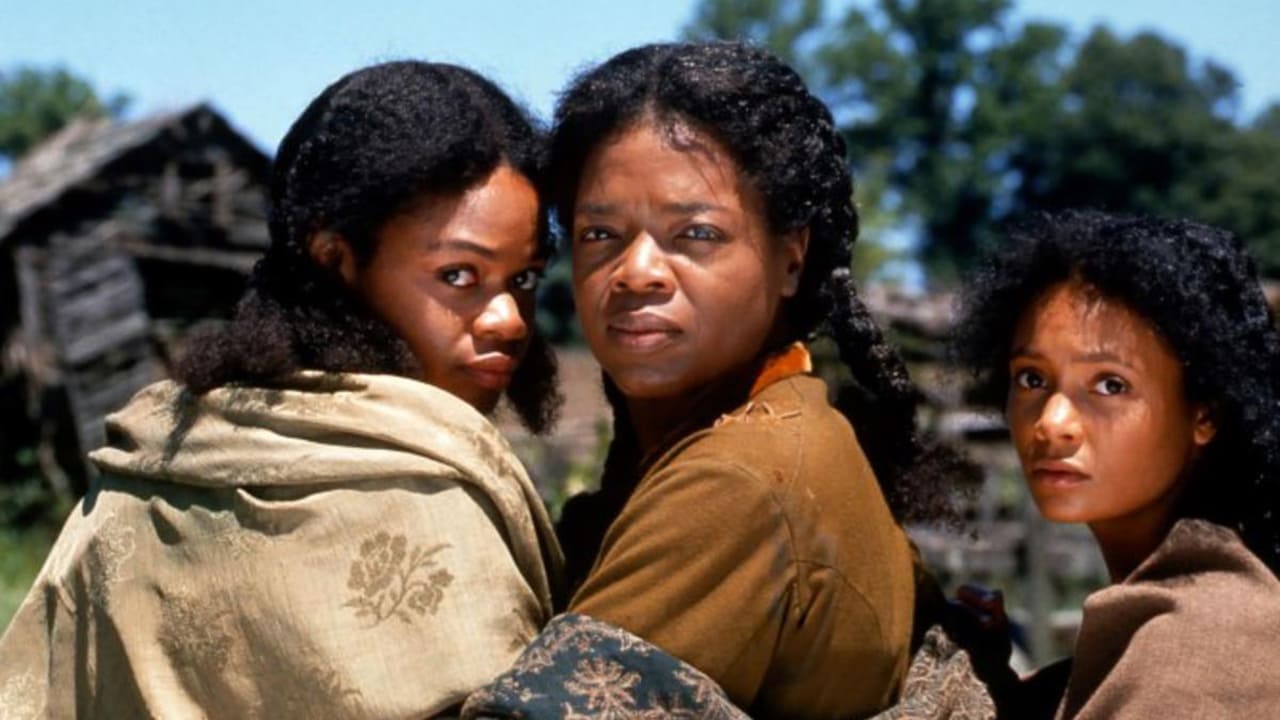 In the last twenty minutes of the film, Jonathan Demme gives us some heart-rendering images of Denver growing up – of finding all the food in the house gone, of the baskets of food turning up outside the house, and going and tearfully applying for a job. It makes for an enormously emotional ending to a lovingly crafted epic of a film.
The saddest part in all of this was the film's complete neglect by the Academy Awards who only nominated it for Best Costume Design, where it deserved a great deal more than that.
Director Jonathan Demme was a protege of Roger Corman (who often makes cameos in Demme's films). Demme's other genre films are the influential serial killer thriller The Silence of the Lambs (1991) and the remake of The Manchurian Candidate (2004). Demme has made other mainstream successes such as Stop Making Sense (1984), Something Wild (1986), Married to the Mob (1988) and Rachel Getting Married (2008) before his death in 2017.
(Winner in this site's Top 10 Films of 1998 list. Winner for Best Director (Jonathan Demme), Best Supporting Actress (Thandie Newton) and Best Cinematography and Nominee for Best Adapted Screenplay at this site's Best of 1998 Awards).
---
---