---
Crew
Director – Nick Murphy, Teleplay – Steven Knight, Based on the Novella by Charles Dickens, Producer – Julian Stevens, Photography – Si Bell, Music – Volker Bertelmann & Dustin O'Halloran, Visual Effects Supervisor – Martin R. Davison, Visual Effects – Framestore, Special Effects – Neil Corbould SFX Ltd (Supervisor – Tim Stracey), Makeup Design – Kate Benton, Production Design – Sonja Klaus. Production Company – Scott Free/Hardy Son and Baker/BBC/FX Network, LLC.
Cast
Guy Pearce (Ebenezer Scrooge), Andy Serkis (Ghost of Christmas Past), Stephen Graham (Jacob Marley), Joe Alwyn (Bob Cratchit), Vinette Robinson (Mary Cratchit), Charlotte Riley (Lottie Cratchit/Ghost of Christmas Present), Lenny Rush (Tiny Tim Cratchit), Kayvan Novak (Ali Baba), Johnny Harris (Franklin Scrooge), Jason Flemyng (Ghost of Christmas Future), Billy Barratt (Young Scrooge), Paul Chahidi (Spirit of Business Man Past), Adrian Lukis (Headmaster)
---
Plot
London, 1843. After begging for a chance for redemption, Jacob Marley is brought back from the grave and sent to persuade his former business partner Ebenezer Scrooge to redeem. On Christmas Eve, Marley appears to Scrooge and warns him that after midnight on the stroke of each hour three ghosts will appear to offer him the chance of redemption. Scrooge sneers at this but then the Ghost of Christmas Past appears, dragging Scrooge on a tour back through his childhood, showing him the abuses he received and how his dedication to money and miserly ways have caused deaths and untold misery. The ghosts of Christmas Present and Christmas Future also appear showing Scrooge the hope of those around him in the present and the lone death that awaits him in the future.
---
Charles Dicken's A Christmas Carol (1843) is a classic Christmas tale. There are few who are not familiar with its story of the redemption of a miser. Indeed, the story has become so popular that the name of its title character Scrooge has become a colloquial terms for someone who is parsimonious. There have been more than fifty film and tv adaptations (see below for a listing of these). This was a mini-series made in three one-hour episodes as a co-production between the BBC, the US FX Network and Ridley Scott's production company Scott Free.
British director Nick Murphy had previously made documentaries and episodes of documentary series for the BBC and then branched out into film with the crime drama Blood (2012) and the ghost story The Awakening (2011). The film is written by Steven Knight who has been working as a writer since the 1980s with screenplays for films like Dirty Pretty Things (2002), Eastern Promises (2007), The Hundred Foot Journey (2014), Allied (2016) and The Girl in the Spider's Web (2018), while he has also created the tv series' Peaky Blinders (2013- ), Taboo (2017-) and See (2019- ). As director, Knight had previously made Hummingbird (2013), Locke (2014) and one genre film with the bizarre Serenity (2019).
It soon becomes apparent that this is a very different version of A Christmas Carol than anything we have had before. Most versions of the story stay fairly much with the basics that Dickens laid down – starting the story with Scrooge and his clerk Bob Cratchit, followed by the arrival that evening of the ghosts of Marley followed by Christmas Past, Present and Future who take Scrooge on a tour of his life and cause him to undergo a redemption.
By contrast, Steven Knight expands the story out considerably. You can see this from the opening scene where we have a boy pissing on Jacob Marley's grave, Marley waking up and begging for redemption, being taken down to Purgatory where he is assigned to earn his forgiveness by persuading Scrooge to redeem and then encountering Christmas Past (an unrecognisable Andy Serkis) around a winter bonfire in the woods.
This is also a considerably more adult version of the story than any other adaptation of A Christmas Carol to date, something that may well sit in the stomach like a piece of undigested beef with some traditionalists. Scrooge and others freely throw around the word "fuck", which kind of takes you back given that A Christmas Carol is a work that has so commonly been regarded as one intended for family audiences in the past. It is also a version unafraid of pushing over into the horror element with images of Marley wandering about with a missing jaw.
In fact, you are often quite astonished at how dark a vision of A Christmas Carol this, including scenes where young Scrooge is beaten by his drunken father (Johnny Harris) who beheads his pet mouse with a penknife; followed by a visit back to his boarding schooldays where we find that he was sexually abused by the headmaster following an arrangement with Scrooge's father. In another scene, Mary Cratchit comes to Scrooge to plead for financial aid for Tiny Tim only for Scrooge's price to be to blackmail her into offering herself to him sexually – which she does – as part of an experiment in morality.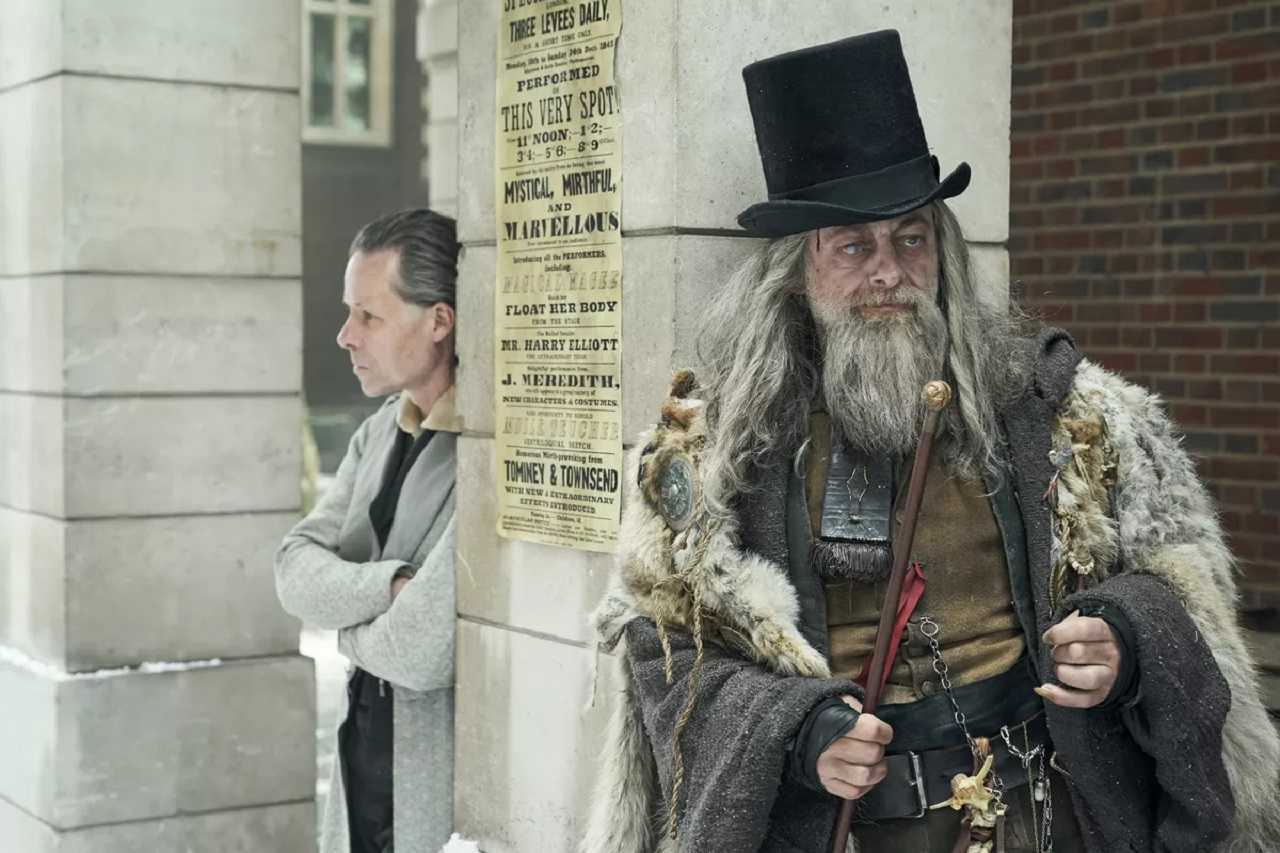 The writing in the show is quite exceptional. Steven Knight takes all the given characters – Scrooge, Cratchit, his wife, Marley – and builds each of them out with backstories and goes into these with often astonishing pieces of writing that dig deep into their character. Some pieces of the writing like the venture back into Scrooge's schooldays or the devil's deal he traps Mary Cratchit in leave you quite floored. It is also the first adaptation (as far as I am aware) to show how Scrooge obtains his money with scenes showing him as the equivalent of a 18th Century corporate raider taking over business at low prices and then selling off the assets, something that gives the story much more of a contemporary immediacy.
Other adaptations of A Christmas Carol include:– a number of lost silent adaptations made respectively in 1901, 1908, 1910, 1913, 1916, 1923 and 1928. Sound versions include:– Scrooge (1935), a British sound version with Seymour Hicks as Scrooge; A Christmas Carol (1938), an American version with Reginald Owen; a Spanish adaptation (1947); Scrooge (1951), a British production starring Alistair Sim; Scrooge (1970), a British-made musical adaptation starring Albert Finney; a short animated version A Christmas Carol (1971) from animator Richard Williams; Mickey's Christmas Carol (1983), a 25 minute animated short from Disney where the Scrooge role was played by Scrooge McDuck and Mickey Mouse was cast as Bob Cratchit; the modernised updating Scrooged (1988) with Bill Murray; The Muppet Christmas Carol (1992), which enacted the tale with the Muppets and starred Michael Caine as Scrooge; a British-German animated adaptation Christmas Carol: The Movie (2001); the conservative-backed An American Carol (2008) where a liberal filmmaker is persuaded of their ways; the animated Barbie in A Christmas Carol (2008); and Robert Zemeckis's motion-capture animated A Christmas Carol (2009) starring Jim Carrey. TV adaptations include A Christmas Carol (1943), a 60 minute live version, which was apparently one of the first ever experimental tv broadcasts; The Christmas Carol (1949), a half-hour American adaptation starring Taylor Holmes; A Christmas Carol (1950), a British adaptation starring Bransby Williams; A Christmas Carol (1953), a half-hour American adaptation starring Noel Leslie; a German production (1960); Carol for Another Christmas (1964), a production written by Rod Serling as a United Nations Special that updated the tale as an anti-war parable; a Canadian production Mr Scrooge (1964); A Christmas Carol (1977), a British production starring Michael Hordern; Scrooge (1978), a Canadian production starring Warren Graves; Rankin-Bass's one-hour animated adaptation The Stingiest Man in Town (1978); An American Christmas Carol (1979), starring Henry Winkler, which updated the story to the Depression era; Skinflint: A Country Christmas Carol (1979), starring Hoyt Axton, a bizarre American adaptation populated entirely by Country and Western singers; A Christmas Carol (1981), an American adaptation starring William Paterson; A Christmas Carol (1982), an American adaptation starring Richard Hilger; A Christmas Carol (1984), a lavish British-made production starring George C. Scott; a French tv adaptation (1984); Blackadder's Christmas Carol (1988), a sardonic take on the story using the characters from the popular British tv series Blackadder (1983-9); Scrooge: A Christmas Sarah (1990), a British version that cast Scrooge as a woman (Sarah Greene); A Christmas Carol (1994), a British-made ballet adaptation; A Christmas Carol (1997), an American-made animated adaptation; Ebenezer (1997), a bizarre American adaptation that recast the tale as a Western starring Jack Palance; Ms. Scrooge (1997), an American version that also cast the role with a woman (Cicely Tyson); A Christmas Carol (1999), an American production starring Patrick Stewart; A Christmas Carol (2000), a modernised adaptation where Scrooge (Ross Kemp) was a petty loanshark; A Diva's Christmas Carol (2000) with Vanessa Williams as a self-absorbed pop singer; Scrooge and Marley (2001), a one-hour adaptation starring Dean Jones; Hallmark's sex-reversed A Carol Christmas (2003) starring Tori Spelling; Hallmark's musical adaptation A Christmas Carol (2004) with Kelsey Grammer; the Italian-made A Christmas Carol (2004); the modernised Karroll's Christmas (2004) starring Tom Everett Scott; the Doctor Who tv special A Christmas Carol (2010) where a time-travelling Doctor becomes the Ghosts of Christmases Past and Present to intergalactic miser Michael Gambon; and the low-budget Canadian-made A Christmas Carol (2015). Also of interest is The Man Who Invented Christmas (2017) about Charles Dickens and the writing of A Christmas Carol.
(Nominee for Best Adapted Screenplay at this site's Best of 2019 Awards).
---