---
Crew
Director/Screenplay – David Lowery, Producers – Adam Donaghey, Toby Halbrooks & James M. Johnston, Photography – Adam Droz Palermo, Music – Daniel Hart, Visual Effects Supervisor – Richard Krause, Visual Effects – Weta Digital Ltd. (Supervisor – Eric Saindon), Special Effects – The Wizards Inc., Production Design – Jade Healy & Tom Walker. Production Company – Sailor Bear/Zero Trans Fat Productions/Ideaman Studios/Scared Sheetless.
Cast
Casey Affleck (C), Rooney Mara (M), Sonia Acevedo (Maria), Jonny Mars (Prognosticating Man)
---
Plot
A couple, C and M, live a happy life in their suburban home. One day, C is killed in a car crash. He then rises from the morgue table encased in a white sheet with two eyeholes in it. He makes his way home and drifts through the house, watching as M becomes involved with another man and then goes on to sell the house. He continues to drift through the house as other owners move in, occasionally blowing lights out and moving things to demonstrate his upset.
---
A Ghost Story was the fourth film for David Lowery who had previously established his credentials as an indie director with St. Nick (2009) and Ain't Them Body Saints (2013), before taking on a big studio project with the remake of Disney's Pete's Dragon (2016). In genre material, Lowery also produced the true-life-based tv series Strange Angel (2018-9) about pioneering rocketry and occultism and subsequently went to make an adaptation of the Mediaeval chivalric fantasy quest The Green Knight (2021) and Peter Pan and Wendy (2023). Lowery announced that he made A Ghost Story on a budget of $100,000 – the fees he earned from Pete's Dragon. The film premiered at Sundance and then did the rounds of a host of other festivals and a theatrical release, gaining considerable word of mouth.
When I first heard the premise for A Ghost Story – a ghost story where the ghost is played by a man in a sheet with two eyeholes poked in it – the concept seemed too goofy to seem like it ever could possibly be taken seriously. It's an idea for a Halloween costume for kids without any money or maybe an episode of Scooby Doo, Where Are You (1969-72). That said, I do like being proven wrong in my initial assumptions. And blow me down if David Lowery doesn't turn around and deliver what you could almost call an existential variant on Ghost (1990). The result is extraordinary work such that I am happy to place A Ghost Story on my best films of 2017 list.
Lowery creates a film that is almost sets out to thumb its nose at anything you might think is a commercial approach. The print has been shot in a 1.33;1 aspect ratio with rounded edges that makes it look as though we are watching a 16mm print broadcast on the big screen. The camerawork is naturalistic and deliberately low key. The setting is an anonymous suburban house that you would probably drive by without even noticing, not the flashy upmarket family home you usually get in Hollywood films. Lowery shoots in slow shots that would have made Andrei Tarkovsky green with envy – there's one that goes on for three minutes focused on Casey Affleck and Rooney Mara cuddled up together in bed; another that goes on for five minutes as she sits in grief eating a pie while he stands looking on from beneath his sheet.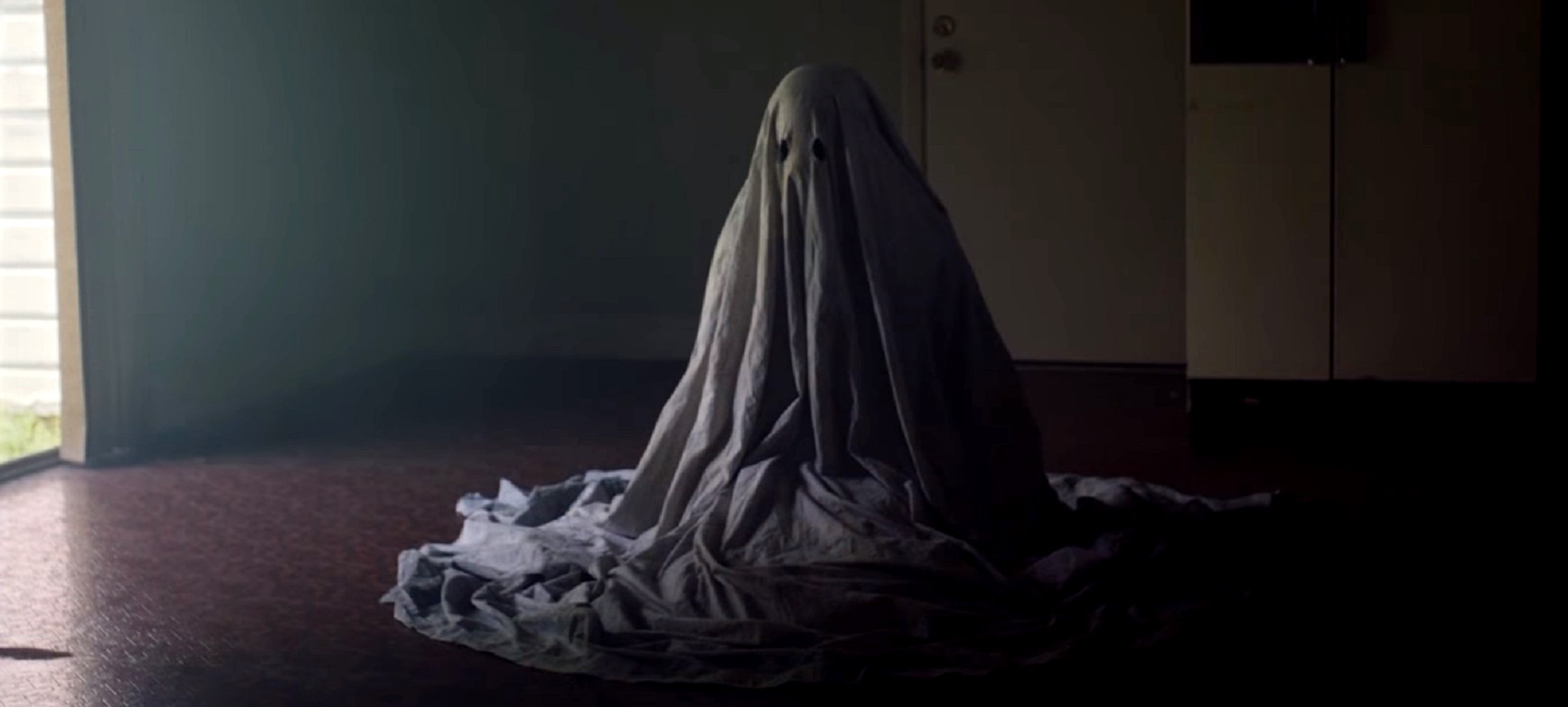 As you buy into the idea of watching a ghost story about a character in a white sheet with two eyeholes poked in it, the film starts to work. David Lowery provides some incredibly potent images – the incredible loneliness of a super wide-angle shot of the sheeted Affleck crossing a field back home; him just standing observing Rooney Mara in her grief, going about her day, blowing lightbulbs in anguish when he sees her bring another guy home. Or of him drifting through the households that move in – a Latino family who are driven away when he throws all their crockery at them in muted anguish, a party where Jonny Mars tells a captivating anecdote about memory.
The film is filled with these images. Just the shots of the sheeted ghost struggling to scrape the paint off the hole in the wall where Rooney Mara left a note only for the heartbreaking scene where the wrecking ball comes through the house before he ever gets to read it. And the subsequent scenes where we see the mute sheeted figure drifting through as a new construction goes up and wandering the offices of the new site. The most lonely and saddening scenes of all are the communiques between Casey Affleck's ghost and another ghost in a paisley sheet (played by Lowery himself) in the house opposite (where they communicate in subtitles) as the other ghost says "I am waiting for someone … I don't remember."
It is an incredibly haunting and melancholic film. A unique one in that the central character is a reasonably well known actor who is reduced to being played by a white sheet for the bulk of the film. (One of the questions you come away asking – did Casey Affleck really spend over three-quarters of the film beneath the sheet or was it a double?) Not to mention the fact that, though the ghost is the central character, it is reduced to being no more than a presence, drifting through scenes merely watching without interacting with anybody else or even having any dialogue. At a time when I am feeling exhausted by the sheer number of low-budget haunted house films that I have been watching over the last few months, all with the same plots and same repetitive, unimaginative jumps, this is the possibly the most unique telling of a ghost story I have ever come across.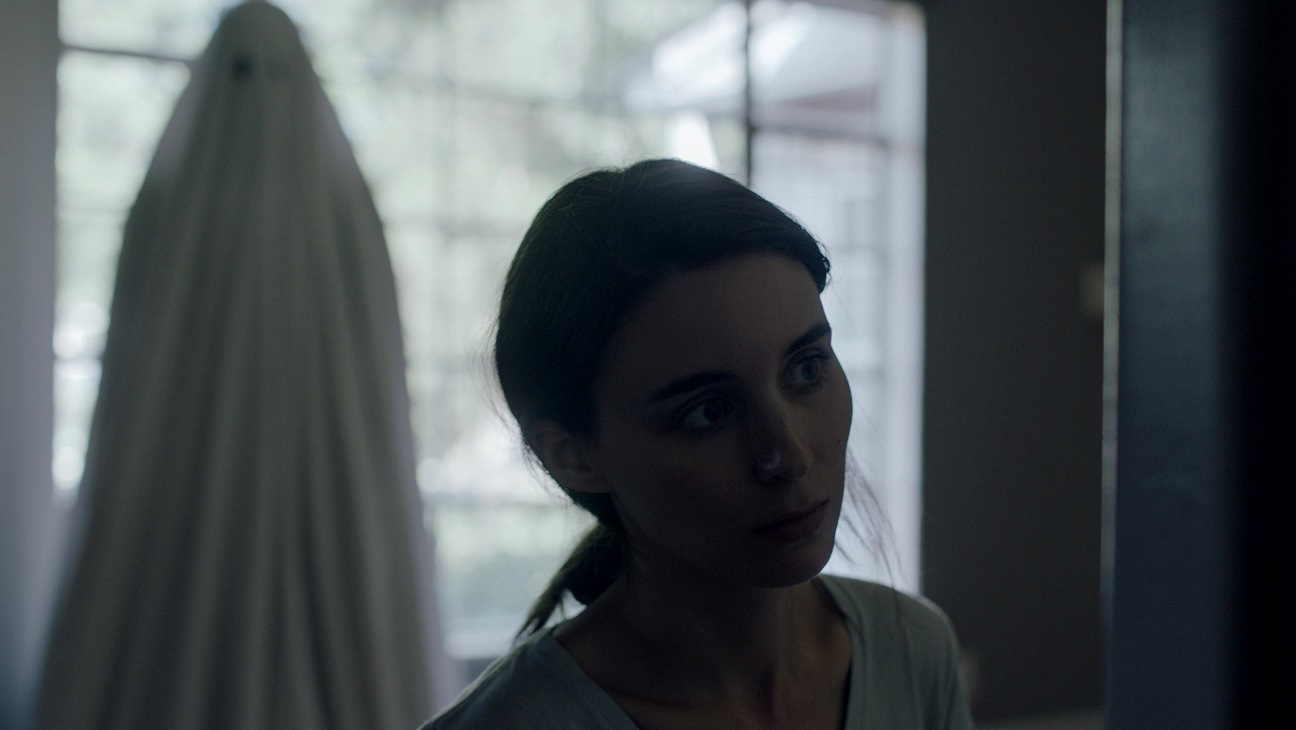 The only part of the film that left me confused was the last ten minutes. [PLOT SPOILERS] Following the scene where the house is demolished and the high-rise constructed, the ghost dives off the top of the building and then for some reason is transported back in time where he impassively watches on as he sees a pioneer family killed by Indian arrows and then is witness as Casey Affleck and Rooney Mara move into the house and we go through a condensed retelling of their story and he is killed again, although this time arriving at a less melancholy ending.
This section confused me as it is never made clear how the ghost is able to travel back in time and why we get an alternate version of events. The film could easily have ended just after the scene where the wrecking ball comes through or at some point with Affleck wandering through the high-rise and it would have been one of the most melancholy films ever made. The other ten minutes cause the incredible sense of melancholy loneliness to dissipate into a puzzled "huh?"
(Winner in this site's Top 10 Films of 2017 list. Nominee for Best Original Screenplay at this site's Best of 2017 Awards).
---
---