---
Crew
Directors – Eric Darnell & Tim Johnson, Additonal Sequences Directed by Lawrence Guterman, Screenplay – Todd Alcott, Chris Weitz & Paul Weitz, Producers – Brad Lewis, Aron Warner & Penny Wooton, Music – Harry Gregson-Williams & John Powell, Animation Supervisors – Rex Grignon & Raman Hui, Visual Effects Supervisor – Ken Bielenberg, Production Design – John Bell. Production Company – DreamWorks Pictures/PDI.
Voices
Woody Allen (Z), Sharon Stone (Princess Bala), Gene Hackman (General Mandible), Sylvester Stallone (Weaver), Jennifer Lopez (Azteca), Christopher Walken (Captain Cutter), Anne Bancroft (Queen), Dan Aykroyd (Chip), Jane Curtin (Muffy), Danny Glover (Barbados), Grant Shaud (Foreman)
---
Plot
In an ant colony, one ant Z is dissatisfied with his lot in life as a mere worker and strikes out in favour of individuality. At the same time, the princess Bala, who is unhappily engaged to General Mandible, is curious about how the drones live and sneaks down to a drone bar incognito. There she dances with Z, Z enchanting her with his own brand of individualistic dance movements. Z falls head over heels for Bala and convinces his best friend the solider drone Weaver to swap jobs with him so that he can be in a parade that Bala is waving to. However, the troop he joins is sent off to war with the termites. By accident, Z is the only survivor and is declared a war hero. When his real identity is discovered, Z is forced to flee with Bala a prisoner. Together they make their way into the outside world where Z braves perils in search of the fabled Insectopia. Back in the colony, Z's challenge of traditional order has inspired a revolution among the drones. At the same time, General Mandible makes all efforts to get Bala back and launch his plans to destroy the hive and begin a new one with her as his queen.
---
Toy Story (1995) was the world's first wholly computer animated film and paved the way for a new future for animation. Antz, the first film from the animation division of Steven Spielberg's DreamWorks SKG combine, was the second computer-animated film. By peculiar coincidence, Antz came only one month before Pixar and Toy Story director John Lasseter released their second film A Bug's Life (1998) – another wholly computer-animated film that likewise concerned itself with the world of insects.
Antz is a considerable delight. The quality of animation is excellent. Indeed, one suspects that a good deal of the appeal of making Antz was that computer animation allowed the creation of vistas of thousands of swarming ants, something that would prove a logistical headache by standard hand-drawn animation. The film is filled with breathtaking visions of the entire ant nest and exhilarating rides with ants trapped in the gum on a human shoe. There is a terrifying battle with an army of termites that will probably well give some children nightmares.
A story about ants is fairly much limited to stock themes of a protagonist standing up for individuality and/or the tiny finding their way in a big, wide outside world. Antz offers no particular surprises here; nevertheless, the script comes with a considerable sense of humour and a number of jokes aimed over the kids' heads at the adult audience. The mythical Insectopia, for instance, proves to be a giant-size human picnic blanket and a garbage can where rotting food is portrayed in glowing rainbow colours and various insects ride through discarded apples on the back of centipedes and eat dung together in peace.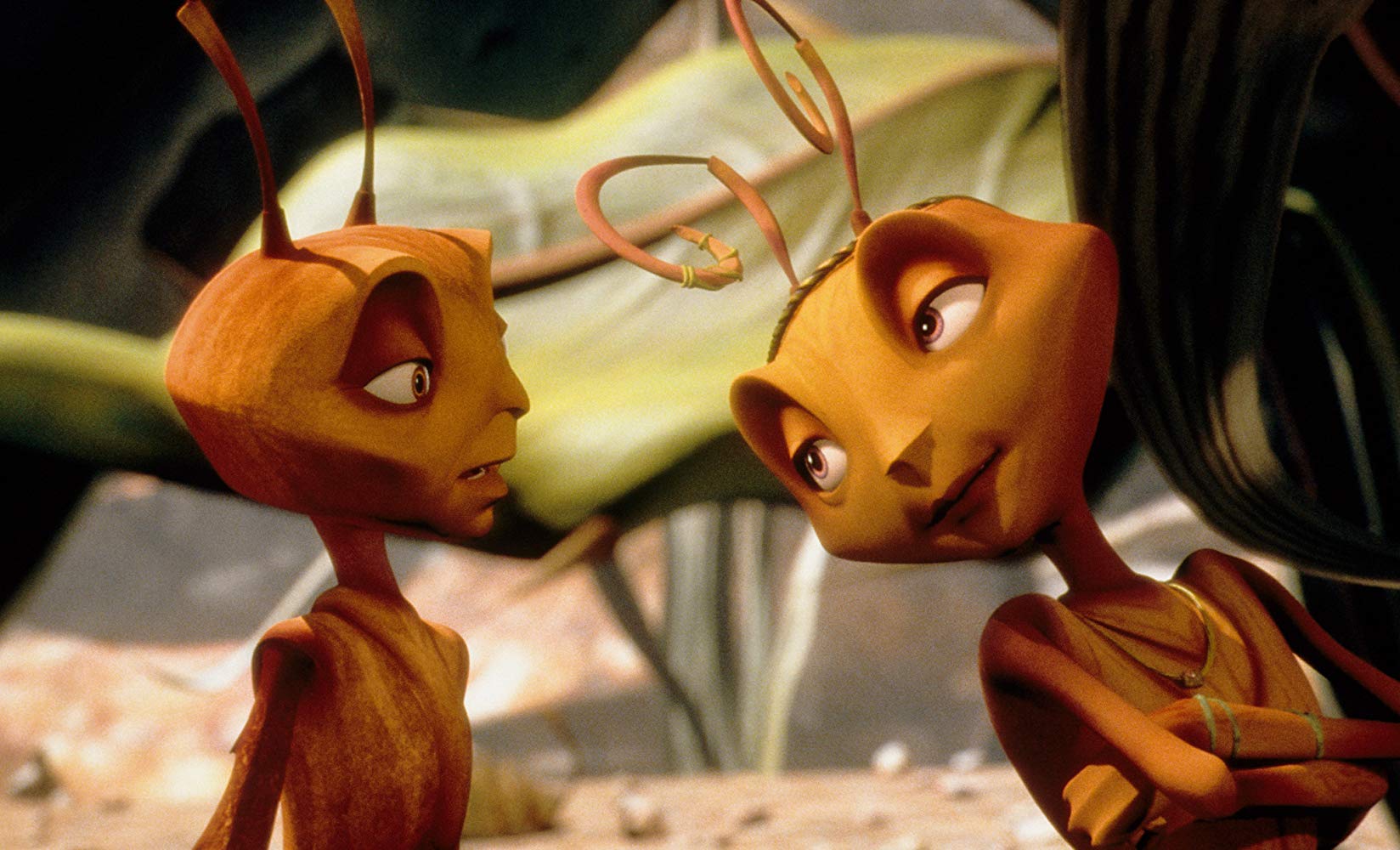 Antz also offers up a unique voice cast. There almost seems a deliberate attempt to bring in a voice cast that one might not normally associate with animation – names like Sylvester Stallone, Sharon Stone, Christopher Walken, Danny Glover and Gene Hackman. However, the greatest casting coup is Woody Allen as Z. Woody Allen does nothing more than his familiar hesitant, nebbish routine but the results are a delight – there is a wonderful pure Allen-esque opening scene with him complaining about feeling ignored in a family of five million and only being able to carry ten times his own weight. Allen should have done animation well before now – in fact, when one thinks about it, Allen's nebbish persona is perfectly suited to the caricature of the nervous child protagonist set against the rest of the world that animation frequently draws upon.
Director Eric Darnell subsequently went onto make DreamWorks' Madagascar (2005), Madagascar: Escape 2 Africa (2008), Madagascar 3: Europe's Most Wanted (2012) and Penguins of Madagascar (2014), while co-director Tim Johnson went onto make DreamWorks' Sinbad: Legend of the Seven Seas (2003), Over the Hedge (2006) and Home (2015). The script was the first professional credit of brothers Paul and Chris Weitz, better known as the duo behind American Pie (1999) and Chris solo of The Golden Compass (2007) and New Moon (2009).
Dreamorks subsequently went on to make a host of other animated films with the likes of The Prince of Egypt (1998), The Road to El Dorado (2000), Shrek (2001), Spirit: Stallion of the Cimarron (2002), Sinbad: Legend of the Seven Seas (2003), Shark Tale (2004), Madagascar (2005), Over the Hedge (2006), Bee Movie (2007), Kung Fu Panda (2008), Monsters vs Aliens (2009), How to Train Your Dragon (2010), Megamind (2010), Rise of the Guardians (2012), The Croods (2013), Turbo (2013), Mr. Peabody & Sherman (2014), Home (2015), Trolls (2016), The Boss Baby (2017), Captain Underpants: The First Epic Movie (2017) and Abominable (2019), plus assorted sequels to many of these.
---
---