---
Crew
Director – Stephen Herek, Screenplay – Chris Matheson & Ed Solomon, Producers – Scott Kroopf, Michael S. Murphey & Joel Soisson, Photography – Timothy Suhrstedt, Music – David Newman, Visual Effects Supervisor – Barry Nolan, Makeup Effects – Kevin Yagher, Production Design – Roy Forge Smith. Production Company – Interscope Communications/Soisson-Murphey Productions/Dino De Laurentiis Entertainment Group.
Cast
Keanu Reeves (Ted Logan), Alexander Winter (Bill S. Preston), George Carlin (Rufus), Terry Camilleri (Napoleon), Dan Shor (Billy the Kid), Tony Steedman (Socrates), Robert V. Barron (Abraham Lincoln), Al Leong (Genghis Khan), Clifford David (Beethoven), Jane Wiedlin (Joan of Arc), Rod Loomis (Sigmund Freud), Hal Landon Jr (Captain Logan), Amy Stock-Poynton (Missy), Bernie Casey (Mr Ryan)
---
Plot
Best friends and would-be heavy metal stars Bill Preston and Ted Logan are about to be flunked out of high school unless they pass a history assignment. They are then visited by Rufus, a mysterious chaperone from a future where Bill and Ted's music has been adopted as a philosophy of life harmonizing most of the known universe. He has comes back in time to lend them a time machine, disguised as a phone box, so that they can go back and gather various historical personages to complete the assignment.
---
Few films designed as moron movies end up being anything other than moron movies, but chalk one up to this charmingly witty piece of nonsense that takes the attitude that its audience is as hip as it is. The film became a sleeper hit when it was released in 1989 and inspired a modest following, even a number of imitators.
The principal concept of Bill and Ted's Excellent Adventure is letting its two dim-witted stoner characters loose on history (even though the film seems too clean to ever come out and identify them as stoners). History is laid into with the kind of playful irreverence that can have its two protagonists dragged off to a mediaeval torture chamber in happiness on the confusion of an Iron Maiden with the heavy metal group of the same name. In an amusing series of extended gags, historical figures are let loose on modern society – Joan of Arc ends up leading a Jazzercize class, Napoleon pigs out at an ice cream parlour, Beethoven admits Bon Jovi's Slippery When Wet (1986) among his favourite pieces of music, and there is that ever so delightful moment when a cop asks Sigmund Freud "Why do you think you're Freud?" to which the natural rejoinder is "Why are you so certain I'm not Freud?" Although the funniest aspect of the film is the ending wherein is revealed the two characters' music created a new philosophy that helped unite mankind, the animals and several hundred other lifeforms in the universe, an ending that comes so mellow and laidback it is uproarious.
Alex Winter and Keanu Reeves get perfectly into the act, bouncing off one another with a hip argot chorus of "totally bodacious"'s, "exxx-cellent"'s and air guitar trills accompanied by sound effects. Bill and Ted's Excellent Adventure was the film that brought Keanu Reeves to audience attention and subsequent superstardom. Fate has not been so lucky to co-star Alex Winter, although Winter did go on to direct several films including the equally amusing Freaked (1993) and the interestingly paranoid Fever (1999) and several Ben 10 tv movies.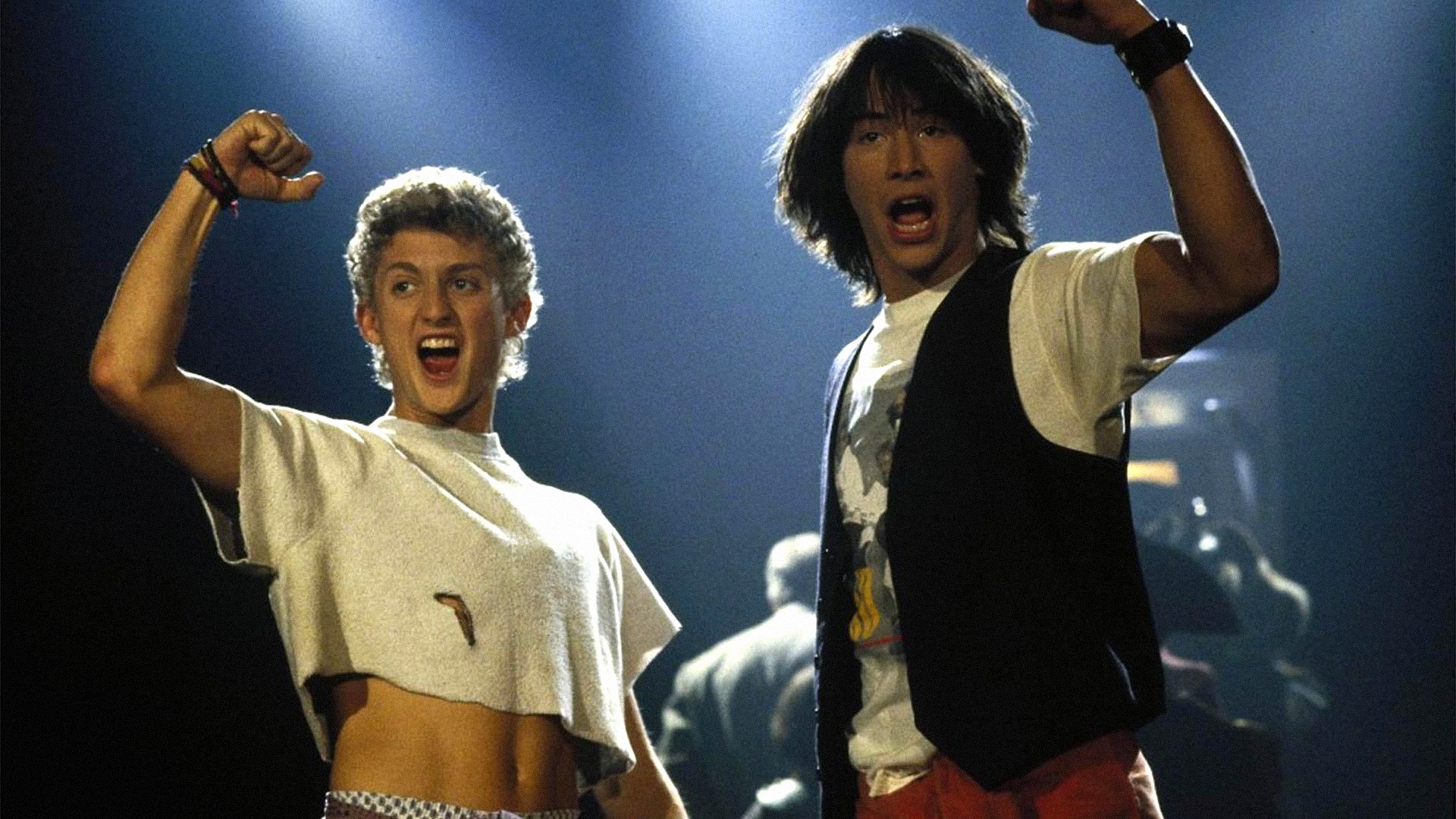 Bill and Ted's Excellent Adventure was part of the mid-1980s wave of time travel and pop culture movies inspired by the success of Back to the Future (1985) in which modern teen culture was allowed to conquer and loosen up the past, the alien and numerous facets of fantasy. Bill and Ted's Excellent Adventure's screen-manufactured barrage of surfer argot was soon imitated by the likes of The Spirit of 76 (1991), Encino Man/California Man (1992) and Buffy the Vampire Slayer (1992).
Bill and Ted's Bogus Journey (1991) was a live-action sequel, which had some good moments but mostly disappointed. This was followed by two tv series – the animated Bill and Ted's Excellent Adventures (1990) and awful live-action Bill and Ted's Excellent Adventures (1992) where Keanu Reeves and Alex Winter were replaced respectively by Christopher Kennedy and Evan Richards. Thirty years later, a third film was made, reuniting Reeves and Winter, with Bill & Ted Face the Music (2020).
Director Stephen Herek later went onto make a number of other films, usually in the vein of light mainstream comedy. These have included:- Don't Tell Mom the Babysitter's Dead (1991), The Mighty Ducks (1992), The Three Musketeers (1993), Mr Holland's Opus (1995), Holy Man (1998), Rock Star (2001) and Man of the House (2005). Stephen Herek's other genre films include Critters (1986), the remake of 101 Dalmatians (1996), the fantasy romantic comedy Life or Something Like It (2002), Dead Like Me: Life After Death (2009) and Afterlife of the Party (2021).
The writing partnership of Ed Solomon and Chris Matheson went onto write Mom and Dad Save the World (1992) and the Eddie Murphy comedy Imagine That (2009). On his own, Chris Matheson, the son of legendary genre writer Richard Matheson, has written other genre works like A Goofy Movie (1995), Stepsister from the Planet Weird (2000) and Rapture-Palooza (2013), and directed/wrote the genre films The Wise Ones (2001) and Evil Alien Conquerors (2003). On his own, Ed Solomon has also written Super Mario Bros. (1993), Men in Black (1997), Charlie's Angels (2000), What Planet Are You From? (2000), Now You See Me (2013) and Now You See Me 2 (2016).
---
---