---
Crew
Director – Dean Parisot, Screenplay – Chris Matheson & Ed Solomon, Producers – David Harring, Scott Kroopf, Alex Lebovici, Steve Ponce, Ed Solomon & Alex Winter, Photography – Shelly Johnson, Music – Mark Isham, Visual Effects – Buf Canada, Inc. (Supervisors – Geoffrey Basquin & Francois Cote Paquet), Kaibou, Mels (Supervisor – Luc Julien) & Shade VFX (Supervisor – Bryan Godwin), Special Effects Supervisor – Matt Kutcher, Makeup Effects – Kevin Yagher Productions Inc. (Supervisor – Kevin Yagher), Dennis the Robot Created by Steve Wang's Onyx Forge Studio, Production Design – Melanie Paizis-Jones. Production Company – Many Rivers/Hammerstone Productions.
Cast
Keanu Reeves (Ted Theodore Logan), Alex Winter (Bill S. Preston Esq), Kristen Schaal (Kelly), Samara Weaving (Thea Logan), Brigette Lundy-Paine (Billie Preston), William Sadler (Death), Jayma Mays (Joanna), Erinn Hayes (Elizabeth), Anthony Carrigan (Dennis Caleb McCoy), Hal Landon, Jr. (Chief Logan), Holland Taylor (The Great Leader), Jillian Bell (Dr Taylor Wood), Dazmann Still (Jimi Hendrix), Kid Cudi (Himself), Jeremiah Craft (Louis Armstrong), Beck Bennett (Deacon Logan), Amy Stoch (Missy), Sharon Gee (Ling Lun), Patty Anne Miller (Grom), Dave Grohl (Himself)
---
Plot
After 25 years, The Wyld Stallyns have broken up. Bill and Ted continue to play on to increasingly smaller audiences, having failed to unite the world. Their wives bring them into couples counseling in an effort to address problems. Bill and Ted are then visited by Kelly, the daughter of the late Rufus, who takes them into the year 2720 to meet The Great Leader. There they learn they have until 7:17 pm that evening to compose a song that will unite the whole world otherwise reality itself will collapse. Bill and Ted steal Rufus's time travel phone box and have the idea of visiting their future selves to steal the song from them. However, when they visit their various selves in the future, they find they have become losers and that the wives have left them. Meanwhile, Bill and Ted's daughters Billie and Thea have borrowed Kelly's time machine and travelled into the past to gather various famous musicians to form a band. Meanwhile, The Great Leader has decided that the universe can only be saved by Bill and Ted's deaths and despatches a killer robot after them.
---
Bill and Ted's Excellent Adventure (1989) was one of the wittiest efforts to emerge in the 1980s fad for time travel films. It starred Keanu Reeves and Alex Winter as two slackers who are aided by a time-traveler and end up gathering assorted historical persons for their school history project. It enjoyed reasonable popularity and led to a sequel with Bill and Ted's Bogus Journey (1991). There was also the animated Bill and Ted's Excellent Adventures (1990) and an awful short-lived live-action tv series Bill and Ted's Excellent Adventures (1992) where the roles were inherited by Christopher Kennedy and Evan Richards.
Bill & Ted Face the Music has been announced as long ago as 2010. It finally comes out 31 years since the original, 29 years since the previous sequel. In the interim, the then-unknown Keanu Reeves went on to become one of Hollywood's biggest A-list stars with Speed (1994), The Matrix (1999) and John Wick (2014) and sequels, among a host of other films. Alex Winter hasn't enjoyed quite the same profile and has dropped out of acting for the most part to become a director, most notedly with the hilariously bizarre Freaked (1993), as well as a series of internet-based documentaries.
Chris Matheson and Ed Solomon, who wrote the previous two films, are back on the script. (See below for their other films). The director for the occasion is Dean Parisot, best known for the side-splitting Star Trek parody GalaxyQuest (1999), as well as Fun with Dick and Jane (2005), the action sequel Red 2 (2013) and assorted tv work. The surprise name on the credits is that of producer Steven Soderbergh, better known for Sex, Lies and Videotape (1989), Ocean's 11 (2001), Solaris (2002) and a host of other indie films.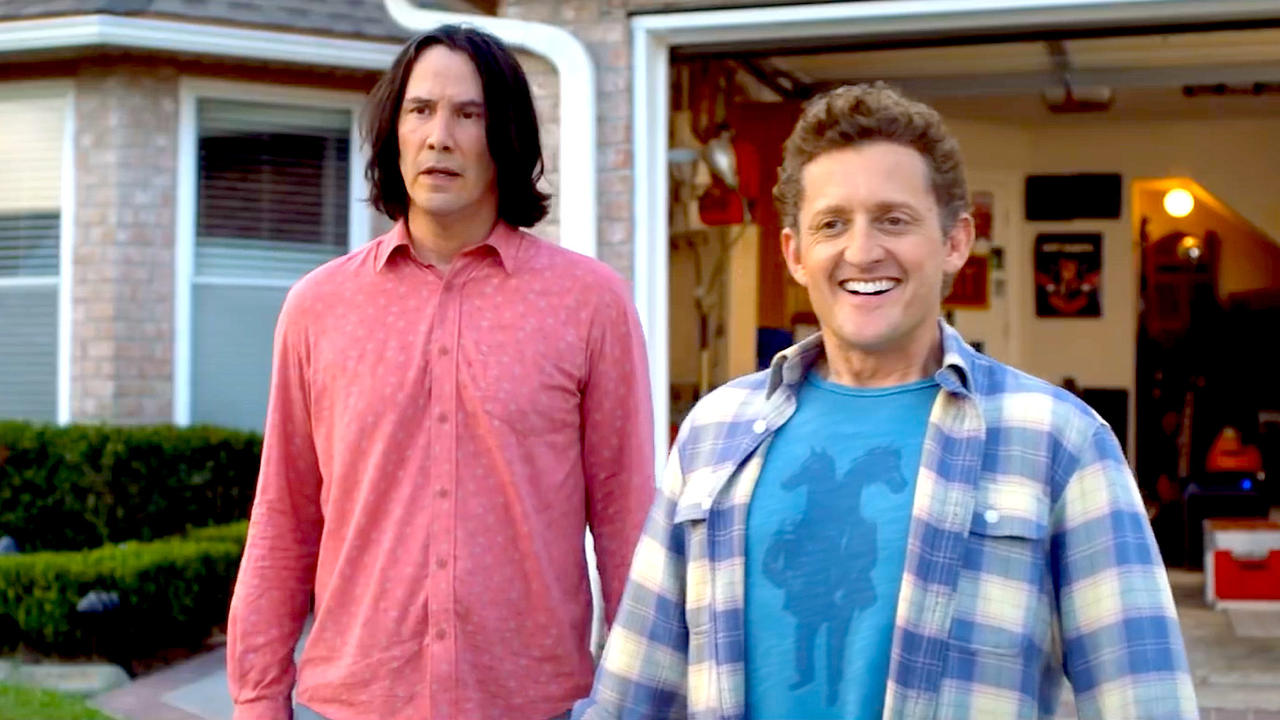 There have been a good numbers of films over the last few years playing to the nostalgia crowd – revivals of Rambo, Rocky, Indiana Jones, the Star Wars prequels and Ghostbusters (2016), not to mention a whole swag of remakes of 1970s/80s properties. The Bill and Ted films have the good fortune that most of the key talent from the originals – Keanu Reeves, Alex Winter, William Sadler, Chris Matheson and Ed Solomon – are still around. The only exception to this is George Carlin who passed away in 2008 and is replaced by Kristen Schaal as his daughter. (Carlin does make a very brief cameo as a hologram in the phone box).
The film amusingly suggests that Bill and Ted have slipped into an unhappy middle-age and are still playing to smaller and small audiences, even open mic nights, and their records have ended up in the 50c bargain bins. Meanwhile, the princesses have dragged them to couples counselling, which provide some of the funniest moments in the film, especially a scene where Reeves and Winter burst in in an effort to save their marriages only to make things worse. One of the better touches is the introduction of the daughters, played by Samara Weaving and Brigette Lundy-Paine, who do an uncanny mimicry of the mannerisms of Reeves and Winter.
Bill & Ted Face the Music has the feel of one of the 1970s/80s bands that have come out of the woodwork to go back on tour in recent years – The Who, The Beach Boys, Fleetwood Mac, The Eagles, Kraftwerk, Kiss, Yes and assorted 80s hair metal bands. It has the feel of the assorted players recalling the glory moments of their heyday and picking up guitars with arthritic fingers to play the favourites and allow a crowd that are no longer the teenyboppers they were to relive their youth. Seeing Keanu Reeves and Alex Winter on screen again shows that age has taken its toll. For whatever reason, the makeup person on the film seems to failed their job miserably – Keanu Reeves looks like he has made up with furniture polish, while Kristen Schaal has been given a makeup job that makes it look as though she was recovering from a plastic surgery accident.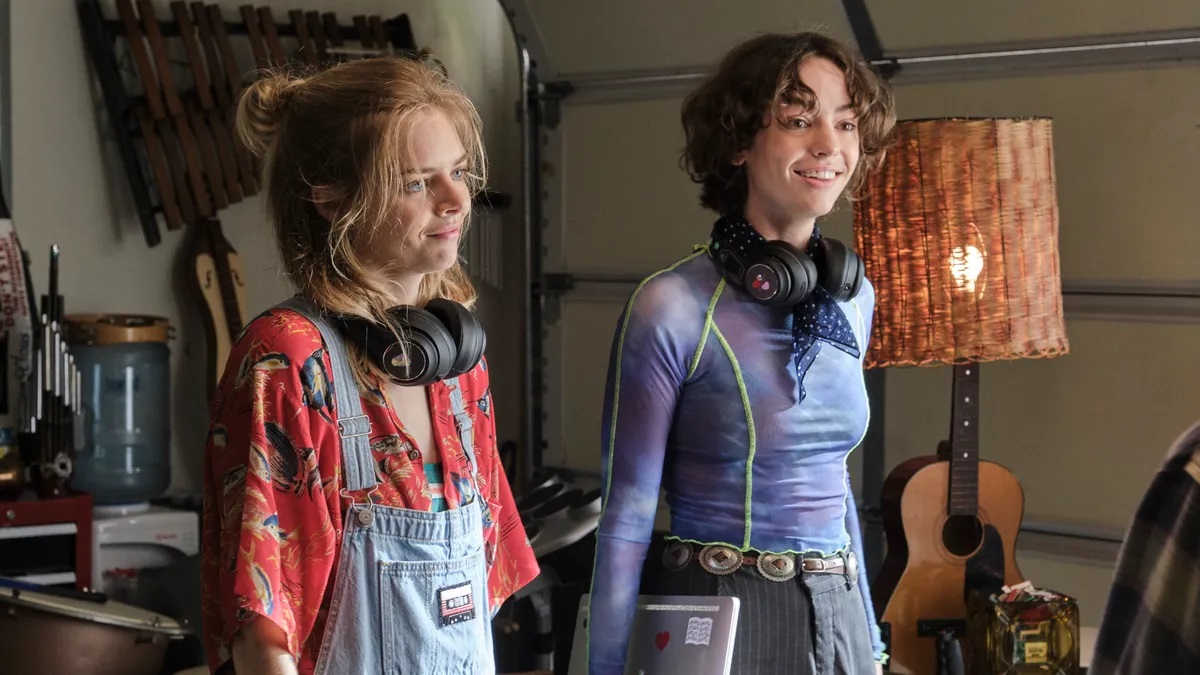 Bill & Ted Face the Music feels like it is a film that looks back to the previous hits. It has a sufficiently original script – Bill and Ted meeting their future selves, the introduction of the daughters and their encounters with famous musicians – but it is still a film that reshuffles what went before. This is particularly noticeable when it comes to the plot, which feels like a rehash of the first two films – the scenes with the daughters recruiting the various musicians is fairly much a reworking of the first film's plot about recruiting various historical figures; the visit to Hell occurs for no other real reason than to reintroduce Death; and the character of Dennis the Robot seems to be trying to create another tagalong character like Death was in Bogus Journey. Even then, Dean Parisot seems to only occasionally remember to give us the distinctive touches of the original – there is very little of the characters' trademarks exxxcellents and assorted surfer speak, or playing air guitar riffs accompanied by trills on the soundtrack.
Bill & Ted Face the Music received good reviews but I don't think it is a particularly great film. It has some moments of occasional amusement – the marriage counselling scenes, the various encounters between Bill and Ted and their future selves, especially one scene in which they are hardened, musclebound jailbirds and another where they meet their elder selves in a retirement home, the reunion with William Sadler's Death (who again manages to steal the show in his far too brief scenes). However, the visual tone of the film is fairly ordinary and it only sporadically comes with the light, gonzo wit that the original films did. This is particularly noticeable at the climax, which just involves the two rocking it out while reuniting time and reality but comes without much in the way of ironic deflation.
Together Ed Solomon and Chris Matheson also wrote Mom and Dad Save the World (1992) and the Eddie Murphy comedy Imagine That (2009). On his own, Chris Matheson, the son of legendary genre writer Richard Matheson, has written other genre works like A Goofy Movie (1995), Stepsister from the Planet Weird (2000) and Rapture-Palooza (2013), and directed/wrote the genre films The Wise Ones (2001) and Evil Alien Conquerors (2003). On his own, Ed Solomon has also written Super Mario Bros. (1993), Men in Black (1997), Charlie's Angels (2000), What Planet Are You From? (2000), Now You See Me (2013) and Now You See Me 2 (2016).
---