---
Crew
Director – Matteo Garrone, Screenplay – Massimo Ceccherini & Matteo Garrone, Based n the Novel by Carlo Collodi, Producers – Paolo Del Brocco, Matteo Garrone, Anne-Laure Labadie, Jean Labadie & Jeremy Thomas, Photography – Nicolaj Bruel, Music – Dario Marianelli, Visual Effects Supervisor – Massimo Cipollina, Visual Effects – Chromatica (Supervisor – Rodolfo Migliari) & One of Us (Supervisor – Theo Demiris), Makeup Effects – Mark Coulier, Production Design – Dimitri Capuani. Production Company – Archimede/Rai Cinema/Le Pacte/Recorded Picture Company/Leone Film Group.
Cast
Federico Ielapi (Pinocchio), Roberto Benigni (Gepetto), Massimo Ceccherini (Volpe/Fox), Rocco Papaleo (Gatto/Cat), Marina Vacth (Fata/Fairy), Gigi Proietti (Mangiafuoco), Alida Baldari Calabria (Young Fairy), Maria Pia Timo (Lumaca/Snail), Davide Marotta (Il Grilllo/The Cricket), Enzo Vitrano (Il Maestro di Scuola/School Master), Sergio Forconi (Il Venditore dell'Emporia/Shop Seller), Gigo Morra (l'Oste/The Host), Paolo Graziosi (Mastro Ciliegia), Teco Cilio (It Giudice/The Judge), Massimiliano Gallo (Corvo/Il Direttore del Circo – Crow/Circus Director), Gianfranco Gallo (Civetta/Owl), Alessio di Domenicantonio (Lucignolo), Nino Scardino (l'Omino di Burro/Butter Man), Maurizio Lombardi (Il Tonno/The Tuna), Domenico Centamore (Giangio)
---
Plot
The poor and impoverished wood carver Gepetto looks for any work he can to get enough to eat. When the travelling puppet show of Mangiafuoco comes to town, Gepetto comes up with the idea of making a beautiful puppet. Mastro Ciliegia gives him a log of wood that has a strange life of its own. Gepetto carves it into a puppet he names Pinocchio. He is then astounded when Pinocchio talks back to him. Gepetto is so overwhelmed that he calls Pinocchio his son. Gepetto sells his only coat to buy a schoolbook so that Pinocchio can go to school. He is dismayed when Pinocchio instead runs away to the puppet show and is abducted. Mangiafuoco takes pity and gives Pinocchio five gold coins to take back to Gepetto but the petty thieves Volpe and Gatto seek to trick Pinocchio out of these. Ignoring all the good advice given to him and led by his impetuousness, Pinocchio passes through a series of adventures, constantly managing to get into trouble.
---
Pinocchio is based on a book by Florentine writer Carlo Lorenzini (1826-90) who wrote under the pen name Carlo Collodi. Pinocchio started as a series of stories that Collodi serialised in the newspaper Il Giornale dei Bambini between 1881 and 1882 and then collected together in book form as The Adventures of Pinocchio (1883). There have been numerous film versions made of the story ever since the silent era (see below for a full list of these). The most well-known adaptation was the classic Disney animated version Pinocchio (1940). Italian comedy actor Roberto Benignini, who appears here as Gepetto, directed and starred as Pinocchio in a live-action version Pinocchio (2002).
This version comes from Italian director Matteo Garrone. Garrone gained a good deal of attention with his sixth film, the crime drama Gomorrah (2008), which won the Palme d'Or at the Cannes Festival. Aside from that, Garrone has made other works such as The Embalmer (2002), which is not a horror film despite a title that sounds like it should be, First Love (2004), which is a horror film about anorexia despite sounding like a romance, Reality (2012) and Dogman (2018). Garrone had previously entered the fantasy genre with Tale of Tales (2015), a beautifully made film that adapted several Italian fairytales.
My initial feeling was that Roberto Benigni playing Gepetto was a piece of stunt casting ie. he had played Pinocchio once before and was now returning seventeen years later as a middle-aged man to play Pinocchio's creator. Watching Benigni in the opening scenes also tends to throw the film off – it becomes about Benigni going through his comic routines trying to convince an innkeeper to pay him for unneeded repairs or racing around after Pinocchio, rather than being a film about a living boy puppet. However, I was wrong in this assumption and as soon as Pinocchio emerges as a character, the film rightly focuses on him and his adventures and Benigni's Gepetto drops back to being a supporting character.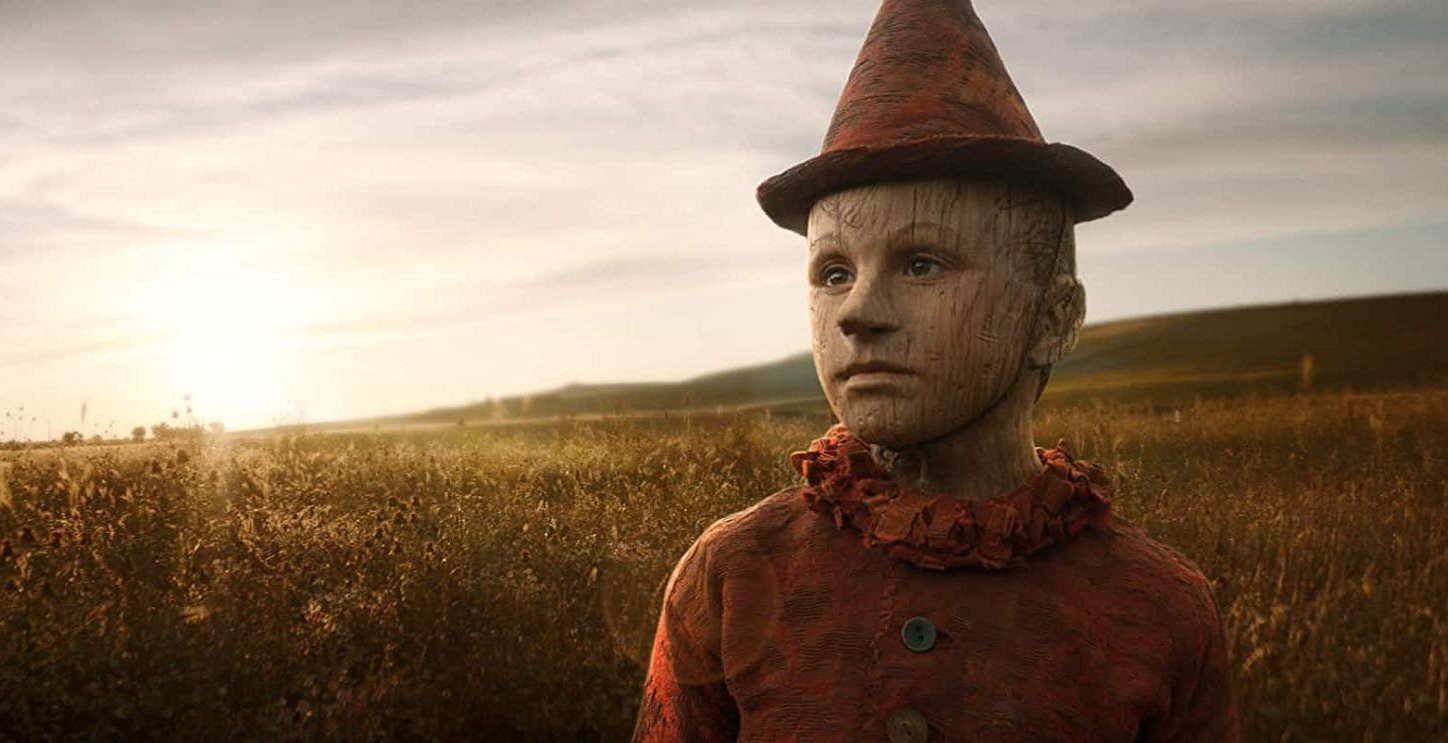 Matteo Garrone makes a return to the original Carlo Collodi stories, far more than any other film version. Some of the minor incidents from the book have been dropped but the script maintains extremely good faith to the way that Collodi wrote the story, incorporating all the major characters and episodes. One of the really good things about the film is that is gets the character of Pinocchio perfectly the way that Carlo Collodi intended. This is a Pinocchio that is all impetuous waywardness, ignoring all good advice on every single occasion and simply following his whims in what ever direction of the moment they lead him. As per Collodi, the film becomes an object lesson that children should always listen to their elders.
Matteo Garrone makes a beautifully filmed version of the story. The landscapes, the backgrounds, costumes and period details are all stunningly realised. It is something that roots the story of Pinocchio into a pseudo-historical milieu and a realism that it has never had before on the screen. There are some amazing creations – from the detailed marionettes with lives of their own to the ape judge, the snail maid and bird undertakers. Not to mention Pinocchio himself who is actually a makeup appliance on a child actor rather than CGI effects.
These become particularly heart-rendering when Pinocchio is transformed into a donkey and sold to the circus with tragic scenes like his being forced to jump through a ring of fire, whereupon he is injured and then dumped into the ocean with a rock tied to his feet. The only one among the characterisations that is slightly off is that of the Cricket, which come out looking less like an insect than a dwarf with an oversized head and a high-pitched voice.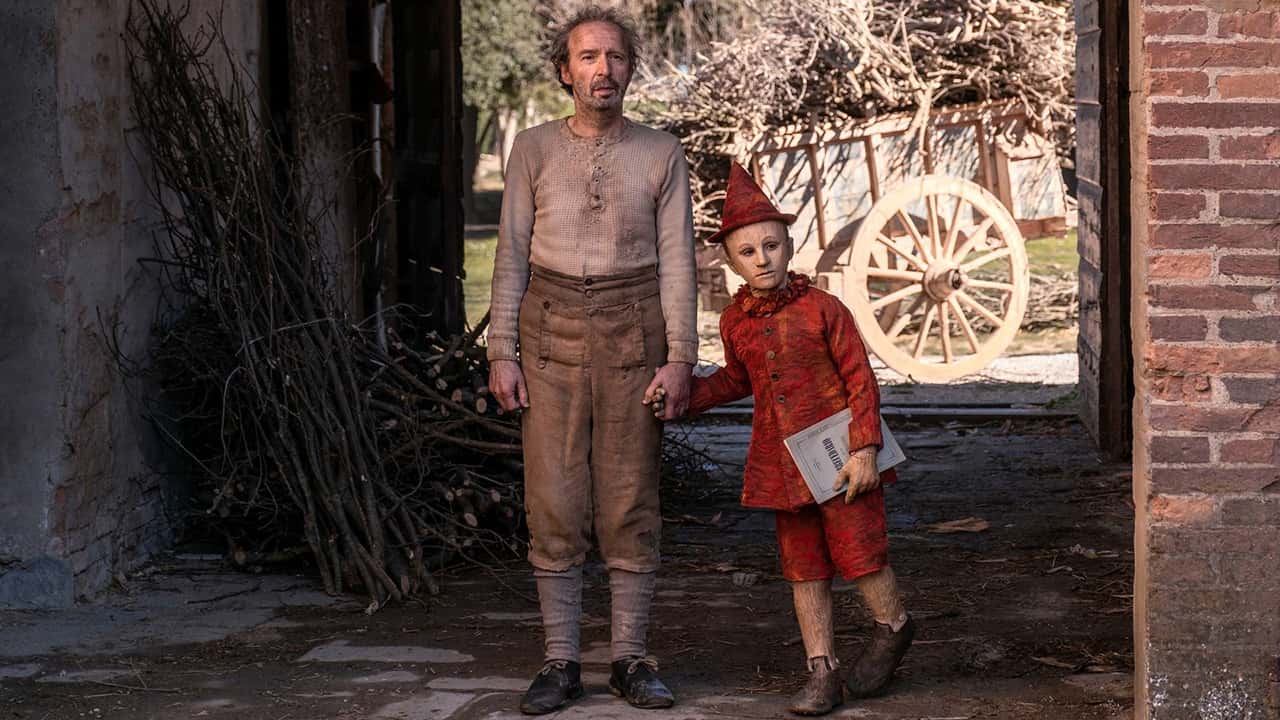 What the film resembles, if anything, is something like the world of Jim Henson circa the period of films like The Dark Crystal (1982) and Labyrinth (1986) but made with the sensibilities of a Terry Gilliam. Matteo Garrone is in his element most of all during the scenes at the Fairy's house, which come with some appealingly nonsensical stuff with comic bird characters coming to measure Pinocchio for a coffin or the snail maid who leaves slime trails that the other animals are constantly slipping over on.
The scenes are constantly undercut by a comic banality – of the Fairy and Pinocchio taking rides around on the back of the snail, or amusing themselves during the snail's reading of bedtime stories. One of the most charming scenes is the one where Pinocchio's nose finally grows only for him to demolish the contents of the kitchen table with it and for the fairy to then open the kitchen window and birds to fly in, land on the length of Pinocchio's nose and start pecking at it.
Other versions of Pinocchio are:– a lost Italian adaptation in 1911; The Golden Key (1939), an uncredited live-action version made in the USSR; the Disney animated version Pinocchio (1940); an Italian live-action version The Adventures of Pinocchio (1947); Pinocchio (1957), a 60 minute NBC tv special starring Mickey Rooney as Pinocchio; Pinocchio (1965), a lost CBS tv special; the animated Italian sequel Pinocchio in Outer Space (1965) where Pinocchio ventures into space; Pinocchio (1967), a live-action East German production; The Erotic Adventures of Pinocchio (1971), which was advertized with the immortal line "It's not his nose that grows"; an Italian tv mini-series The Adventures of Pinocchio (1972); a further Italian animated version The Adventures of Pinocchio (1972); Pinocchio (1976), a US tv version with Sandy Duncan as Pinocchio; Pinocchio (1978), a four part animated BBC tv adaptation; The Adventures of Pinocchio (1976), a Japanese animated tv series; Pinocchio's Christmas (1980), an hour-long stop-motion animated tv special sequel from Rankin-Bass; a US animated version The Adventures of Pinocchio (1984); an Italian animated tv series The Adventures of Pinocchio (1985); an animated American sequel Pinocchio and the Emperor of the Night (1987); an Italian version Occhio Pinocchio (1994); a live-action American remake with a CGI Pinocchio, The Adventures of Pinocchio (1996), which also spawned a sequel, The New Adventures of Pinocchio (1999); a horror movie version Pinocchio's Revenge (1996) that features a killer puppet; Gepetto (2000), a musical tv movie remake starring Drew Carey as Gepetto; Pinocchio (2002), directed by and starring Italian comedian Roberto Benigni; Pinocchio 3000 (2004), an animated adaptation that translates the story into sf terms with Pinocchio becoming an android; an Italian tv adaptation Pinocchio (2008); and Pinocchio (2022), a remake of the Disney film with a CGI Pinocchio. In the 1990s, a further remake of Pinocchio also became the subject of a lawsuit from director Francis Ford Coppola, who attempted to mount his own version of the tale set during Nazi-occupied France, which hit the headlines when Coppola sued Warner Brothers for $80 million, claiming that they had sabotaged the project. Pinocchio also turns up as a character in the fairytale spoofs Shrek 2 (2004) and Shrek the Third (2007).
(Winner in this site's Top 10 Films of 2019 list. Nominee for Best Director (Matteo Garrone) and Best Adapted Screenplay at this site's Best of 2019 Awards).
---
---