---
USA. 1940.
Crew
Supervising Directors – Hamilton Luske & Ben Sharpsteen, Sequence Directors – Norman Ferguson, T. Hee, Wilfred Jackson, Jack Kinney & Bill Roberts, Story Adaptation – Aurelius Battaglia, William Cottrell, Otto Englander, Erdman Penner, Joseph Sabo, Ted Sears & Webb Smith, Based on the Novel by Carlo Collodi, Music/Lyrics – Leigh Harline, Paul J. Smith & Ned Washington, Animation Directors – Arthur Babbitt, Fred Moore, Ward Kimball, Eric Larson, Woolie Reitherman, Milton Stahl, Franklin Thomas & Vladimir Tytla, Art Direction – Kenneth Anderson, Hugh Hennesy, John Hubley, Dick Kelsey, Kendall O'Connor, Charles Philippi, McLaren Stewart, Thor Putnam, Terrell Stapp & Al Zinnen. Production Company – Disney Voices [Uncredited]: Dickie Jones (Pinocchio), Cliff Edwards (Jiminy Cricket), Christian Rubb (Geppetto), Evelyn Venable (The Blue Fairy), Walter Catlett (J. Worthington Foulfellow), Frankie Darro (Lampwick), Charles Judels (Stromboli/The Coachman)
---
Plot
Jiminy Cricket observes as the toymaker Gepetto finishes building a puppet, which he names Pinocchio. Gepetto is so delighted with Pinocchio that as he goes to bed that evening, he wishes upon the wishing star that Pinocchio could be a real boy. That night the Blue Fairy comes down and brings Pinocchio to life with her wand. Pinocchio proves naive in the ways of the world and so The Blue Fairy appoints Jiminy Cricket to be Pinocchio's conscience. However, as Gepetto sends him off to school, Pinocchio is distracted into mischief. He is seduced away by two villains who sell him to the travelling circus master Stromboli who makes Pinocchio a prisoner and forces him to perform. Pinocchio next falls into the clutches of a coachman who takes wayward boys to Pleasure Island where they are transformed into donkeys. Pinocchio eventually comes to realize the error of his ways. Meanwhile, Gepetto has set out in search of Pinocchio, only to have been swallowed by the whale Monstro.
---
Pinocchio is one of the great Disney animated classics. It comes from the still unsurpassed heyday of Disney animation that existed between 1937, when Disney premiered the first feature-length animated film Snow White and the Seven Dwarfs (1937), and 1942, when much of Disney's artistic talent was conscripted into World War II. This was an era where the studio produced genuine classics like Fantasia (1940), Dumbo (1941) and Bambi (1942). Of these, Pinocchio was only the second animated feature-film that Disney ever made.
Pinocchio is a work that, like many other classic Disney films, has wound its way into the public imagination. It has been sequelized and multiply remade (see below). Steven Spielberg is constantly quoting it – putting the When You Wish Upon a Star song over the ending of Close Encounters of the Third Kind (1977) and winding the story in as a bizarre metaphor for an android's quest for self-awareness in A.I. (Artificial Intelligence) (2001). Elsewhere, the idea of one's nose growing has become a generic expression for being caught out telling a lie.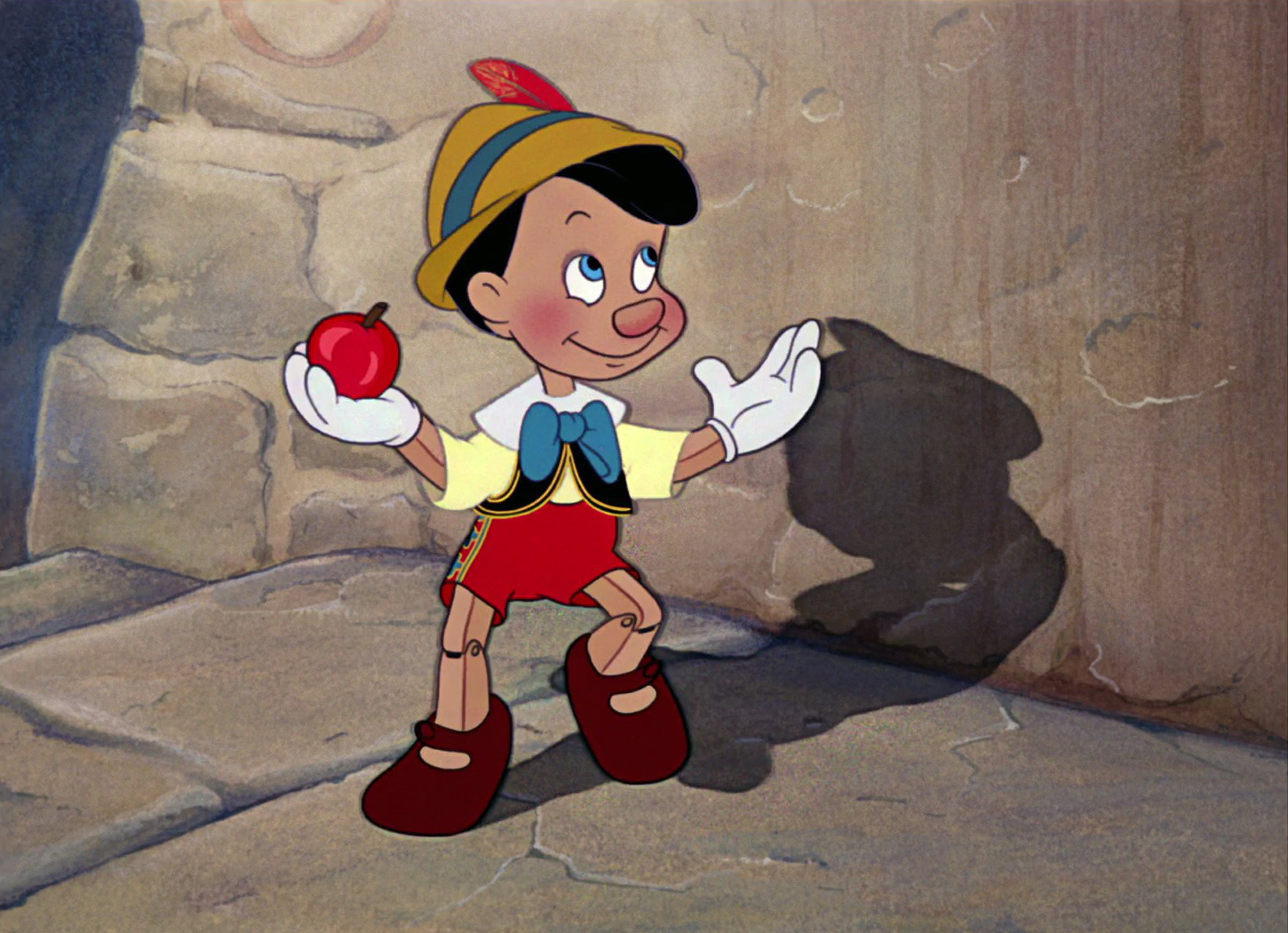 Pinocchio is based on a book by Florentine writer Carlo Lorenzini, who wrote under the pen name Carlo Collodi. This started as a series of stories that Collodi serialized in the newspaper Il Giornale dei Bambini between 1881 and 1882, which were published as a book in 1883. The film keeps general faith to the text but rearranges it considerably, only using several of the episodes of Pinocchio's adventures that Carlo Collodi told. There is a fairy in the book, although she is not named the Blue Fairy and does not bring Pinocchio to life (in the book, Pinocchio is fashioned from an animate piece of wood found by a friend of Gepetto's).
Though the story has been filmed a number of times, the Disney Pinocchio is a classic that no other version has come anywhere near touching. Indeed, the Disney version has even come to supplant people's vision of the Carlo Collodi story. The original story has much more of a sardonic bite to its humour, while most other filmed versions only retell the episodes of the story that Disney does rather than any of the many other episodes.
Pinocchio's classic stature may well be due to the near-perfect tale of pure-hearted innocence and unworldwise virtue that it tells. At times, the story seems all over the place (a symptom of the episodic nature of the original text) but the film's success comes in the things that shine through this. It is a tale that makes audiences believe in the purity of good wishes granted to those who believe in virtue – the very song When You Wish Upon a Star sums it up perfectly. The character of Pinocchio is a living embodiment of untamed childlike impetuousness who is dragged every which way by the unheeding whims of the moment.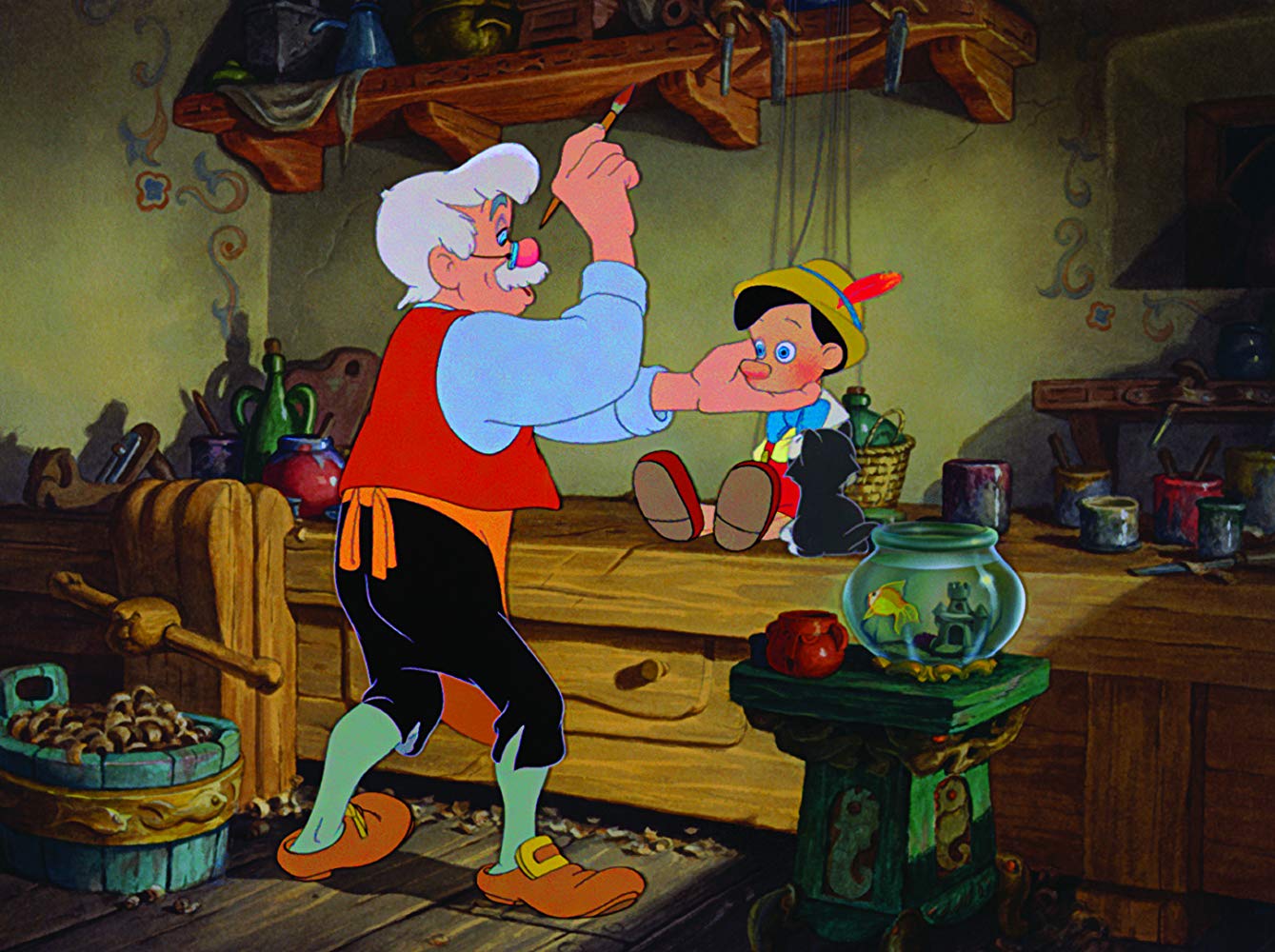 The story arc that Pinocchio gets is not so much the ostensible one of becoming a 'Real Boy' but one wherein he undergoes a picaresque adventure that teaches him the virtue of acting responsibly. In a taste of the conservative Family Values that Disney Studios later came to stand for, Pinocchio's growing up is all about learning to heed his actions and tame impulsive behaviour. The visit to Pleasure Island where bad boys are turned into donkeys is like a dark version of Disneyland, a place that celebrates all the negative virtues that parents were afraid that the children of the day would develop – where the children are given free cigarettes and beer, are allowed to roam loose in gambling halls, even have houses provided for them to wilfully destroy.
Pinocchio is without a question one of the great Disney films. Since debuting with the first feature film Snow White only three years earlier, Disney had managed, in an amazingly brief span of time, to scale incredible artistic heights. (The same year as they made Pinocchio, the studio also produced their greatest animated film Fantasia). The sequences that open the film – the lavishness of the background detail in Geppetto's workshop; the animals, including the wonderfully anthropomorphic cat and the lovelorn goldfish (all before the animal sidekick became a cliché character in a Disney film); the dance of the cuckoo clocks, which include a hunter shooting a bird, a woodsman chopping a turkey's neck, a mother spanking the boy's bottom and two classical dancers – are totally enchanting.
Some scenes, like the beautiful shot that opens with a widescreen of the town and moves down into closer view as the doors open and people emerge for the day, and continues to turn through the panorama and pass through foregrounded architecture, is stunning – especially when one considers that this was before the advent of 3D computer animation and was hand-drawn where the only means available to Disney artists was the multi-plane camera.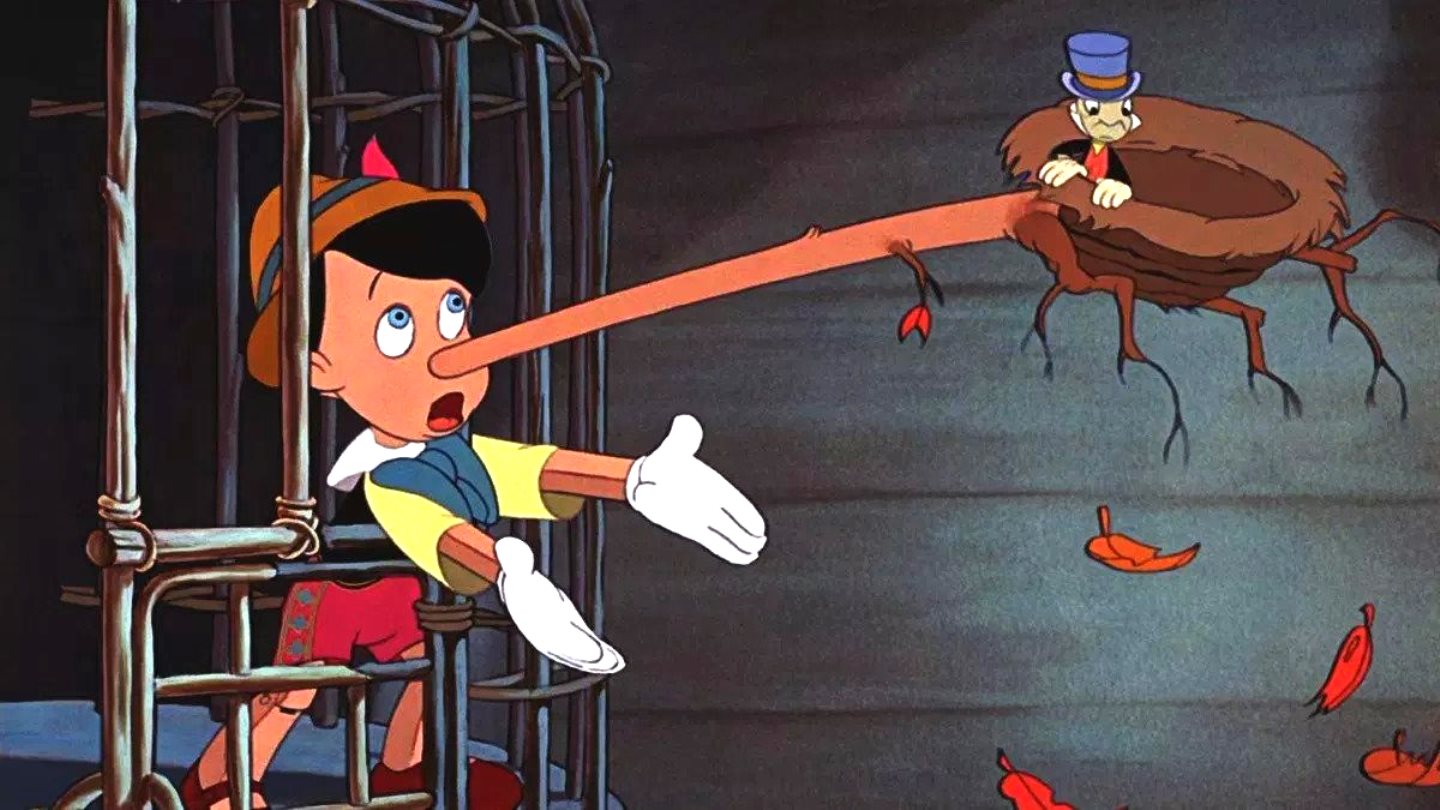 Perhaps what is most extraordinary is the richness of the colours in the film. The underwater sojourn with Pinocchio and Jiminy Cricket encountering various seahorses, clams and shoals of fish, which flee at the mention of Monstro, is utterly rapturous in its sheer colour and visual invention. Of course, the climactic scenes fleeing from Monstro, which has been designed with a giant-sized streamlined ferocity as it crashes about in pursuit, is immensely enthralling and something that was no doubt intensely frightening to moppet audiences of the day.
The Disney film later underwent a live-action remake with a CGI Pinocchio as Pinocchio (2022).
Other versions of Pinocchio are:– a lost Italian adaptation in 1911; The Golden Key (1939), an uncredited live-action version made in the USSR; an Italian live-action version The Adventures of Pinocchio (1947); Pinocchio (1957), a 60 minute NBC tv special starring Mickey Rooney as Pinocchio; Pinocchio (1965), a lost CBS tv special; the animated Italian sequel Pinocchio in Outer Space (1965) where Pinocchio ventures into space; Pinocchio (1967), a live-action East German production; The Erotic Adventures of Pinocchio (1971), which was advertized with the immortal line "It's not his nose that grows"; an Italian tv mini-series The Adventures of Pinocchio (1972); a further Italian animated version The Adventures of Pinocchio (1972); Pinocchio (1976), a US tv version with Sandy Duncan as Pinocchio; Pinocchio (1978), a four part animated BBC tv adaptation; The Adventures of Pinocchio (1976), a Japanese animated tv series; Pinocchio's Christmas (1980), an hour-long stop-motion animated tv special sequel from Rankin-Bass; a US animated version The Adventures of Pinocchio (1984); an Italian animated tv series The Adventures of Pinocchio (1985); an animated American sequel Pinocchio and the Emperor of the Night (1987); an Italian version Occhio Pinocchio (1994); a live-action American remake with a CGI Pinocchio, The Adventures of Pinocchio (1996), which also spawned a sequel, The New Adventures of Pinocchio (1999); a horror movie version Pinocchio's Revenge (1996) that features a killer puppet; Gepetto (2000), a musical tv movie remake starring Drew Carey as Gepetto; Pinocchio (2002), directed by and starring Italian comedian Roberto Benigni; Pinocchio 3000 (2004), an animated adaptation that translates the story into sf terms with Pinocchio becoming an android; an Italian tv adaptation Pinocchio (2008); Matteo Garrone's beautiful live-action Pinocchio (2019) starring Roberto Benignini as Gepetto this time; Pinocchio (2022), a remake of the Disney film with a CGI Pinocchio; and the stop-motion animated Guillermo Del Toro's Pinocchio (2022). In the 1990s, a further remake of Pinocchio also became the subject of a lawsuit from director Francis Ford Coppola, who attempted to mount his own version of the tale set during Nazi-occupied France, which hit the headlines when Coppola sued Warner Brothers for $80 million, claiming that they had sabotaged the project. Pinocchio also turns up as a character in the fairytale spoofs Shrek 2 (2004) and Shrek the Third (2007).
---
---