---
Canada/USA. 2003.
Crew
Director – Owen Hurley, Screenplay – Elana Lesser & Cliff Ruby, Producers – Jesyca C. Durchin & Jennifer Twiner McCarron, Music – Arnie Roth, Adapted from Swan Lake by Piotr Tchaikovsky, Animation Directors – William Gordon & Gino Nichols, Production Design – Walter P. Martishius, Choreography – Peter Martins. Production Company – Mattel Entertainment/Mainframe Entertainment.
Voices
Kelly Sheridan (Odette/Barbie), Mark Hildreth (Prince Daniel), Kelsey Grammer (Rothbart), Venus Terzo (Lila), Kathleen Barr (Fairy Queen/Marie), Maggie Wheeler (Odile), Nicole Oliver (Carlita), Ian James Corbett (Ivan), Michael Dobson (Erasmus), Gina Stockdale (Queen Mother), Chantal Strand (Kelly), Brian Drummond (Reggie)
---
Plot
At summer camp, the counsellor Barbie tells a fairy-tale to a lonely young girl who is unable to sleep. In the story, a unicorn strays into the town and the baker's daughter Odette follows it into an enchanted forest. The unicorn becomes entangled in a branch and, in trying to help it, Odette inadvertently removes a magic crystal. A fairy queen then tells Odette that the person who removes the crystal is the one who is destined to defeat the queen's evil brother Rothbart. However, when Rothbart sees what Odette has done, he places a spell on her that transforms her into a swan. The fairy queen is able to alter the spell so that Odette transforms back to human form whenever night falls upon Swan Lake. Meanwhile, Prince Daniel wanders into the enchanted forest and is captivated by Odette. Odette learns that the only way she can regain her form is to find her true love but not if he declares his love for another first. The prince's mother holds a ball so that he can choose a bride. However, Rothbart contrives an evil plan to enchant his daughter Odile so that Daniel thinks she is Odette and will declare his love for her instead.
---
Canada's Mainframe Entertainment is one of the great untold stories in animation. Formed in the early 1990s – in part by Steve Barron, director of Teenage Mutant Ninja Turtles (1990) and Coneheads (1993) – Mainframe became the world's first commercially producing computer animation firm, well before Pixar became a name on everybody's lips. Furthermore, while Pixar was concentrating all their efforts into feature-length animation, Mainframe was producing computer animation in the far more rigorous environment of weekly television. Mainframe produced the cult series ReBoot (1994-2001) and then went onto other shows like Beast Wars: Transformers (1996-9), Shadow Raiders (1998-9), Weird-Ohs (1999-2000) and Action Man (2000-1).
Much of Mainframe's work has been produced in conjunction with toy companies where they have spun a number of tv series out from successful toy lines. Such is the case with Barbie of Swan Lake, where they craft a film around Mattel's trademark girl's doll. They had made two previous Barbie movies – Barbie in the Nutcracker (2001), which also combined Barbie with classical music, and another fairytale adaptation, Barbie as Rapunzel (2002), and then subsequently placed her in the Mark Twain classic in Barbie as The Princess and the Pauper (2004) and went onto the likes of Barbie Fairytopia (2004), Barbie and the Magic of the Pegasus in 3D (2005), Barbie in The 12 Dancing Princesses (2006), Barbie Mermaidia (2006), Barbie Fairytopia: Magic of the Rainbow (2007), Barbie as The Island Princess (2007), Barbie & the Diamond Castle (2008), Barbie in A Christmas Carol (2008), Barbie Mariposa (2008), Barbie and the Three Musketeers (2009), Barbie Presents Thumbelina (2009), Barbie: A Fashion Fairytale (2010), Barbie in a Mermaid Tale (2010), Barbie: A Perfect Christmas (2011), Barbie: A Fairy Secret (2011), Barbie: Princess Charm School (2011), Barbie in a Mermaid Tale 2 (2012), Barbie: The Princess & The Popstar (2012), Barbie and Her Sisters in a Pony Tale (2013), Barbie in The Pink Shoes (2013), Barbie Mariposa and the Fairy Princess (2013), Barbie and the Secret Door (2014), Barbie: The Pearl Princess (2014), Barbie and Her Sisters in the Great Puppy Adventure (2015), Barbie in Princess Power (2015), Barbie in Rock'n'Royals (2015), Barbie and Her Sisters in a Puppy Chase (2016), Barbie Spy Squad (2016), Barbie Star Light Adventures (2016), Barbie: Dolphin Magic (2017) and Barbie: Video Game Hero (2017).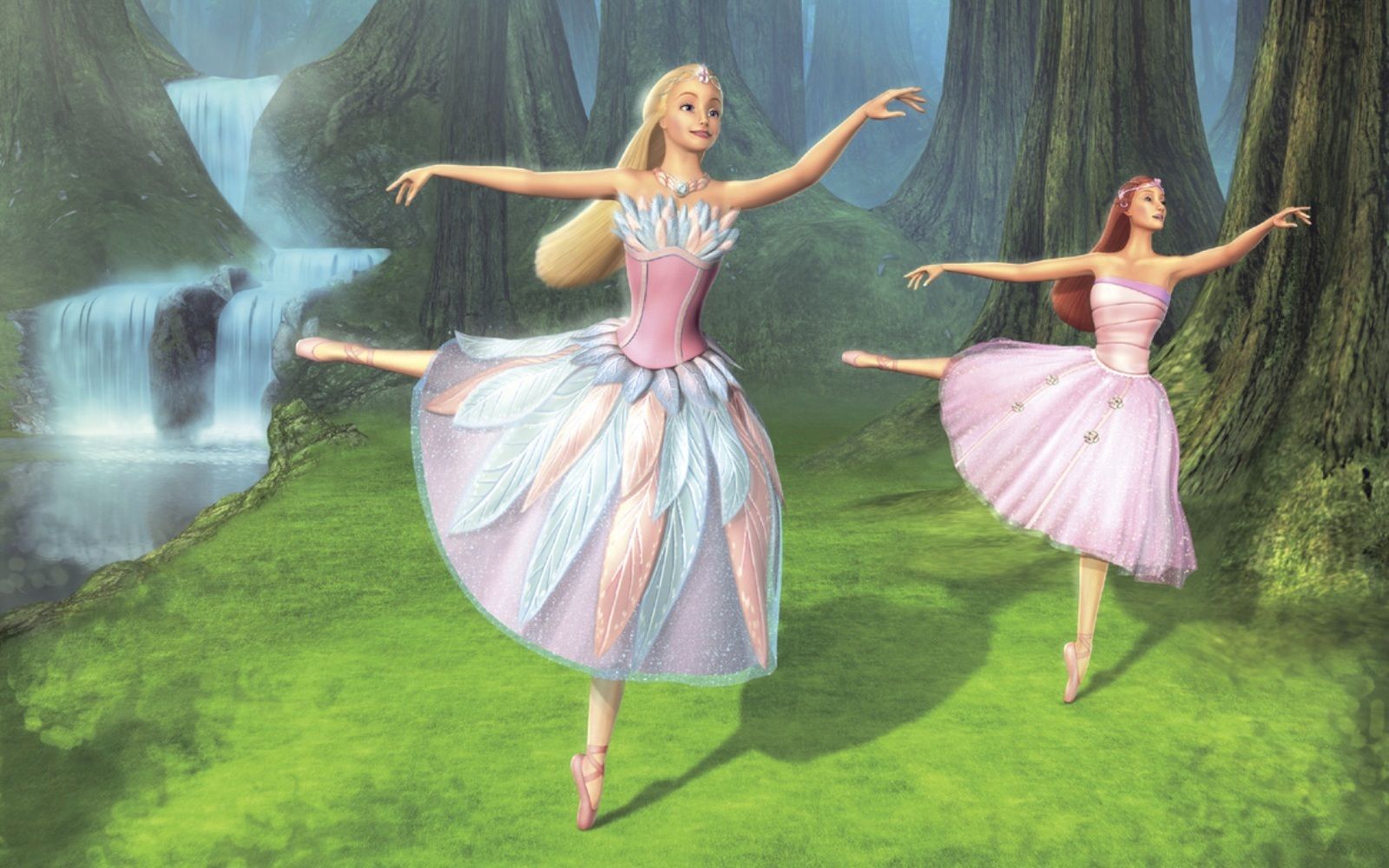 Somewhat incongruously, Barbie is cast here as the princess in an adaptation of Tchaikovsky's Swan Lake (1895). [The same fairytale was also adapted, sans Tchaikovsky, by animator Richard Rich as The Swan Princess (1994)]. The two genres do seem somewhat mismatched – a girl's doll that has become synonymous parlance for a bimbo sitting alongside a classical ballet. In order to highlight various accessories for toy sales, Barbie undergoes various costume changes throughout and rides in a pink swan-like coach. That said, Barbie of Swan Lake works amiably.
Clearly, Mainframe are not working with the budget that Pixar's films have and their animation here is much plainer and has a certain glassy plasticity to it. This tends to jar somewhat with the nature of the fairytale, which centres on a romantic flight of the imagination more so than it does the three-dimensional roundedness of computer animation. Nevertheless, the film eventually manages to tell the fairytale with a plaintive sincerity and romantic/heroic sweep. All the requisite talking animal supporting characters are thrown in with a likable degree of humour.
The film even conducts several animated ballet sequences. Although one might notice that in comparison to the Tchaikovsky version of the story, Mainframe have watered the fairytale down to the anodyne level of the children's film – in the original, for instance, Odette and the prince are only united together in the afterlife, while the film also institutes a happy ending that is much less grim than it is in the ballet.
---
Trailer here
---