---
Crew
Director – Robert Altman, Screenplay – Doran William Cannon, Producer – Lou Adler, Photography – Lamar Boren & Jordan Cronenweth, Music – Gene Page, Special Effects – Marcel Vercoutere, Art Direction – Preston Ames & George W. Davis, Wings Designed by Leon Ericksen. Production Company – Adler-Phillips/Lions Gate.
Cast
Bud Cort (Brewster McCloud), Michael Murphy (Detective Frank Shaft), Shelley Duvall (Suzanne Harris), Sally Kellerman (Louise), Rene Auberjonois (The Lecturer), John Schuck (Martin Johnson), William Windom (Haskell Weeks), G. Wood (Captain Crandall), Jennifer Salt (Hope), Bert Remsen (Douglas Breen)
---
Plot
Detective Frank Shaft is brought to Houston to investigate a series of murders. All of the victims have been found covered with bird droppings. He suspects Brewster McCloud who was working as chauffeur for one of the victims and is connected to several of the others. Brewster lives beneath the Houston Astrodome where he is trying to build a set of wings so that he can fly. Various women want to sleep with Brewster but he is visited by a mischievous angel who warns him of being distracted from his purpose of building the wings. She is the one who caused the deaths and now intervenes to thwart the police and various others as they get in his way.
---
Robert Altman was one of the genuine American auteurs with films such as M.A.S.H. (1970), Nashville (1975), The Player (1992), Short Cuts (1992) and Gosford Park (2001), to name but a few. Altman is one of the few directors who has spent the better part of four decades crafting his own unique and individualistic films, unconcerned for the vagueries of prevailing box-office trends. Altman has also surprisingly made a number of films that fall within genre guidelines (see below for listing).
Brewster McCloud was the first film that Robert Altman made after the huge success he had with M.A.S.H.. Brewster McCloud is genuinely eccentric film, even among the often strange and willfully eccentric experiments that Altman has regularly engaged in. It was not a success but Altman recovered quickly after with McCabe and Mrs. Miller (1971). Nevertheless, Brewster McCloud is pure Altman. It has a very peculiar sense of humour. Sample piece of dialogue from a tour guide: "You know what we call that temple? The Shirley temple. And we're thinking of painting the temple black."
Like most Altman films what one watches it for is not any type of linear clear-cut narrative but the rhythm of the background. Any Robert Altman film has a bewildering sense of background texture that comes filled with seemingly inconsequential conversations and happenings or where Altman is constantly filling the foreground of a scene with bizarrely deadpan goings-on. There are wonderful little ironic pieces that weave in and out of the story and keep popping up later – William Windom's insistence that detective Michael Murphy come for dinner, the business about the owner of Shelley Duvall's car, the stolen camera, the cop in sunglasses who keeps making advances on Bert Remsen's wife.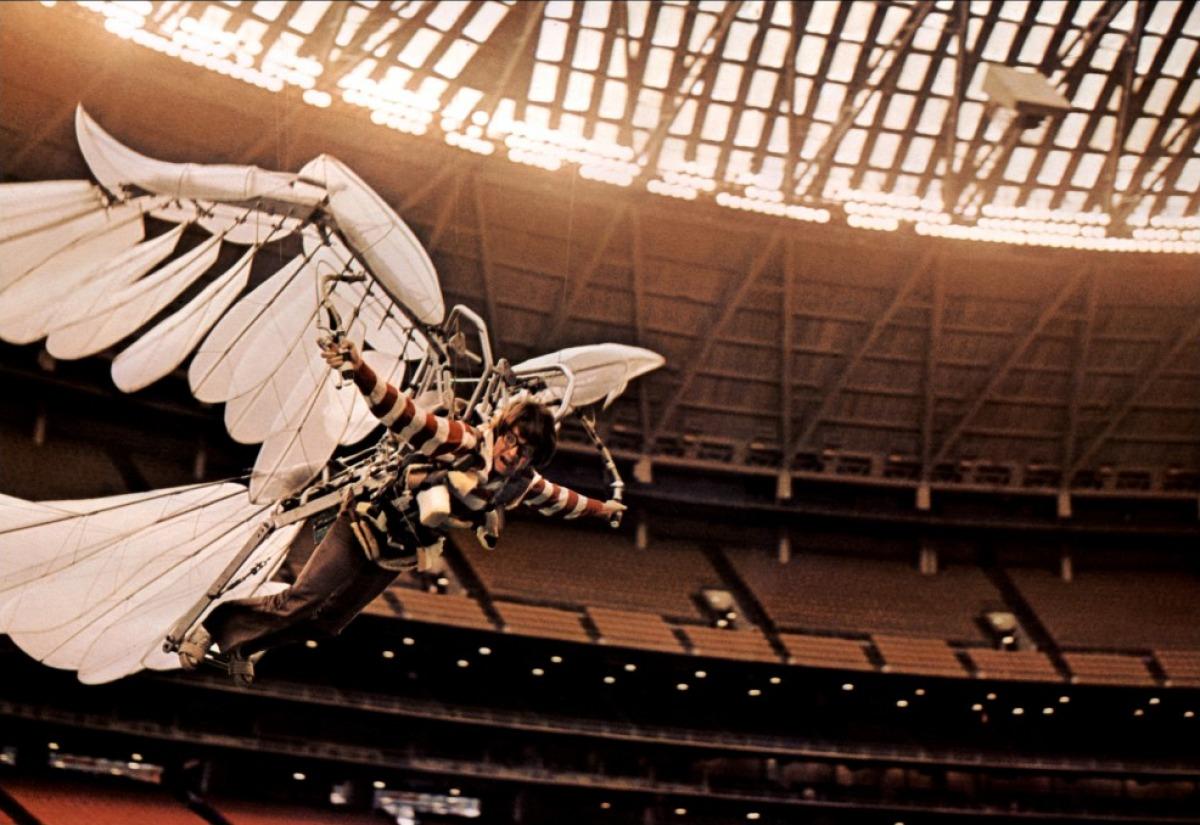 The film comes with lots of weird bird and flying symbolism and allusions – birds are everywhere, victims are covered in birdshit, there are bird-named retirement homes, Bud Cort works for one of the last survivors of the Wright Brothers family, the Houston Astrodrome features prominently, Shelley Duvall's car has a licence plate DUV and Sally Kellerman's is BRD-SHT. There is also Altman regular Rene Auberjonois who gives a very strange performance, popping up in between scenes to lecture about bird behaviour, keeps breaking into bird cries and movements and is last seen pecking birdseed off a shelf.
It really is a very strange film. Altman loves the bizarreness of it all. He directs one of the most eccentric car chases ever – one where he delights in the silliness of images like all four cars flying up into the air in unison or them slowly bumping their way along a railway line. In the bizarre ending, Bud Cort finally takes to the air on his wings but crashes to the ground, whereupon the rest of the cast walk on as a circus act and are introduced by their real names while Cort lies dead under their feet. All of this was unfortunately far too bizarre for most audiences who gave Brewster McCloud at most a puzzled shrug.
Robert Altman's other films of genre interest are:– Countdown (1967) about a Moon landing mission; Images (1972) with its surreal games of identity blurring; 3 Women (1977), a cryptic film about identity blurring; Quintet (1979), an enigmatic film set in a frozen future; Popeye (1980), a live-action adaptation of the famous comic-strip; and A Prairie Home Companion (2006), an ensemble film based on the famous radio show, which features a visiting angel of death.
---
---