(Corki Dancingu)
---
Poland. 2015.
Crew
Director – Agnieszka Smoczynska, Screenplay – Robert Bolesto, Producer – Wlodzimierz Niderhaus, Photography – Kuba Kijowski, Lyrics – Ballady I Romanse, Visual Effects – Platige Image (Supervisor – Jakub Knapik), Makeup Effects – Tomasz Matraszek, Production Design – Joanna Macha. Production Company – WTDiF/Telewizja Polska/Platige Films/Polski Instytut Sztuki Filmowej/Przedstawiaja Film Wspolfinansowany Przez.
Cast
Marta Mazurek (Srebrna), Michalina Olszanska (Zlota), Kinga Preis (Wokalitska), Zygmunt Malanowicz (Club Owner), Andrzej Konopka (Perkusista), Jakub Gierszal (Mietek), Magdalena Cielecka (Boskie Futro), Marcin Kowalczyk (Tryton)
---
Plot
Wokalitska turns up at the nightclub with two teenage girls Silver and Gold. She demonstrates to the owner that when the girls' legs are splashed with water, they turn into mermaid tails. The girls are promptly booked as part of a singing/stripping routine. What none of the others know is that the two girls feed on human flesh. However, as Gold sees Silver attracted to the human bass player Mietek, she realises that her falling in love will endanger the two of them.
---
The Lure was a directorial debut for Polish director Agnieszka Smoczynska. The film toured a great many film festivals throughout 2016, winning several awards including a special jury prize for 'Unique Vision and Design' at Sundance. It obtained a general arthouse release in 2017 where publicity tried to drum it up as a cult film.
In watching The Lure, you need to throw Disney's The Little Mermaid (1989) and every cute association with mermaids you have out the door. The film is wilfully eccentric. It cannot quite be called a dark take, more a work that exists in bizarrely surrealistic territory. For one, it comes with musical numbers – so too does the Disney film however the ones here are whacked musical numbers that Agnieszka Smoczynska determines to make as wacky as possible. They are musical numbers that are also stripper routines where Agnieszka Smoczynska creates wild and provocative images of the two mermaid sisters languishing in giant-size cocktail glasses with their tails dangling over the side. Elsewhere, we get a mermaid-human lesbian seduction scene that naturally takes place as a musical number. There is even a sequence where one of the girls is singing while she is imprisoned on a morgue slab and her tail is being cut off with a buzzsaw.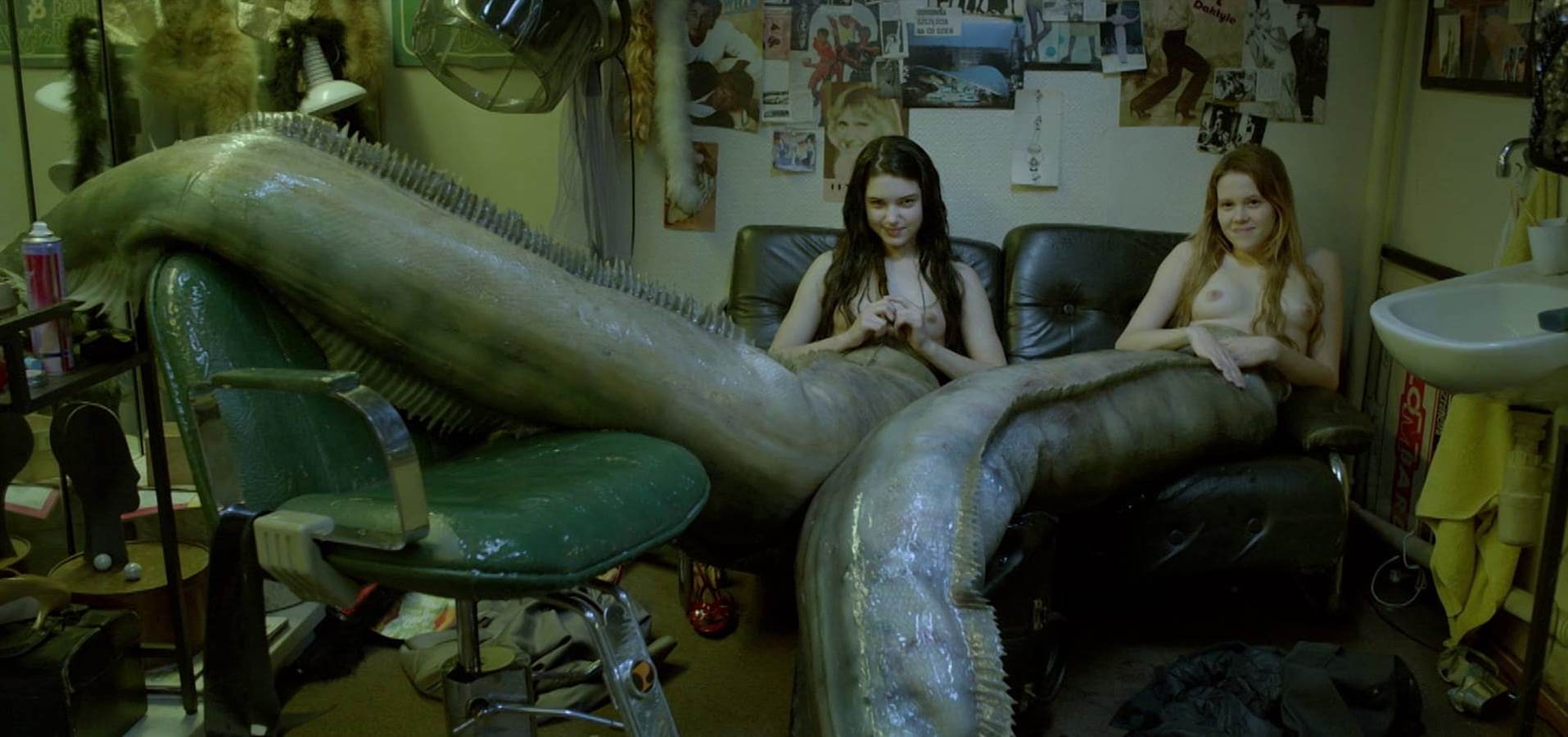 One of the things about the film that proves uncomfortably eye-opening is that both of the girls cast as the mermaids seem barely pubescent but the film has no shame about parading them about topless (although in actuality both of the actresses were in their mid-twenties). In their performances, the two girls, Marta Mazurek and Michalina Olszanska, have great presence and Smoczynska gives the choreography a considerable charge. The musical numbers are flat two-tone synthesizer arrangements like electro-rock numbers from some forgotten 1980s band being played on an electric organ.
There is never too much plot arranged around the rest of the film beyond the musical numbers and the scenes with the two sisters vamping about. It seems a little unfocused and all over the place at times with characters walking in and then being forgotten about. Nevertheless, it is the wild sensation of Agnieszka Smoczynska's images that drives the film. She proves herself a name worth looking out for in future.
Agnieszka Smoczynska next went on to make the The Kindler and the Virgin episode of the anthology The Field Guide to Evil (2018)
---
---