---
Crew
Director – Robert Altman, Screenplay – Jules Feiffer, Based on the Comic Strip Created by Elsie C. Segar, Producer – Robert Evans, Photography – Giuseppe Rotunno, Music/Lyrics – Harry Nilsson, Additional Music – Tom Pierson, Special Effects – Allen Hall, Makeup – Giancarlo Del Brocco, Production Design – Wolf Kroeger, Choreography – Hovey Burgess & Sharon Kinney. Production Company – Paramount/Disney.
Cast
Robin Williams (Popeye), Shelley Duvall (Olive Oyl), Ray Walston (Poopdeck Pappy), Wesley Ivan Hurt (Swee'pea), Paul L. Smith (Bluto), Paul Dooley (Wimpy), Donald Moffat (The Taxman)
---
Plot
The sailor Popeye arrives in the town of Sweethaven and rents a room at the boarding house of Nana Oyl. He tells people how he has travelled the seven seas in search of his Pappy who abandoned him when he was two years old. At the boarding house, Popeye meets Olive Oyl. Olive is unhappily engaged to the hulking Bluto who governs Sweethaven in the absence of the mysterious Commodore. A baby is anonymously left for Popeye and Olive to take care of and Popeye names it Swee'pea. When it is discovered that Swee'pea has precognitive powers, everybody in Sweethaven tries to get their hands on and exploit him.
---
America began its affection with Popeye, the spinach-powered sailor man, after Popeye's first appearance in Elsie C. Segar's Thimble Theater newspaper strip in 1929. Thimble Theater had begun in 1919 where the principal characters were initially Olive Oyl, her brother Castor Oyl and boyfriend Ham Gravy. Popeye first turned up as a character who was merely hired to row Castor across a bay. The sailor with the funny squint, corncob pipe, bulging forearms and malapropisms proved so popular that within a year he became the central character of the strip with Olive Oyl abandoning Ham Gravy to take up with him and Thimble Theater later being renamed Popeye. Elsie Segar took Popeye through a host of often surreal and bizarre adventures. Segar died in 1938 but the strip continued under various other artists until 1994.
Popeye's real fame grew with the cartoons produced by Fleischer Studio between 1933 and 1942. Brothers Dave and Max Fleischer produced 108 Popeye cartoons, all but three of which were in black-and-white. The cartoons simplified Elsie Segar's strip, abandoning some of the more surreal elements. It was however the cartoons that introduced a number of staple elements of the Popeye that we know today – such as Popeye's nemesis Bluto, as well as boosting the whole spinach-eating aspect, which was relatively minor in Segar's strip. (With America's entry into World War II in 1941, the cartoon Popeye also enlisted in the Navy and many of the Fleischer shorts took a patriotic bent). The Fleischer shorts were so popular in their heyday that Popeye was at one point said to rival Mickey Mouse. With the financial collapse of the Fleischer Studio in 1943, the studio was purchased by Paramount and renamed Famous Studios where a further 125 Popeye shorts were produced between 1943 and 1957. The shorts began airing on tv in 1956 as a tv series simply entitled Popeye (1956-63), with new cartoons being commissioned from 1960 onwards. Popeye's other tv incarnations include Hanna-Barbera's The All-New Popeye Hour (1978-83) and their short-lived follow-up Popeye and Son (1987-8).
One of the great peculiarities of the Popeye phenomenon was this live-action movie. Popeye came about in the early 1980s, a period when US tv and cinema screens were awash with a sudden interest in superheroes and comic-books – with tv successes like The Six Million Dollar Man (1973-8), The New Original Wonder Woman (1976-9), The Amazing Spiderman (1977-9), The Incredible Hulk (1978-81) and of course the big-screen version of Superman (1978) with Christopher Reeve.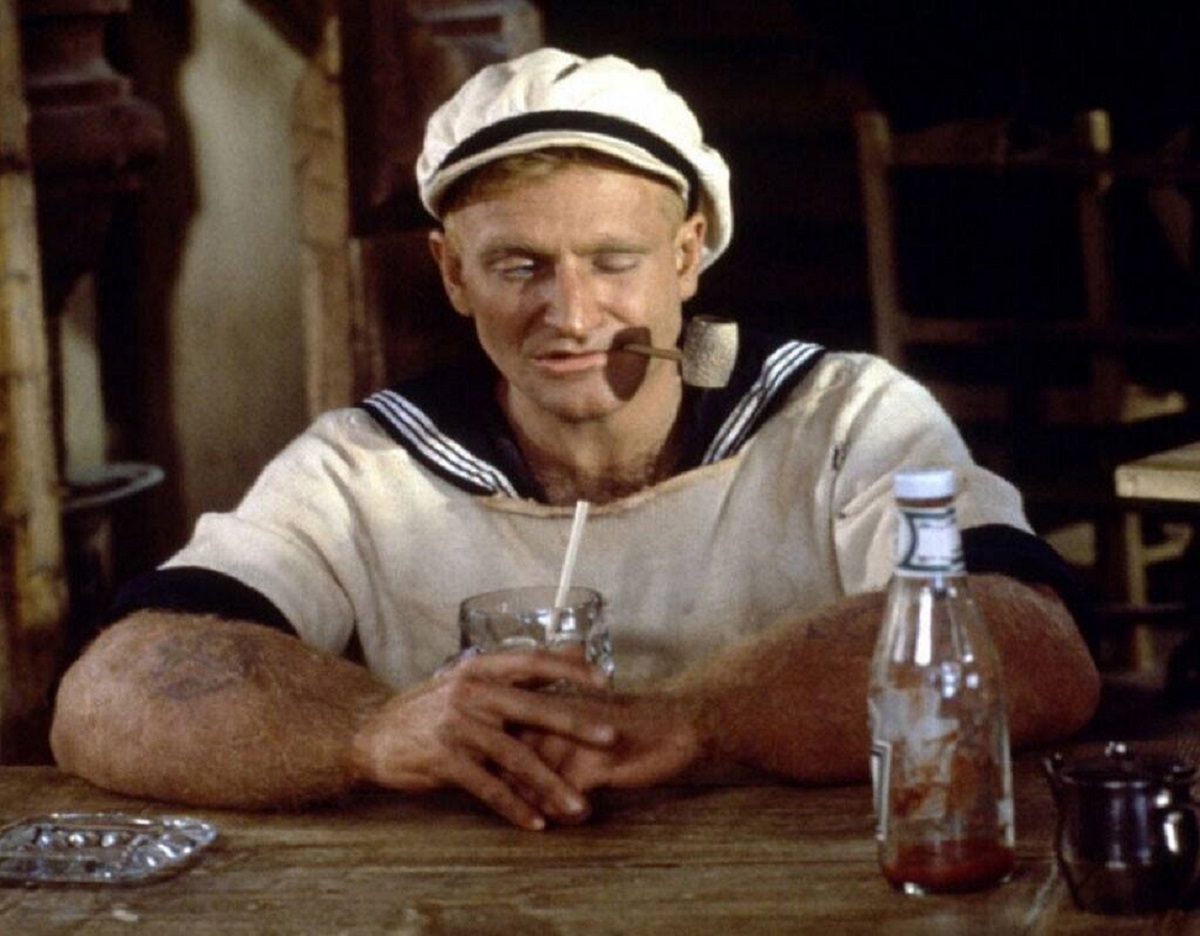 In the aftermath of Superman, producers were searching around for other comic-book and superheroic properties to adapt. This ended up with a number of oddities and outright flops including Captain America (tv pilot, 1979), Disney's Condorman (1981), The Legend of the Lone Ranger (1981) and Swamp Thing (1982). The model for Popeye was apparently the big Broadway success of Annie (1977), later turned into the film Annie (1982), which was both a comic-book adaptation and a musical. Certainly, back then comic-book/superheroic properties did not have the solid box-office backing that they did in the 1990s and beyond after the mega-success of the likes of Batman (1989), X-Men (2000), Spider-Man (2002) and The Dark Knight (2008). It is perhaps necessary to see this context in order to understand what an oddity Popeye was at the time.
Popeye was mounted as a co-production between Paramount and Disney. In a decision that must have had some studio executives scratching their heads, the live-action Popeye project was handed to director Robert Altman. Robert Altman was one of the most individualistic and at times downright eccentric directors working within American cinema. Altman came to attention with the hit success of his fourth film, the original M.A.S.H. (1970) and throughout the 1970s had built a considerable name with works like McCabe and Mrs Miller (1971), Images (1972), The Long Goodbye (1973), Thieves Like Us (1974), the Academy Award nominated Nashville (1975), and 3 Women (1977).
Robert Altman's films often feature large ensemble casts and diffuse multiple narratives. He favours a directorial style that is elliptical, where he often runs lines of dialogue over the top of each other simultaneously or has pieces of mise-en-scene that take place in the background of a scene. Altman frequently veers off to conduct films as cryptic and bizarre experiments that leave his supporters scratching their heads – this appears to be especially the case when he touches genre material (see below for Altman's genre films).
Popeye came at the start of the 1980s – an era where Altman's critical acclaim of the last decade seemed to flounder with ill-received films like A Wedding (1978), A Perfect Couple (1979), Quintet (1979), Health (1980) and O.C. and Stiggs (1987). In the 1990s and up until his death in 2006, Altman regained his ground with the brilliant Hollywood satire The Player (1992), and then went onto acclaimed works like Short Cuts (1993), Pret-a-Porter (1994), Kansas City (1995), Gosford Park (2001), The Company (2003) and A Prairie Home Companion (2006).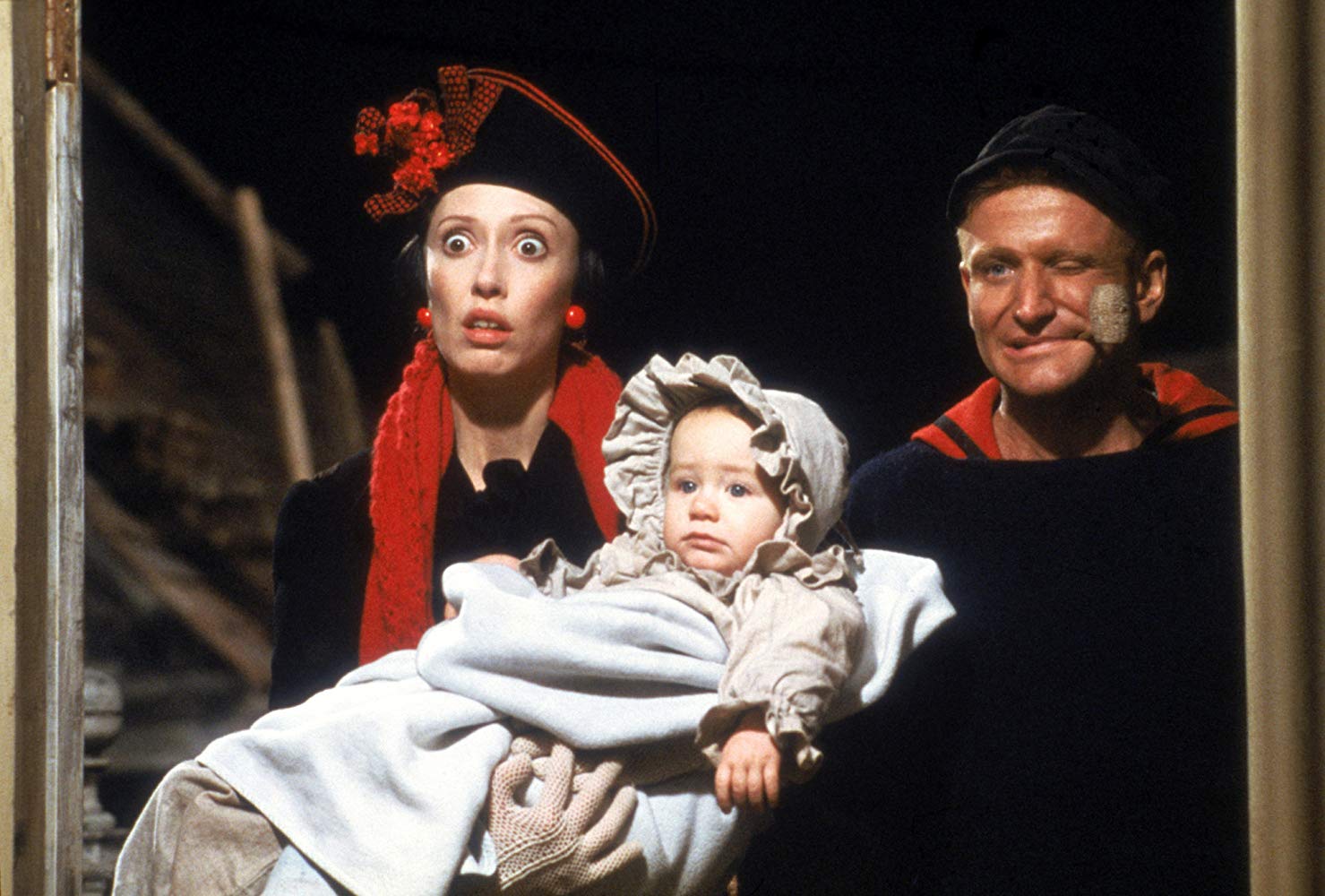 In recent years, Popeye has gained a reputation as a real turkey, although this is a case that one disputes. Certainly, Popeye was not the financial flop when it came out that many people today keep insisting that it was. It did receive a number of mixed reviews – but at the same time, a casual glance around contemporary internet reviews of Popeye show that the greater majority of these are praiseworthy and that there are a great many voices calling for re-appreciation of Popeye as an underrated classic.
A large part of people's complaints seem to be that Popeye comes in the characteristic style of Robert Altman – that it is filled with his customary visual eccentricity and dense, difficult-to-understand dialogue – or that the film does not look like what one has come to expect of a filmed comic-book. Certainly the film, which comes from a script by cartoonist Jules Feiffer, is very faithful to the essence of the Popeye comic-strip, with characters like Olive, Swee'pea, Castor Oyl, Wimpy, Poopdeck Pappy and Ham Gravy all making appearances. (Alas, no Eugene the Jeep). Feiffer essentially creates his script as an introduction to the world Popeye – one of the cleverer touches is that Popeye hates eating spinach and only learns of the effect it has on him when he is force-fed a can of it by Bluto at the end.
I must join the chorus of those praising Robert Altman's Popeye. Popeye is a film that is difficult at times but eventually holds persistent charm. Altman lets the show get out of hand occasionally and degenerate into slapstick but most of the time Popeye hits a perfect sense of cartoon-heightened surrealism. The Sweethaven township was a single set that was built on location in Malta (where it has since become a tourist attraction). Here Elsie Segar's minimally caricatured backgrounds have been transformed into a series of densely cluttered corkscrew constructions all in dun colours – the results look like some kind of shantytown out of The Cabinet of Dr Caligari (1919).
Altman choreographs everything from the dialogue to the dances in his uniquely quirky and rambling style, the complete antithesis of what one would expect from the cartoon, but this strangely works. There are constant little pieces of comedic action taking place in the background at the docks and boarding house – like the character who runs through the entire film trying to catch his hat – that means that you have to watch the film a second time to pick up.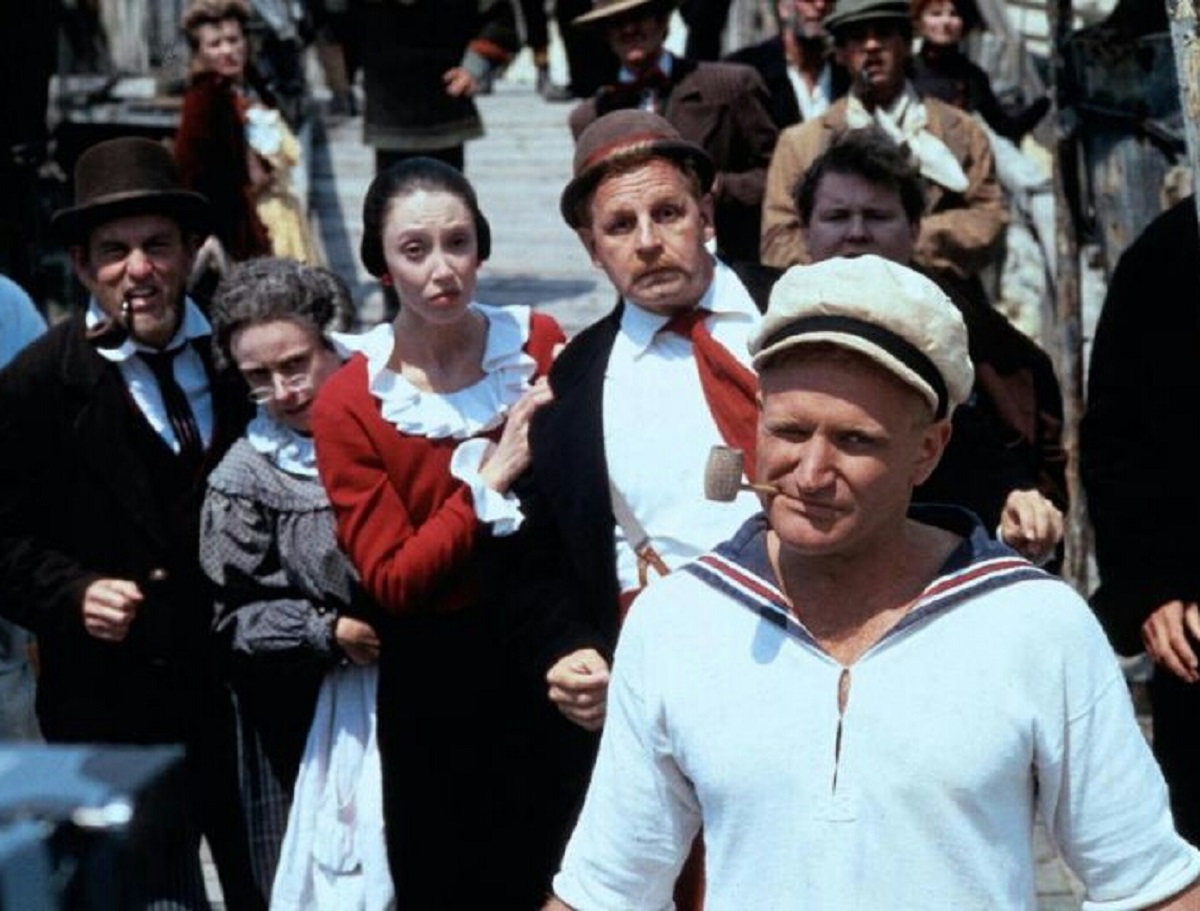 The only part that does not fully work is the climactic chase and fight scenes and the appearance of the octopus, where it feels like Altman has bowed to studio pressure to throw standard action dramatics in to wrap the show up. Certainly, the difficult-to-decipher word games played with the dialogue make for such a willing chaos at times that one can imagine that Popeye would have been difficult viewing for its intended family audience during its day.
Robin Williams does well in impersonating a live-action Popeye. Popeye was Robin Williams' first big screen performance, which came just after he found success as the wacky alien visitor on the tv sitcom Mork and Mindy (1978-82) and a few years before Williams became an A-list star. Williams comes with built-up latex forearms, a puzzled squint and dialogue that comes out somewhere between the pinched-mouth mutter of a Cyndi Lauper and a Marlon Brando mumble. It is exceedingly weird to watch as a performance but you cannot deny that it is the essence of the character of Popeye.
As Olive Oyl, Altman regular Shelley Duvall has been cast in a role that she was born to play and is wonderful. With her plaintive wail, Shelley Duvall also has the only memorable one of the film's musical numbers He Needs Me, which was later reused in Paul Thomas Anderson's Punch Drunk Love (2002). The rest of Harry Nilsson's songs are forgettable – and are not exactly helped by Robert Altman having the singers mumble half the lyrics.
Robert Altman's other films of genre interest are:– Countdown (1967) about a Moon landing mission; the completely gonzo Brewster McCloud (1971) about a young man who is invoked to build a set of wings by an angel; Images (1972) with its surreal games of identity blurring; 3 Women (1977), a cryptic film about identity blurring; Quintet (1979), an enigmatic film set in a frozen future; and A Prairie Home Companion (2006), an ensemble film based on the famous radio show, which features a visiting angel of death.
---
---