---
Crew
Director – Richard Franklin, Screenplay – Tom Holland & Bill Phillips, Story – Tom Holland, Producer – Allan Carr, Photography – Victor J. Kemper, Music – Brian May, Production Design – William Tuntke. Production Company – Universal.
Cast
Henry Thomas (Davey Osbourne), Dabney Coleman (Jack Flack/Hal Osbourne), Christina Nigra (Kim Gardner), Michael Murphy (Rice), John McIntire (George MacReady), Jeanette Nolan (Eunice MacReady), Bill Forsythe (Morris)
---
Plot
Young Davey Osbourne loves role-playing games, especially spy games. He has created the imaginary character of the super-spy Jack Flack. While playing in a downtown building, Davey sees a man shot by spies. The man manages to give Davey a computer game called 'Cloak and Dagger' before he dies and tells him to take it to the FBI. When playing the game later, Davey finds that it contains the plans for an invisible bomber. Davey's father refuses to believe him when he tries to tell what happened and thinks Davey has become too involved in his role-playing games. When the spies come after Davey, it is a full-time job for his spectral companion Jack Flack to keep him alive.
---
Australian director Richard Franklin and screenwriter, later director, Tom Holland met on Franklin's production of Psycho II (1983) and paired up again with this children's film, which was designed as a vehicle to highlight Henry Thomas, then riding high on the success of E.T. – The Extra-Terrestrial (1982).
Behind Cloak and Dagger there remains a potentially good idea – a Boy Who Cried Wolf scenario wherein a child with an overactive imagination is plunged into a real spy caper and cannot get anyone to believe he is running for his life. Unfortunately, this premise is bound up in one of the stupidest and most hole-ridden scripts ever written. Rarely has one seen a script that hinges on so many unbelievable coincidences – in his flight, Henry Thomas ends up on a boat where he befriends an old couple who just happen to also turn out to be part of the spy ring; leaps like how the killers are able to trace who Thomas is simply from a dropped baseball bat – there must surely be dozens of Osbournes in the phone book and how they then manage to link him to his playmate Christina Nigra to kidnap her; or his father's climactic credibility-defying escape from an exploding plane and so on.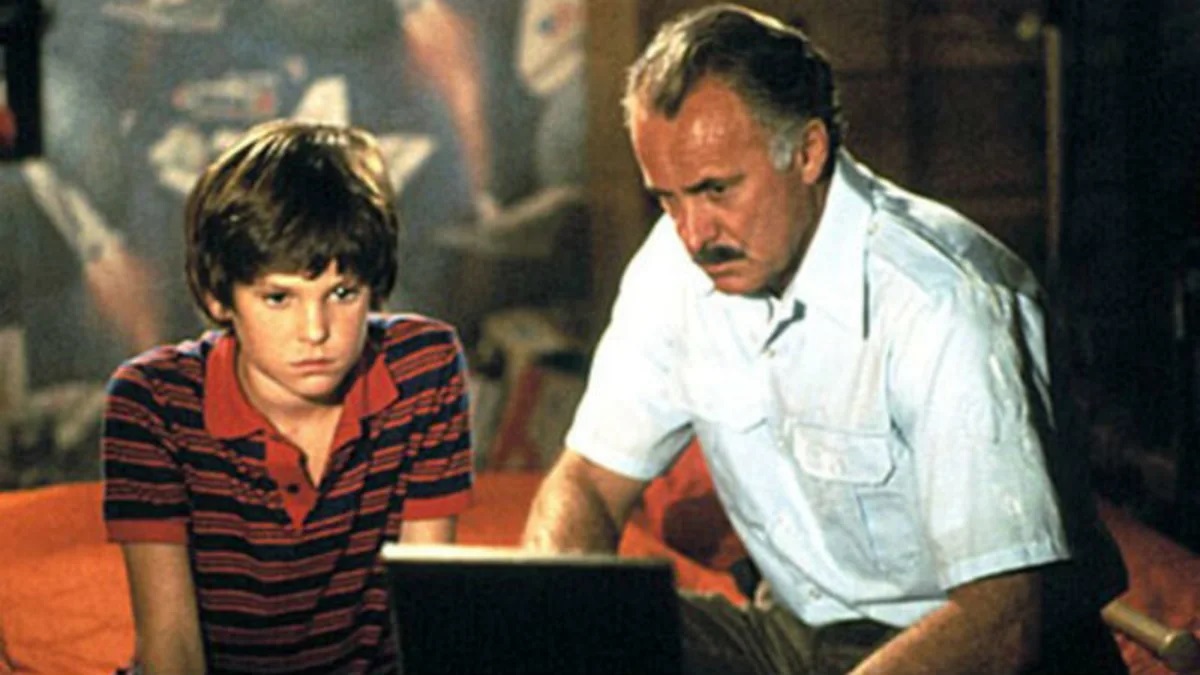 However, the most ludicrous concept is that of Jack Flack, Henry Thomas's imaginary military hero playmate, played with twitchy mugging irritation by Dabney Coleman, who in a move of querulous Freudian casting also doubles as Thomas's father. The character is indicated throughout as being a figment of Henry Thomas's imagination. However, later in the film, Jack is allowed to obtain an ontological existence and is shown physically moving objects and appearing as a phantom before others. Exactly who Jack Flack is – is he ghost, an imaginary companion or what? – is left entirely unexplained by the script. It is a gaping hole that leaves one scratching their head.
On the plus side, Richard Franklin directs well, aided by some moody photography. Both Henry Thomas and his young friend Christina Nigra prove well cast.
Richard Franklin made a number of other films of genre interest are:– Patrick (1978) about a psychic comatose patient; the psycho-thriller Roadgames (1981); Psycho II (1983); the killer chimpanzee film Link (1986); and the yachtboard ghost story Visitors (2003). Franklin also directed a reasonable amount of tv, including the pilots for genre series such as Beauty and the Beast (1987-90) and The Lost World (1999-2000).
Screenwriter Tom Holland delivered a number of other genre scripts including The Initiation of Sarah (1978), the revenge drama Class of 1984 (1982), the transformation film The Beast Within (1982), Psycho II, Michael Winner's revenge film Scream for Help (1984) and the story for the remake of Fright Night (2011). Holland subsequently went onto direct the vampire film Fright Night (1985); Child's Play (1988), which started off the Chucky franchise; the psycho secretary tale The Temp (1993); and the Stephen King adaptations The Langoliers (tv mini-series, 1995), Thinner (1996) and Rock, Paper, Scissors (2017).
---
---