---
Crew
Director – Steven Spielberg, Screenplay – Jerry Belson, Based on the Film A Guy Named Joe Written by Dalton Trumbo, Adaptation – Frederick Hazlitt Brennan, Story – David Boehm & Chandler Sprague, Producers – Steven Spielberg, Kathleen Kennedy & Frank Marshall, Photography – Mikael Salomon, Music – John Williams, Visual Effects – Industrial Light and Magic (Supervisor – Bruce Nicholson), Special Effects – Mike Wood, Production Design – James Bissell. Production Company – Amblin/Universal.
Cast
Richard Dreyfuss (Pete Sandrich), Holly Hunter (Dorinda Durston), John Goodman (Al Yackey), Brad Johnson (Ted Baker), Audrey Hepburn (Hap), Marg Helgenberger (Rachel), Roberts Blossom (Dave)
---
Plot
Hotshot aerial firefighting pilot Pete Sandrich makes one fearless flying move too many and is torched alive in his plane. He arrives in the afterlife. The heavenly supervisor decides to send back to act as the angelic voice of inspiration for tenderfoot pilot Ted Baker. However, when Ted starts to fall for Pete's girlfriend Dorinda, this responsibility becomes too personal a one for him.
---
Always is remake of the classic 1940s afterlife fantasy A Guy Named Joe (1943). The original was set during World War II and featured Spencer Tracy playing a pilot who is killed in combat and is sent back to act as guardian angel to a trainee pilot. This remake had, believe it or not, been a dream project of Steven Spielberg's for some twelve years. What emerges on screen in an old-fashioned film that is slow, gentle and often touching – which may well explain why it did no almost box-office at all despite the usual box-office gold touch of the Steven Spielberg name.
Always is a very nice film. Steven Spielberg's images have an ability to stand still and grab. There is a wonderfully dreamy shot, connected to nothing at all, that opens the film, with a plane hazily swimming down out of the air, heading for two old-timers fishing on a lake, which at the last moment equally dreamily heads back up into the air yards before the collision – a sequence told all in images and wide-angle, no sounds.
There are other haunting sequences – Brad Harris's encounter with old-timer Roberts Blossom who starts reading Richard Dreyfuss's voice like a half-tuned radio, or Dreyfuss watching the momentary emergence of the spirit of a bus driver undergoing mouth-to-mouth resuscitation on a roadside before he is revived. The climax is effective, albeit melodramatic, decidedly reminiscent of Spielberg's pal George Lucas's Star Wars (1977) climax with Richard Dreyfuss instead of ghostly Alec Guinness guiding Holly Hunter instead of Mark Hamill on a bombing run.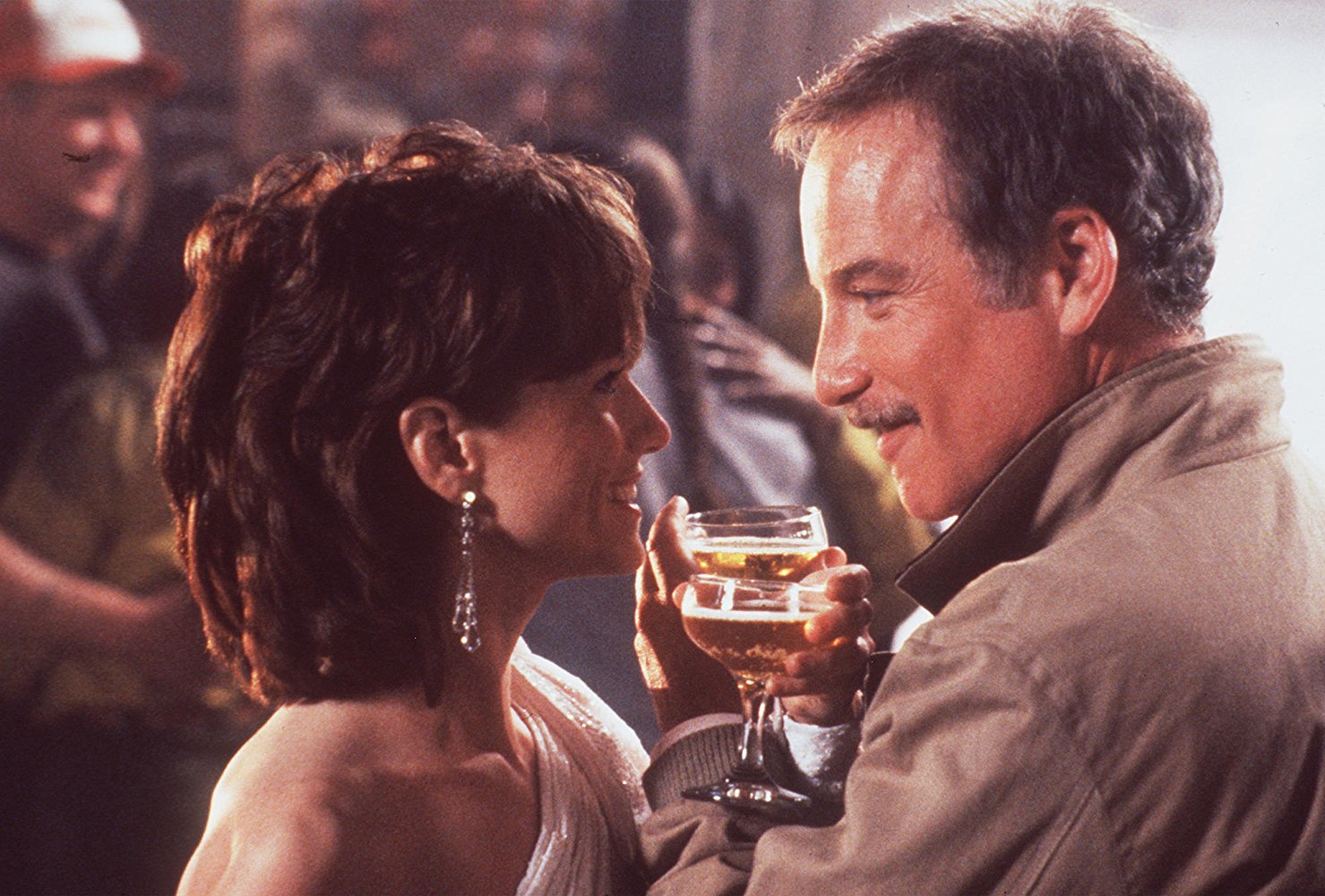 The one area the film oddly fails to stand up in is the romance. Steven Spielberg has a mastery of childhood sentiment but is often awkward when it comes to adult emotions. The romance is delivered in several chunky monologues, which slow the film down. Richard Dreyfuss seems toned down from his usual bubbly spill of boyish enthusiasms.
In films like Broadcast News (1987) and Raising Arizona (1987) where she caught world attention, Holly Hunter was cast a strutting, five-foot nothing powerhouse of feisty determination who did not so much grab attention as get in one's face and stay there until she got it – but here she is toned down too and she and Richard Dreyfuss fail to establish any screen chemistry in their initial scenes. The second romance with stolid hunk Brad Johnson is no better.
The best performance in the film comes from John Goodman, boisterous, energetic, dancing like an animated Disney hippo and with a limitless capacity for impersonations and yet able to turn serious at a moment's notice – he is like John Belushi played as a human being.
Always is not a film that fails – indeed, it is often a strangely affecting one – but it is affecting for all the wrong reasons. Spielberg should have made one feel about the romance, but he never does, and it is only the magic that comes in his images of the supernatural that one remembers instead.
Steven Spielberg's other genre films are:– Duel (1971), Jaws (1975), Close Encounters of the Third Kind (1977), Raiders of the Lost Ark (1981), E.T. – The Extra-Terrestrial (1982), Twilight Zone – The Movie (1983), Indiana Jones and the Temple of Doom (1984), Indiana Jones and the Last Crusade (1989), Hook (1991), Jurassic Park (1993), The Lost World: Jurassic Park (1997), A.I. (Artificial Intelligence) (2001), Minority Report (2002), War of the Worlds (2005), Indiana Jones and the Kingdom of the Crystal Skull (2008), The Adventures of Tintin (2011), The BFG (2016) and Ready Player One (2018). Spielberg has also acted as executive producer on numerous films – too many to list here. Spielberg (2017) is a documentary about Spielberg.
---
---