---
Iceland/Denmark/Germany/Japan/USA. 1995.
Crew
Director/Photography – Fridrik Thor Fridriksson, Screenplay – Fridrik Thor Fridriksson & Jim Stark, Producer – Jim Stark, Music – Hilmar Orn Hilmarsson, Production Design – Arni Poll Johansson. Production Company – Icelandic Film Corporation/Icicle Films/Zentropa Entertainments/Pandora Film/Sunrise Inc.
Cast
Nagase Masatoshi (Atsushi Hirata), Gisli Haldorsson (Siggi), Fisher Stevens (Jack), Lili Taylor (Jill), Laura Hughes (Laura)
---
Plot
Atsushi Hirata is a salaryman for a Japanese fish company. The ghosts of his parents appear on his tv, imploring him to travel to Iceland, where they died there several years ago, to conduct a traditional ceremony to see off their spirits. Atsushi takes time off work and flies to Reykjavik where he finds Iceland to be a very strange place. In a bar, he is approached by an Icelandic girl who tells him she believes they have a spiritual connection and offers to sell him her car. He buys it and sets forth on a journey to the remote river where his parents died. Along the way, he encounters everything from bizarre armed-robbing American tourists to Icelandic spirits.
---
Once upon a time, road movies – from Easy Rider (1969) to Goodbye Pork Pie (1980), Rain Man (1988) and Thelma and Louise (1991) – were fantasies of individual freedom or else journeys of internal growth. The postmodern road movie – represented by the likes of Dudes (1987), Wild at Heart (1990), Highway 61 (1991), Natural Born Killers (1994) and The Doom Generation (1996) – has become a journey through either a landscape that has turned psychotic or, like this, a deadpan journey through episodes of weirdness.
Cold Fever is amusing. It features eccentric and downright bizarre encounters with everything from Icelandic cowboys and snow spirits to a tourist who photographs and records funerals and a girl who claims a psychic connection with the hero in trying to sell him her Citroen that has been frozen solid. The most amusing of these encounters is Fisher Stevens and Lili Taylor as a couple of tourists/armed robbers who sort out their marital difficulties by communicating with hand puppets.
The Icelandic landscape has a fascinating beauty to it – vast and sweeping snowy vistas, waterfalls, hot springs, iceflows and rivers. The photography comes in deliberate contrast to the Japanese scenes, which are filmed in grainy narrow focus taking up only the middle of the screen with the film then expanding out to widescreen to breathtaking effect once the film reaches Iceland.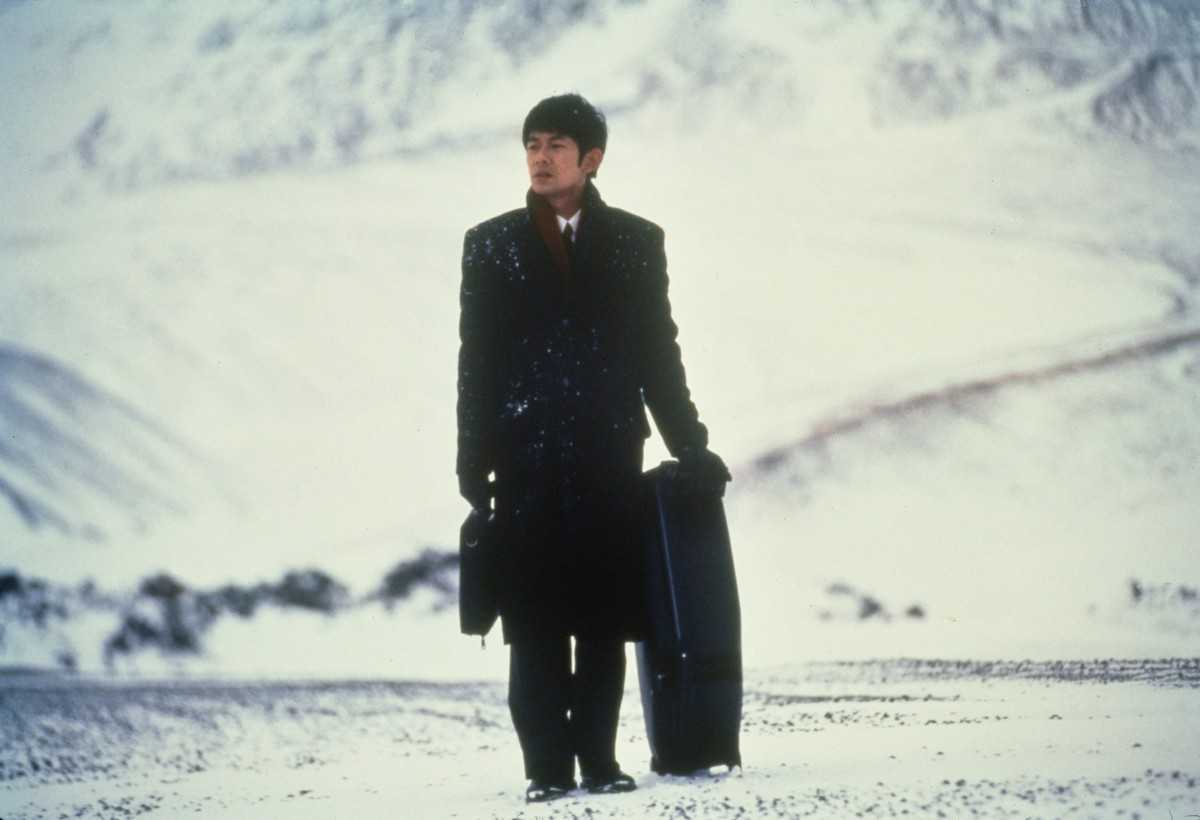 The mystical elements are intriguingly presented – dreams of spirits crossing the land, Nagase Masatoshi's dead parents incongruously appearing to him on a tv, and especially the haunting beauty that comes in the appearance of the young girl who says nothing but whose inhumanly beautiful shriek can shatter icebergs and raises Nagase Masatoshi's frozen car.
For all that, Cold Fever produces an occasional smile but never amounts to anything more. Its peculiar sense of subdued deadpan humour is vaguely amusing but the film never fully catches you up in its eccentricity. It claims to be a mystical journey but the end where Nagase Masatoshi finally conducts the ceremony comes as anti-climactic – it leaves one exiting the theatre with a shrug of the shoulders wondering what the film had to say.
The film has a peculiarly international flavour to it – it is an Icelandic-made film that has been financed everywhere from Germany to Lars von Trier's Zentropa Entertainments production company in Denmark, but has a Japanese hero, as well as several American guest stars.
Fridrik Thor Fridriksson has become Iceland's most well known director. He has made a number of other films, with only one that approaches genre material with the quasi-Magical Realist Niceland (Population 1.000.002) (2004) also about a quest for the meaning of life. Fridriksson has also produced a number of Icelandic films, including of genre note Witchcraft (1999) about Christian witch persecutions; Hal Hartley's comic monster movie No Such Thing (2001); the SF paranoia thriller One Point 0/Paranoia 1.0 (2004); and an adaptation of Beowulf & Grendel (2005).
---
---