---
Crew
Director/Screenplay – Brian Perkins, Producers – Matt O'Connor & Brian Perkins, Photography – Bella Halben, Music – David C. Hughes, Visual Effects – Extrinsic Media (Supervisor – Miles Lauridson). Production Company – Bank & Shoal.
Cast
Shine Htet Zaw (Ko Yin Witazara), Ko Yin Saw Ri (Ko Yin Wezananda), Ko Yin Than Maung (Ko Yin Thiridema), Ko Yin Maung Sein (Ko Yin Awadadema), Sayadaw U Zaw Ti Ka (Sayadaw)
---
Plot
An aging Buddhist monk tends four orphan boys at a remote monastery in Myanmar. He then receives a letter and announces to the boys that he must go away on a journey to the capital and does not know when he will return. He appoints the oldest of the boys Witazara to look after the others. At first, the boys delight in playing but soon their food deliveries fail to arrive and they hear soldiers fighting nearby. As they huddle together, they imagine that something supernatural is haunting them.
---
Golden Kingdom is a debut film for American filmmaker Brian Perkins. In 2012, Perkins visited Myanmar (the former Burma), which had just opened doorways to the rest of the world after decades of military rule. Perkins was touched by the lives of the Buddhist orphans and decided to make a film about them. Returning with a camera crew, Perkins shot the entire film there – only the second non-documentary film to do so since Luc Besson's The Lady (2011) – using a non-professional cast made up of actual orphan novitiates (ko yin) and their abbot (or sayadaw).
Golden Kingdom falls into a certain type of festival film that I usually steer a path around. It is what a friend of mine once termed the Peasants in Rice Paddies film – an ethnographic work that sets out to depict the lives of people in some remote culture or part of the world and dispenses with dramatics to take us through the routine day-to-day minutiae of their lives. Sure to form, Golden Kingdom is slow and concerns itself more with the depiction of day-to-day life in a remote part of the world over anything dramatic. That said, I did end up being hooked by the premise – a group of boys are left to fend for themselves after their abbot leaves. This holds the aspect of a Coming of Age story, of young people dealing with the larger world for the first time and/or things beyond their limited understanding.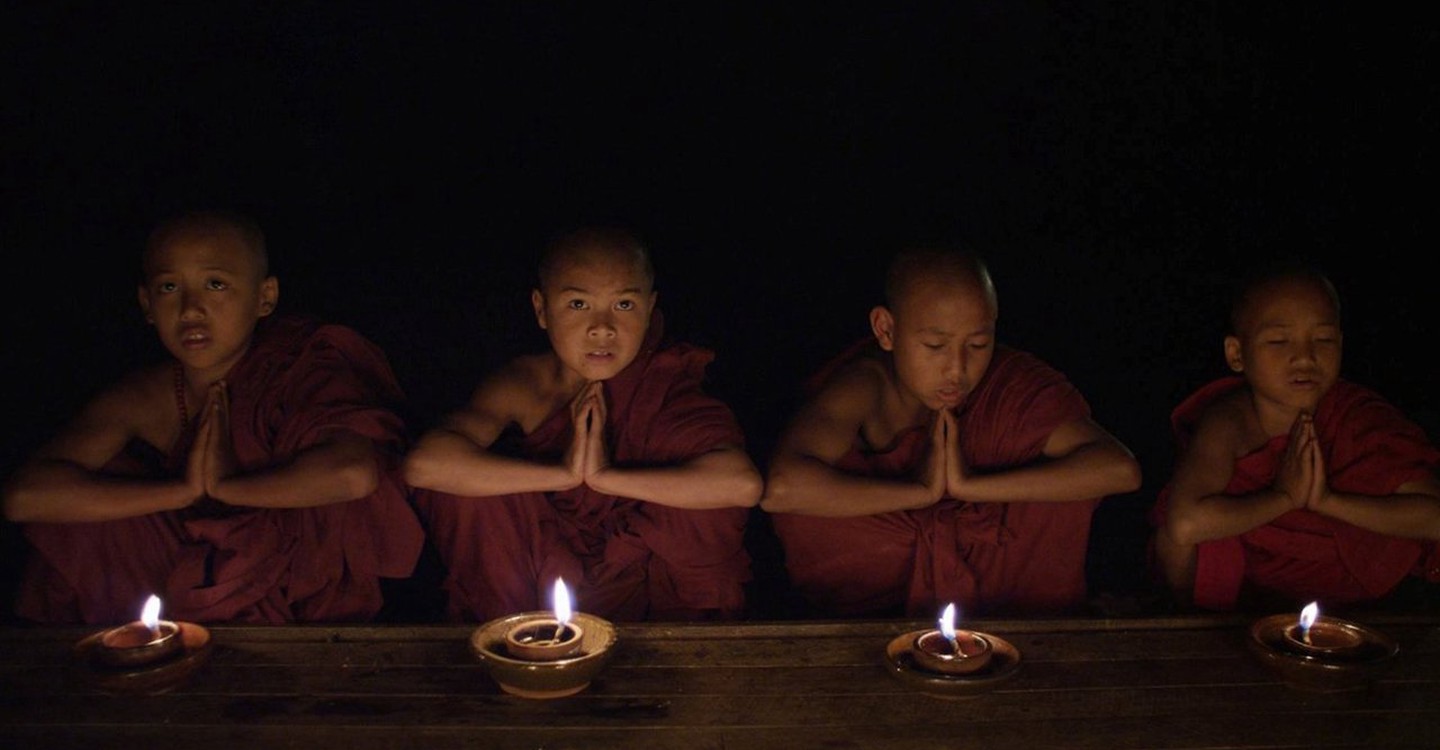 On the other hand, despite its promise, this is not quite what Golden Kingdom ends up being. The story ends up being a case of Epic Pooh – Michael Moorcock's term for stories where protagonists venture out into the wider world, undergo adventures and then return to the hermetic safety of home where nothing has changed. The boys experience some things but it never particularly impacts on them or requires them have to make any decisions, before everything is restored back to exactly as it was at the start once the abbot returns. The warfare and soldiers, the evacuation of the village are all like silhouettes that cast their shadows up from the other side of the hill but never directly affect the world of the boys. Despite lacking in many of the elements you might consider necessary for drama, Golden Kingdom nevertheless has a genteel beauty. The imagery often makes up for the lack of dramatics and the ending it eventually arrives at is heart-warming.
Golden Kingdom is a marginal entry on this site. It does feature a scene during Shine Htet Zaw's journey through the woods where he encounters a demon figure, although this may be a dream or an hallucination. There is also a particularly lovely and touching scene towards the end where he is comforted by the ghost of his mother. Beyond that, the film has a haunted mood – when the boys are alone in the monastery, there is constant noises and rattling as though they are surrounded by spirits – although as we see nothing of what this is, you cannot be sure if it is not just natural elements and their imagination. This does place Golden Kingdom into being what one might term Cultural Magical Realism – the depiction of fantastic elements as seen through the eyes and worldview of the people of a particular tradition and beliefs.
---
---