---
Crew
Director/Screenplay – Robert Zemeckis, Based on the Novel by Charles Dickens, Producers – Jack Rapke, Steve Starkey & Robert Zemeckis, Photography – Robert Presley, Music – Alan Silvestri, Visual Effects Supervisor – George Murphy, Animation Supervisor – Jenn Emberly, Special Effects Supervisor – Michael Lantieri, Production Design – Doug Chiang. Production Company – Disney/ImageMovers Digital.
Cast
Jim Carrey (Ebenezer Scrooge/Ghost of Christmas Past/Ghost of Christmas Present/Ghost of Christmas Yet to Come), Gary Oldman (Bob Cratchit/Jacob Marley/Tiny Tim), Colin Firth (Fred Scrooge), Cary Elwes (Portly Gentleman/Dick Wilkins/Mad Fiddler), Bob Hoskins (Mr Fezziwig/Old Joe), Leslie Manville (Mrs Cratchit), Jacquie Barnbrook (Mrs Fezziwig/Fred's Sister-in-Law), Robin Wright Penn (Belle Fezziwig)
---
Plot
Christmas Eve, 1836. Ebenezer Scrooge thinks only about making money and sneers "bah humbug" to all idea of Christmas spirit and seasonal charity around him. As Scrooge heads to bed that night, he is visited by the ghost of his former business partner Jacob Marley who warns of the dire fate that awaits Scrooge in the afterlife if he does not turn from his miserly ways. Throughout the night, Scrooge is visited by three ghosts – of Christmas Past, Christmas Present and Christmas Yet to Come – who take him on a journey showing him the sentiment in the past that he has forgotten, the suffering of others in the present that he could relieve and the lonely death that lies ahead for him.
---
Charles Dickens' A Christmas Carol (1843) is the single most famous Christmas story in the world. It has rarely been out of print and just about every Yuletide season sees an adaptation for the stage in some form. There have been innumerable adaptations for film and television, including a number of modernised versions or translocations of the story into different settings – indeed, A Christmas Carol probably approaches one of the most adapted of all fantasy stories in terms of popularity. (A full list of other screen adaptations is at the bottom of the page). The story's popularity has been such that the term Scrooge has become a common expression for someone with miserly tendencies and phrases like "bah humbug" have entered popular terminology.
This version of A Christmas Carol comes from director Robert Zemeckis who has a first-rate reputation as a commercial director stretching back to the 1980s with huge hits like Back to the Future (1985), Who Framed Roger Rabbit? (1988) and Forrest Gump (1994) to his name. (A full list of Robert Zemeckis's other genre films is at the bottom of the page). In the mid-2000s, Zemeckis began to specialise in motion-capture animation wherein actors are filmed on a blank stage wearing suits that transfer their movements into points in the computer that are then translated into animation, resulting in a film that exists somewhere between animation and live-action. Zemeckis did not pioneer the motion-capture animation process, nor was the first person to make a feature-length film in it, but his first effort The Polar Express (2004), another Christmas film, was a hit that carried the idea to the public and saw a great many imitators.
Subsequent to The Polar Express, Zemeckis went onto direct the 3-D motion-capture animated Beowulf (2007) and acted as producer on other such efforts with Monster House (2006), Mars Needs Moms (2011), Real Steel (2011) and Finch (2021). A Christmas Carol was Zemeckis's third motion-capture animated film in a row. With the press junket for A Christmas Carol, he announced plans to conduct a remake of The Beatles' Yellow Submarine (1968) in the same motion capture 3-D process, although this was cancelled following the flop of Mars Needs Moms. Zemeckis returned to live-action and indeed abandoned fantasy for true-life subject matters for his subsequent films Flight (2012) and The Walk (2015), as well as the fictional WWII drama Allied (2016). He did subsequently return to motion-capture animation to bring a village of dolls to life in the true-life based Welcome to Marwen (2018) and the live-action remake of Disney's Pinocchio (2022).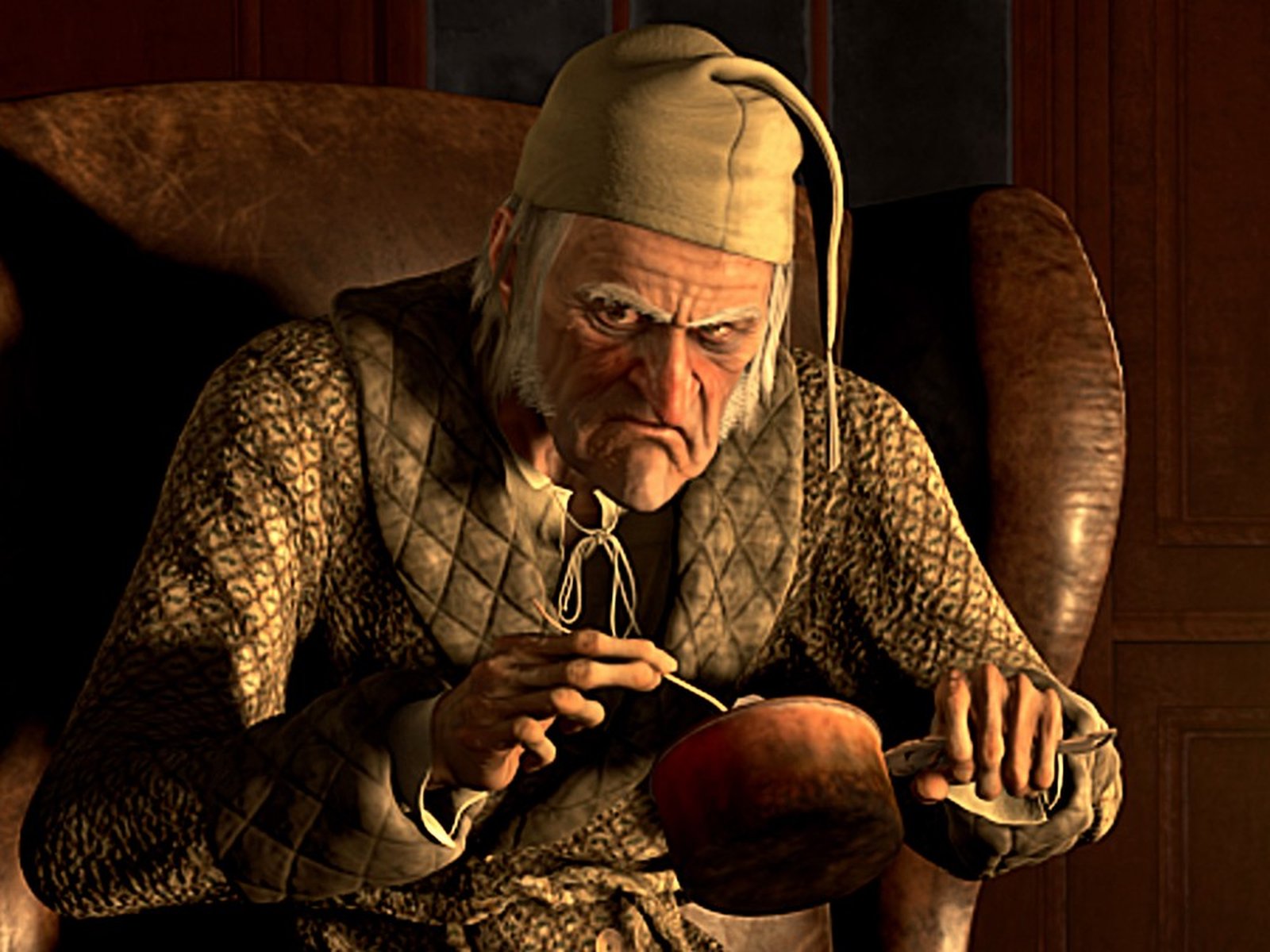 A Christmas Carol is such a familiar and oft-told tale that one wonders what new things Robert Zemeckis can possibly find to say with his big budget animated version (for which Disney purportedly stumped up something in the neighbourhood of $200 million to make). It is such a familiar tale now that the film feels like a classic Golden Oldie song where you can sing along to the lyrics and know every beat off by heart. This was not even the first animated version of A Christmas Carol but something like the sixth. What Robert Zemeckis does offer is the first version of A Christmas Carol in 3-D and where he stated that he decided to make this scarier than other versions. This still does not seem much to distinguish A Christmas Carol 2009 from the other versions.
Certainly, Robert Zemeckis does some things extremely well with A Christmas Carol. He is extremely faithful to the Dickens text to the point of frequently using the dialogue as it is written and keeping to the descriptions of the ghosts (unlike other film versions) – like the Ghost of Christmas with a head like a candle flame and carrying a metal cap; or the Ghost of Christmas Present as a jovial giant dressed in green robes and his speech about his brothers before dying.
By now, Robert Zemeckis has become such a master of the 3-D form that his work is light years ahead of all the competitors – see other animated efforts like Meet the Robinsons (2007), Bolt (2008), Cloudy With a Chance of Meatballs (2009) or Ice Age 3: Dawn of the Dinosaurs (2009), which are still stuck down at the level of popping novelty items out of the screen at people. There is a flawlessly lovely pan through the streets and skies of Victorian London as the film opens, while the backgrounds beyond Scrooge's window are filled with beautiful depth-focused snowbound streets. Although for some reason, the film looks very dark and gloomy – as though it had been shot by candlelight. I, at first, thought that this was the 3-D glasses but taking these off seems to make no difference.
The other thing that Robert Zemeckis does very well in this version is his portrayal of Scrooge. This is Scrooge the way he should be – bony and angular, physically feeble, venomously mean and lacking in any compassion for others. Surprisingly, Jim Carrey (a notoriously bad over-actor who seems to shout most of his performances in an audience's face while dangling from the rafters) does well in the part. Indeed, did the film not laud Jim Carrey's name on all the posters and prominently on the credits, you would be hard pressed to guess that Carrey is in the film – he seems to have so well subsumed himself into the role of Scrooge and the accent that it is impossible to tell. Finally, it seems, that Jim Carrey has mastered the art of character acting and seems to physically inhabit the role, while restraining his characteristic tendency to overplay. Good also is Gary Oldman who appears distinctly recognisable as a diminutive, timid Bob Cratchit and much less recognisable in roles as disparate as Tiny Tim and the ghost of Marley.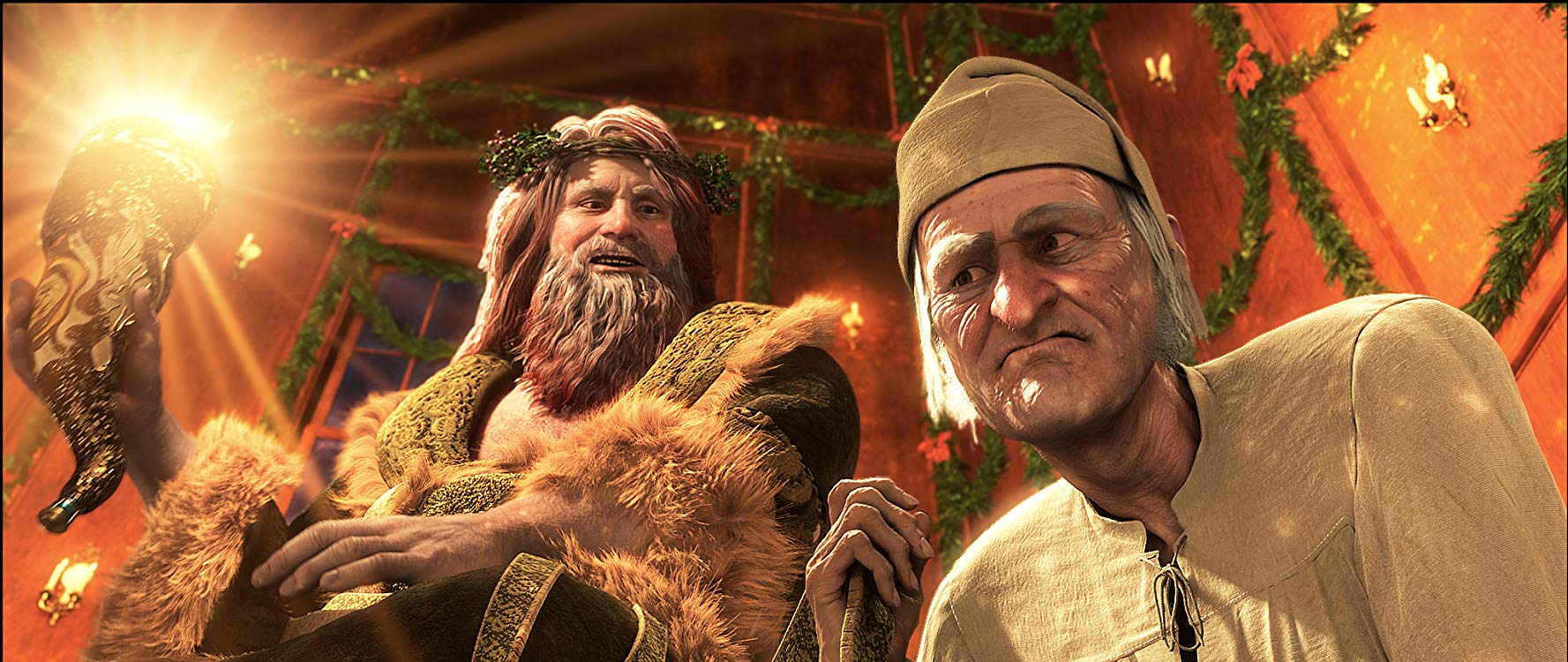 Jim Carrey also plays all three Christmas ghosts. These unfortunately, though they are accurate to Dickens descriptions, are disappointing. The candle-flame headed Christmas Past is wimpy. The giant and jolly Christmas Present has much more presence but you keep thinking throughout the sequence that what you are seeing is a giant-sized version of Robbie Coltrane's Hagrid from the Harry Potter films. Christmas Yet to Come emerges effectively, due to the fact that what Zemeckis (and the directors of all other A Christmas Carol adaptations) are drawing on is classical Death imagery.
For all that, Robert Zemeckis merely retells A Christmas Carol but does not redefine it. That makes his version an efficient adaptation but one where we have seen most of everything before and he offers little that is new. One thing that Zemeckis does do is blow the film up to large scale with animated effects set pieces. These feel impressive but unnecessary. Did we really need the Christmas Present episode to take place with the entire house touring London and the floor suddenly becoming transparent so that Scrooge and the Ghost can look down at everything as though it were happening on a tv screen? Why could they not have just walked through the various scenes as they do in every other version? The sole reason seems to be the interesting texture that the idea of a quasi-transparent floor allows in 3-D.
Similarly, the sequence with the Death-like Christmas Yet to Come takes place as an overblown action sequence where Scrooge (who for some reason becomes miniaturised part way through) is chased through the streets by the Ghost's black horses and coach, where Zemeckis even throws in pieces where Scrooge falls on his back in mid-flight and stops and rolls a barrel of wine with his feet, or of him tobogganing along on a broken icicle. Robert Zemeckis has a history of harnessing special and visual effects and pushing the envelope with new technologies, but there is the sense here that he has blown the story up with these sequences to show off – even when the story did not need them.
Robert Zemeckis's other genre films are:- I Wanna Hold Your Hand (1978), Used Cars (1980), Romancing the Stone (1984); his time travel trilogy Back to the Future (1985), Back to the Future Part II (1989) and Back to the Future Part III (1990), the toon film Who Framed Roger Rabbit? (1988), the immortality black comedy Death Becomes Her (1992), the alien contact film Contact (1997), the ghost story What Lies Beneath (2000), the computer-animated Christmas fantasy The Polar Express (2004) and the computer-animated adaptation of Beowulf (2007), the true-life based Welcome to Marwen (2018) where Steve Carell builds a fantasy village of dolls, the remake of The Witches (2020) and the live-action remake of Pinocchio (2022). Zemeckis has also produced a large number of other genre films including the Tales from the Crypt (1989-96) cable tv horror anthology series, the two film spinoffs Tales from the Crypt Presents Demon Knight (1995) and Tales from the Crypt Presents Bordello of Blood (1996), Peter Jackson's The Frighteners (1996), the voodoo film Ritual (2002), the computer-animated Monster House (2006), the animated Mars Needs Moms (2011) and Real Steel (2011), the tv series' Manifest (2018-22) about a planeload of temporally displaced passengers and Project Blue Book (2019-20) about the US Air Force's true life UFO investigation department and the robot film Finch (2021). Zemeckis is also a producing partner in Dark Castle Entertainment, which have made a number of horror films including House on Haunted Hill (1999), Thir13een Ghosts (2001), Ghost Ship (2002), Gothika (2003), House of Wax (2005) and The Reaping (2007).
Other adaptations of A Christmas Carol include:– a number of lost silent adaptations made respectively in 1901, 1908, 1910, 1913, 1916, 1923 and 1928. Sound versions include:– Scrooge (1935), a British sound version with Seymour Hicks as Scrooge; A Christmas Carol (1938), an American version with Reginald Owen; a Spanish adaptation (1947); Scrooge (1951), a British production starring Alistair Sim; Scrooge (1970), a British-made musical adaptation starring Albert Finney; a short animated version A Christmas Carol (1971) from animator Richard Williams; Mickey's Christmas Carol (1983), a 25 minute animated short from Disney where the Scrooge role was played by Scrooge McDuck and Mickey Mouse was cast as Bob Cratchit; the modernised updating Scrooged (1988) with Bill Murray; The Muppet Christmas Carol (1992), which enacted the tale with the Muppets and starred Michael Caine as Scrooge; a British-German animated adaptation Christmas Carol: The Movie (2001); the conservative-backed An American Carol (2008) where a liberal filmmaker is persuaded of their ways; and the animated Barbie in A Christmas Carol (2008). TV adaptations include A Christmas Carol (1943), a 60 minute live version, which was apparently one of the first ever experimental tv broadcasts; The Christmas Carol (1949), a half-hour American adaptation starring Taylor Holmes; A Christmas Carol (1950), a British adaptation starring Bransby Williams; A Christmas Carol (1953), a half-hour American adaptation starring Noel Leslie; a German production (1960); Carol for Another Christmas (1964), a production written by Rod Serling as a United Nations Special that updated the tale as an anti-war parable; a Canadian production Mr Scrooge (1964); A Christmas Carol (1977), a British production starring Michael Hordern; Scrooge (1978), a Canadian production starring Warren Graves; Rankin-Bass's one-hour animated adaptation The Stingiest Man in Town (1978); An American Christmas Carol (1979), starring Henry Winkler, which updated the story to the Depression era; Skinflint: A Country Christmas Carol (1979), starring Hoyt Axton, a bizarre American adaptation populated entirely by Country and Western singers; A Christmas Carol (1981), an American adaptation starring William Paterson; A Christmas Carol (1982), an American adaptation starring Richard Hilger; A Christmas Carol (1984), a lavish British-made production starring George C. Scott; a French tv adaptation (1984); Blackadder's Christmas Carol (1988), a sardonic take on the story using the characters from the popular British tv series Blackadder (1983-9); Scrooge: A Christmas Sarah (1990), a British version that cast Scrooge as a woman (Sarah Greene); A Christmas Carol (1994), a British-made ballet adaptation; A Christmas Carol (1997), an American-made animated adaptation; Ebenezer (1997), a bizarre American adaptation that recast the tale as a Western starring Jack Palance; Ms. Scrooge (1997), an American version that also cast the role with a woman (Cicely Tyson); A Christmas Carol (1999), an American production starring Patrick Stewart; A Christmas Carol (2000), a modernised adaptation where Scrooge (Ross Kemp) was a petty loanshark; A Diva's Christmas Carol (2000) with Vanessa Williams as a self-absorbed pop singer; Scrooge and Marley (2001), a one-hour adaptation starring Dean Jones; Hallmark's sex-reversed A Carol Christmas (2003) starring Tori Spelling; Hallmark's musical adaptation A Christmas Carol (2004) with Kelsey Grammer; the Italian-made A Christmas Carol (2004); the modernised Karroll's Christmas (2004) starring Tom Everett Scott; the Doctor Who tv special A Christmas Carol (2010) where a time-travelling Doctor becomes the Ghosts of Christmases Past and Present to intergalactic miser Michael Gambon; the low-budget Canadian-made A Christmas Carol (2015); the dark adult BBC mini-series A Christmas Carol (2019) starring Guy Pearce; and the modernised musical Spirited (2022) starring Ryan Reynolds. Also of interest is The Man Who Invented Christmas (2017) about Charles Dickens and the writing of A Christmas Carol.
---
---