(Promenons-Nous Dans les Bois)
---
France. 2000.
Crew
Director/Adaptation – Lionel Delplanque, Screenplay – Annabelle Perrichon, Producers – Olivier Delbosc & Marc Misssonier, Photography – Denis Rouden, Music – Jerome Coullet, Production Design – Arnaud de Moleron. Production Company – Pathe/Fidelite Productions/Le Studio Canal +/Glozel Diffusion
Cast
Clotilde Courau (Sophie), Clement Sibony (Matthieu), Vincent Lecouer (Wilfried), Francois Berleand (Axel de Fersen), Alexia Stresi (Jeanne), Maud Buquet (Mathilde), Denis Lavant (Stephane), Thibault Truffert (Nicolas de Fersen), Michel Muller (Policeman)
---
Plot
Five actors travel to the imposing country estate of Axel de Fersen where they have been hired to put on a performance of 'Little Red Riding Hood' for his autistic son Nicolas. The group find Axel, Nicolas and the surly groundsman Stephane all very strange. Axel makes sexual advances on one of the male players. At the same time, there is news of a psychopathic killer in the area and someone starts killing members of the group.
---
Deep in the Woods is one of several films that have set out to deconstruct the Little Red Riding Hood fairytale. Of all fairytales, Little Red Riding Hood lends itself to modern horror interpretation more than most where The Big Bad Wolf usually becomes a werewolf. The first to do so was Neil Jordan's The Company of Wolves (1984) and this was followed by the anime Jin-Roh: The Wolf Brigade (1998), Trick 'R Treat (2008) and Red Riding Hood (2011), before being spoofed in The Wolves of Kromer (1998). Then there was Freeway (1996), where Little Red Riding Hood became a gun-toting teenage runaway and the Big Bad Werewolf a serial killer.
Deep in the Woods is a slasher film wherein Little Red Riding Hood is dazzlingly wound in and out of the story as a metaphor, with both a performance of a play version being one of the central focuses, while imagery from the fairytale is wound in around the stalking of a group of people through the woods and a chateau.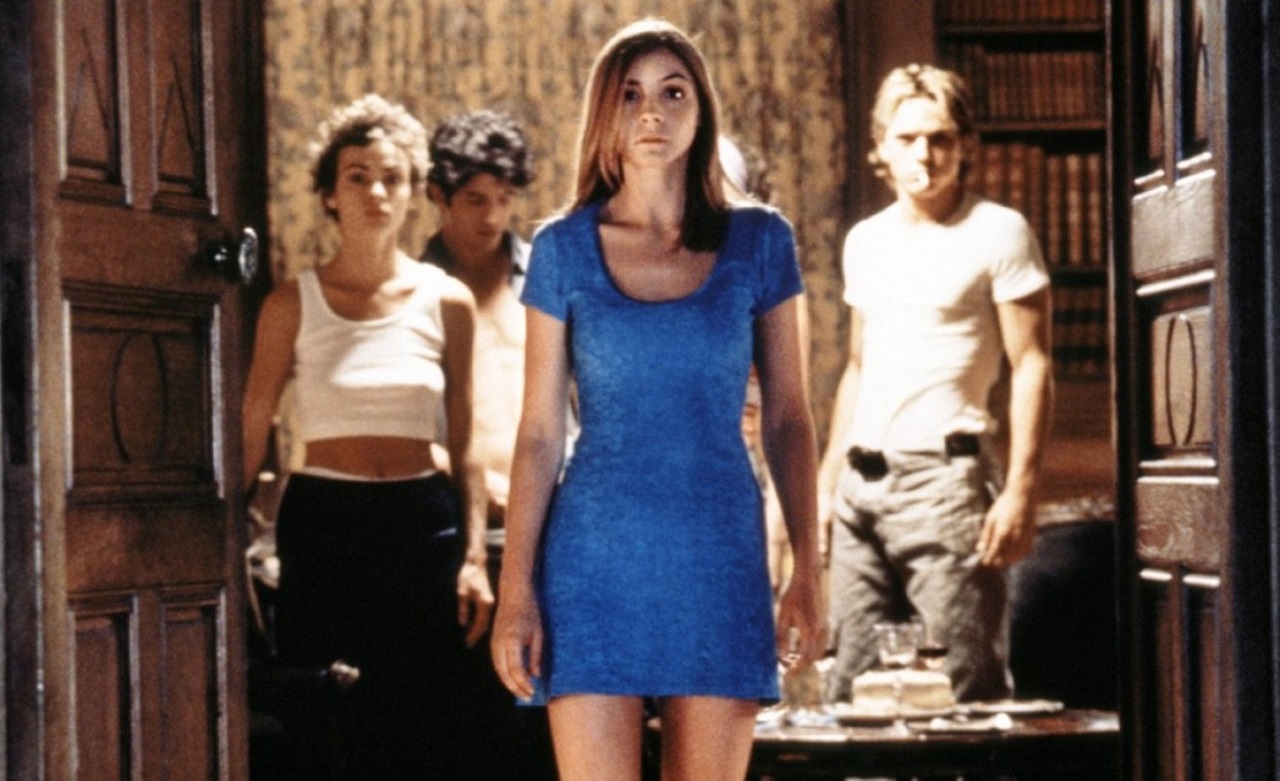 Director Lionel Delplanque sets in with a stylish grip and never lets up – that is the pleasure of the film. For a time, you are not even sure what type of film Deep in the Woods is. It is only in during the last third that the film reveals itself to be a slasher film rather than a monster or werewolf story. The young cast are a standard victimology spread for a slasher film with about as much depth of characterisation, although they do at least get more naked than their modern American counterparts do.
Delplanque manages quite ably able to keep everything in the film in a constant state of unease. Suspicion shifts between each character – including the victims – and back with deft regard. The film is never better than during the early scenes where Delplanque creates something both superbly amusing and sinister out of Francois Berleand's suggestive sexual advances on Vincent Lecouer. Delplanque also creates some fine scenes with cameras eerily prowling through midnight forests, some unique novelty deaths and an eerie scene where the wolf costume comes alive to attack Maud Buquet as she emerges from the shower into a bathroom that has seemingly become an entire netherworld filled with steam. Delplanque's constant generation of stylish eerie imagery sets Deep in the Woods head and shoulders above most modern post-Scream (1996) studio-processed teen slasher fodder.
---
Trailer here
---