---
Crew
Director – Michael Cohn, Screenplay – Deborah Serra & Thomas E. Szollosi, Producer – Tom Engelman, Photography – Mike Southon, Music – John Ottman, Visual Effects – Fantasy II Film Effects (Supervisor – Gene Warren Jr), Production Design – Gemma Jackson. Production Company – Interscope Communications.
Cast
Sigourney Weaver (Lady Claudia Hoffman), Monica Keena (Lilli Hoffman), Sam Neill (Lord Friedrich Hoffman), Gill Bellows (Will), David Conrad (Dr Peter Gutenberg), Miroslav Taborsky (Gustav), Brian Glover (Lars), Andrew Tiernan (Scar), Anthony Brophy (Rolf), Christopher Bauer (Conrad), Francis Cuka (Nannau), Taryn Davis (Young Lilli), Joanna Roth (Lilliana Hoffman)
---
Plot
Lilliana Hoffman dies in a coach crash just as she gives birth to a young daughter. Years later Lilliana's husband Friedrich remarries to the Lady Claudia but Lilli, the now-grown daughter, dislikes Claudia. Claudia is obsessed with Friedrich's attention and as Lilli grows into womanhood Claudia deliberately keeps her dressed unbecomingly. When Lilli starts to assert herself, Claudia orders her mute brother to kill her. Lilli instead escapes into the forest where she is found by a troupe of roughneck miners who grudgingly take her into their midst. When Claudia discovers that Lilli is still alive, she uses sorcery to try and kill her off, all the while bringing Friedrich and the palace under the thrall of her black arts.
---
The last few years has seen a spate of fairy-tale deconstructions. The trend was begun with Neil Jordan's The Company of Wolves (1984), which redid Little Red Riding Hood as a werewolf horror story ripe in Freudian symbolism. The 1990s saw an upsurge with the likes of EverAfter (1998), which gave Cinderella historical realism and feminist liberation; the anime film Jin-Roh: The Wolf Brigade (1998), a complex reworking of Little Red Riding Hood; Criminal Lovers (1999), which reinterpreted Hansel and Gretel as a gay coming-out fable; and Matthew Bright's Freeway (1996) and Freeway 2: Confessions of a Trickbaby (1999), which offered amusingly cynical modern reinterpretations of respectively Little Red Riding Hood and Hansel and Gretel. Ahead of this, the fairytale deconstruction/spoof gravitated to the animated family film with the likes of Shrek (2001) and sequels, Hoodwinked! (2005), Happily N'Ever After (2006) and Enchanted (2007) and various live-action efforts like A Cinderella Story (2004), Ella Enchanted (2004) and Sydney White (2007).
With the subtitle A Tale of Terror, this Snow White announces from the outset that it is no anodyne children's story. There is none of the cuteness of the Disney Snow White and the Seven Dwarfs (1937) with a singing Snow White surrounded by woodland animals, no "mirror, mirror, on the wall who's the fairest of us all?" and only a single dwarf.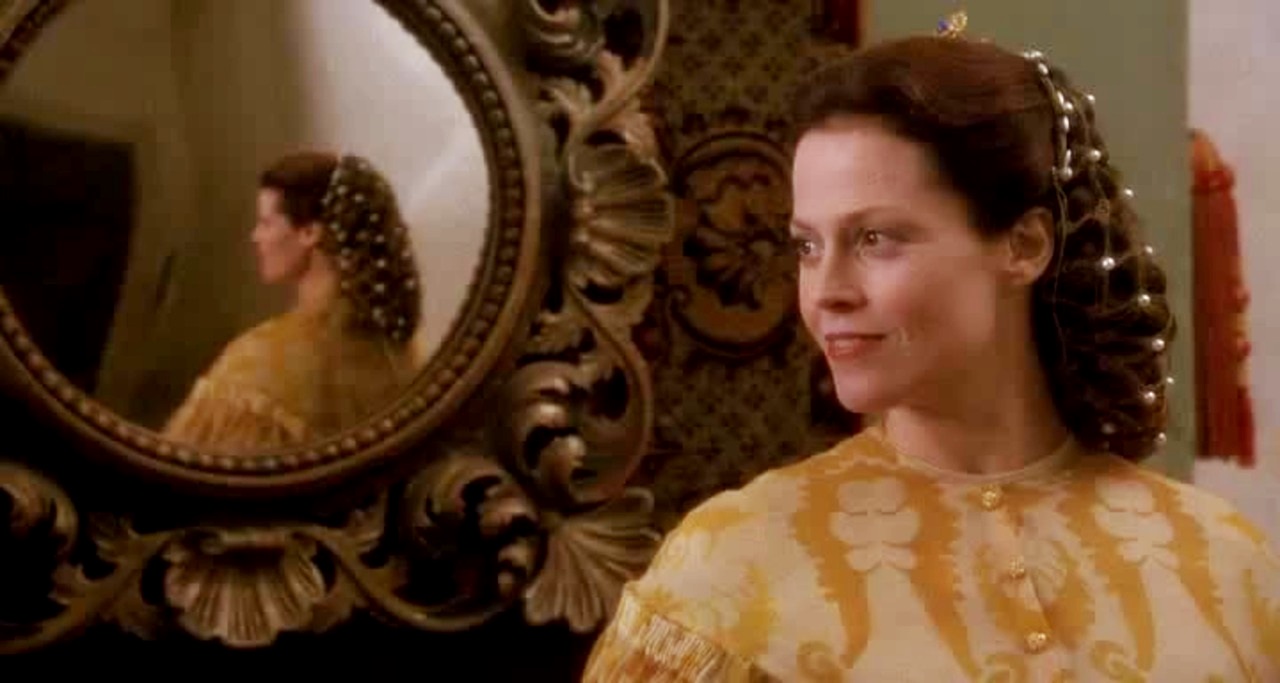 Director Michael Cohn is determined to play up the terror aspect of the story as much as possible. We see the bloodied heart that the wicked witch's brother brings back, which the stepmother then takes great relish in having cooked in a stew and served up to her husband/Snow White's father; Snow White is at one point in imminent danger of being raped by the film's equivalent of the seven dwarves (a band of roughneck brigands); the stepmother casts spells to kill Snow White, turns the inhabitants of the palace into zombies with bleeding eyes, sets out to harvest Snow White's father's seed to revive her dead baby, and at the end is about to have the father nailed upside down back-to-back with a lifesize Christ on a crucifixion frieze in a black magic ceremony. The climactic fight has Sigourney Weaver slashing Monica Keena's face with a knife, before being facially impaled by glass from the exploding mirror. As one can see, we are a long way from Disney territory here.
Like EverAfter, Snow White: A Tale of Terror also roots itself in a pseudo-historical verisimilitude. This gives it a sense of taking place in the real-world. On the minus side, this makes the wicked stepmother's motivation seem vague – in the fairy-tale, a desire to be the fairest in the land needed no psychological explanation but in trying to root the story amid more historical believability the film has to play such melodramatic motivation down – and as a result we are never certain why the wicked stepmother so pathologically hates Snow White. We have scenes of her trying to dress Snow White in a dowdy manner and her passions erupt when Snow White defies such. But is it because Snow White steals her father's attention away from the stepmother? Or is it because she usurps the stepmother's position as most beautiful? Monica Keena is a pallid Snow White who makes little distinction on the film. It is Sigourney Weaver and the character of the stepmother who steal the show.
Snow White: A Tale of Terror is an exquisitely mounted film. The tone is set by a beautifully sombre opening with the coach cruising through a snowy forest as ravens and wolves sit watching and the coach crashing as Snow White's mother starts giving birth, while outside the wolves tear apart the fallen horse. The film is superbly photographed. Here the forest almost becomes a living character, at turns snow-laden, gloomily misty, rich and verdant, gnarled and desolate or caught in beautiful ochre sunsets – the pre-release title was Snow White in the Black Forest.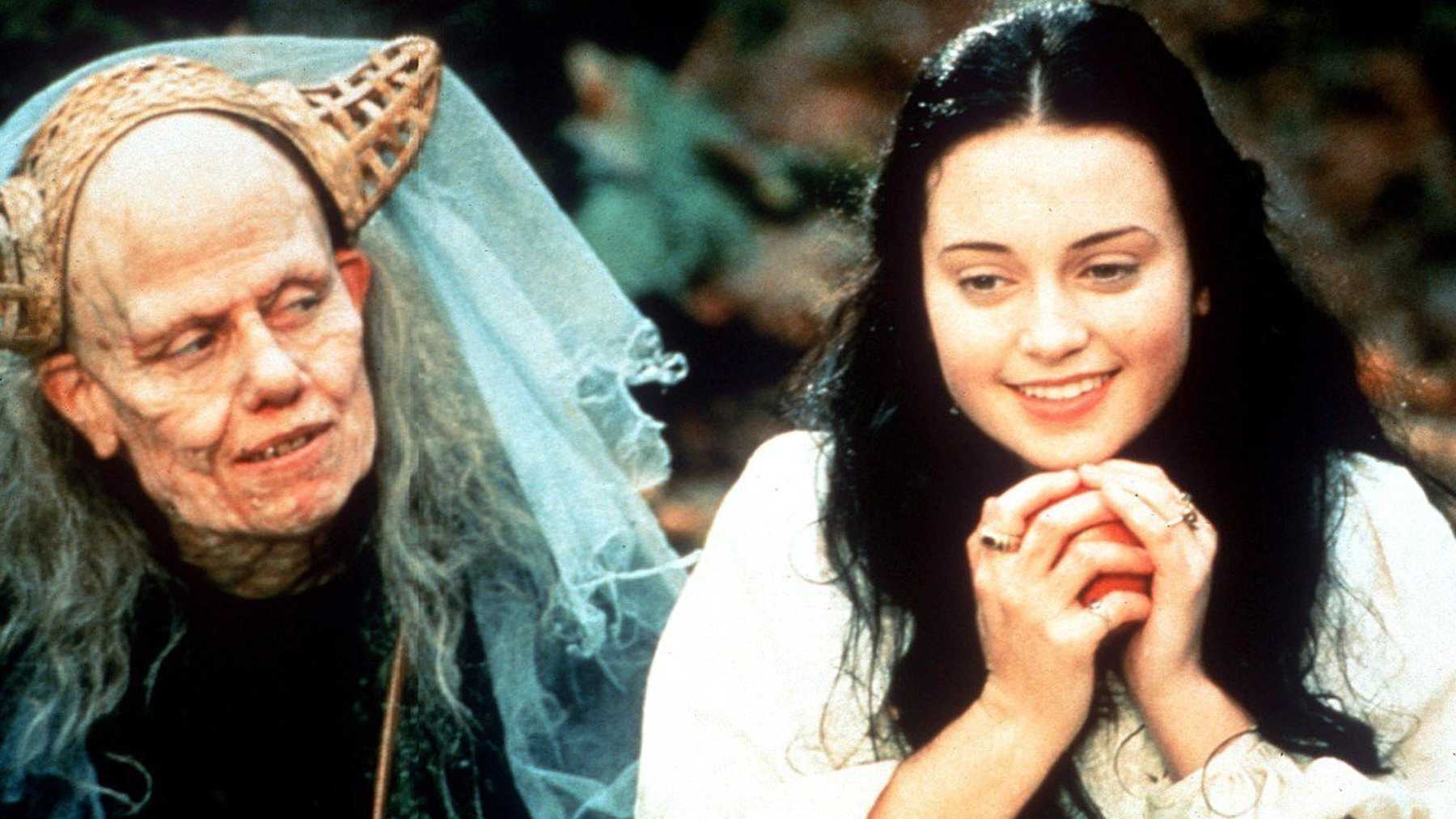 Michael Cohn also directs some fine scenes with the stepmother's sympathetic magic – the image of a bird trapped in an hourglass trying to escape as the glass fills with sand that then magically becomes a mine collapsing around the brigands; Sigourney Weaver's angry rampage around the palace tossing down a line of statues that becomes the crashing of tall trees in the forest.
Snow White: A Tale of Terror is a particularly good film. It is all the sadder for its complete disavowal by its studio, which dumped it into video release rather than cinema, presumably because they could not conceive interest in a film that told a children's story in dark adult terms. Go check it out.
Also well worth checking out is director Michael Cohn's fine serial killer thriller When the Bough Breaks (1994). Disappointingly, Cohn was been granted any further opportunities to direct for nearly another two decades with the non-genre thriller Sacrifice (2015).
(Nominee for Best Cinematography and Best Musical Score at this site's Best of 1997 Awards).
---
---