(Princes et Princesses)
---
Crew
Director/Screenplay – Michel Ocelot, Producers – Didier Brunner & Jean-Francois Laguionie, Music – Christian Maire, Art Direction – Michel Ocelot, Benedicte Galup, Leionel Kerjean, Inni Karyne Melbye & Richard Mithouard. Production Company – Gebeka Films/Les Armateurs/La Fabrique/Studio O.
Voices
Arlette Mirapeu, Philippe Cheytion, Yves Barasq
---
Plot
A group of animators and actors discuss and plan the stories they would like to tell. The Princess of Diamonds:- Two princes comes across a field strew with diamonds and meets a princess who challenges them to gather the diamonds back into her necklace – but if the challenger does not do so before her hourglass runs down, they will be turned into an ant. The Fig Boy:- In Ancient Egypt, a boy lives in a fig tree, which is all that he has. He takes a fig that blooms each morning to the queen Hapshetsut and she is so taken by the succulence of its taste that she showers great riches on him. However, the palace attendant is enraged by this and schemes to find a way of stopping the boy. The Sorceress:- The king has offered a challenge that whoever enters the castle of a sorceress can have his daughter in marriage – but the sorceress has created devices that outwit all challengers. The Old Lady's Coat:- In Japan, the aging Lady Oiko receives a resplendent new coat. A thief wants to steal it and offers to carry her home but her strength proves greater than his and she makes him her pack animal. The Cruel Queen and the Fabulo Trainer:- In the future, a cruel queen has said that she will marry whoever she cannot find and kill before sundown with her omniscient death ray. The trainer of a beautiful Fabulo bird seeks to take the challenge. Princes and Princesses:- An engaged prince and princess take their first kiss only to find that when one kisses the other they turn into an animal. They transform through many different species in an attempt to regain their original forms.
---
Princes and Princesses comes from French animator Michel Ocelot. Prior to Princes and Princesses, Michel Ocelot enjoyed international success with Kirikou and the Sorceress (1998), a striking linedrawn film made in the tradition of an African folktale. For Princes and Princesses, which it took him ten years to make, Ocelot returns to the same form to tell a series of linedrawn fairytales.
It is a delightful and quite beautiful film that Michel Ocelot produces. All the figures are animated as silhouette shapes, something that has an extraordinary versatility in its simplicity, allowing Ocelot to model styles as diverse as Ancient Egyptian hieroglyphics to traditional Japanese art. There is a great deal of visual invention to the film, especially The Sorceress episode with the sorceress's gadgets that repel all attempts at incursion and the delightful drollness of the hero's solution and the twist ending.
All the stories are told with a delightful piquance where justice gets a final comeuppance and good wins out as in all fairytales. None of the episodes are weak at all. The most appealing of them is the final Princes and Princesses episode with the prince and princess passing through an hilarious series of animal transformations with each kiss in an attempt to regain their original forms.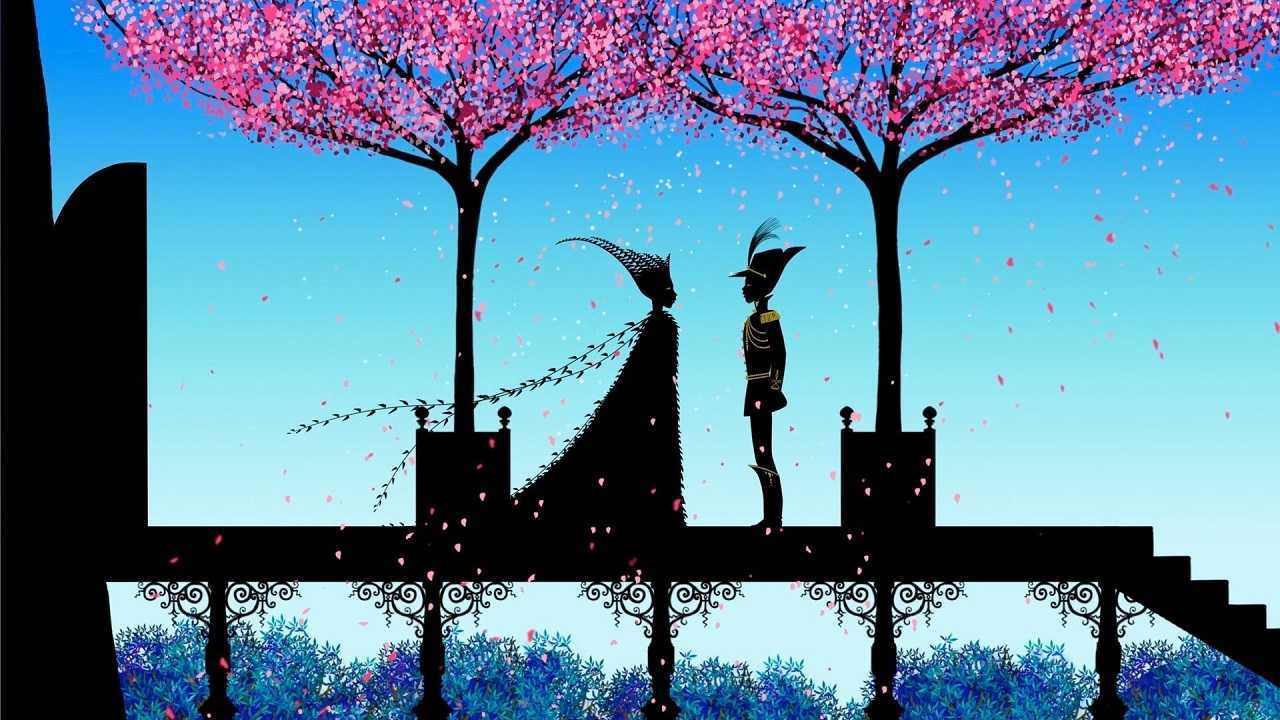 Especially appealing is the way that Princes and Princesses has been construed with a postmodern edge. It is not merely a set of fairytales but a film about animators (who themselves have been animated) making a series of animated fairytale shorts. With each, we see them discussing the presentation and design before the curtain literally opens on the tale. Quite delightfully, the film stops at midpoint for exactly a one minute break so we can discuss what we have seen so far.
Michel Ocelot subsequently went onto make two Kirikou sequels Kirikou and the Wild Beasts (2005) and Kirikou and the Men and Women (2012), as well as the Arabian Nights fantasy Azur and Asmar (2006), the anthology Tales of the Night (2011) and Dilili in Paris (2018).
(Winner in this site's Top 10 Films of 1999 list).
---
---