---
USA/France. 1996.
Crew
Director/Screenplay – Matthew Bright, Producers – Chris Hanley & Brad Wyman, Photography – John Thomas, Music – Danny Elfman, Additional Music – Tito Larriva, Music Supervisor – Gerry Gershman, Special Effects Supervisor – Vince Montefusco, Makeup Effects – Mechanical Media Industries (Supervisors – John Carl Buechler & John Foster), Production Design – Pam Warner. Production Company – Kushner-Locke/Davis Film/August Entertainment/Illusion Entertainment Group.
Cast
Reese Witherspoon (Vanessa Lutz), Kiefer Sutherland (Bob Wolverton), Dan Hedaya (Detective Gurnett Wallace), Wolfgang Bodison (Detective Mike Breer), Amanda Plummer (Ramona Lutz), Brooke Shields (Mimi Wolverton), Michael T. Weiss (Larry), Brittany Murphy (Rhonda), Guillermo Diaz (Flacco), Bokeem Woodbine (Chopper Wells), Susan Barnes (Mrs Cullins), Conchata Ferrell (Mrs Sheet)
---
Plot
Ramona Lutz is arrested for solicitation and possession of a crack pipe. When the police enter the motel room where she lives, they find Ramona's boyfriend Larry trying to force himself on her teenage daughter Vanessa. A foster care worker is brought in to deal with Vanessa, but instead Vanessa handcuffs the woman up and steals her car, intending to head to Stockton to stay with her grandmother. However, the car breaks down and Vanessa is forced to start hitching. She accepts a ride with child psychologist Bob Wolverton. Bob then pulls a razor on her and Vanessa realises that he is the I-5 Killer who has been killing young girls along the freeway. She manages to pull the handgun her boyfriend gave her and shoots Bob. However, Bob survives but badly wounded. Vanessa is arrested, although the detectives refuse to believe her side of the story because of her juvenile record. The media portray Bob as an innocent whose life has been ruined by senseless violence, while Vanessa is sent to jail. From there, Vanessa makes an escape and heads for the trailer park where her grandmother lives. What she does not know is that Bob has gotten there ahead of her, killed her grandmother and disguised himself as her.
---
Matthew Bright is one of the great unsung directorial talents. Bright makes incredibly edgy and unsentimentalised films that suggest something like a Larry Clark wreaking havoc on the Brothers Grimm. He is one of the talents that should automatically go onto any list of directors who should be given more opportunity to make films. Bright grew up in L.A. with brothers Richard and Danny Elfman, the latter subsequently known as a film composer usually for Tim Burton (Danny also composes the score for Freeway). Bright appeared briefly as a member of the Elfman brothers' cult band Oingo Bongo.
His first screen appearance was with the screenplay for and as an actor in Richard Elfman's bizarre culty film Forbidden Zone (1982). He also worked as screenwriter for two other films directed by Richard Elfman – Shrunken Heads (1994) and Modern Vampires (1998). Bright briefly floated into the orbit of Full Moon Productions with scripts for the abovementioned Shrunken Heads and Dark Angel: The Ascent (1994). In between these, Bright began his fascination with depictions of troubled youth with scripts for films like Wildfire (1988) and Guncrazy (1992), concerning foster kids, juvenile delinquents and teenage couples on shooting sprees.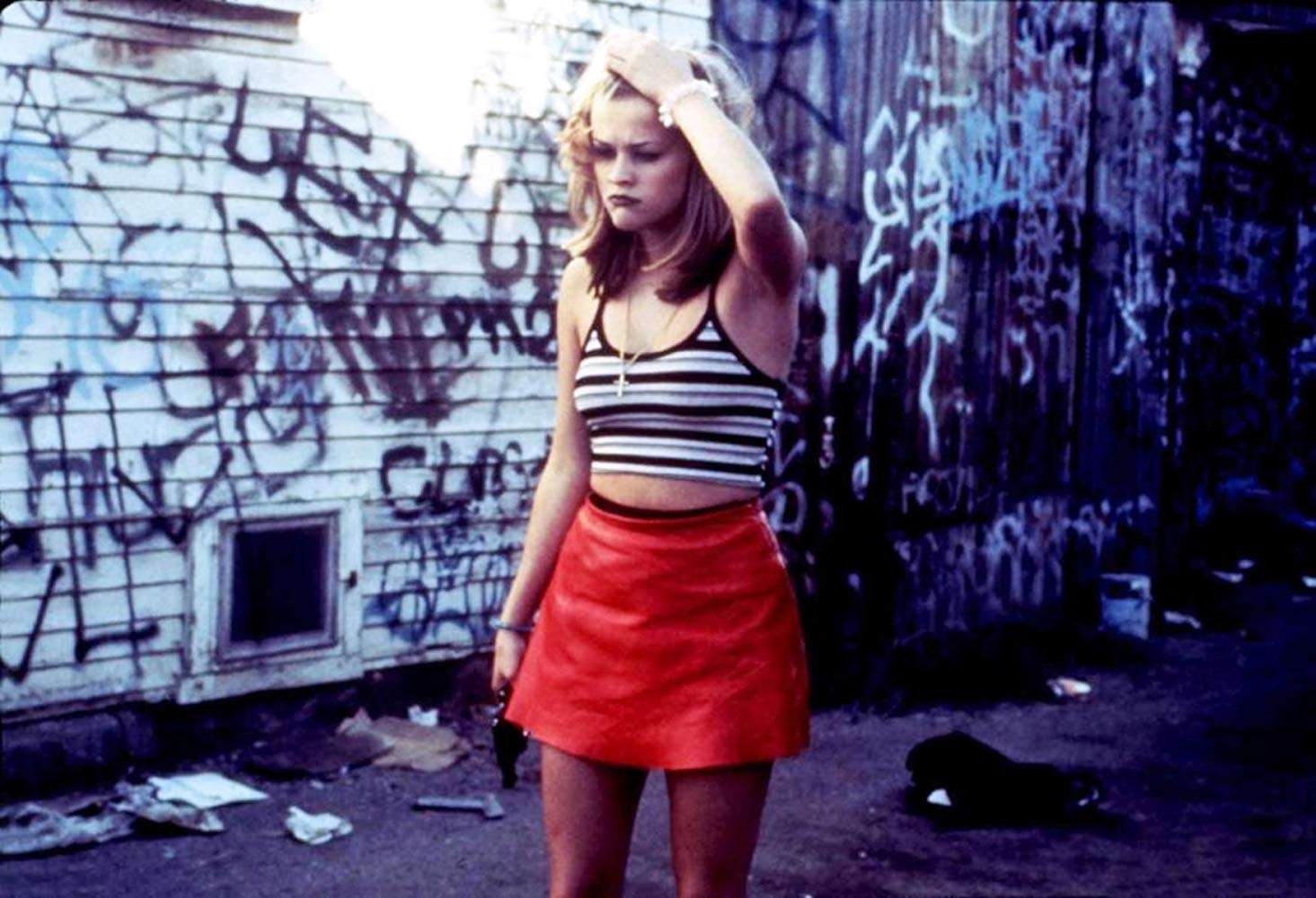 However, it is with his directorial debut with Freeway here that Matthew Bright started to show he could do amazing things. He subsequently went onto make the even more remarkable Freeway II: Confessions of a Trickbaby (1999) and the extraordinary true-life serial killer film Ted Bundy (2002). Since then, Bright's productions have become troubled – he publicly denounced his only other directorial outing Tiptoes (2003), which featured Gary Oldman as a dwarf, and his plans for other films like The Manson Girls and Pretty Little Hate Machine about the daughter of JFK's assassin have been stuck in limbo for several years.
Freeway is a highly enjoyable deconstruction (for which read trashing) of Little Red Riding Hood. Bright positively revels in giving the original story an entirely less-than-innocent overhauling. In Bright's take, Little Red Riding Hood becomes a troubled underage teenager fleeing from foster care who totes a handgun in her picnic hamper for her own protection; the wolf becomes a respectable child psychologist by day and the rest of the time a serial killer who stalks the freeways looking for young girls in trouble; while grandma lives in a North California trailer park surrounded by pink lawn flamingos. There's no woodsman come to save Little Red Riding Hood, at most two pursuing detectives who turn up at the end to arrest her. Little Red Riding Hood imagery is consciously wound into the film – when Reese Witherspoon sets out she packs everything into a red wicker basket; Kiefer Sutherland's psychologist is named Wolverton (wolf) and after she shoots him his injury contrives to make him seem even more lasciviously lupine.
It is all proves highly entertaining – indeed, for a time Freeway was in danger of becoming a cult film, although its importance has faded in the decade since. Matthew Bright's ace in the hole is an aggressively loud and assertive performance from Reese Witherspoon who manages successfully to transcend the teen nice girl casting that Witherspoon was pegged in following her subsequent A-list stardom.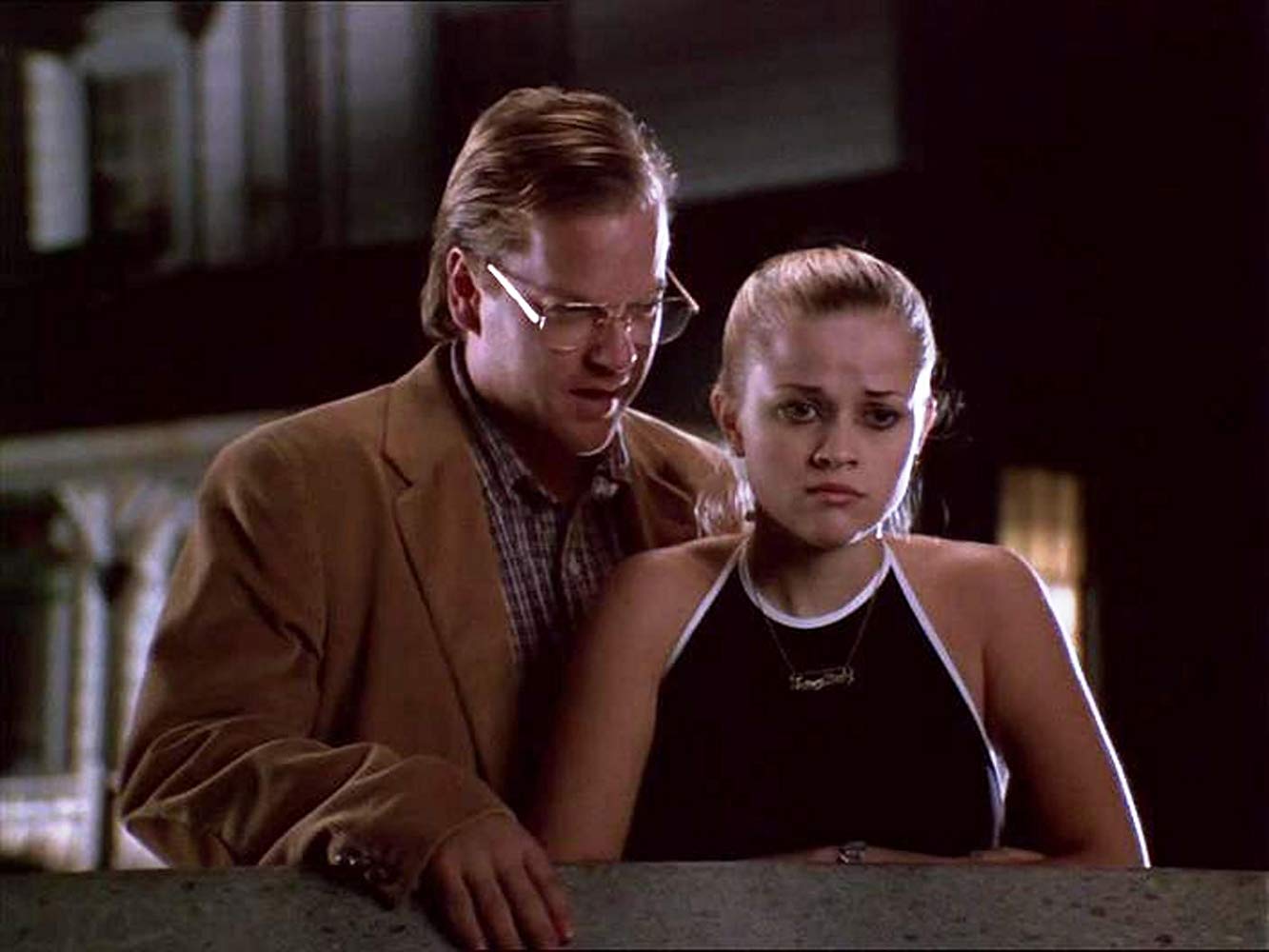 Bright's pace is uneven at times – the subplot concerning Reese Witherspoon locked up in jail sidetracks from the main plot for far too long. Also, the initial scenes where Kiefer Sutherland picks her up in his car are surprisingly lacking in threat with Sutherland coming across far too blandly. These scenes should have placed Reese Witherspoon in far more peril than they do – as it is, the scenes with her being falsely incarcerated and not believed by the detectives contain far more emotional impact.
Interestingly, Freeway comes Executive Produced by no less than Oliver Stone who himself had just made that great white trash road movie Natural Born Killers (1994). Certainly, Freeway is a good deal more enjoyable than Stone's subsequent venture into similar territory with U Turn (1997).
Matthew Bright followed Freeway up with Freeway II: Confessions of a Trickbaby (1999), which is a far more polished and disturbing film. There Bright deconstructs a different fairytale, choosing to conduct a troubled teenage girl runaway version of the Hansel and Gretel story. One fervently wishes someone out there would give the man some money to make more films.
(Nominee for Best Adapted Screenplay and Best Actress (Reese Witherspoon) at this site's Best of 1996 Awards).
---
---