---
USA. 1952.
Crew
Director – Robert Siodmak, Screenplay – Roland Kibbee, Photography – Otto Heller, Underwater Photography – H.J. Hodges, Music – William Alwyn, Musical Director – Muir Mathieson, Makeup – Tony Sponzini, Art Direction – Paul Sheriff. Production Company – Warner Brothers.
Cast
Burt Lancaster (Captain Vallo), Nick Cravat (Ojo), Eva Bartok (Consuelo), Leslie Bradley (Baron Gruda), James Hayter (Professor Prudence), Torin Thatcher (Bellows), Noel Purcell (Pablo Murphy), Christopher Lee (Joseph)
---
Plot
The pirate captain Vallo captures a vessel of the English Navy. Vallo is about to sell its shipment of arms to rebels when he discovers that the ship is carrying Baron Gruda who has been commissioned to rid the area of rebels. And so he conceives an ambitious plan to first make money by selling the arms to the rebels and to then claim the bounty by betraying the rebels to Gruda. When he meets the rebels, he finds their leader has been captured and so hatches a plan to rescue him so that he can then sell the weapons and betray the rebels. Vallo's plan becomes upset when he starts to fall for the rebel leader's daughter.
---
The Crimson Pirate is considered one of the great classics of the swashbuckler pirate movie genre. It was one of the most lavishly made films of its era – it was made in full rich Technicolor when most films were predominantly being made in black-and-white, and constructs lavish sets, including full-size sailing ships.
The Crimson Pirate certainly doesn't take itself seriously. It even announces such from the opening moments with Burt Lancaster swinging from sail to sail and announcing to the camera "Ask no questions, believe only what you see … No, believe only half of what you see." The plot is amazingly dexterous in its twists and turns – beginning with a double-plan by the pirates to sell the guns to the rebels and then betray the rebels to the military, then having to conduct a scheme to rescue the rebel leader so they can buy the guns, but then Burt Lancaster finding himself unable to go through with the scheme because he has fallen for the rebel leader's daughter and forced to go on the run from both his own mutinous crew and the English who feel betrayed. By the end, the film becomes totally gonzo, producing wildly anachronistic inventions – hot-air balloons, tanks and submarines. It is directed with an immense degree of vigour by Robert Siodmak.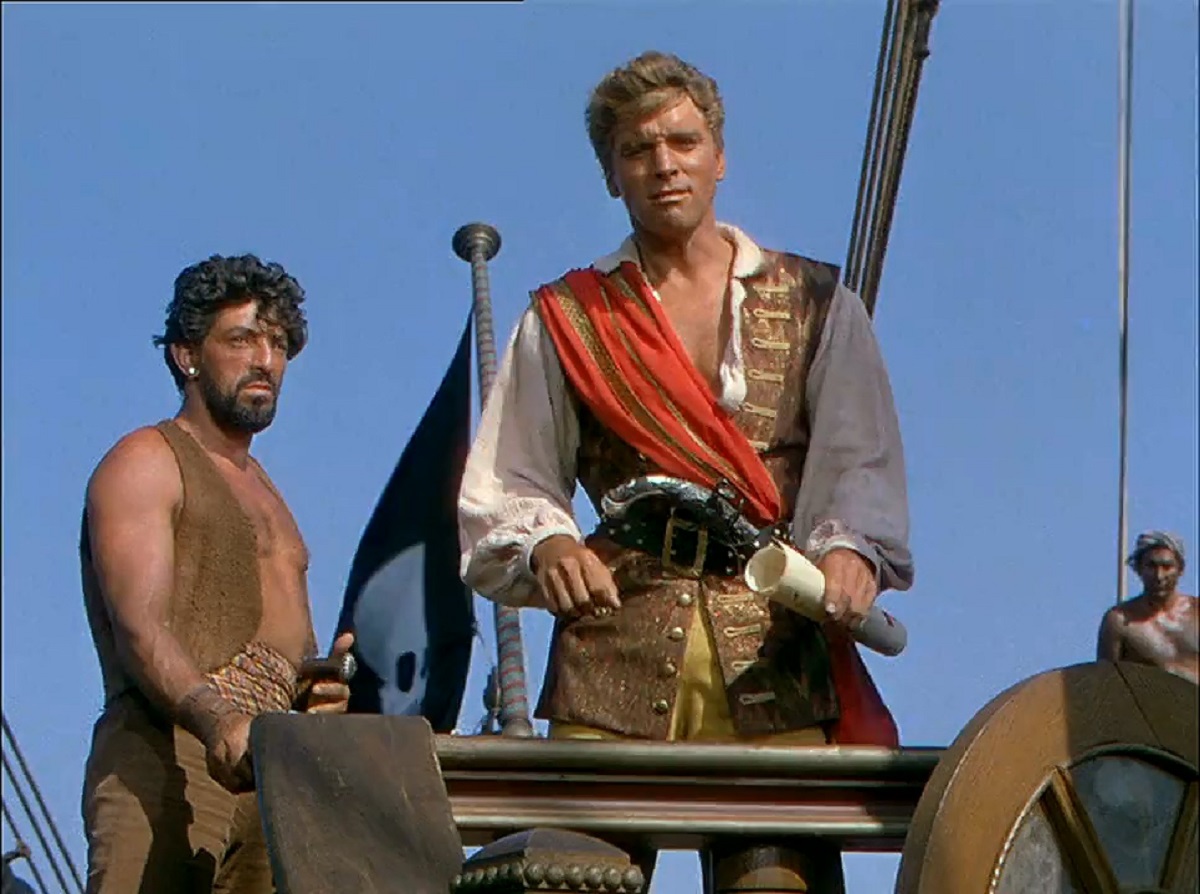 Ultimately all the swashbuckling with Burt Lancaster and Nick Cravat bouncing around one another actually looks more like a circus act (both Lancaster and Cravat used to work as an acrobatic team in a circus). And ultimately it is too nice a film – the pirates are too much good guys to ever be blackguards, in fact they never even wield swords and rather absurdly dispatch people by punching them overboard or knocking them down with throwing pins.
Director Robert Siodmak was a German immigrant who had made a number of classic film noirs during the 1940s, including film noir thrillers such as Phantom Lady (1944) and The Spiral Staircase (1946), as well as the Lon Chaney Jr starring Son of Dracula (1943) and the camp classic Cobra Woman (1944). Robert is brother of the hack genre screenwriter, director and novelist Curt Siodmak, known as screenwriter of The Wolf Man (1941) and various Universal monster sequels of the 1940s.
---
Trailer here
---