---
Crew
Director – Pablo Larrain, Teleplay/Based on the Novel by Stephen King, Producer – Andrew Balek, Photography – Darius Khondji, Music – Clark, Visual Effects Supervisors – Pauline Duvall & Stefano Trivelli, Visual Effects – Bot VFX, MPC Episodic & Scanline VFX, Production Design – Guy Hendrix Dyas. Production Company – 60-40/Bad Robot/Warner Bros. Television.
Cast
Julianne Moore (Lisey Landon), Clive Owen (Scott Landon), Joan Allen (Amanda Debusher), Jennifer Jason Leigh (Darla Debusher), Dane DeHaan (Jim Dooley), Ron Cephas Jones (Professor Roger Dashmiel), Sung Kang (Dan Beckman), Sebastian Eugene Hansen (Young Scott Landon), Michael Pitt (Andrew Landon), Clark Furlong (Paul Landon), Omar Metwally (Dr Hugh Alberness)
---
Plot
In the Maine town of Cleaver Mills, it is two years after the death of Lisey Landon's husband Scott, who was a best-selling author. Lisey is contacted by Professor Roger Dashmiel from a local university asking her to donate Scott's papers to them but she refuses. Dashmiel then agrees to employ Jim Dooley, a disturbed fan of Scott's work, who says he can obtain them whereupon he starts to threaten Lisey. Going through Scott's things, Lisey realises that Scott has left her a trail of clues. He always claimed that he obtained his idea for his stories from a parallel world he called Boo'ya Moon that he had been able to cross over to since his childhood. Lisey finds that her sister Amanda's mind has become trapped inside Boo'ya Moon, leaving her in a catatonic state and having to be hospitalised in the outside world. As the psychopathic Dooley stalks her, Lisey realises that her survival may depend on being able to find the way to enter Boo'ya Moon from the clues that Scott has left.
---
Stephen King has enjoyed a major renaissance on screen in the late 2010s, following the success of It (2017). We have seen a host of new King adaptations The Dark Tower (2017), Gerald's Game (2017), Mr. Mercedes (tv series, 2017-9), 1922 (2017), Castle Rock (tv series, 2018-9), Doctor Sleep (2019), In the Tall Grass (2019), The Outsider (tv series, 2020- ) and Chapelwaite (tv series, 2021- ), as well as a good many older works being given the remake treatment with The Mist (tv series, 2017), Pet Sematary (2019), The Stand (tv mini-series, 2020-1), Firestarter (2022) and Salem's Lot (2022) and announced remakes of The Running Man, Christine and Cujo. (See bottom of the page for a full list of other Stephen King films).
King himself has said that Lisey's Story (2006) was one of his favourite books. This is perhaps why he chooses to step up to write the teleplay himself, something he has not done since A Good Marriage (2014). The book aired as a mini-series of eight episodes of around 50 minutes apiece on the Apple TV+ streaming service. It was a co-production from J.J. Abrams' Bad Robot production company who has also been behind several other King tv adaptations with 11.22.63 (2016) and Castle Rock. The mini-series is directed by Chilean Pablo Larrain who has made a number of acclaimed works in his home country with Tony Manero (2008), Post Mortem (2010), El Club (2015), Neruda (2016) and then the English-language biopics Jackie (2016) and Spencer (2021).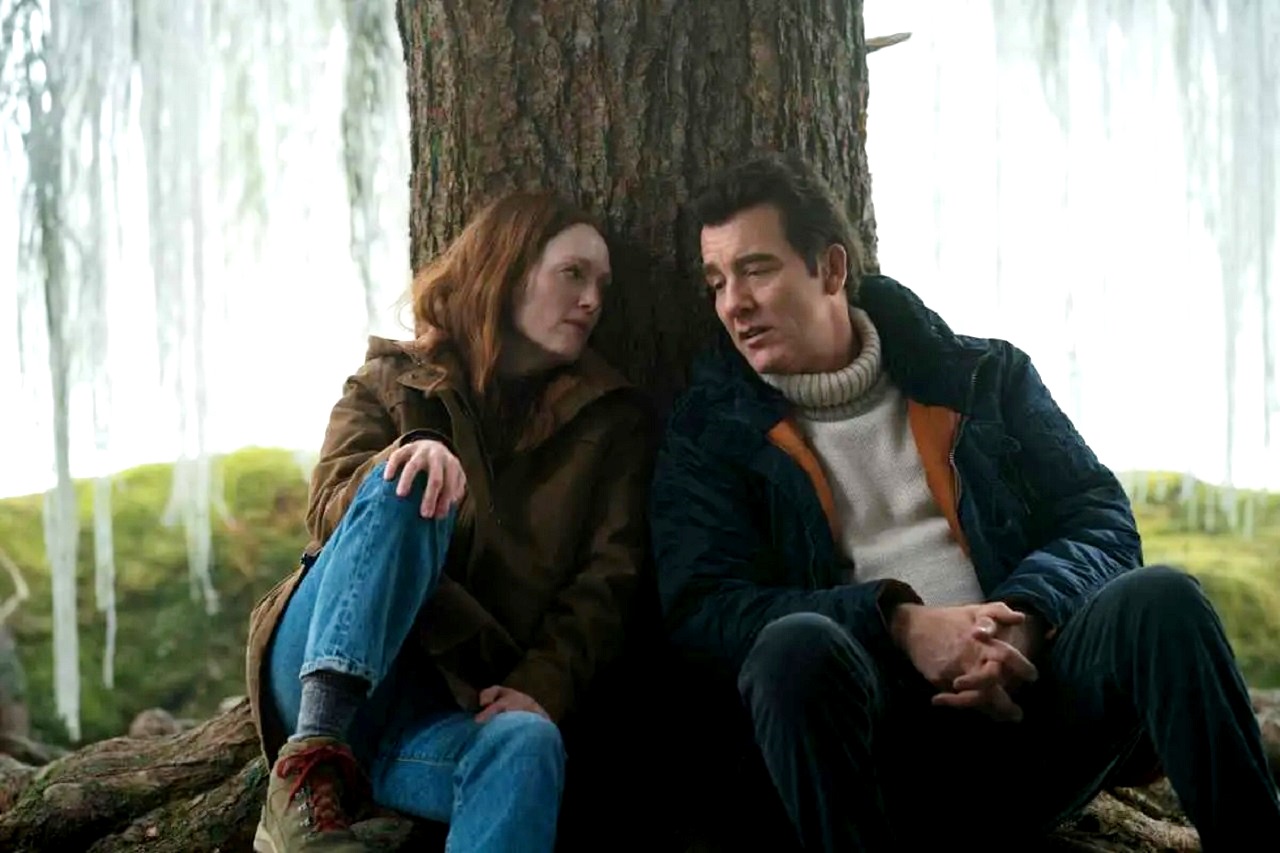 The finished production hails in at just over 400 minutes. As the 1990s demonstrated, the preferable medium for King works is often the tv mini-series, which gives them a running time that has room to tell the story. (Even so one should remember that this has still managed to reduce two versions of King's finest book The Stand (1978) to crap). King's novels gain a great deal of their effect out of having multiple plotlines and characters strands that we see crisscross and intersect and it is nice seeing these play out on screen as their own leisure rather than curtailed as in a film like Doctor Sleep. Lisey's Story could probably have been told as a 2½ hour film without too much trouble and there the occasional feel that the story is sometimes a little too leisurely with the telling. The final episode, for instance, gets the Big Bad of the show out of the way within the first few minutes and then spends nearly the entire rest of the 50 minutes wrapping up the storylines, which a film version would probably have dealt with in about five minutes top.
Lisey's Story comes in as a sold and respectable production. It is not one that goes for the throat like some of King's earlier works do – the horror is safe and there are not many moments that leave you chilled to the bone or the edge of your seat in tension. It is the King we have seen more of since around the 1990s who, as he entered his fifties and beyond, has settled into writing stories about people dealing with middle-age. The theme of a woman fleeing from an abuser into a Fantasy Otherworld also appeared in his novel Rose Madder (1995), while the idea of the parallel otherworld also underlies his The Dark Tower series (where King also managed to wind himself in as a character in one of the later stories). As with almost every King story, the protagonist (or at least here the protagonist's husband) is a writer, which leads you to the natural question of how much of King's writing is autobiographical.
Lisey's Story is a beautifully filmed show. It is made by the cinematographic work of Darius Khondji, who has performed extraordinary awards-winning work on films like The City of Lost Children (1995), Se7en (1995), Stealing Beauty (1995), Evita (1996), The Lost City of Z (2015), Uncut Gems (2019) and several Woody Allen films, among others. Khondji shoots the entire mini-series in dark autumnal colours. Some of his shots of blue landscapes lit up by the orange of fallen leaves and of the world of Boo'ya Moon – an amphitheatre looking out onto a bay where there is a pirate ship and a permanent orange full moon – are exceptional.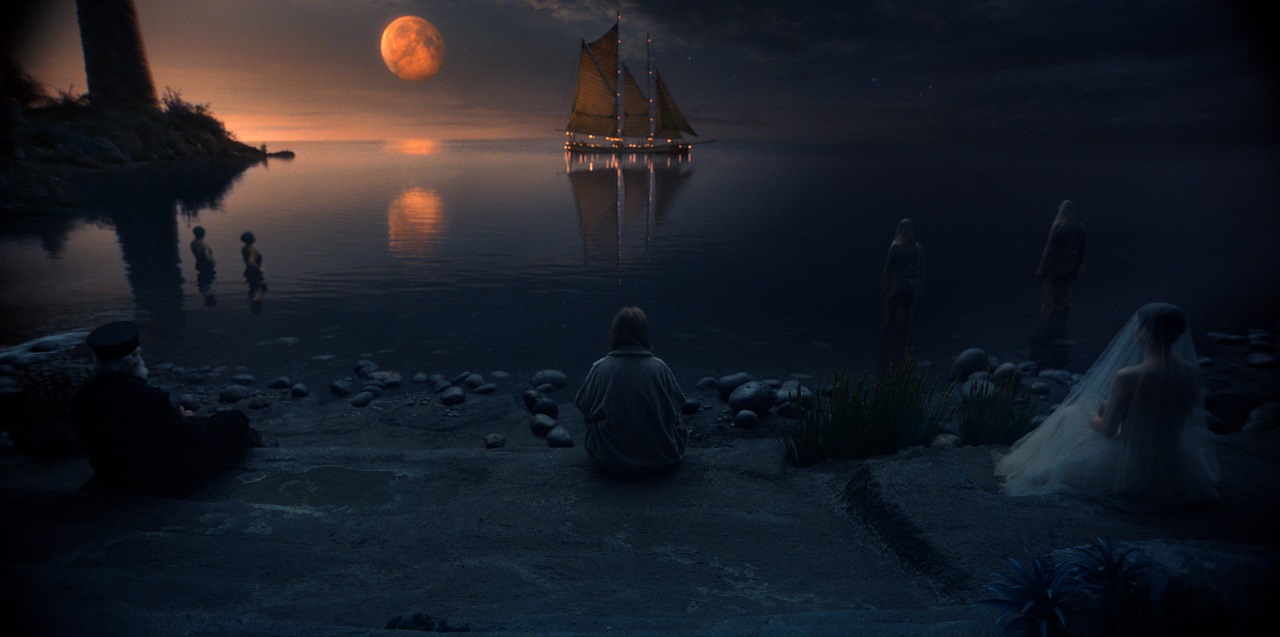 Julianne Moore executive produces the series and has brought together a top line-up of actors, including Jennifer Jason Leigh and an almost unrecognisable Joan Allen as her sisters and Clive Owen as her husband, all of whom give fine performances where it is difficult to tell who stands out the best among them. That said, all of the veterans have the show fairly much stolen out from underneath them by Dane DeHaan who does cold and disturbed with rather chill effect. He is served by some of King's best dialogue and his scenes torturing and tormenting Julianne Moore deliver quite a dark bite to the show.
Other Stephen King genre adaptations include:- Carrie (1976), Salem's Lot (1979), The Shining (1980), Christine (1983), Cujo (1983), The Dead Zone (1983), Children of the Corn (1984), Firestarter (1984), Cat's Eye (1985), Silver Bullet (1985), The Running Man (1987), Pet Sematary (1989), Graveyard Shift (1990), It (tv mini-series, 1990), Misery (1990), a segment of Tales from the Darkside: The Movie (1990), Sometimes They Come Back (1991), The Lawnmower Man (1992), The Dark Half (1993), Needful Things (1993), The Tommyknockers (tv mini-series, 1993), The Stand (tv mini-series, 1994), The Langoliers (tv mini-series, 1995), The Mangler (1995), Thinner (1996), The Night Flier (1997), Quicksilver Highway (1997), The Shining (tv mini-series, 1997), Trucks (1997), Apt Pupil (1998), The Green Mile (1999), The Dead Zone (tv series, 2001-2), Hearts in Atlantis (2001), Carrie (tv mini-series, 2002), Dreamcatcher (2003), Riding the Bullet (2004), 'Salem's Lot (tv mini-series, 2004), Secret Window (2004), Desperation (tv mini-series, 2006), Nightmares & Dreamscapes: From the Stories of Stephen King (tv mini-series, 2006), 1408 (2007), The Mist (2007), Children of the Corn (2009), Everything's Eventual (2009), the tv series Haven (2010-5), Bag of Bones (tv mini-series, 2011), Carrie (2013), Under the Dome (tv series, 2013-5), Big Driver (2014), A Good Marriage (2014), Mercy (2014), Cell (2016), 11.22.63 (2016), The Dark Tower (2017), Gerald's Game (2017), It (2017), The Mist (tv series, 2017), Mr. Mercedes (tv series, 2017-9), 1922 (2017), Castle Rock (tv series, 2018-9), Doctor Sleep (2019), In the Tall Grass (2019), Pet Sematary (2019), ), The Outsider (tv series, 2020), The Stand (tv mini-series, 2020-1), Chapelwaite (tv series, 2021- ), Firestarter (2022), Mr Harrigan's Phone (2022), The Boogeyman (2023) and Salem's Lot (2023). Stephen King had also written a number of original screen works with Creepshow (1982), Golden Years (tv mini-series, 1991), Sleepwalkers (1992), Storm of the Century (tv mini-series, 1999), Rose Red (tv mini-series, 2002) and the tv series Kingdom Hospital (2004), as well as adapted his own works with the screenplays for Cat's Eye, Silver Bullet, Pet Semetary, The Stand, The Shining, Desperation, Children of the Corn 2009, A Good Marriage, Cell and Lisey's Story. King also directed one film with Maximum Overdrive (1986).
(Nominee for Best Adapted Screenplay, Best Supporting Actor (Dane DeHaan), Best Supporting Actress (Joan Allen) and Best Cinematography at this site's Best of 2021 Awards).
---
Trailer here
---