---
Crew
Director – Tim Burton, Screenplay – John August, Based on the Novel by Roald Dahl, Producers – Brad Grey & Richard D. Zanuck, Photography – Philippe Rousselot, Music/Songs – Danny Elfman, Song Lyrics – Dahl, Visual Effects Supervisor – Nick Davis, Visual Effects – Cinesite (Europe) Ltd (Supervisors – Sue Rowe & Simon Stanley-Clamp), Digital Domain, Framestore-CFC (Supervisor – John Thum), The Moving Picture Co (Supervisor – Chas Jarrett), Title Sequence – Robert Dawson, Special Effects Supervisor – Joss Williams, Makeup Effects/Animatronics – Neil Scanlan Studio (Supervisor – Neil Scanlan), Production Design – Alex McDowell. Production Company – Warner Brothers/Village Roadshow Pictures/Plan B/Theobald Films Productions.
Cast
Johnny Depp (Willy Wonka), Freddie Highmore (Charlie Bucket), David Kelly (Grandpa Joe), Helena Bonham Carter (Mrs Bucket), Noah Taylor (Mr Bucket), Julia Winter (Veruca Salt), Annasophia Robb (Violet Beauregard), Philip Wiegratz (Augustus Gloop), Jordan Fry (Mike Teevee), James Fox (Mr Salt), Missi Pyle (Mrs Beauregard), Adam Godley (Mr Teevee), Franziska Troegner (Mrs Gloop), Deep Roy (Oompa Loompa), Christopher Lee (Dr Wilbur Wonka), Liz Smith (Grandma Georgina), David Morris (Grandpa George), Eileen Essell (Grandma Josephine), Blair Dunlop (Young Willy), Nitin Ganatra (Prince Pondicherry)
---
Plot
An announcement goes out that the famous but reclusive candy maker Willy Wonka has placed five gold tickets in his Wonka Bars. These will entitle the children who find them to a tour of Wonka's factory. The first four bars are all found by spoilt children. Young Charlie Bucket lives in poverty with his family and most fervently wishes for a Golden Ticket but is disappointed when the one he gets for his birthday turns out to have nothing in it. Charlie then finds a bill on the pavement and uses it to buy a Wonka Bar, which turns out to contain the last gold ticket. The tour of the factory gets underway. The children and their guardians are introduced to the very strange Willy Wonka and his amazing factory, which is manned by the tiny Oompa Loompa people. However, the factory also holds perils for those who ignore Wonka's warnings.
---
Willy Wonka and the Chocolate Factory (1971) is a children's classic. It was based on Roald Dahl's children's book Charlie and the Chocolate Factory (1964). Roald Dahl is a writer who gained a considerable fame with his children's stories, which involved a mix of sweet virtuous innocence and gleefully cruel just desserts punishments for the wicked. (A list of films adapted from Roald Dahl's works is at the bottom of the page). Willy Wonka and the Chocolate Factory, for which Dahl also wrote the screenplay, is regarded as a cult classic because of its psychedelic eye-popping dementia and is an essential item in many people's childhoods.
This remake of Willy Wonka and the Chocolate Factory comes from Tim Burton. Tim Burton is a director with an estimable genre career – see below for Burton's other films. There are few directors who seem so perfectly suited to remaking Willy Wonka than Tim Burton. Burton seems to live inside the Chocolate Factory himself with his perpetual fascination with the eccentric and offbeat – I am unable to think of a single other director where you could say that Willy Wonka and the Chocolate Factory is their material. The remake was announced on and off for several years with possible directors such as Gary Ross, Rob Minkoff and Martin Scorsese (!!!) and various names mentioned as potential Willy Wonka's including Nicolas Cage, Christopher Walken and Robin Williams, even shock rocker Marilyn Manson in the lead role at one point (although, it is hard to tell if this was a serious casting choice or just rumour mill). Subsequent to this, there was also the animated Tom and Jerry: Willy Wonka and the Chocolate Factory (2017).
With Charlie and the Chocolate Factory, Tim Burton provides a great many things that the original Willy Wonka lacked. Where Willy Wonka was clearly set in a factory that had merely been dressed up with psychedelic paint, Tim Burton has the near-unlimitedness offered by an A-budget and uses this to provide lavish sets that turn the factory floor and tunnels into a surreal dreamland. The Oompa Loompas in Willy Wonka were dwarves; the Oompa Loompas in Charlie and the Chocolate Factory are one single little person – dwarf actor Deep Roy – who has been endlessly digitally replicated.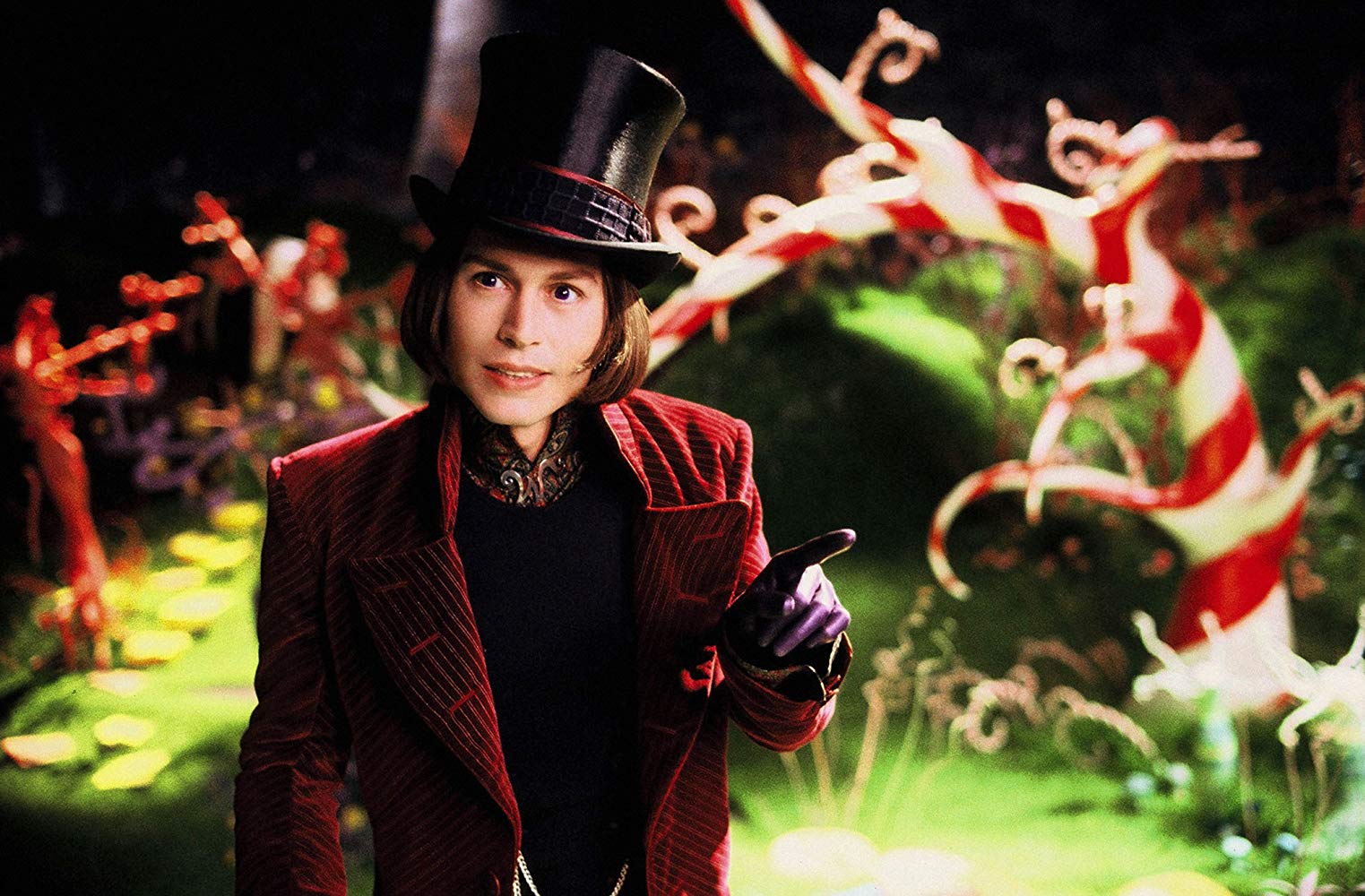 Charlie and the Chocolate Factory also offers the distinction of being generally more faithful to the Roald Dahl book than Willy Wonka was – it returns sections that Willy Wonka excised (probably for budgetary reasons) of Veruca being attacked by the squirrels, as well as the flashback vignette to the story of Prince Pondicherry. It also borrows the very start of Roald Dahl's sequel Charlie and the Great Glass Elevator (1973) where Willy and Charlie fly the glass elevator back to visit his parents. The songs throughout are all based on lyrics that Roald Dahl wrote in the book.
On the other hand, Charlie and the Chocolate Factory also adds a number of things that are neither in the book nor the previous film. The film extends the ending where Wonka makes Charlie his heir by now having Charlie initially refuse Willy's offer because he will not let him bring his family with him and decide to return home but then have Willy change his mind about these stipulations.
The most notable of the additions is a backstory. We learn that Charlie's grandfather was previously an employee of the Wonka factory. We get a number of flashbacks that give us a Willy Wonka origin story, taking us from his childhood, his discovery of a love of candy after having been forbidden to eat it by his dentist father, to the discovery of the Oompa Loompas. Here Tim Burton invents a whole story about Willy's relationship with his stern and authoritarian father (played by Christopher Lee) and their eventual reconciliation. This also mirrors the plot of Burton's previous film Big Fish (2003), which was also about the reconciliation between a young hero and his difficult father. (It should be noted that these familial reconciliation themes have suddenly popped up in Tim Burton's films after his own father passed away in 2000 and his mother in 2002, both of whom Burton has said that he was distant from).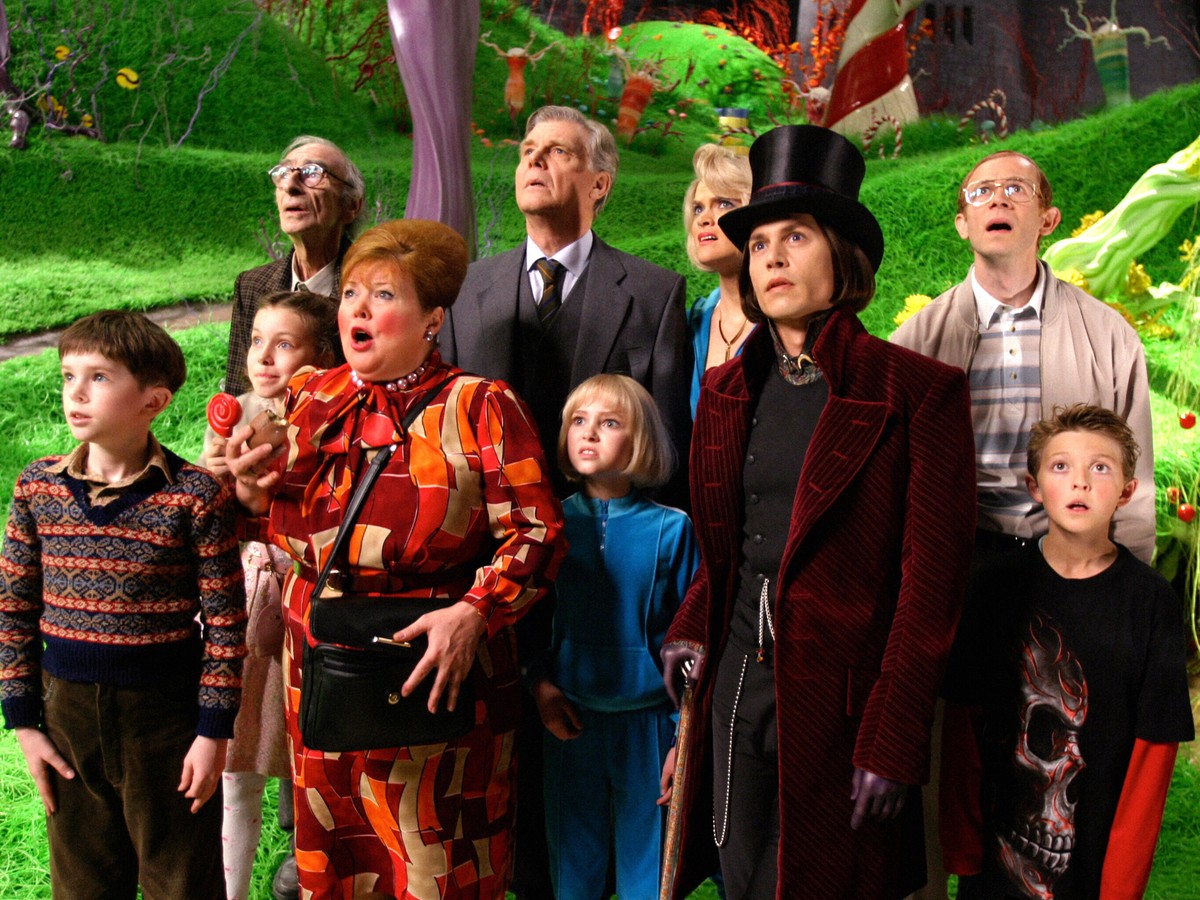 I must admit that, despite the presence of people that one admires like Tim Burton and Johnny Depp and being a much more lavishly produced than the original, I was disappointed with Charlie and the Chocolate Factory. It is hard to exactly put one's finger on what the problem is. Certainly, the film has everything that one expects of a Charlie and the Chocolate Factory – zany absurdism, Roald Dahl-esque just desserts fates for horrid children, Burton-esque eccentricities and Johnny Depp giving an expectedly strange performance. Somehow it doesn't blend into a satisfying whole. The backstory and parental reconciliation adds new things but there is the sense that the remake does not need them – the first film worked perfectly well the first time around without them, here it just seems the modern obsession with motivation having been taken too far.
The joy of Willy Wonka and the Chocolate Factory was Roald Dahl's sense of black humour – the sense that bad children get evil punishments that one can cheer along. Tim Burton is a director who in films like Pee-Wee's Big Adventure (1985) and Beetlejuice (1988) and especially films he has produced like The Nightmare Before Christmas (1993) and Cabin Boy (1994) seems perfectly attuned to Roald Dahl's cruel and malicious glee. Only Burton miscues it here and the ending of the film in particular waters the black humour down to a twee sentimentalism, a positive upbeat endorsement of family togetherness that is as a far away from Roald Dahl as one can possibly imagine.
There does seem something in Tim Burton's past few films – Sleepy Hollow (1999), Planet of the Apes (2001) and Big Fish – that is lacking in the sublime eccentricity and wacky imagination that drove earlier films like Pee-Wee's Big Adventure, Beetlejuice, Edward Scissorhands (1990) and Ed Wood (1994). One is starting to wonder if maybe Tim Burton has lost his touch. To his credit, Tim Burton did regain his stride with his next film, the fine stop-motion animated Gothic fantasy Corpse Bride (2005), although his subsequent films – Sweeney Todd: The Demon Barber of Fleet Street (2007), Alice in Wonderland (2010), Dark Shadows (2012), Frankenweenie (2012), Big Eyes (2014), Miss Peregrine's Home for Peculiar Children (2016) and Dumbo (2019) – are still lacking.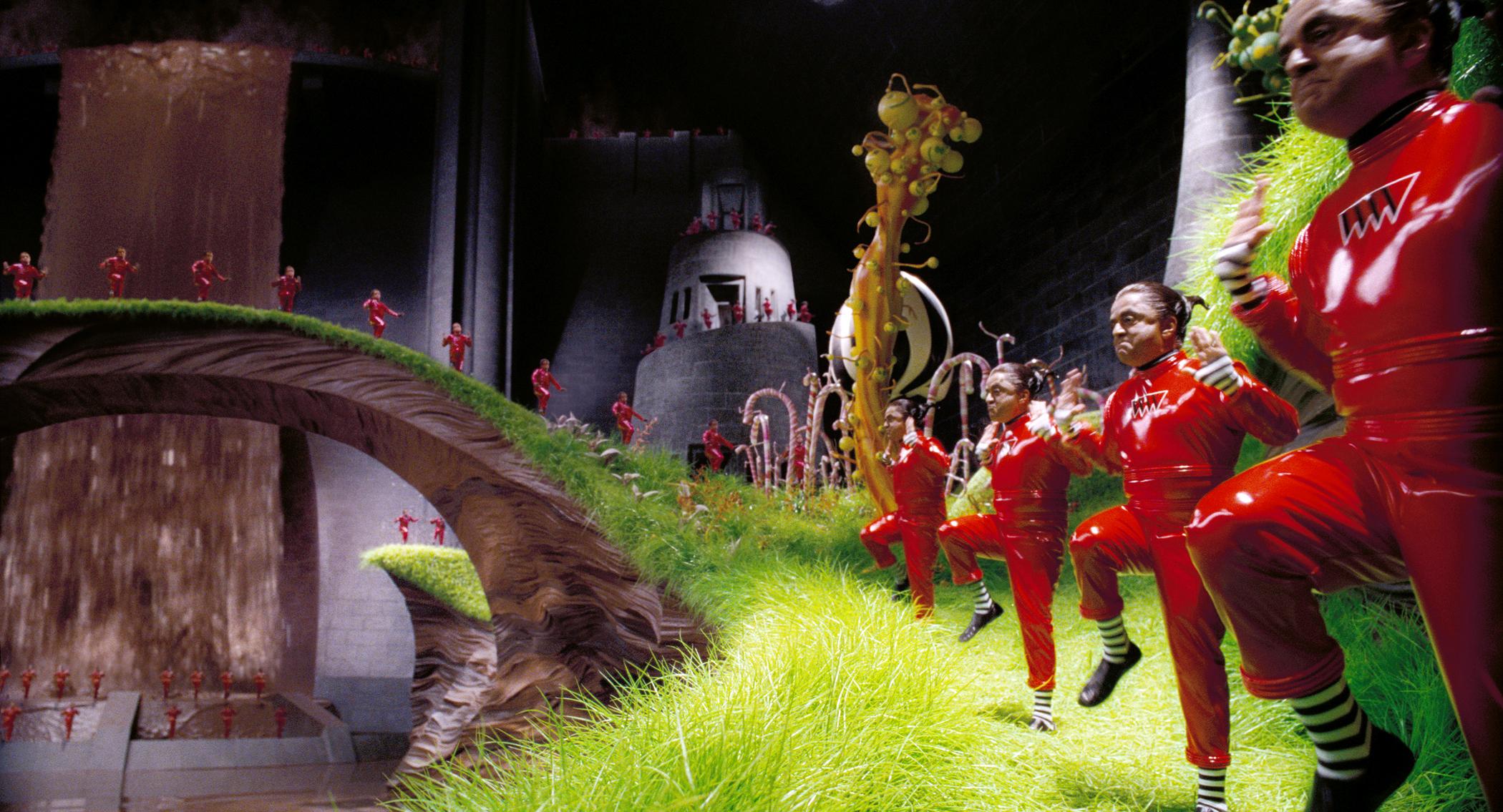 The other problem with Charlie and the Chocolate Factory, one felt, was Johnny Depp's performance. Depp comes across as supremely weird, as though he has just arrived from another planet. However, it is a performance that fails to connect with the film in the same way that Gene Wilder's Willy Wonka did in the original. I think Gene Wilder is a terrible actor who never ever managed to give a performance without shouting it out at the top of his lungs, while on the other hand I think Johnny Depp is a great actor who has been excellent in just about every film I have seen him in. Contrarily though, Willy Wonka was almost certainly Gene Wilder's best ever performance, while Wonka is one of Johnny Depp's more forgettable. Gene Wilder's performance had a simplicity to it that vied between over-exaggerated warning and theatric indifference to the children's fates and a dark menace that was perfectly attuned to Roald Dahl's gleeful malice.
On the other hand, Johnny Depp seems like a snobbish butler who looks down on the children as though they had just made a bad smell and plays almost the entire performance in a series of peculiar double takes. What is lacking in Depp's performance is a sense of menace – he seems more like a strange man with a pasted-on grin who emotes entirely with his wavering eyebrows. The same could also extend to the rest of the film. Somewhere in the over-elaboration of the sets and the addition of the backstory, the gleeful cruelty of Roald Dahl's story has been buried. The result comes out as a peculiarly lifeless confection.
Tim Burton's other films are Pee-Wee's Big Adventure (1985); the bizarre ghost story Beetlejuice (1988); Batman (1989); the genteel artificial boy fairy-tale Edward Scissorhands (1990); Batman Returns (1992); Ed Wood (1994) about the world's worst director; the alien invasion spoof Mars Attacks! (1996); the ghost story Sleepy Hollow (1999), the remake of Planet of the Apes (2001); Big Fish (2003) about an habitual teller of tall tales; the stop-motion animated Gothic fantasy Corpse Bride (2005)); the horror musical Sweeney Todd: The Demon Barber of Fleet Street (2007); Alice in Wonderland (2010); the film remake of the tv series Dark Shadows (2012) the stop-motion animated Frankenweenie (2012); Miss Peregrine's Home for Peculiar Children (2016); and the live-action remake of Dumbo (2019). Burton also produced Henry Selick's darkly brilliant puppet fantasies The Nightmare Before Christmas (1993) and James and the Giant Peach (1996), as well as the live-action conte cruel Cabin Boy (1994), the animated 9 (2009), Abraham Lincoln, Vampire Hunter (2012) and Alice Through the Looking Glass (2016). The Death of "Superman Lives": What Happened? (2015) is a fascinating documentary about Burton's failed Superman Lives project.
Roald Dahl's other films are the short-lived anthology tv series Way Out (1961), which Dahl wrote for and hosted; the screenplays for the James Bond film You Only Live Twice (1967), the children's film Chitty Chitty Bang Bang (1968) and the psycho-thriller The Night Digger (1971); the anthology series Tales of the Unexpected (1979-81), which he also hosted and adapted his macabre short stories for. The BFG (1989), Nicolas Roeg's The Witches (1990), Danny DeVito's Matilda (1996), Tim Burton and Henry Selick's animated James and the Giant Peach (1996), the animated Fantastic Mr. Fox (2009), Steven Spielberg's The BFG (2016) and The Witches (2020), all adapt his children's books.
Charlie and the Chocolate Factory was parodied in Epic Movie (2007).
(Nominee for Best Production Design at this site's Best of 2005 Awards).
---
---