(La Danza de la Realidad)
---
Crew
Director/Screenplay – Alejandro Jodorowsky, Producers – Moses Cosio, Alejandro Jodorowsky & Michel Seydoux, Photography – Jean-Marie Dreujou, Music – Adan Jodorowsky, Visual Effects Supervisor – Ekkarat Rodthong, Production Design – Maryline Monthieux. Production Company – Camera One/Soleil Films/Pathe/ABKCO La Danza LLC
Cast
Brontis Jodorowsky (Jaime Jodorowsky), Jeremias Herskovits (Alejandro as a Child), Pamela Flores (Sara Jodorowsky), Alejandro Jodorowsky (Alejandro as an Adult), Bastian Bodenhofer (Carlos Ibanes), Cristobal Jodorowsky (Theosophist), Adan Jodorowsky (Anarchist), Andres Cox (Don Aquiles)
---
Plot
The story of Alejandro Jodorowsky's childhood growing up in the tiny mining town of Tocopilla, Chile. Alejandro was treated harshly by his father Jaime who ran a general store and was an ardent Communist. His mother Sara forced Alejandro to wear a long blonde wig of her father's hair and rejected him after her husband burned the wig. Alejandro befriended the limbless freaks of the town, the results of mining disasters, but these were driven away by his father. His father nurtured the great dream of assassinating Chile's dictator General Carlos Ibanez del Campo and set out on a mission to do so that involved becoming the equerry to the general's beloved horse.
---
Alejandro Jodorowsky is the wild man of indie cinema. His first two wide-released films, El Topo (1970) and The Holy Mountain (1973), come at you with a mad intensity. In these – he plays the central characters in either film – Jodorowsky seems half like the guru of a transcendental cult obsessed with showing his followers a radical breakthrough in understanding, the other half a stoned madman who has become lost in the mystical claptrap of Carlos Castaneda, Timothy Leary, George Gurdjieff, tarot and Zen and regurgitated it as incoherently deranged babble. Both films have gained a culty esotericism for their trippy lunacy and surreal headspace.
Alejandro Jodorowsky gained an enormous following after these two films. Alas, he ran aground for several years after that – most notably when it came to his enormously ambitious film adaptation of Frank Herbert's Dune (1965), which was depicted in great detail in the documentary Jodorowsky's Dune (2013). The principal problem that comes through in the documentary was one of Jodorowsky's visionary outlook coming up against the Hollywood money men. There were ongoing problems with Jodorowsky's subsequent films, Tusk (1980) and The Rainbow Thief (1990), which were not widely seen or else disowned by Jodorowsky. His first film Fando and Lis (1968) apparently resulted in a riot after it was screened as a festival in Acapulco and was widely unavailable until the 2010s. The only fully fledged Jodorowsky film that we had after that was Santa Sangre (1989), a beautiful, sensual, surreal horror film about circus freaks and psychopathic mime artists.
And that was it from Jodorowsky for twenty-four years up until The Dance of Reality here. It is not that Jodorowsky was absent. He had attempted to get various films off the ground – most notably Son of El Topo and the metaphysical gangster film King Shot – without much in the way of success in finding funding. When these failed to emerge, he diverted his attention to writing comic-books, novels, several non-fictional works of philosophy and a biography The Dance of Reality (2001) (which forms the basis of this film), as well as directing theatre and lecturing on his own school of tarot-based psychology. Ironically, it was the shooting of Jodorowsky's Dune that brought Jodorowsky back together with producer Michel Seydoux whereupon the two reunited on a new film with The Dance of Reality.
A quarter century has made a great deal of difference to Jodorowsky. Gone is the crazed prophet trying to aggressively force an audience into new ways of understanding. As though consciously determined to invite audiences to meet the person behind the persona, 2013 became a year when the eighty-four year-old Jodorowsky took the lid off the mystique both in terms of allowing us to see him onscreen in Jodorowsky's Dune and in terms of telling the story of his youth here. What we saw was not a wild man or the prophet of a cult but someone who made us laugh at his genial, often self-mocking sense of humour. It is a Jodorowsky who had been through a good deal, most notably the death of his son Teo in 1995, which he coped with by creating his own school of therapy that he calls psychomagic.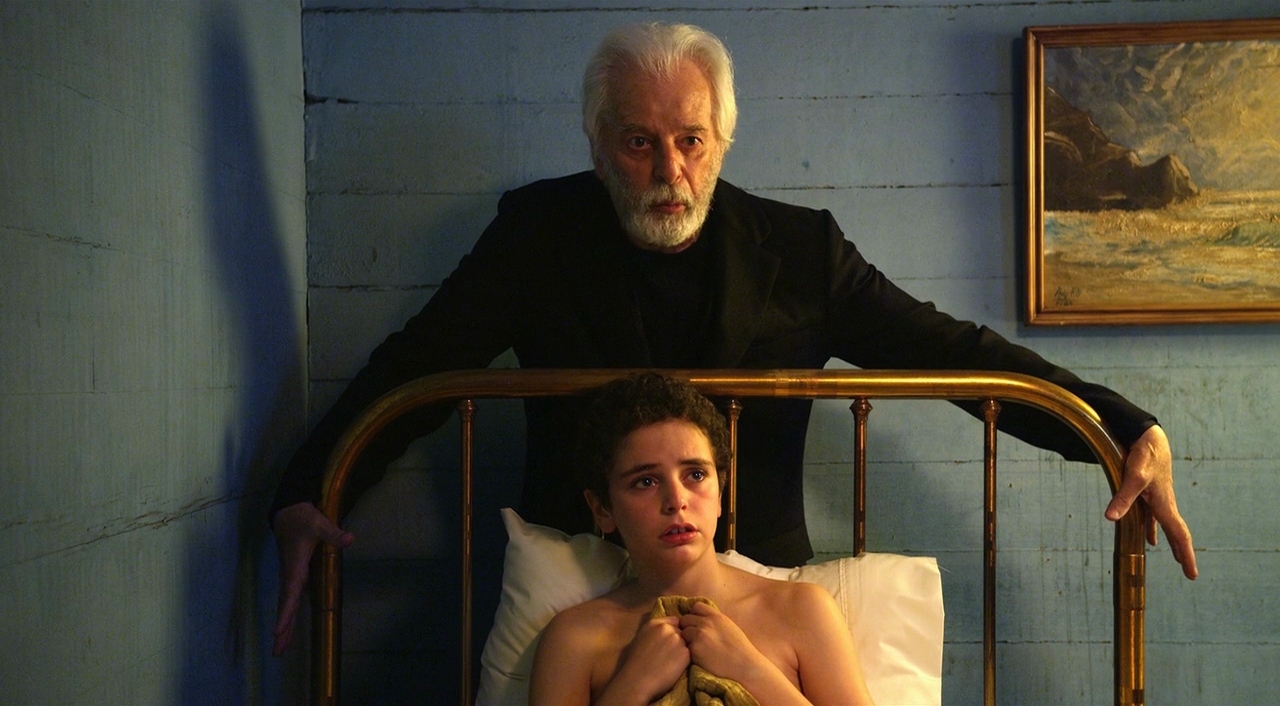 The Jodorowsky who came out through the other end was no longer the wild prophet who wanted to challenge our ways of thinking – well, occasionally a few of Jodorowsky's Zen-like agitprop slogans turn up during the opening circus scenes here – "there is no difference between money and conscience … between wealth and death." Rather the Jodorowsky we saw in 2013 was more the old man comfortable in who he had become and at peace with his hurts and troubled psyche, sitting back wryly reflecting on what has been. Indeed, at the end of this film as we see the Jodorowsky family sailing off on the boat, at the wheel is a death figure and the 84-year-old Jodorowsky who puts his arm around Death as though to say that this is his life, he is resigned to it and at peace with whatever may lie ahead for him.
The Dance of Reality is the story of Jodorowsky's childhood but being a Jodorowsky film, this is no straight autobiography. Jodorowsky's mother delivers all of her dialogue in operatic aria. The town where he grew up seems inhabited by armless and legless freaks, ex-miners who sing about the joys of the dynamite that blew off their limbs (these are the characters that the young Jodorowsky seems to have some affinity for, which may well explain the preponderance of freaks and deformities that turn up in his films).
The real Jodorowsky turns up as a phantom character, talking directly to us, reaching out to clasp his young self and prevent him from committing suicide. There is all manner of appealingly surreal scenes – like the dwarf that acts as promoter for the shop with a series of amusing stunts (even continues to do so after the end credits roll). In one comically outrageous scene, Jodorowsky's father is infected with a plague – with a lynch mob at the door, his mother implores God for help, lifts her skirt and urinates all over the father, which has the effect of miraculously healing him.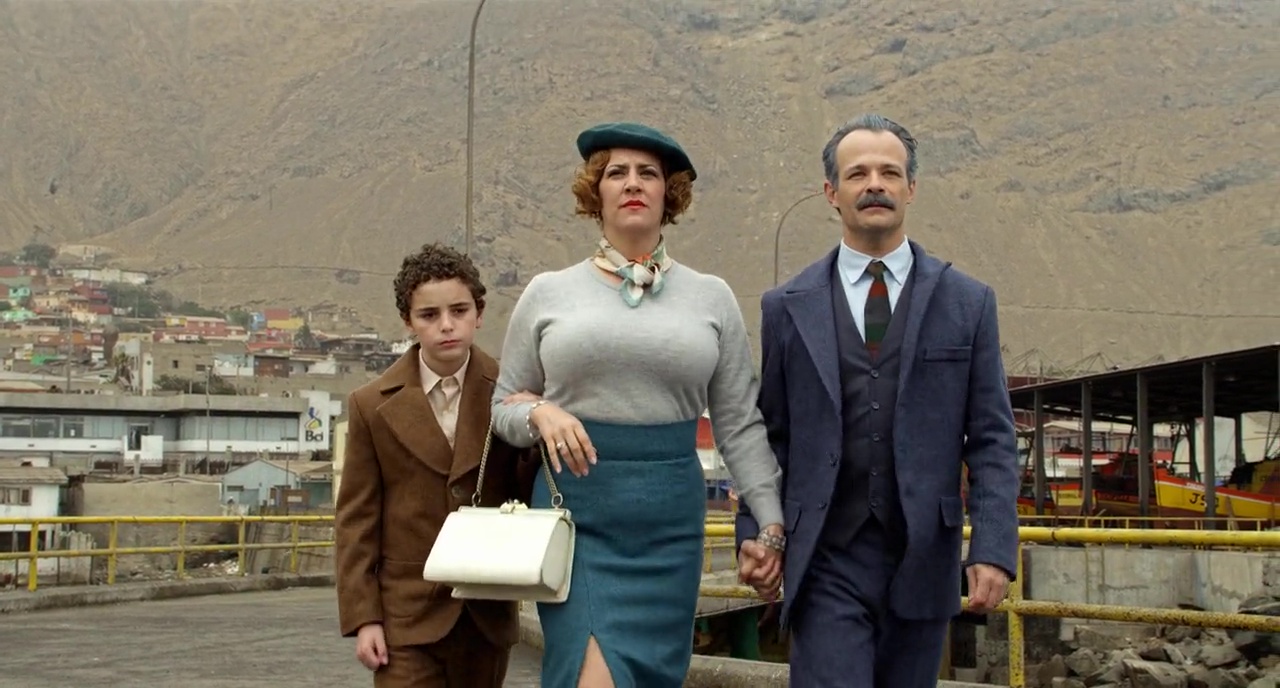 The Dance of Reality reminds somewhat of Guy Maddin's My Winnipeg (2007) wherein Maddin made a documentary about his hometown that turned into a surreal fantasia of truth and made-up fictions. You keep wondering how much of the biography that Jodorowsky is telling here is truth and how much fancy. Truth – Jodorowsky was raised in Tocopilla, a small mining town in Chile born of Russian and Jewish parents. Truth – his father was an ardent Communist and ran a store called Casa Ukrania.
However, when it comes to stories about Jodorowsky's maternal grandfather blowing himself up after falling into a barrel of wine while trying to light an oil lamp and the young Jodorowsky being forced to wear his long blonde hair as a wig or about Jodorowsky's father becoming equerry to Chilean dictator General Carlos Ibanez del Campo in an effort to assassinate him and then suffering from paralysis of the hands at being unable to pull the trigger, you suspect that that old trickster Jodorowsky is ever so slightly pulling his audience's leg.
Despite the fact that it is a surreal film by nature, The Dance of Reality is contrarily Alejandro Jodorowsky's most grounded and realistic film yet – he acually went to shoot in the locations where he grew up. The opera-singing mothers, miracle urinations and so on are less than one might think. Mostly, rather than trying to offer up the filmed equivalent of a Buddhist non-sequitir epigrams and change an audience's consciousness, Jodorowsky is retelling something that happened and is real to him, which is not something you can about his other films. It is finally the emergence of a more gentle, less wild Jodorowsky.
Jodorowsky followed this with the next chapter in his autobiography Endless Poetry (2016), as well as the documentary Psychomagic: A Healing Art (2019).
---
---