USA. 1998.
Crew
Director – Joe Dante, Screenplay – Ted Elliott, Zak Penn, Adam Rifkin, Terry Rossio & Gavin Scott, Producers – Michael Finnell & Colin Wilson, Photography – Jamie Anderson, Music – Jerry Goldsmith, Visual Effects Supervisor – Stefen Fangmeier, Visual Effects – Industrial Light and Magic, Animation Supervisor – David Andrews, Action Figures & Animatronics – Stan Winston Studio (Supervisors – John Rosengrant & J. Allan Scott), Special Effects Supervisor – Kenneth W. Pepiot, Production Design – William Sandell. Production Company – Dreamworks Pictures/Universal.
Cast
Gregory Smith (Alan Abernathy), Kirsten Dunst (Christy Fimple), Kevin Dunn (Stuart Abernathy), David Cross (Irwin Wayfair), Jay Mohr (Larry Benson), Denis Leary (Gil Mars), Phil Hartman (Phil Fimple), Ann Magnuson (Irene Abernathy), Dick Miller (Joe), Wendy Schaal (Marion Fimple), Alexandra Wilson (Ms Kegel), Robert Picardo (Ralph Quist), Jonathan Bouck (Brad)
Voices
Frank Langella (Archer), Tommy Lee Jones (Major Chip Hazard), Christopher Guest (Slamfist/Scratch-It), Ernest Borgnine (Kip Killigan), Jim Brown (Butch Meathook), Bruce Dern (Link Static), Clint Walker (Nick Nitro), Michael McKean (Insaniac), Harry Shearer (Punch-It), Sarah Michelle Gellar & Christina Ricci (Gwendy's Dolls)
---
Plot
The Heartland Play Systems toy company is acquired by billionaire Gil Mars and his weapons manufacturing corporation Globotech Industries. When Mars sees Heartland's designs for peaceful Gorgonite toys, he immediately demands a series of violent war toys be put on the market to pulverise the Gorgonites. Designer Larry Benson acquires some of Globotech's state-of-the-art computer chips and uses them to create a line of Elite Commando war toys. In charge of his father's toy shop during his absence, young Alan Abernathy begs some of the Gorgonite and Elite Commando toys from the delivery supply man. Alan then discovers that Archer, the lead Gorgonite toy, has artificial intelligence due to its chip. As Alan befriends Archer, the Elite Commandos in the store start converting household appliances into deadly weaponry in order to make a full-scale onslaught and fulfill their directive of pulverizing the Gorgonites.
---
Joe Dante is clearly a science-fiction and horror movie buff – he even contributed articles to the seminal Famous Monsters of Filmland (1958-82) in the 1960s. Dante gained an entry into the industry via Roger Corman who allowed Dante to make several quirky in-jokey low-budget films – Hollywood Boulevard (1976), Piranha (1978) and The Howling (1980). Dante's big breakthrough was the runaway success of Gremlins (1984). Sadly, Gremlins was the highpoint of Joe Dante's career and none of his subsequent films throughout the 1980s – Explorers (1985), Innerspace (1987), Amazon Women on the Moon (1987) and The 'Burbs (1989) – attained any similar box-office attention.
The problem with Joe Dante's films was that in most cases the sf/horror in-jokes and the cameos from genre names were the entirety of the film. When the mid-1980s fad for retro-1950s and deliberately bad science-fiction films began to pale, so did audience interest in Joe Dante's films. Throughout the 1990s, Dante's output was sporadic and dogged by even poorer reception than his output of the late 1980s – Gremlins 2: The New Batch (1990) was a flop; Matinee (1993) may be Dante's best, his least in-jokey and most heartfelt film to date, but was little seen; The Second Civil War (1997) was only released direct to video; while it took five years after Small Soldiers before Dante was able to mount another theatrical film Looney Tunes: Back in Action (2003) and subsequently he only made The Hole (2009) and Burying the Ex (2014), both of failed to receive proper release, as well as an episode of the horror anthology Nightmare Cinema (2018). There was the delightful tv series Eerie Indiana (1990-1), which lasted for a season-and-a-half but Dante's subsequent foray into genre television The Osiris Chronicles (1993) was never even aired as a series. In the 1990s, Joe Dante may be better known for the films he didn't direct – Batman (1989), The Phantom (1996), My Favorite Martian (1999) and the planned adaption of Plastic Man (he having signed onto all of the above at one point or another) – than the ones that he did.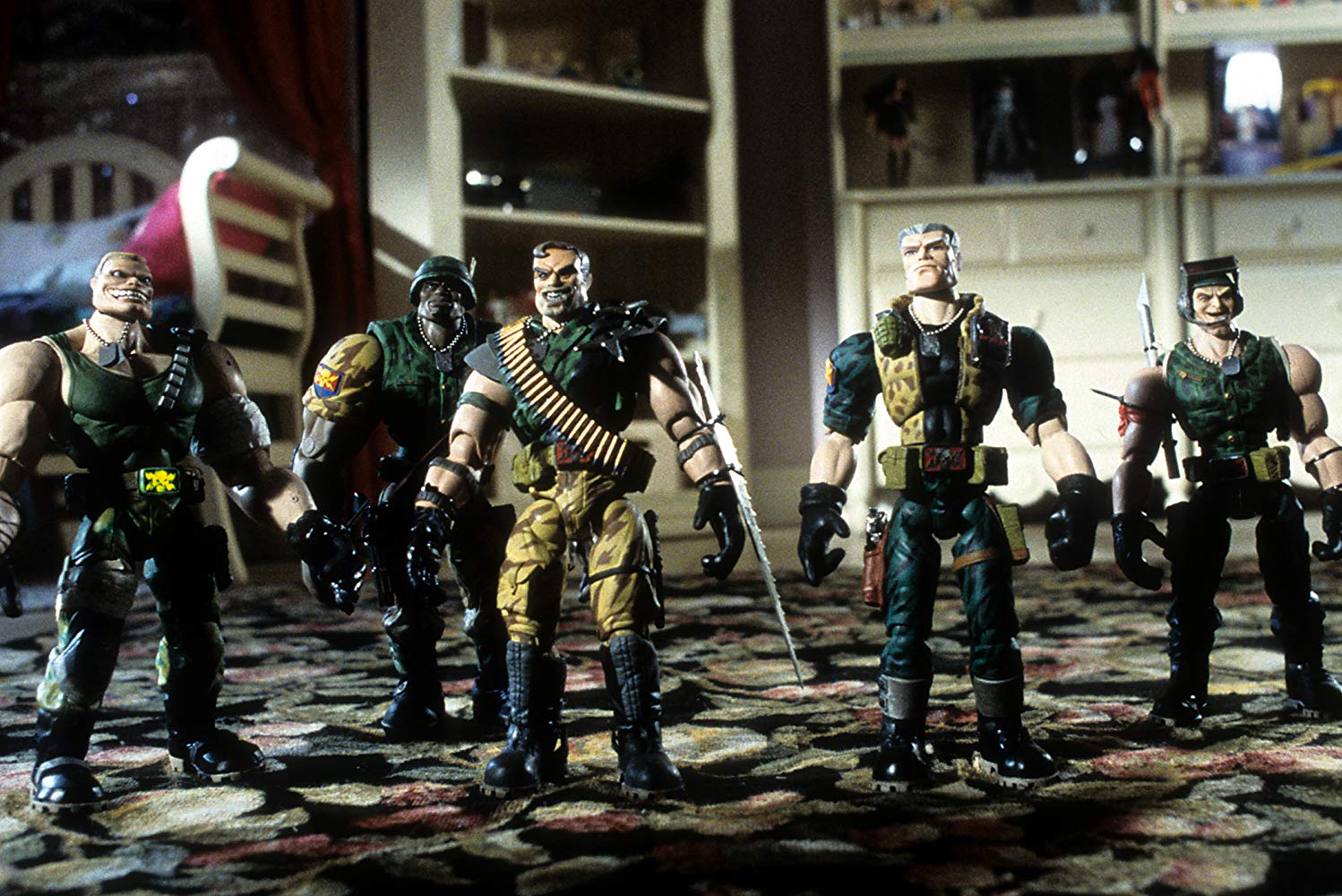 Small Soldiers was the biggest success that Joe Dante had in the 1990s, although was not the runaway success that many had hoped for. The bad news is that in order to achieve such Dante has had to resort to making a pale imitation of Gremlins. It feels like someone somewhere has decided they wanted to make a film that cashed in on the success of Toy Story (1995) and simply grafted the basic premise of Toy Story on top of the basic plot of Gremlins. The plot similarities between Gremlins and Small Soldiers are disappointingly unimaginative – a boy gets a new living toy, which quickly becomes his friend; soon evil toys threaten them and it becomes the boy and the one good toy against an army of evil toys; they are joined by the girl love interest after the evil toys imprison and torture her. In both cases, the films mount to an all-out miniaturised war between the gremlins/toys and the humans. In both cases, the boy has a father who is an impractical dreamer. There is also a corporate raider played by Denis Leary who seems modelled after John Glover's Daniel Clamp in Gremlins 2 (although the exec here is played more as an evil Bill Gates, whereas Glover's character was clearly modelled on Donald Trump).
On the positive side, Joe Dante has restrained his tendency toward in-jokiness that overran many earlier films. There are still the cameos from old familiar Dante standbys – Dick Miller, Wendy Schaal and Robert Picardo (playing a character named after the werewolf he played in The Howling). However, there are no Time Machines or Robby the Robots placed in the background or cutaways to The Wolf Man (1941) playing on tv this time out. Although, Dante does finally allow himself one gag in the film's parting line, which manages an amusing Titanic (1997) in-joke.
The effects in Small Soldiers are considerably better than those in Gremlins are. Joe Dante crafts the relationship between Gregory Smith and Archer well. While Dante may have polished his style since Gremlins, Small Soldiers still feels disappointingly flat. There is too much of Gremlins in it, and fun and all as the scenes of the soldiers and the Gorgonite sidekicks running rampant are, they lack a certain vital imagination. There is only a single scene where Joe Dante seems to demonstrate the perverse undertow that fired much of Gremlins up – a scene with Kirsten Dunst being tortured by a horde of mutant Barbie dolls all scarily mouthing bimbo-esque one-liners – but the rest of Small Soldiers lacks any of this subversive originality.
---
Trailer here
---