---
USA. 1989.
Crew
Director/Production Design – Stephen Sayadian, Screenplay – Stephen Sayadian & Jerry Stahl, Producer – Joseph F. Robertson, Photography – Ladi Von Jansky, Music – Mitchell Froom, Special Effects Supervisor – George G. Smith, Jr., Special Prop Effects – Steve Patino, Makeup Effects – Ken Diaz. Production Company – Steiner Films.
Cast
Madeleine Reynal (Dr. Caligari), Fox Harris (Dr Avol), Laura Albert (Eleanor Van Houten), Jennifer Balgobin (Ramona Lodger), John Durbin (Gus Pratt), Gene Zerna (Les Van Houten), David Parry (Dr Lodger), Barry Phillips (Cesare), Jennifer Miro (Mrs Koonce)
---
Plot
Eleanor Van Houten has been committed by her husband to the insane asylum run by the brilliant Dr Caligari where she has been diagnosed with a disease of the libido. Staff member Ramona Lodger and her husband go to the asylum's director Dr Avol, warning him that Dr Caligari is engaged in unethical experiments, but Avol does not wish to do anything because of the grant money that Caligari brings in. Caligari unleashes her diabolic plan to conduct an operation that will swap the minds of Eleanor and the cannibal killer Gus Pratt.
---
The Cabinet of Dr Caligari (1919) is one of the absolute classics of the silent era. It was the key film in the German Expressionist cinema of the 1920s and marks the move away from objective expression in cinema and the beginnings of surrealism. Its bizarre style is something unique – distorted sets lit with wildly exaggerated shadows and where it feels as though right angles have been banished. Its' style has been copied and homaged by dozens of films since and influenced numerous other works from Metropolis (1927) to Frankenstein (1931) in terms of its designs. While many have borrowed Caligari's stylistic and design effects, few films have captured its mood – being set inside the mind of a deranged individual or just the all-pervasive creepiness.
There have been several films that have sought to borrow the title. There was The Cabinet of Caligari (1962), which was not a remake so much as an Old Dark House psycho-thriller with some occasionally Caligarian dream scenes. There was this film, which could not really be called a remake either – technically it is more of a sequel in that Madeleine Reynal states at one point that she is granddaughter of the original Dr Caligari – while Stephen Sayadian throws out any stylistic connection to the original. Only one filmmaker has been adventurous enough to conduct an actual remake with The Cabinet of Dr. Caligari (2005) from David Lee Fisher, which bizarrely sought to conduct a modern scene-for-scene sound remake.
Stephen Sayadian is a name with a certain cult underground reputation. Sayadian began his career as a graphic artist and became Creative Director for Larry Flynt Publications. Elsewhere, Sayadian had worked as a production designer and designed film posters. Under the pseudonym Rinse Dream, Sayadian directed Nightdreams (1981) and its two sequels, both pornographic films that venture into surrealist territory. Sayadian's most famous film was Cafe Flesh (1982), also made under the Rinse Dream pseudonym, which is set in a future where most of humanity have been rendered sterile and go to cafes where they watch the remaining fertile couples having sex. This became one of the few pornographic films to gain crossover appeal and became a cult midnight hit, being shown in both hardcore and cut versions. Sayadian has made several other films but Dr. Caligari was his only non-pornographic work.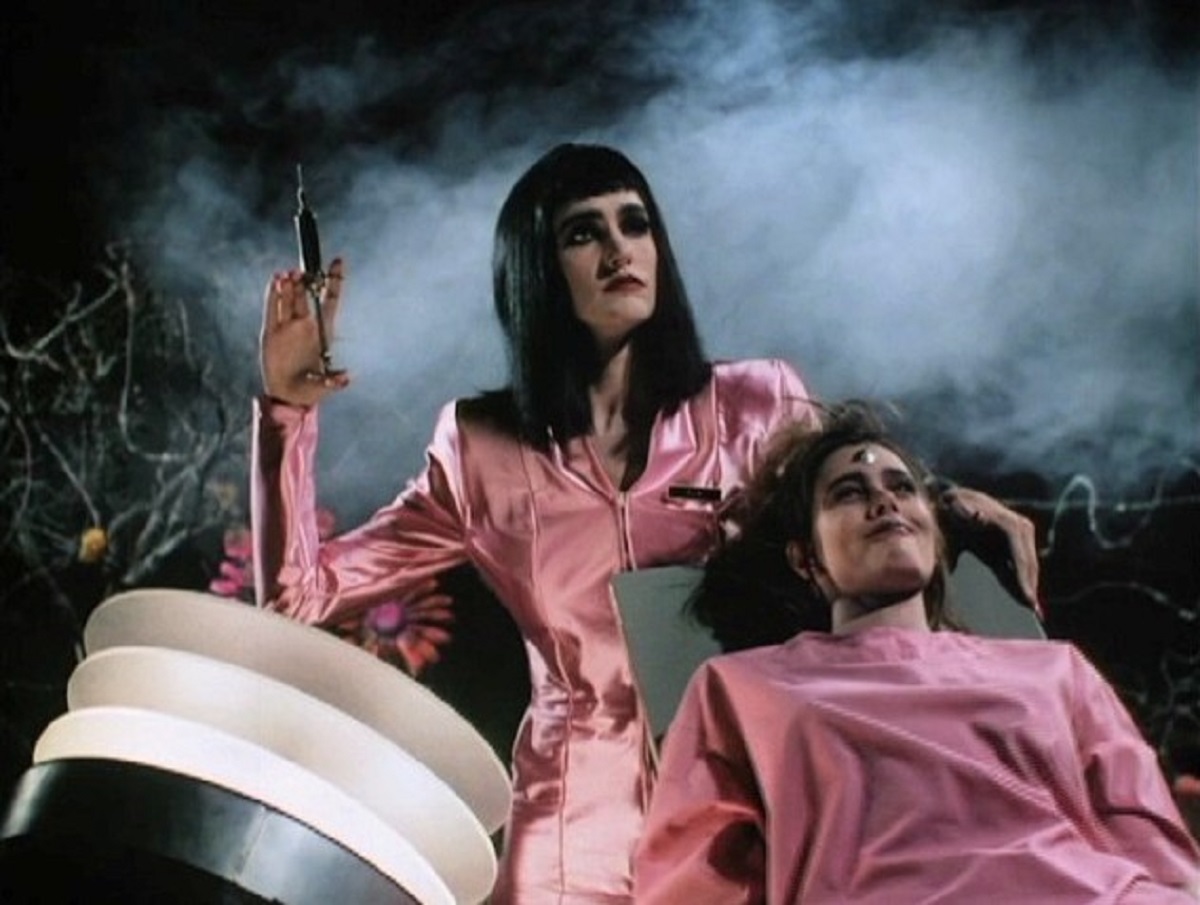 Stephen Sayadian does not concern himself with trying to replicate the 1919 film in any way. We have a Surrealist film but it is less in the Expressionist style than it is something more akin to Eraserhead (1977) reconceived as a Day Glo disco. What we have feels like a post-Sexual Revolution Dr Caligari wherein Caligari has been recast as a Cronenbergian mad psychiatrist a la Oliver Reed in The Brood (1979) – the idea of a disease of the libido sounds a notion that would be perfectly at home in one of Cronenberg's films.
The film is set in an asylum – about the nearest point it comes anywhere near the 1919 film. It opens with a panorama across a world that seems like an industrial wasteland broken up with pools of green goo before we encounter Laura Albert in her room that seems to have no walls, just consists of a door that isn't attached to a wall and tv set and chair on a distorted pink checkerboard pattern in the middle of the industrial zone. There is a profusion of strange images – a figure with a doll face crawling out of the soap suds of a bath to come after Laura Albert with a razor and then have sex with her; her masturbating in the middle of the plain; developing sores after seeing them on a show on the tv; her attempts to find sexual fulfilment with an androgynous scarecrow only to find its pants are filled with straw. Particularly surreal is the image of the door opening and revealing a giant stitched-together skein like a stomach oozing with pus that produces a giant tongue from a mouth in the middle of the stomach, which Laura Albert revels beneath, allowing it to lick her all over.
Certainly, it is a Dr Caligari that Robert Wiene would have difficulty recognising. His brooding Expressionism has become cartoon surrealism, absurd neon candy apple decor like something out of Life on the Edge/Meet the Hollowheads (1989) or maybe the German Dorian Grey as Reflected in the Yellow Press (1984), which likewise homaged German Expressionist cinema. It is a film filled with amateur actors who often seems to strike self-conscious postures straining for effect, even at times address the camera direct. Lines are frequently pretentious: "Why turn my father into a hopped-up Ethel Merman?" or "Success – it tastes musky on my lips." Once Dr Caligari conducts her experiments, Fox Harris and John Durbin get to camp their parts up outrageously to the extent that you think you might be watching a drag show take on The Cabinet of Dr Caligari. It is a film that is 90 minutes of this maddening surrealist posturing with no plot. Unlike the original, you have no clue what is going on for most of the running time.
---
Trailer here
---