---
Italy/Germany/Mexico. 2020.
Crew
Director – Abel Ferrara, Screenplay – Abel Ferrara & Christ Zois, Producers – Julio Chavezmontes, Marta Donzelli, Philipp Kreuzer, Gregorio Paonessa, Diana Phillips & Jòrg Schulze, Photography – Stefano Falivene, Music – Joe Delia, Visual Effects Supervisor – Giacomo Matteucci, Special Effects Supervisor – Franco Regusa, Makeup Effects – Adam Zoller, Production Design – Renate Schmaderer. Production Company – Vivo Film/Rai Cinema/Maze Pictures/Piano/Faliro House/Rimsky Productions/Talipot Studio/CTT/Unlimited Films Ltd/MIBACT – Direzione Generale Cinema e Audiovisivo/Deutscher Filmforderfonds DFFF/IDM Sudtirol/FilmFernsehFonds Bayern/Regione Lazio/Fondo Regionale per il Cinema e l'Audiovisivo/Eficine/AreclorMittal/Boehringer Ingelheim/Interceramic/Bavaria Filmproduktion.
Cast
Willem Dafoe (Clint), Dounia Sichov (Ex-Wife), Simon McBurney (Magician), Cristina Chiriac (Russian Woman), Valentina Rozumenko (Russian Mother), Daniel Gimenez Cacho (Teacher), Phil Neilson (Woodsman), Laurentio Arnatsiaq (Inuit), Fabio Pagano (Monk), Anna Ferrara (Clint's Son), Ulrike Willenbacher (Clint's Mother)
---
Plot
Clint runs a bar in the snowy wastes, tending Inuit, American and Russian patrons. He wanders through a succession of landscapes, including snow, desert, grasslands, caves, forests and indoors, encountering his late father, ex-wife, son and assorted strangers, while seeking the truth about existence from those he comes across.
---
Abel Ferrara can legitimately hold the title of cult director. Ferrara emerged in the late 1970s with fiercely original works like The Driller Killer (1979) and Ms 45 (1980). He then found critical acclaim in the 1990s with searing works about the underbelly of New York City in The King of New York (1990) and Bad Lieutenant (1992). Since then he has maintained an unevenly fascinating body of work with the likes of Body Snatchers (1993), Dangerous Game (1993), The Addiction (1995), The Funeral (1996), Welcome to New York (2014) and Pasolini (2014), among others.
Certainly, some of Ferrara's films since the 1990s have taken an increasingly more philosophical bent – The Addiction was a vampire film with a weightily bleak nihilism, while 4:44 Last Day on Earth (2011) consisted of Willem Dafoe on a rooftop apartment contemplating the meaning of life on the last day on Earth. Siberia would appear to be Ferrara and regular screenwriter Christ Zois returning to the same theme.
I say 'appear to be' as what exactly Siberia is or is about could be anybody's guess. The description says it is about 'the language of dreams' but apart from a surreal narrative that appears to shift about in memory there is nothing actually about dreams let alone their language. Indeed, dreams and their language would appear to have as much connection to the film as the title does – though the film is shot in a variety of international locations and funded by an entire telephone book of production companies, none of it takes place or is shot in Siberia. There are a number of scenes with Willem Dafoe in the snowy wastes but these appear inhabited by Inuit more than Russians, which would indicate the film is taking place in Alaska or Canada. Nor should the film be confused with the identically titled Keanu Reeves-starring Siberia (2018), which I initially did.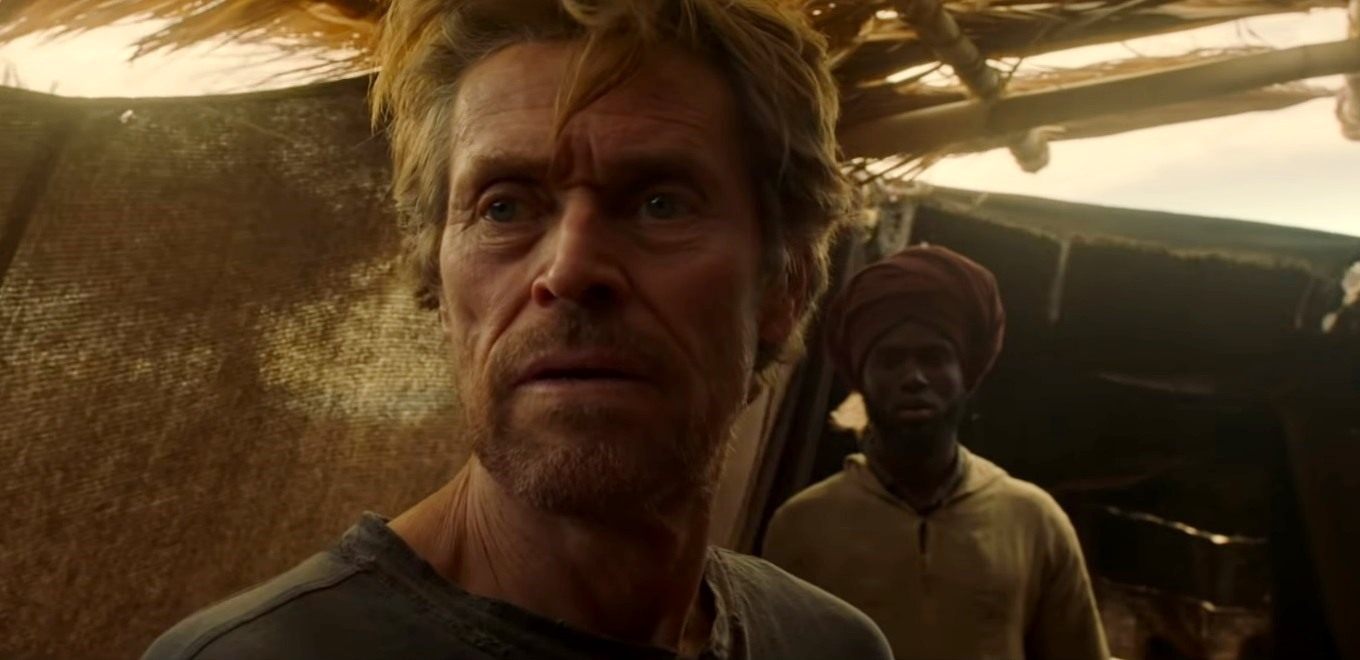 The film features Willem Dafoe drifting through a series of scenes of no real connection. As it opens, he appears to be a barman tending a bar in remote, snowy wasteland with customers that include an Inuit trapper, a pinball-playing American and a Russian mother and her pregnant daughter, while Willem sleeps with the daughter (who is in fact Abel Ferrara's wife – later in the show, Ferrara's daughter turns up playing Willem's son!)
Willem passes through a series of landscapes, including sliding down a cliff, entering a cave, passing through a desert, crossing grasslands, entering woods and houses. He variously meets his late father (played by Willem with a shaving cream beard), his son, his estranged ex and his mother, along with assorted strangers, including an Islamic imam and Simon McBurney as a magician, who gives various snippets of insight into the meaning of it all.
There are a number of surreal visions in the middle of this – Willem Dafoe taking a dog sled journey and seeing men being executed by soldiers; a nude dwarf woman in a wheelchair appearing in the cave; Willem entering the tent in the desert and finding himself performing a surgery; a love scene with his wife who turns into multiple girls of different nationalities. The film climaxes on a long scene set in the snows where Willem Dafoe meets an Inuit hunter, the hunter shares some of the fish he has caught, they gut it and cook it over a fire, giving the innards to the sled dogs, before in the last scene the fish seems to be trying to talk to Willem from in the pan as he turns and looks up at the sky. It feels like a film on the verge of saying something profound but I wish I could say I knew what it was about.
Abel Ferrara's other genre films are:– The Driller Killer (1979) about a power drill-wielding psycho; the rape/revenge drama Ms 45/Angel of Vengeance (1981); Fear City (1984) about a serial killer stalking strippers; the worthwhile and underrated remake of Body Snatchers (1993); the vampire film The Addiction (1995); the William Gibson adaptation New Rose Hotel (1998); and the End of the World film 4:44 Last Day on Earth (2011).
---
Trailer here
---