---
Crew
Director – Guillermo Del Toro, Screenplay – Kim Morgan & Guillermo Del Toro, Based on the Novel by William Lindsay Gresham, Producers – Bradley Cooper, J. Miles Dale & Guillermo Del Toro, Photography – Dan Laustsen, Music – Nathan Johnson, Visual Effects Supervisor – Dennis Berardi, Visual Effects – Company 3 (Supervisor – Rickey Verma) & Mr. X, Special Effects Supervisor – Geoff Hill, Production Design – Tamara Deverell. Production Company – Double Dare You.
Cast
Bradley Cooper (Stanton Carlisle), Cate Blanchett (Dr Lilith Ritter), Rooney Mara (Molly Cahill), Willem Dafoe (Clem Hoatley), David Strathairn (Pete), Toni Colette (Zeena the Seer), Richard Jenkins (Ezra Grindle), Ron Perlman (Bruno), Peter McNeill (Jude Kimball), Holt McCallany (Anderson), Mary Steenburgen (Mrs Kimball), Mark Povinelli (The Major), Jim Beaver (Sheriff Jedidiah Judd), Paul Anderson (Geek #1)
---
Plot
The year 1939. Stanton 'Stan' Carlisle drifts into a circus where he is offered a job as a roustabout. There Stan befriends Madame Zeena who has a mind reader act with her alcoholic husband Pete. Stan becomes fascinated when Pete tells him about the mentalist act based around verbal clues that he used to have great success with. Stan asks Pete to teach him the cues. When Pete asks Stan to bring him some alcohol, Stan substitutes wood alcohol and Pete is killed. Stan takes Pete's notebook with the list of cues and goes to Molly Cahill, who performs in an electric act, and proposes that the two of them team up. Two years later in New York City, Stan has a successful mentalist act with Molly as his assistant. He is thrown in his stride when psychologist Lilith Ritter stands up and disrupts his act. He goes to see her and the two develop an appreciation of the other's true motives. She provides him with information from her therapy sessions that allow him to have success claiming to contact the dead for a judge. Stan then sets his sights on scamming millionaire Ezra Grindle, claiming to be able to contact his dead love, ignoring the auguries that this will not end well.
---
Guillermo Del Toro has grown from a director making horror films on the festival circuit with the likes of Cronos (1993) and The Devil's Backbone (2001), gradually moving over to the mainstream with Blade II (2002) and Hellboy (2004) to gain increasing wider acclaim from the arthouse hit of Pan's Labyrinth (2006) onwards. Del Toro's most recent film The Shape of Water (2017) won him an Academy Award as Best Director and Picture, while similarly Nightmare Alley was nominated for a 2021 Best Picture Award. (A full list of Guillermo Del Toro's films is at the bottom of the page).
This is a remake of the earlier film Nightmare Alley (1947), which starred Tyrone Power as Stan. The original is a great film, steeped in Film Noir atmosphere. Although the surprise is that it has been very much a neglected classic from this period and it is not until the remake came out that people began to look back and pay attention to it. Both works draw from the 1946 novel by William Lindsay Gresham who wrote other books, fiction and non-fiction, set around circuses as well as a biography of Harry Houdini.
Guillermo Del Toro conducts his remake in colour and on a much bigger budget in contrast to the 1947 film. While the original film actually took place in the contemporary surroundings of the 1940s, Del Toro's film does an exquisite recreation of the period (actually set nearly a decade earlier than when the 1947 film was taking place). Guillermo Del Toro's films throughout the 2010s build a complete worlds – often one set in past eras – in terms of a beautifully detailed and seamless mood that integrates production design, cinematography and costuming.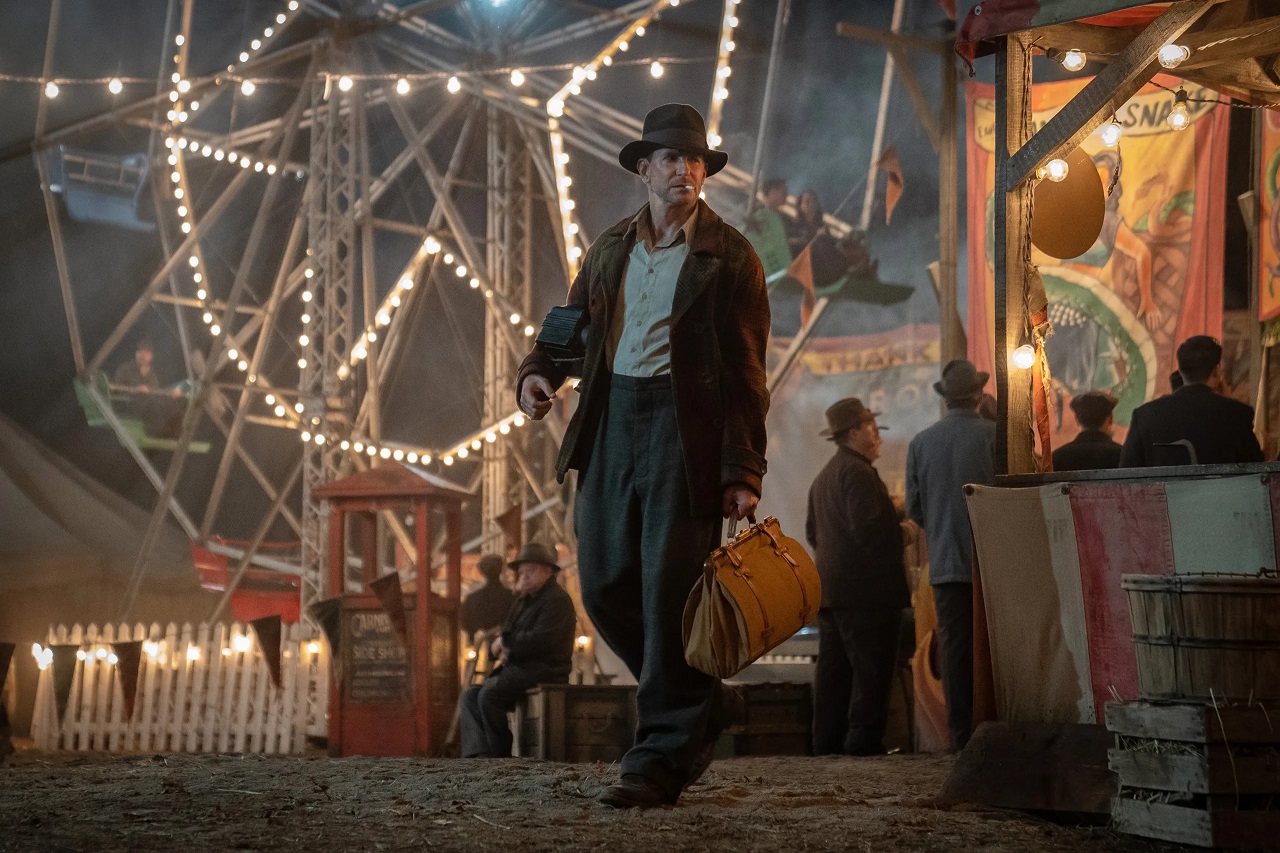 From the shabby rundown circus to the frozen grounds of Richard Jenkins' mansion and the beautiful art deco interiors of the hotel and especially Cate Blanchett's office, every set is a masterpiece of mood and exquisite colour coordination. In January of 2022, the film also received a limited theatrical release in a black-and-white version. This seems a perfect film for such a treatment but you cannot help but think that this would also remove so much of the extraordinary detail that has gone into the colour coordination.
The circus scenes have been amplified far more than they were in the original with the addition of freakshows, a House of Damnation and Rooney Mara performing in an electrical act. If anything, the circus scenes keep reminding you in terms of period, setting and assemblage of characters of something of the late, great tv series Carnivale (2003-5). There have been a whole body of fantastic films centred around circuses from Freaks (1932) through to 7 Faces of Dr Lao (1964) and Something Wicked This Way Comes (1983). See a more detailed listing under Circuses.
Both the 1947 film and this version tell fairly closely the same story. Given that Del Toro's version has a runtime nearly 40 minutes longer than the original, you can see that he is taking more time in telling the story. There is a focus on Stan's backstory that there never was in the original. Lilith also becomes a more proactive character – and given much of a dangerous and seductive allure in Cate Blanchett's performance – than she had in the original where she was simply Stan's accomplice. The one thing I think the 1947 did better was the sense of an atmosphere that hovers on the edge of the supernatural, of the tarot cards acting as a sense of Fate. It is present here but there is not quite the sense that it is almost sitting behind characters' shoulders with a dark irony.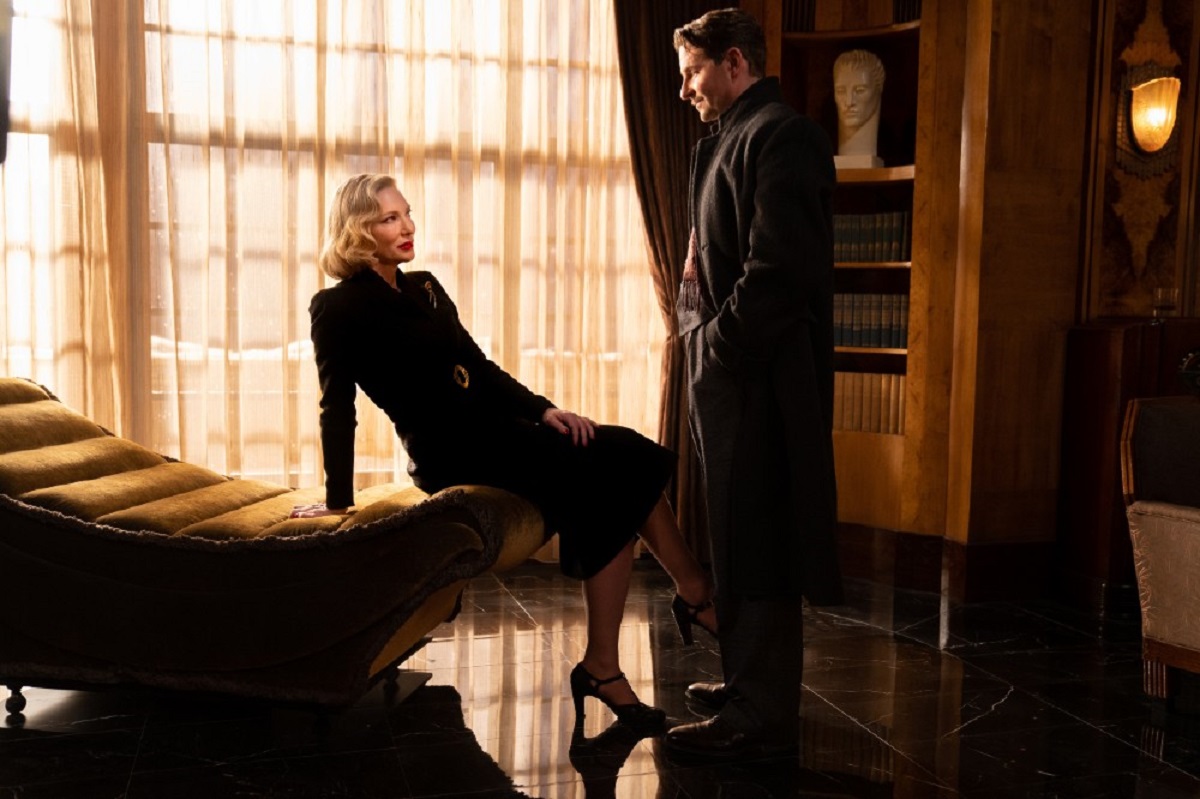 Guillermo Del Toro other films as director include the acclaimed vampire film Cronos (1993) and the intelligent bug film Mimic (1997), the worthwhile likes of the Spanish Civil War ghost story The Devil's Backbone (2001), the exhilarating vampire action film Blade II (2002), the graphic novel adaptation Hellboy (2004), the critically acclaimed fantasy film Pan's Labyrinth (2006), Hellboy II: The Golden Army (2008), the giant robot film Pacific Rim (2013), the ghost story Crimson Peak (2015), the amphibian man romance The Shape of Water (2017), which won Del Toro an Academy Award as Best Director, and as co-director of the stop-motion animated Guillermo Del Toro's Pinocchio (2022). Del Toro also wrote/produced wrote/produced Don't Be Afraid of the Dark (2011), Scary Stories to Tell in the Dark (2019), The Witches (2020) and the tv series Guillermo Del Toro's Cabinet of Curiosities (2022- ) and co-wrote The Hobbit: An Unexpected Journey (2012), The Hobbit: The Desolation of Smaug (2013) and The Hobbit: The Battle of the Five Armies (2014). Del Toro has also produced other genre works like Chronicles (2002), Hellboy Animated: Sword of Storms (2006), Hellboy Animated: Blood and Iron (2007), The Orphanage (2007), While She Was Out (2008), Julia's Eyes (2010), Splice (2010), Kung Fu Panda 2 (2011), Puss in Boots (2011), Rise of the Guardians (2012), Mama (2013), The Book of Life (2014), Kung Fu Panda 3 (2016), Pacific Rim: Uprising (2018) and Antlers (2021), as well as the tv series The Strain (2014-7) based on his novel.
(Winner for Best Production Design, Nominee for Best Diector (Guillermo Del Toro), Best Adapted Screenplay, Best Actress (Cate Blanchett) and Best Cinematography at this site's Best of 2021 Awards).
---
Trailer here
---