(Sileni)
---
Czech Republic/Slovakia. 2005.
Crew
Director/Screenplay – Jan Svankmajer, Producer – Jaromir Kallista, Photography – Juraj Galvanek, Animators – Bedrich Glaser & Martin Kublak, Art Direction – Jan Svankmajer & Eva Svankmajerova. Production Company – Athanor/Barrandov Studio/C-GA Film/Ceska Televize/Eurimages/AT ARMZ.
Cast
Pavel Liska (Jean Berlot), Jan Triska (The Marquis), Anna Geislerova (Charlotte), Jaroslav Dusek (Dr Murlloppe), Pavel Novy (Dominic), Martin Huba (Dr Coulmiere)
---
Plot
Jean Berlot wakes at an inn suffering from terrible recurring nightmares about asylum warders coming to take him away. A marquis offers to pay for the damage that Jean has caused at the inn and then offers him a ride in his coach. The marquis takes Jean to his estate but Jean becomes horrified after seeing the blasphemous orgies the marquis and his friends engage in. At gunpoint, he is forced to participate in the cruel charade of burying the marquis in a crypt. The marquis takes Jean to an asylum run by his friend Dr Murlloppe. There the patients are allowed to roam free and do as they will, which has resulted in chaos. Jean becomes drawn to the inmate Charlotte and determines to rescue her from the madness. However, Charlotte informs Jean that Murlloppe and the marquis are inmates who have imprisoned the real doctors and taken over the asylum.
---
The Czech-born Jan Svankmajer gained a cult reputation with his numerous Claymation stop-motion animated shorts made between the 1960s and 1980s. Svankmajer first moved to feature-filmmaking with Alice (1988), his brilliantly surreal Claymation adaptation of Lewis's Carroll's Alice in Wonderland (1865) and continued on through other films such as Faust (1994), Conspirators of Pleasure (1996) and Otesanek/Little Otek (2000), as well as the subsequent Surviving Life (2010) and Insect (2018), which all combine a mix of live-action scenes and Svankmajer's animation.
As Svankmajer himself notes in his introduction, Lunacy is based on the works of the Marquis de Sade and Edgar Allan Poe. De Sade features only loosely – there is a character called the Marquis and a blasphemous orgy, as well as mention of the hero's mother being locked in the Charenton asylum (where de Sade was incarcerated for a number of years).
Mostly, Lunacy is based on, or more accurately one should say draws from, the Edgar Allan Poe short story The System of Dr Tarr and Professor Fether (1845). The System of Dr Tarr and Professor Fether concerns a man who visits an asylum, only to discover that the lunatics have conducted a revolt and are now impersonating the doctors. The System of Dr Tarr and Professor Fether has lent itself to a number of film adaptations before – the lost silent short Lunatics in Power (1909), as Maurice Tourneur's silent The Lunatics (1913), as an episode of the German Poe anthology Tales of the Uncanny (1931), the Mexican Dr Tarr's Torture Dungeon (1972), Claude Chabrol's French tv adaptation The System of Dr Goudron and Professor Fether (1981), as Brad Andersons's Eliza Graves/Stonehearst Asylum (2014) and uncredited usages of the basic idea in films like Don't Look in the Basement (1973), Silent Night, Bloody Night (1974) and Committed (1991).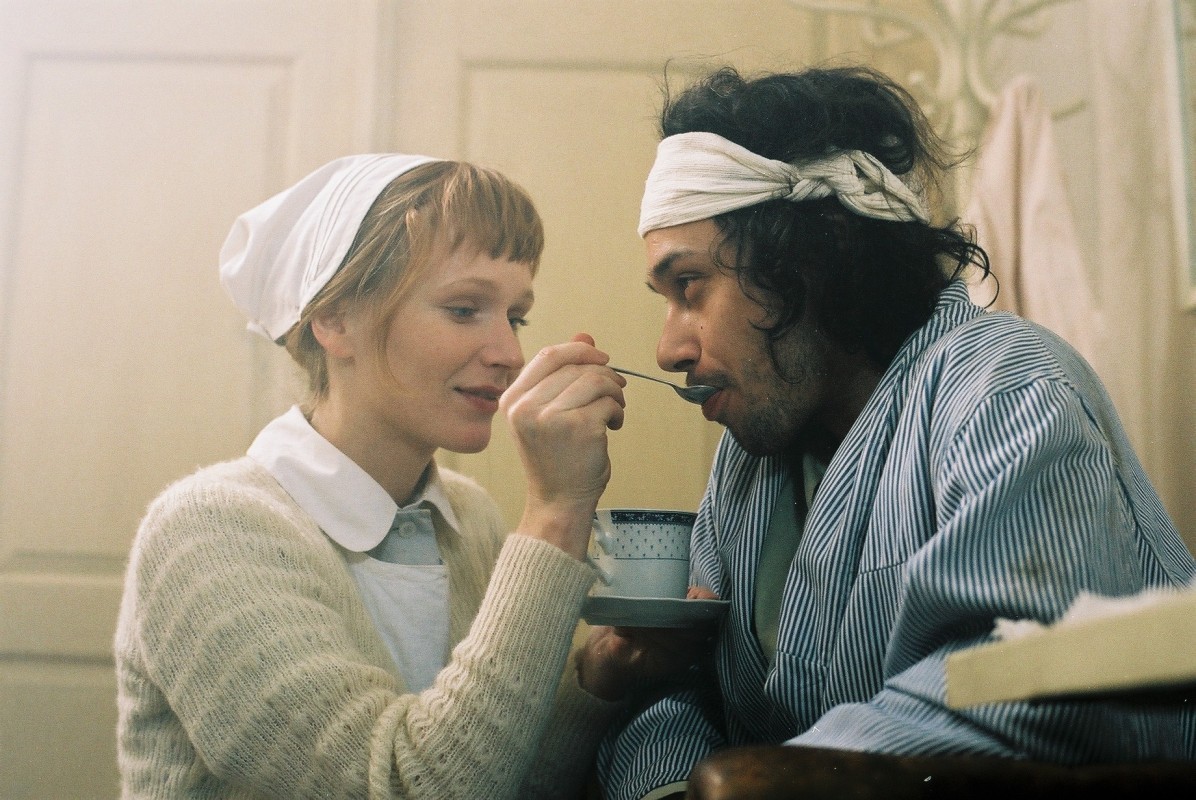 On the other hand, Svankmajer only uses The System of Dr Tarr and Professor Fether as a springboard. Where for Edgar Allan Poe, The System of Dr Tarr and Professor Fether was a horror story about the discovery of the lunatics running the asylum, for Jan Svankmajer it is a question of who in power is sane anyway. Rather than Poe's simple surprise revelation, Svankmajer turns The System of Dr Tarr and Professor Fether into a piece about contrasting theories where we see that the lunatics in power results in total freedom but total chaos, whereas the restoration of the doctors to their rightful position results in authority wielded to an absurdly cruel level.
Alas, Lunacy is Jan Svankmajer's most disappointing film to date. Certainly, the film starts out promisingly. It has one of the funniest openings one has ever seen in a film – Svankmajer himself appears to introduce the film where he tells us in perfect deadpan that this is a horror film that owes itself to Edgar Allan Poe and the Marquis de Sade, but stringently states "This is not a work of art", before abruptly being startled by an animated piece of meat slithering past.
This continues with Pavel Liska and Jan Triska's surreal journey across the countryside, which seemingly starts in 21st Century civilisation with Triska incongruously dressed in 18th Century French coattails, stockings and tricorn, and they heading off down a highway filled with cars in a horse drawn coach. The journey becomes an increasingly more surreal one – not unlike the apocalyptic pan down the line of vehicles in Jean-Luc Godard's Weekend (1967) – where outside the window of the coach we see first a woman pushing a trolley, then a car crash, followed by men fighting and a burning tree. The scenes at the Marquis's chateau hold some admirably blistering pure de Sade-esque attacks on religion and defence of blasphemy as delivered by Jan Triska.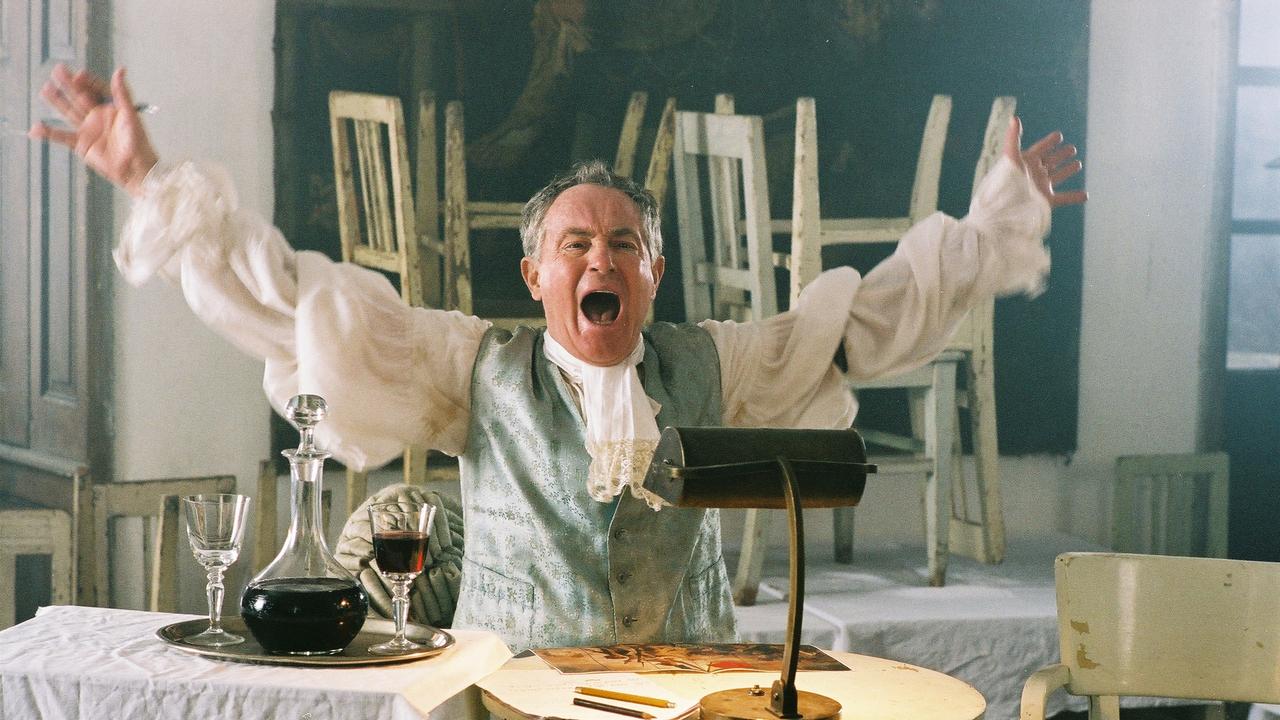 Alongside Jan Svankmajer's other films though, Lunacy is disappointing. The action is often randomly interspersed with stop-motion animated scenes of steaks, intestines and cooked chickens slithering about. Occasionally some of these images have a wacky amusement – a giant-sized steak bursting out of a cupboard and jumping under the covers of a bed; a chicken leaping between the perches in a birdcage; various steaks popping out between the eye sockets, mouth and nipples of a bust; steaks dancing like puppets on strings and the like. While these are amusing, one keeps wondering what the stop-motion animated meat has to do with anything else.
Compared to the previous Otesanek, which was Jan Svankmajer's most sustained live-action film in terms of the use of actors, Lunacy frequently rambles. The film is only two minutes short of two hours and could easily have been tightened to 90-100 minute length. The satire on madness and authority is frequently loose. Indeed, there is not much of the film that approaches the surreal wackiness that all Svankmajer's other films have. Rather, Lunacy is one Jan Svankmajer film that frequently feels laboured under the weight of carrying a slim idea past the point it should have.
---
---