---
USA. 1987.
Crew
Director – Penelope Spheeris, Screenplay – J. Randal Johnson, Producers – Herb Jaffe & Miguel Tejada-Flores, Photography – Robert Richardson, Music – Charles Bernstein, Special Effects – Image Engineering (Supervisor – Peter Chesney), Production Design – Robert Ziembicki. Production Company – Vista Organization.
Cast
Jon Cryer (Grant), Daniel Roebuck (Biscuit), Catherine Mary Stewart (Jessie), Lee Ving (Missoula), Flea (Milo), Pete Willcox (Daredelvis), Calvin Bartlett (Witherspoon)
---
Plot
Three punks, Grant, Biscuit and Milo, get tired of waiting for the end to come in New York and decide to drive to California where life can only be better. The three of them camp by the roadside for the night but are interrupted by a gang, led by the vicious Missoula. They escape but as Grant and Biscuit watch, Missoula catches Flea and shoots him in the head. Aided by a daredevil Elvis impersonator and a ghost cowboy, Grant and Biscuit set out in pursuit of Missoula to obtain revenge.
---
Penelope Spheeris is best known these days known for mainstream comedies like Wayne's World (1992), The Beverly Hillbillies (1993), Black Sheep (1996) and Senseless (1998). At the time, she had had some success with The Decline of Western Civilization (1981), a documentary about the US punk movement, to which she has made two sequels over the years. She then segued into a couple of hard-hitting troubled youth films with Suburbia (1983) and The Boys Next Door (1985), as well as the cop comedy Hollywood Vice Squad (1986).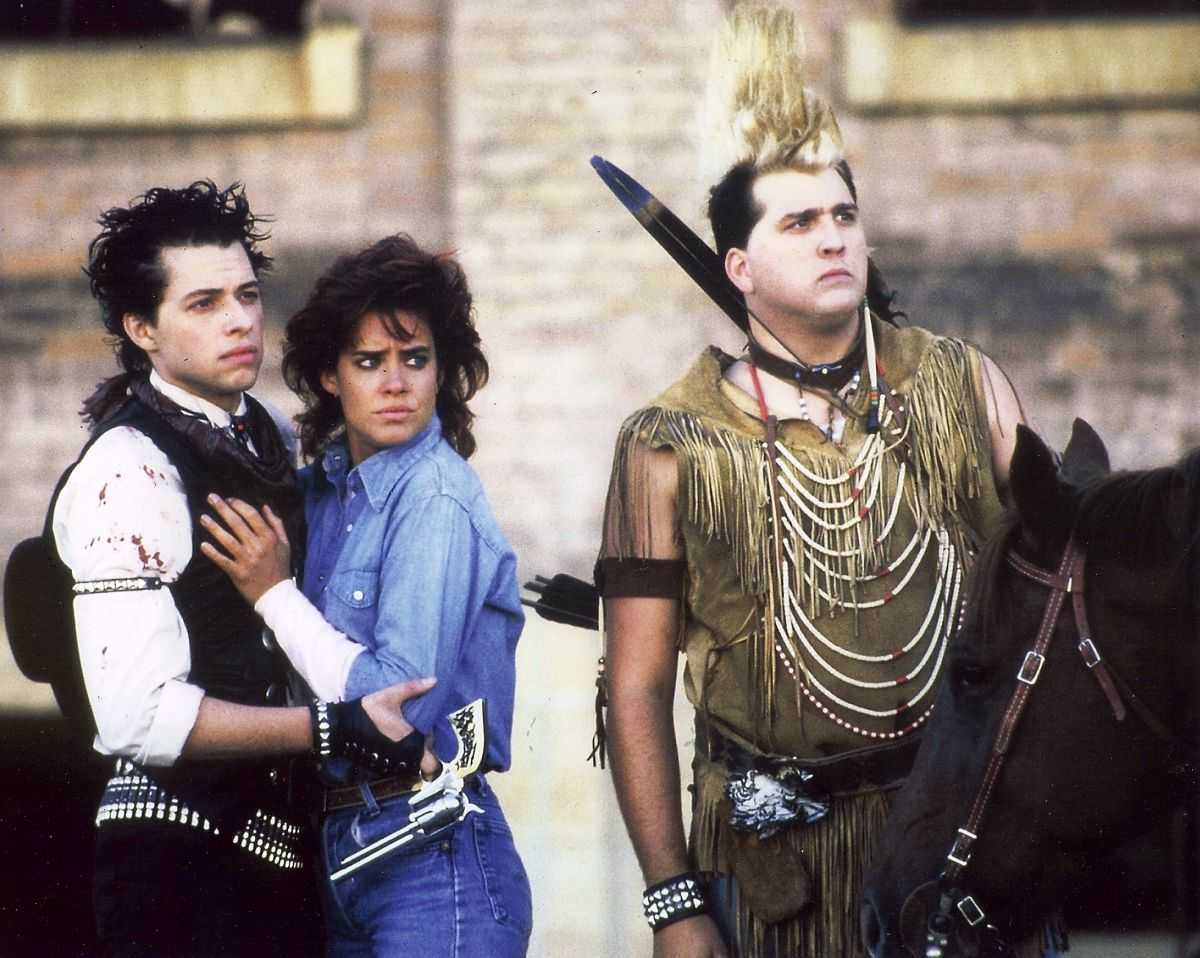 Dudes is one of her early films and is an almost unclassifiable oddity – a punk-road movie-Western-ghost story. It is certainly bizarre and odd, an almost unclassifiable film that wilfully defies genre conventions. It can be seen as an aggressively deconstructed collage of cinematic myths – constant comparisons are made between the Arizona landscape and its cinematic counterparts, including everything from Jesse James (1939) to The Andromeda Strain (1971), characters have frequent dreams in which they are Indians, while the revenge plot itself is an ironic modernised Western one. For all that, the film feels self-conscious in its wilful oddity.
The good parts about Dudes are the scenes containing a viciously evil performance from Lee Ving. The two title dudes Jon Cryer and Daniel Roebuck are respectively precocious and stolid. The one thing that Penelope Spheeris does build into the characters throughout is a sense of growth – the journey taken from punk losers to, in the end, cowboy heroes is something that surprises one with its strength.
---
Trailer here
---