(Szabadeses)
---
Hungary/France/South Korea. 2014.
Crew
Director – György Pálfi, Screenplay – György Pálfi & Zsofia Ruttkay, Producer – Ferenc Pusztai, Photography – Gergely Poharnok, Music – Amon Tobin, Visual Effects Supervisor – Csaba Juhasz, Production Design – Imola Lang. Production Company – KMH Film/Scipode/Jeonju Digital Project.
Cast
Piroska Molnar (Auntie), Miklos Benedek (Uncle), Marina Gera (Woman), Csaba Gosztonyi (Husband), Csaba Gyory (Uncle Laci), Zsolt Nagy (Vadasz), Nora Lili Horich (Vadaszne), Diana Kiss (Pregnant Woman), Geza Hegedus (The Gynaecologist), Janos Varadi (Boy), Attila Menszator-Heresz (Father), Reka Tinki (Mother)
---
Plot
In an apartment building, an elderly woman attempts to jump from the roof. However, she survives the fall and so slowly climbs back up to the top to try again. In various other apartments:- a woman attends a party where none of the guests seem to notice that she is nude; a couple are driven to extreme lengths in their attempts to maintain a clean environment and eliminate all bugs; a woman brings another lover home in front of her husband; a woman undergoes a gynaecological operation to have her baby returned to the womb; a young boy is fearful of the bull that follows him around the apartment but which his parents cannot see.
---
Freefall – commonly referred to as Free Fall but listed as just one word on the credits – was the fifth film from Hungarian director György Pálfi. Pálfi first appeared with the modest Hukkle (2002), a film with no dialogue, just a symphony of sounds that took in the life of a village during one day. Pálfi then had a festival hit with the wonderfully grotesque and twisted Taxidermia (2006). After a couple of oddities – I Am Not Your Friend (2009), an improvisational experiment with his cast, and Final Cut: Ladies and Gentlemen (2012), a film that told a narrative edited out of footage from Hollywood classics – Pálfi returns with his first full-fledged jump back into Taxidermia territory here. This was subsequently followed by the science-fiction film His Master's Voice (2018) and the post-apocalyptic Perpetuity (2021).
Various festival program notes have slapped all manner of labels on Freefall – including frequently the one of science-fiction for the antiseptic segment (although in terms of the definitions that this site goes by, this is a strained labelling and what we have feels more like the They're Coming to Get You segment of Creepshow (1982), except for an ending that pushes over into the horror genre). In reality, Freefall feels more like Luis Buñuel's The Phantom of Liberty (1974) and to a lesser extent The Discreet Charm of the Bourgeoisie (1972), a series of disconnected surrealist vignettes that pass through various scenarios, each of which arrives at a strange quirky punchline. In both the case of Freefall and Buñuel, what we have feels more like the surreal absurdity of Monty Python skits.
The film comes with a droll bleakness that reminds of Roy Andersson of Songs from the Second Floor (2002) and You, the Living (2007) fame. There is the wraparound segment of the old lady (Piroska Molnar) who jumps from the roof, survives and is then faced with the seemingly Sisyphean task of climbing all the way back up the stairs again, meeting each of the people from the other stories or passing their apartments on the way.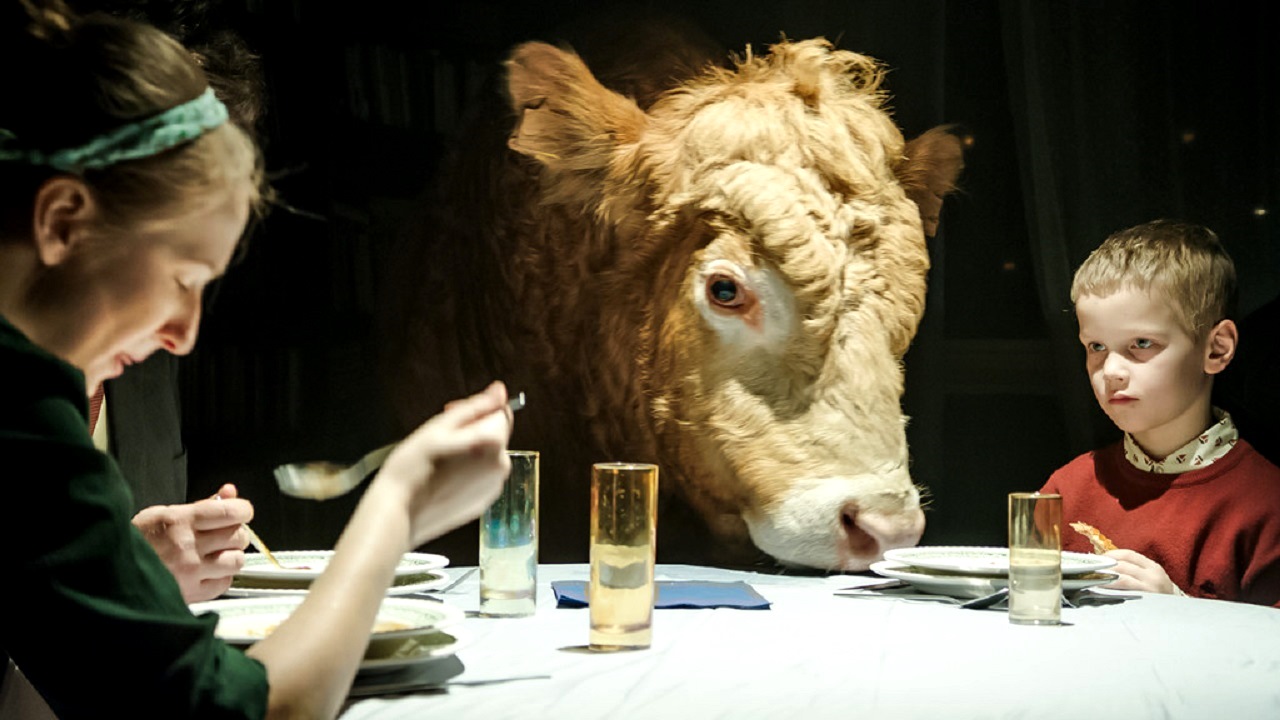 The various segments vary in quality. A woman attends a party of members of a choir where none of them seems to notice or to be fazed by the fact that she is nude – this is the whole of the piece and you keep expecting there to be more to it. Better is the seemingly Creepshow-inspired segment with a couple in clean suits going to insane lengths to disinfest their apartment of bugs, before reaching a strange ending. The segment with a woman who brings her lover home in front of her husband, all done in the style of a tv gameshow, is slight and forgettable.
Better are the last two segments. The most effective is the one where a woman (Diana Kiss) goes to a gynaecologist (Geza Hegedus) and is prepped for a procedure, where what is happening is finally revealed as we see her baby being covered in lubricant and returned to her womb where she is told it will be absorbed (we later see her with swollen belly passing Piroska Molnar on the stairs). Though amusing, as a segment, its entire effect is derived from its punchline that you can see coming and no more than that.
The other is the piece about the boy who is troubled by a bull that follows him around the living room and into the bedroom, even eating his food from the table, but which his parents cannot see. While the contrasts are amusing, this is a segment that fails to build to any punchline.
In all, we have a mixed bag. Pálfi conducts some darkly amusing surrealist tales but there is also the feeling that he is constructing the segments more as Gary Larson cartoons – all a single surrealist deadpan joke – but not ever as dramatic pieces that ever build to much.
(Screening at the Vancouver International Film Festival)
---
Trailer here
---