---
Crew
Director – Paul Feig, Screenplay – Katie Dippold & Paul Feig, Based on the 1984 Film Written by Dan Aykroyd & Harold Ramis, Producers – Amy Pascal & Ivan Reitman, Photography (3D) – Robert D. Yeoman, Music – Theodore Shapiro, Visual Effects Supervisor – Peter G. Travers, Visual Effects – Furious FX, Iloura (Supervisors – Andrew Hellen & Glenn Melenhorst), Instinctual, MPC, Sony Pictures Imageworks (Supervisor – Daniel Kramer) & Zero VFX (Supervisors – Randy Goux & Rob Nederhorst), Special Effects Supervisor – Mark Hawker, Production Design – Jefferson Sage. Production Company – Columbia/Village Roadshow Pictures/Ghostcorps.
Cast
Kristen Wiig (Dr Erin Gilbert), Melissa McCarthy (Dr Abby Yates), Kate McKinnon (Jillian Holtzmann), Leslie Jones (Patty Tolan), Chris Hemsworth (Kevin Beckman), Neil Casey (Rowan North), Bill Murray (Martin Heiss), Cecily Strong (Jennifer Lynch), Andy Garcia (Mayor Bradley), Ed Begley, Jr. (Ed Mulgrave Jr), Charles Dance (Harold Filmore), Steve Higgins (Dean), Zach Woods (Tour Guide), Michael Kenneth Williams (Agent Hawkins), Matt Walsh (Agent Rorke), Michael McDonald (Jonathan), Nate Corddry (Graffiti Artist), Dan Aykroyd (Cabbie), Ernie Hudson (Uncle Bill), Sigourney Weaver (Dr Rebecca Gorin)
---
Plot
A respected physicist, Erin Gilbert is embarrassed when she is approached by a man who has a copy of a book on ghosts she co-authored, asking her help with a haunting at the historic Aldridge House. Erin immediately goes to demand that her friend and co-author Abby Yates, who runs a parapsychology lab at a less reputable university, stop selling copies of the book for the sake of her reputation. Abby, along with her associate Jillian Holtzmann, instead insists on going to investigate the Aldridge House and they encounter a ghost. When video from this gets online, both Erin and Abby's tenure is cancelled. They decide to set up a business as ghost hunters, using equipment appropriated from Abby's lab. They are asked to investigate reports of ghosts in the subway tunnel by transit booth employee Patty Tolan who then decides that she wants to join the team. They gain an increasingly higher profile and name themselves 'Ghostbusters'. As the mayor's office seeks to have them labelled as fakes, they realise that they are dealing with Rowan North, an obsessed occult expert who is determined to trigger a series of devices that will open the lei lines and inundate New York City with ghosts.
---
Before I delve into the contentious issue of the new Ghostbusters, let me state a few things upfront that you need to remember in what follows. I saw the original Ghostbusters (1984) on its theatrical opening day when it first came out so I do feel that that makes me qualified to hold a legitimate perspective whenever people start chiming in about having their childhoods trashed. I didn't see the sequel Ghostbusters II (1989) on opening day but did so sometime within opening week. The other thing that I need to state upfront is that I am aware the first film was popular – the second highest-grossing film of its year after Beverly Hills Cop (1984) – but I always found it overrated – it was likeable but nothing more than that. (Read the above link for further discussion of my reasons).
There has been an enormous amount of hate about the new Ghostbusters. Most of this seems directed at the idea of rewriting the original with an all-female line-up. I can maybe go along with these complaints to a very minute degree – I have similar feelings about the way the new Star Trek movies and 2010/20s tv series piss all over the original – but I hold no particular allegiance to the original Ghostbusters. Equally, I will argue that there should be a difference between outrightly trashing an original and giving a new version latitude not to have to slavishly replicate it and inject its own changes. You can point to characters like the Judi Dench M in the James Bond films or Katee Sackhoff as Starbuck in tv's Battlestar Galactica (2003-9) where I think there are few that would disagree that recasting the role with women was not a roaring success. So as to the idea of a sex-reversed version of Ghostbusters, I sit more with the idea of "well, why not?" rather than thinking that it violates any sacred position that the original may have held.
That said, most of the anti-new Ghostbusters reaction has gone from a feeling of violated nostalgia and bled over into what can only be described as a hate campaign. Without any member of the public having seen the film, there was a concerted effort to vote the trailer down on YouTube to the point it for a time ranked as one of the site's least popular clips ever (with nearly a million dislikes). A scroll through the comments section underneath the trailer makes illuminating reading – that's if you don't mind diving into the bile that is allowed to pass in internet comments sections (and this is just the ones that haven't been removed by Sony, suggesting it gets even worse) – where at least every second posting contains either a word like 'feminazi', 'dyke' or is insulting the intelligence of or calling a 'libtard' anybody who has spoken up to support the film. (And most of this comes from people who have not seen or swear they never will watch the film). The harassment of star Leslie Jones with racist comments on Twitter goes beyond despicable into words that fail me – there are some days the internet reminds you that humanity is an innately ignorant and not very nice species to belong to.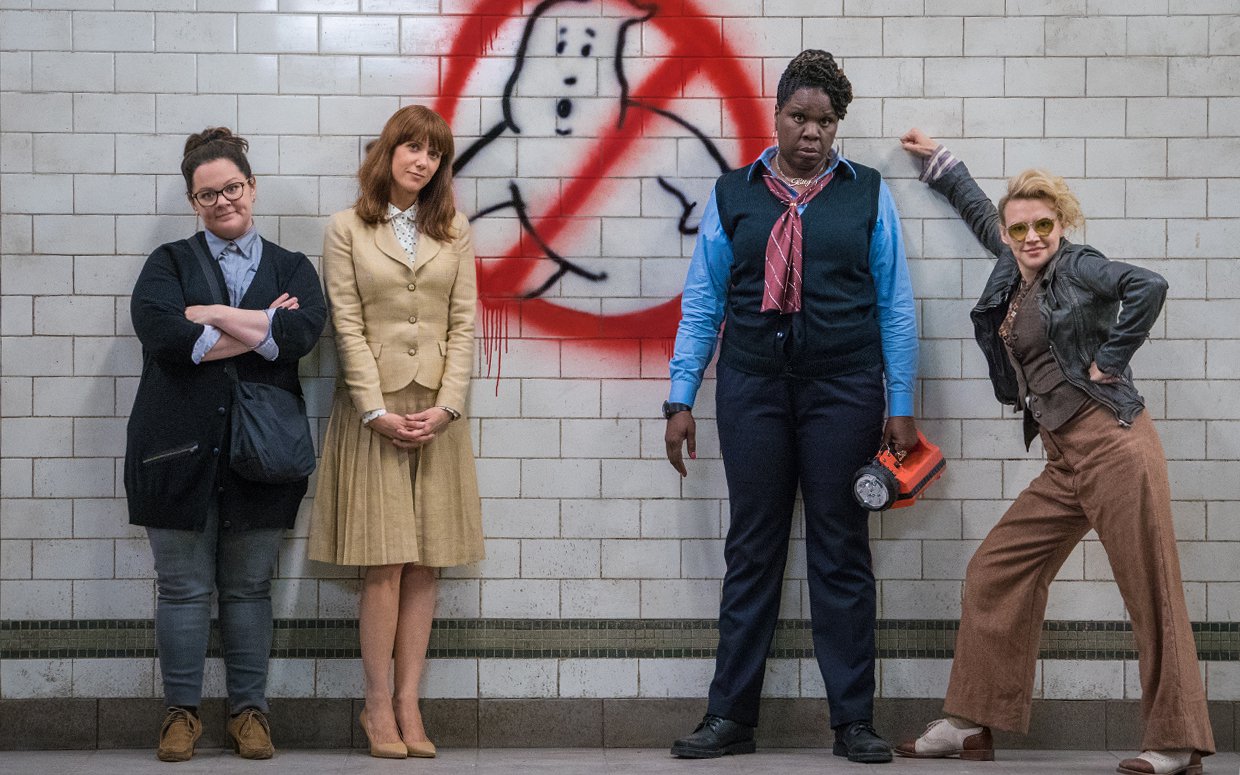 I almost want to like Ghostbusters 2016 in order to stand out from the small-minded who seem to think that an all-girl film and one Black actress having a voice in a public sphere is such a threat to their way of life that they have to silence it in ways that resemble some kind of pre-Civil Rights era lynch mob. On the other hand, I have to remind myself that a film should be judged not on the basis of your ideological support/distaste for the issues and politics that surround it in the real world and should be viewed solely on its own merits. As such, I have to say, I didn't hate Ghostbusters 2016. It isn't the worst film ever, a complete flop or any of the other jibes being fired in its direction. It's amiable enough without being particularly standout. In other words, fairly much exactly the same things I would have said about the 1984 film.
First of all, I couldn't care less about any of the intellectual babies who think the idea of girls replacing guys as the lead in a film is some kind of affront to them. The line-up of women contains some of the most talented comedy actors in the US today. I've always loved Melissa McCarthy since I first saw her in the very unique The Nines (2007) and it has been fantastic watching her meteoric rise to an A-list name in the last few years, even if many of the films she appears in are underwhelming. Equally, Kirsten Wiig has proven herself an astute and intelligent actress/comedian. Both Kate McKinnon and Leslie Jones are new names to me. Both have come up through the ranks of stand-up and Saturday Night Live (1975– ).
I'd also go far as to say that Ghostbusters 2016 makes far better use of its ensemble of comic actors than Ghostbusters 1984 did. The 1984 film felt like it was driven by Bill Murray's lazy, sarcastic delivery of one-liners while Dan Aykroyd and Harold Ramis, both talented comic performers in their own right, took a backseat as the nerds and Ernie Hudson filled out the team but didn't get much to do. Melissa McCarthy and Kirsten Wiig don't always get their best showing here – some of their ad libbed playings off one another fall flat – but once they get into the action and in many individual scenes, they carry the show well. The scene-stealer proves to be Kate McKinnon who sort of has the Aykroyd-Ramis roles rolled into one and wins every scene she is in with her hilariously kooky delivery. Leslie Jones gets the Ernie Hudson part and does well, making much more of the character than he did in either of the original films.
The film comes packed with a good deal of fanservice to the original. There are reappearances of Slimer and the Stay Puft Man. There are cameos from all the major players from the 1984 film – Bill Murray appears as a sceptic who gets blown out the window, Dan Aykroyd has a scene as a cab driver, Ernie Hudson turns up as Leslie Jones's uncle and Sigourney Weaver as Kate McKinnon's mentor, while Annie Potts has a blink-and-you-miss-her cameo as a desk clerk and Ivan Reitman, the director of the original films, is present as a producer. The only noticeable absentees are Rick Moranis, who hasn't been on screens since 1997 and declined to participate in the remake, and Harold Ramis, who died in 2014. (The end credits have a dedication to Ramis, while his son also turns up as one of the people at the heavy metal concert).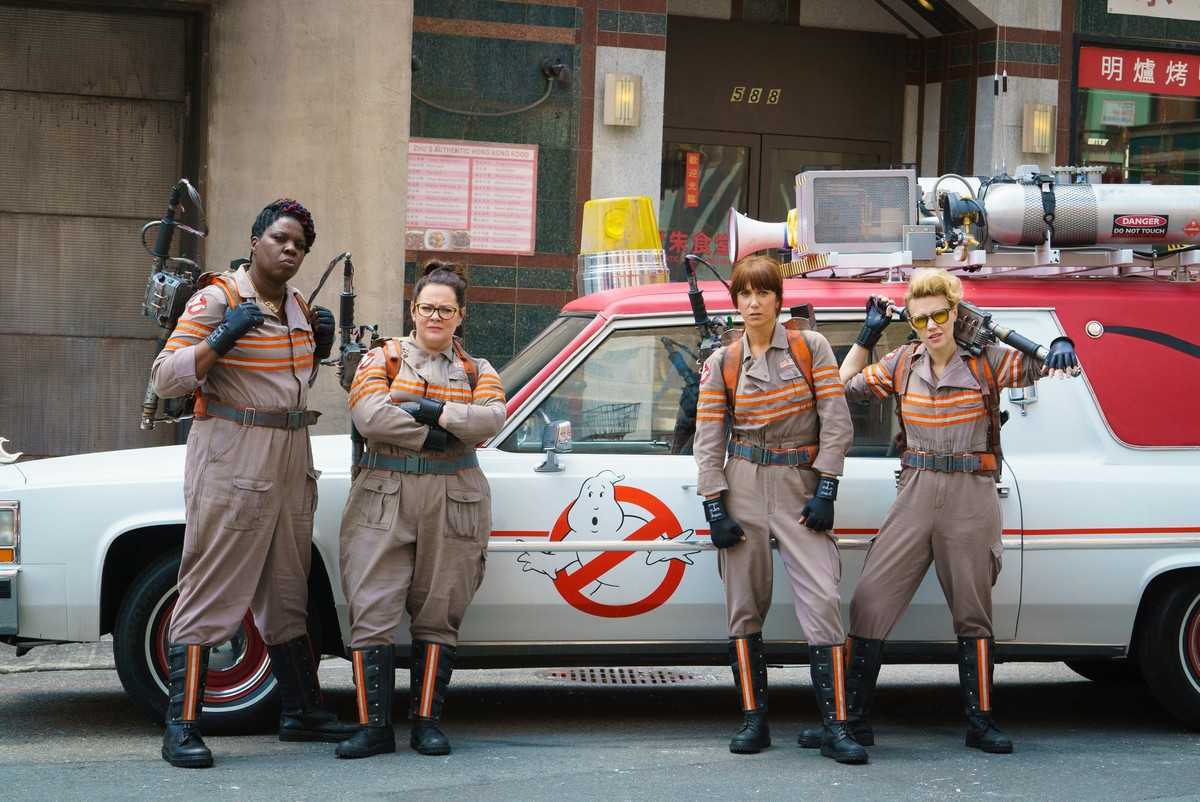 What I did like about the film was its sense of mythopoeia – of taking the elements from the original – the converted hearse, the firehouse base, the boiler suits, the proton packs, the name of the group, the logo with the crossed-out ghost – and extruding each into an origin story. In the original film, they were things that just materialised out of thin air whereas here each comes with their own piece of backstory that makes much more sense. (The one thing I fail to see is how people could construct and be allowed to run around with nuclear devices and megawatt lasers in an urban environment today without being put on a terrorist watchlist. Two FBI agents do turn up here but rather incredibly it is only to reinforce the official denial of the existence of ghosts).
The film works reasonably well in the hands of Paul Feig, a former tv director who has been behind the previous Melissa McCarthy-Kirsten Wiig vehicle Bridesmaids (2011) and some of Melissa McCarthy's biggest solo vehicles – The Heat (2013) and Spy (2015). Not all of the humour in the film hits but most of it does. Surprisingly, some of the wittiest scenes come from Chris Hemsworth who reveals unexpected comedic talents. In what seems almost wilfully designed as bait to the misogynist trolls, he is played as the male equivalent of an air-headed bimbo secretary with the girls falling over him and just about every second line referring to how buffed and hot he is.
The film mounts to a similar kind of big flashy epic effects-driven climax, which is not dissimilar to the original (albeit made with the advantage of more advanced CGI effects). The story that gets there is a little perfunctory – the plot about Neil Casey unleashing the ghosts is not nearly as substantial as the one about Gozer and a possessed Sigourney Weaver. Mostly though, Ghostbusters 2016 is an amiable 116 minutes. Like the original, it has its strengths and its weaknesses, which on balance leaves both films coming out fairly much neck in neck.
Ghostbusters received a very mixed reception and is poorly regarded by fans of the original. Ghostbusters: Afterlife (2021) was a further sequel, which recasts the Ghostbusters with a group of teenagers, amid much fanservice, and received a far better reception.
(Winner for Best Suporting Actress (Kate McKinnon) at this site's Best of 2016 Awards).
---
---