---
USA. 1996.
Crew
Director/Screenplay – John Payson, Based on the MTV Short Film, Producers – Bonni Lee & Diana Phillips, Photography – Peter Deming, Music – Carter Burwell, Roach Songs – Kevin Weist, Visual Effects Supervisor – Randall Balsmeyer, Computers Graphics Animation – Blue Sky Productions Inc (Supervisor – Chris Wedge), Stop Motion Animation – fly/Films (Supervisor – Peter Wallach), Special Effects Supervisor – Peter Kunz, Production Design – Carol Spier. Production Company – Geffen Pictures/MTV.
Cast
Jerry O'Connell (Joe), Megan Ward (Lily Dougherty), Billy West (Voice of Ralph), Reginald Hudlin (Voice of Rodney), Jim Turner (Walter Shit), Robert Vaughn (Senator Dougherty), Shiek Mahmud-Bey (Vlad Blanco), Jim Sterling (Jesus Blanco), David Huddletson (P.I. Smith)
---
Plot
Unworldwise Joe arrives in New York City from Iowa and by great coincidence finds a rent-controlled apartment. The unscrupulous landlords want to raze the apartment to build a prison and try to drive Joe out. However, the cockroaches in the apartment like the slob that Joe is and stand up to save him. They insist on becoming his friend. However, their presence and over-friendliness start causing Joe to lose jobs and the girl that he falls for.
---
This is a feature-length version of Joe's Apt. (1992), a three-and-a-half-minute long short film that was originally made for MTV. Ditector John Payson was given sufficient money to be expanded as a feature film employing a variety of name actors in the cast, even though the results failed to do anything at the box-office.
The film reminds of Freaked (1993) – not necessarily in any thematic focus, but that in both films seem infused by the same sarcastic and out-to-offend bite. The singing/dancing roach effects are often amusing and are conducted with a considerable degree of energy that manages to pack as much into the film's slight 70 minutes as most other films get into 90.
Joe's Apartment contains some amusingly derisive exaggerations of life in the Big Apple – the hero laughed at for trying to find a rent-controlled apartment; being robbed three times within as many minutes upon first arriving in the city; an artist who lies pretending to be dead as a test to see how long people ignore him; kid's building toy crackhouses on empty lots.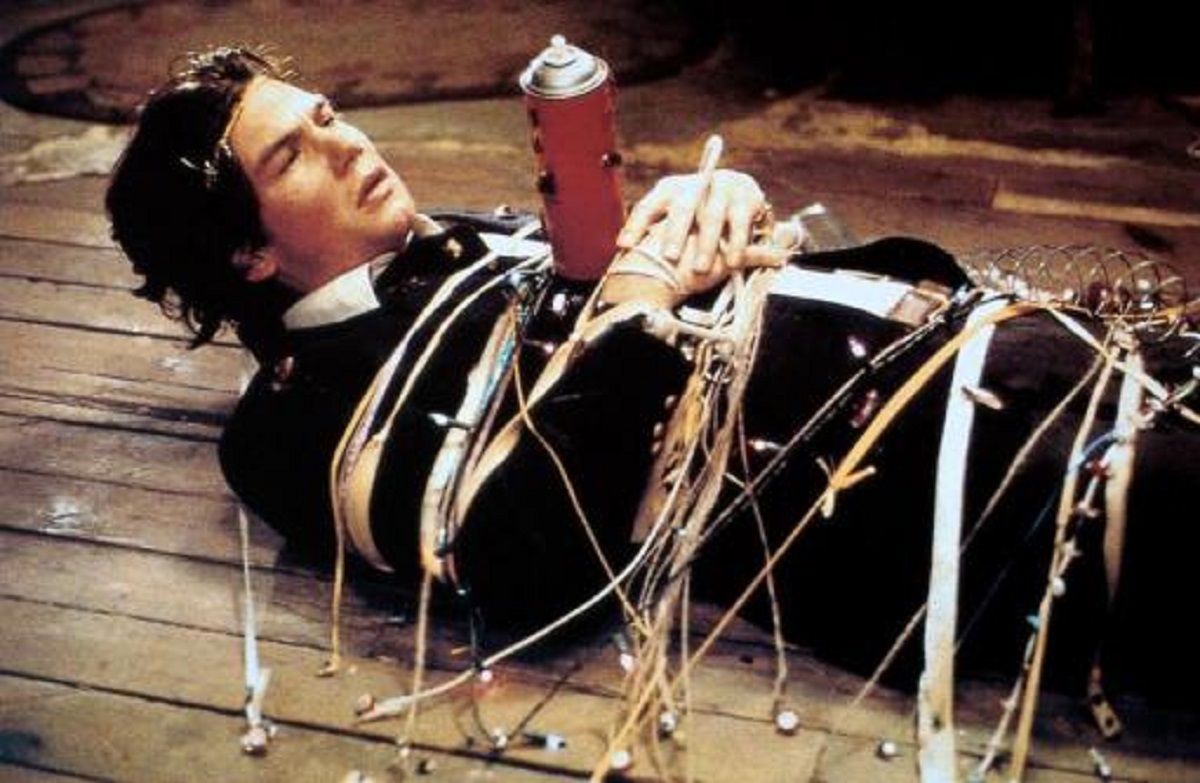 Yet for all that, Joe's Apartment comes across as being slight. Any genuinely off-the-wall sense of humour is weighed down by a muck-scouringly scatological emphasis – long-protracted jokes about working for urinal cleansing firms and sequences involving collecting manure and so on – and a loud boisterousness during the roach scenes that tends to substitute for any actual creativity or visual invention.
Director John Payson subsequently went to work on shows like The PJs (1999-2001) but has made no other films.
---
Trailer here
Original short film avalable here:-
---