---
Denmark. 1987.
Crew
Director – Lars von Trier, Screenplay – Lars von Trier & Niels Vørsel, Producer – Claes Kastholm Hansen, Photography (b&w) – Henning Bendtsen, Music – Peter Bach, Special Effects/Production Design – Søren Gan Henriksen. Production Company – Elementfilm.
Cast
Lars von Trier (Lars/Dr Mesmer), Niels Vørsel (Niels), Susanne Ottesen (Susanne), Michael Simpson (Priest/Cabbie), Claes Kastholm Hansen (Claes), Udo Kier (Himself), Svend Hamann (Himself), Gitte Lind (Gitte)
---
Plot
Two screenwriters, Lars and Niels, have the screenplay 'The Cop and the Whore' that they have been working on for two years deleted by a computer error. Neither of them can remember how it goes so they start work on a new screenplay 'Epidemic'. The story follows the young doctor Mesmer as he leaves a walled city where a plague DIN is killing the populace, only for Mesmer to then find that he himself is carrying the plague.
---
Epidemic was the second film from Lars von Trier. von Trier had had some festival acclaim with his debut feature, the futuristic film noir The Element of Crime (1984). Subsequent to that, von Trier had several offers to do other features but his refusal to artistically compromise meant that he had had difficulty finding funding. He and co-writer Niels Vørsel struggled unsuccessfully for several years to mount a production called The Mesmer Project. Epidemic came about when von Trier made a bet with one of the heads of Dansk Filminstituet that he could not make a film for one million kroner (the equivalent of a shoestring budget). Epidemic was the result.
Epidemic ends up a peculiar mirroring of the real world in that it is about two filmmakers – Lars von Trier and Niels Vørsel playing themselves – who set out to make another film when their long-planned project is lost in a computer malfunction. When released, Epidemic was deemed an unwatchable failure by the Danish public. It has been little seen and is difficult to obtain outside of the country. Lars von Trier has perversely called it his best film, although given von Trier's penchant for provocative statements and outright exaggeration, this is a claim that should probably be regarded dubiously.
The one thing that Lars von Trier's films do is polarise people. Epidemic, if it ever becomes better known, may develop a cult, but in truth it is Lars von Trier's worst film. The film is tedious. The 16 mm scenes almost entirely consist of monologues between von Trier and Niels Vørsel about the process of scriptwriting and the project they were working on, a dull sidetrack to Germany to meet Udo Kier (in the first of his collaborations with Lars von Trier, he having remained a regular fixture since), dinner parties, the problem of wine selection with girlfriends and an amusing, albeit rambling, monologue from Niels Vørsel about how he contacted a newspaper in Atlantic City for penpals and ended up with dozens of young schoolgirl correspondents to whom he had to pretend to be sixteen years old.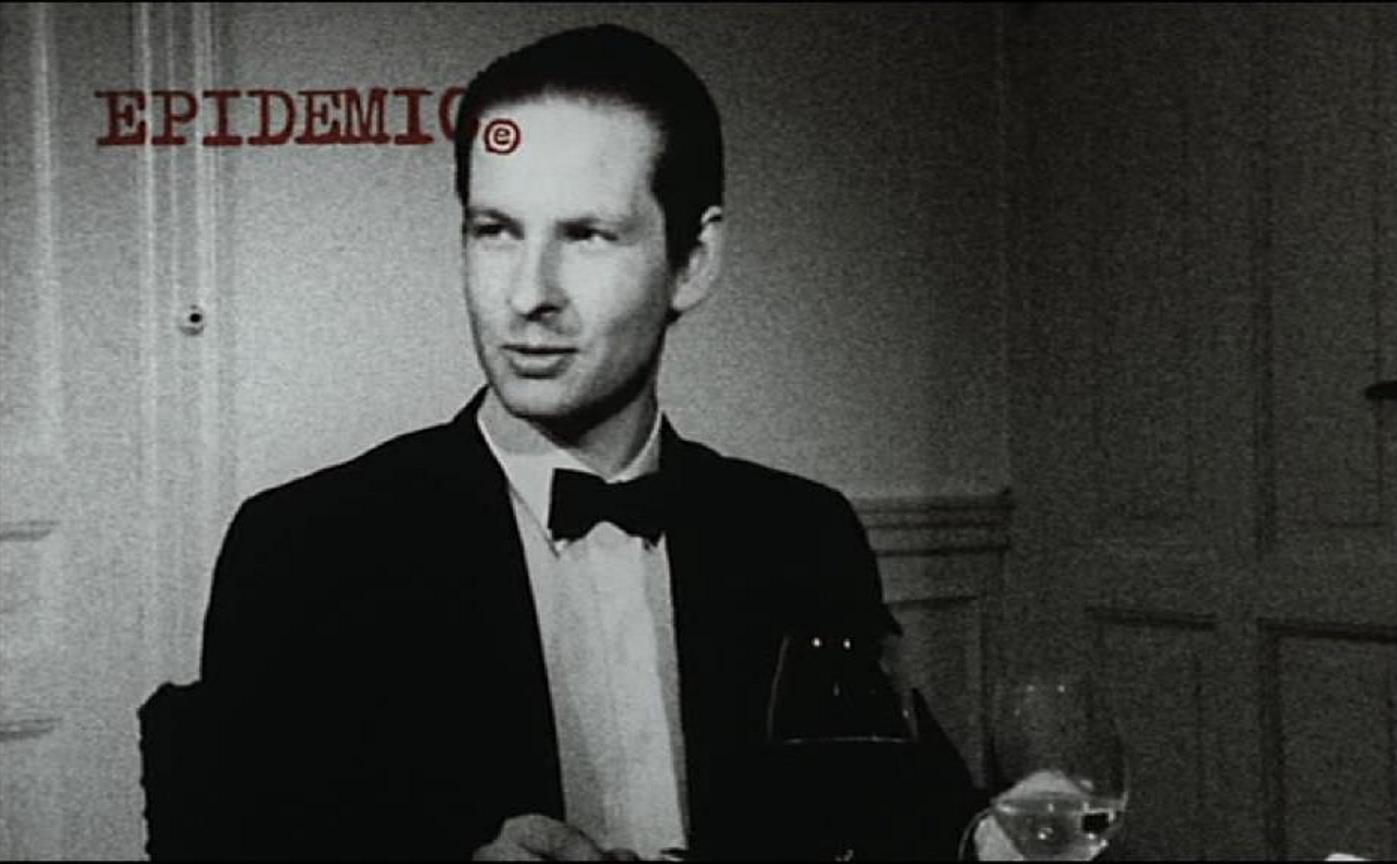 What we see of the film-within-a-film does not amount to much. There is not enough story to engage us, only brief glimpses. The 35 mm scenes do hit in with some of the lyricism of The Element of Crime, although Epidemic is too low-budgeted to give much scope. (In an interesting piece of trivia, the hospital scenes take place in the Rigshospitalet in Copenhagen where Lars von Trier also shot The Kingdom (1994) tv mini-series a few years later).
The ending, wherein the film does venture into the fantastique, is the one moment of interest. Here, in what seems like a joke on the very people (Dansk Filminstituet) that funded the film, instead of handing in a completed script, Lars von Trier and Niels Vørsel deliver a twelve-page synopsis and then bring in a hypnotist to regress a girl to plague-times and perform the rest. It is a "the joke's all on you" gag on both the producers and the audience.
Hypnotism had always had a great fascination for Lars von Trier and has featured in many of his films (The Element of Crime, Zentropa, The Kingdom and presumably The Mesmer Project). Purportedly the actress who plays the girl who is hypnotised was under hypnosis in real-life. The film ends on a luridly Grand Guignol horror climax where the girl bursts out in the infection she was supposedly regressed to, infecting the filmmakers and, it is implied, carrying it out to the rest of the world.
Lars von Trier's other films of genre interest as a director are:– the decayed future film noir The Element of Crime (1984); the black comedy tv mini-series' The Kingdom (1994) and The Kingdom II (1997) set in a haunted hospital, which were both released cinematically in the West; Breaking the Waves (1996), an emotionally devastating film about a woman's masochistic sacrifices for her husband, which eventually arrives at a fantastic climax; Antichrist (2009), a film about grief that spirals into madness and extreme torture scenes; the End of the World film Melancholia (2011); the serial killer film The House That Jack Built (2018); and The Kingdom: Exodus (2022). von Trier was also Executive Producer on Kingdom Hospital (2004), the Stephen King scripted, US tv series remake of The Kingdom. von Trier's production company Zentropa Entertainments have also produced and co-produced numerous other films. Of genre note are the Icelandic Magical Realist quest Cold Fever (1995); the Swedish fairytale The Glassblower's Children (1998); the surreal Old Dark House thriller Impotence/Powerlessness (1998); Possessed (1999), a plague film about The Devil returning at the Millennium; Kat (2001), a horror film about a possessed cat; the Dogme film Truly Human (2001) about an imaginary man becoming real; The Last Great Wilderness (2002), a Gothic thriller set in the Scottish Highlands; Thomas Vinterberg's near-future romance It's All About Love (2003); In Your Hands (2004), a Dogme film about miracle healing prison inmate; the remarkable puppet fantasy Strings (2004); the ghost story Behind External Calm (2005); the dark reality-twisting Norweigian film Next Door (2005); Princess (2006), an animated film about an anti-porn vigilante; the fantasy Island of Lost Souls (2006); the horror film Echo (2007); the satirical dystopia How to Get Rid of Others (2007); Through a Glass Darkly (2008) about a girl receiving a mysterious visitation; the Dystopian film Metropia (2009); and Perfect Sense (2011) set in a world where people are losing their sensory perception.
---
---