---
USA. 1987.
Crew
Director – David Irving, Screenplay – David Irving, Anna Mathias & Len Talan, Based on the Fairy Tale by Hans Christian Andersen, Producers – Yoram Globus & Menahem Golan, Photography – David Gurfinkel, Music – David Krivoshi, Songs – Stephen Lawrence, Lyrics – Michael Korie, Special Effects Supervisor – Terry Glass, Production Design – Marek Dobrowolski. Production Company – Cannon Films.
Cast
Sid Caesar (Emperor), Robert Morse (Henry Spencer), Jason Carter (Nicholas Spencer), Lysette Anthony (Princess Gilda), Clive Revill (Prime Minister), Julian Joy Chagrin (Duke), Danny Segev (Prince Nino)
---
Plot
The emperor is obsessed with his wardrobe. He decrees that a resplendent new robe be designed for him for the upcoming wedding of his daughter Princess Gilda. Two wily rogues, uncle and nephew Henry and Nicholas Spencer, trick their way to win the commission, promising the emperor a splendid new gown spun from jewellery, which will be invisible to people who are not worthy of their station. Instead, the two take the jewels and merely pretend to weave a gown out of thin air. The emperor and his advisors all pretend to be able to see the gown so as not to expose their unworthiness.
---
The Emperor's New Clothes is one of a series of tatty fairytales produced by Menahem Golan and Yoram Globus under their Cannon Movie-Tales byline. All of the Cannon Movie-Tales were made on cheap budgets and churned out for children without much care having been put into them. (See below for the other entries). The Emperor's New Clothes was directed by Amy Irving's brother David, who also made Cannon's adaptations of Rumpelstiltskin (1987) and Sleeping Beauty (1988).
The original Hans Christian Andersen tale of The Emperor's New Clothes, published in 1837, is a parable of pomposity that mocks the ways that people agree with other's attitudes so as not to seem stupid. Unlike other fairytales, the effect of The Emperor's New Clothes is satiric and all of its effect lies in its eventual sardonic twist. Unfortunately, the film tends to approach the story just like all the other Cannon fairytales. Rather than satire, it is played as knockabout comedy and the sting of the tale vanishes amid the juvenile slapstick.
To the story has also been added songs with ministers singing about the colours of the robes and a romantic subplot between Jason Carter and Lysette Anthony. The film reaches a particularly unbelievable ending where the king, after receiving a thorough humiliation at the hands of the two rogues, waves his blessing as Jason Carter and Lysette Anthony elope together.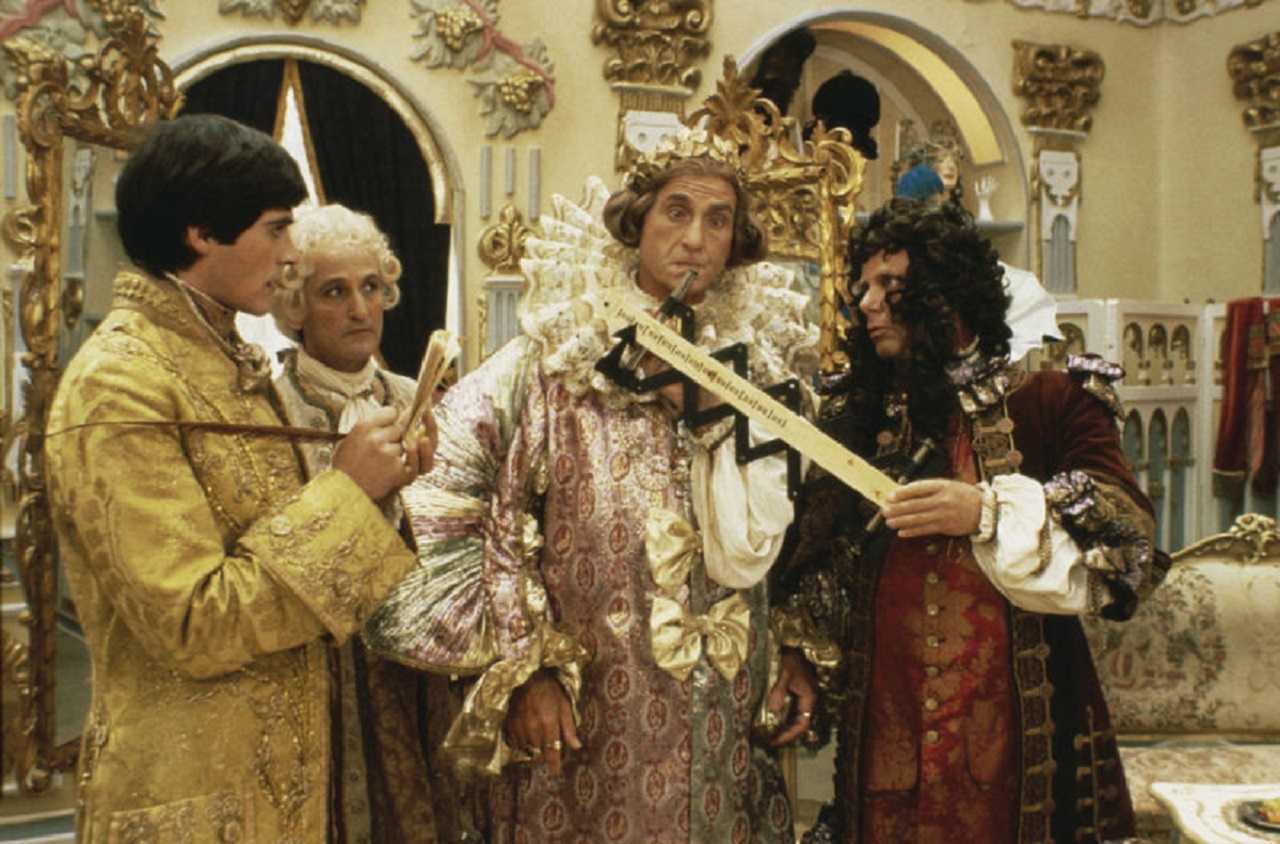 The acting is typically buffoonish with perpetual guilty offender Clive Revill, who appeared in a number of these Cannon films, rearing his face once again. Cast as the emperor, Sid Caesar walks through, looking more like a Mob-affiliated Vegas casino owner than a fairytale emperor.
What makes The Emperor's New Clothes entertaining is its extravagantly over-the-top costume designs. Clive Revill appears in a giant purple dual-headed periwig, extravagant silk frock coats with two-foot long collars and baldrics with lace frontings; a woman wears a book that has been converted into a headdress; and there is considerable entertainment to looking at the trimmings on the emperor's robes, which come with giant epaulettes of metal grapes or with toy soldiers mounted on them. This is the only one of Golan and Globus's Movie Tales that has no fantastic elements.
The other Cannon Movie-Tales are:– Beauty and the Beast (1987), The Frog Prince (1987), Hansel and Gretel (1987), Puss in Boots (1987), Red Riding Hood (1987), Rumpelstiltskin (1987), Snow White (1987) and Sleeping Beauty (1988).
---
Trailer here
---