(Forbrydelsens Element)
---
Denmark. 1984.
Crew
Director – Lars von Trier, Screenplay – Lars von Trier & Niels Vørsel, Producer – Per Holst, Photography – Tom Elling, Music – Bo Holton, Special Effects/Production Design – Peter Holmark. Production Company – Per Holst Filmproduction.
Cast
Michael Elphick (Inspector Fisher), Me Me Lai (Kim), Esmond Knight (Osborne), Herold Wells (Chief Kramer), Ahmed El Shenawi (Therapist)
---
Plot
After many years' absence, police inspector Fisher returns from Cairo to a decayed half-drowned near future Europe to take up a case at the request of his chief. The case involves a killer who is leaving the bodies of victims in a pattern across the countryside. In order to trace the killer, Fisher must use the methods of his old mentor Osborne who, in his book 'The Element of Crime', advocated a unique method of detection wherein the detective psychologically identifies with the killer.
---
The Element of Crime was the first full-length film from Lars von Trier. These days, Lars von Trier is, in this author's opinion, the finest currently working director in the world with works like the visually enthralling Zentropa (1991), the haunted hospital saga The Kingdom (1994) and The Kingdom II (1997), and extraordinary, emotionally shattering works like Breaking the Waves (1986), Dancer in the Dark (2000) and Dogville (2003).
The Element of Crime is set in a futuristic Europe. (One where Europe is merely referred to as though it were a single country, which after the establishment of the European Parliament can be considered unerringly accurate prophecy). It is a future where cities lie in flooded ruins and von Trier suggests a perpetual sense of decay. There are some striking images here – Michael Elphick wandering through a flooded office searching for files in drowned cabinets and then the gorgeously decadent image of him floating through the office on a makeshift raft tossing the read pages of the report into the water.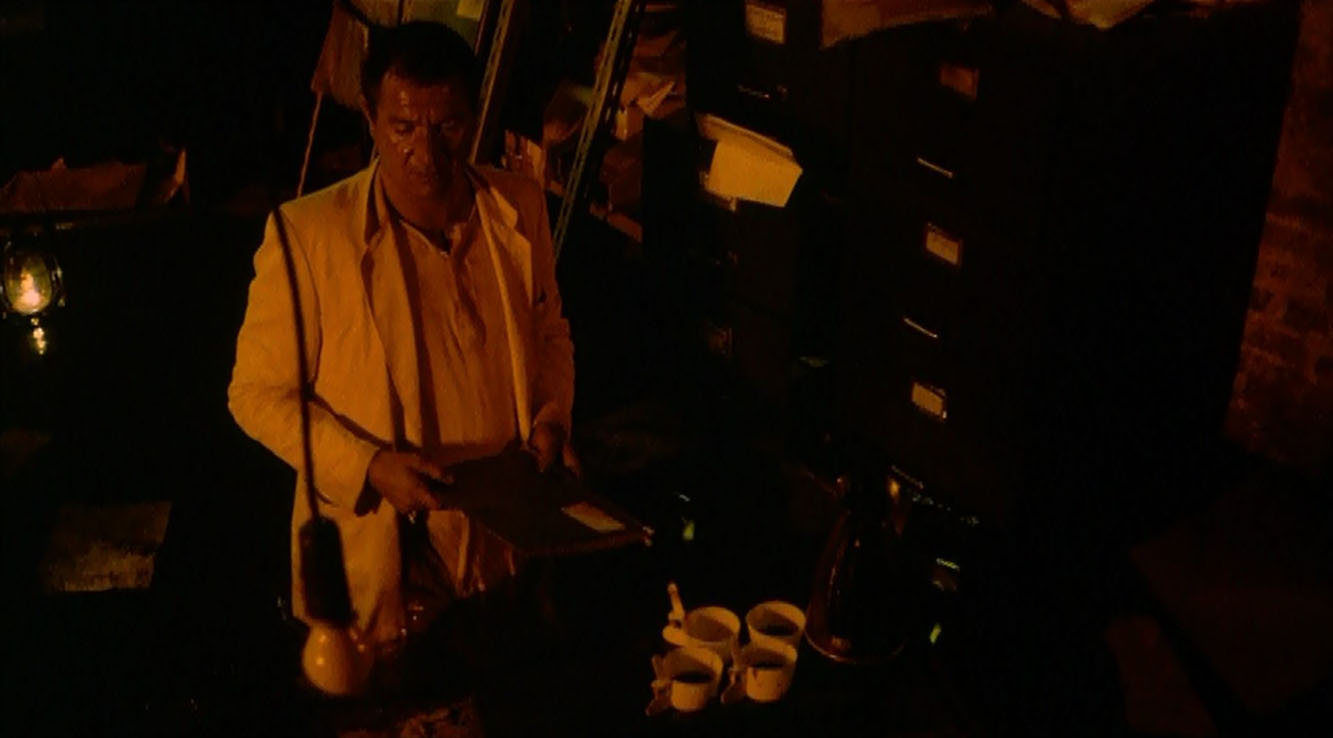 von Trier conducts the unique visual experiment of shooting the entire film in a baleful, mustard yellow light. You think for a long time that maybe von Trier is using yellow tinted stock or filters but then suddenly, infrequently he throws in something blue – a black-and-white tv screen, a neon light – with striking effect and you realise that the entire film has been deliberately lit that way.
von Trier is operating on a much lower budget than his later films and his visual schemes are not as elaborate. Nevertheless, there are still some moments that give indication of the extravagances von Trier would ascend to with Zentropa – like a flashback narration of a chase where momentarily we see windscreen wipers and an explosion superimposed over the teller's face. (Like Zentropa, The Element of Crime also begins with someone being placed under hypnosis).
On the other hand, The Element of Crime is also incredibly dull. There is a long drawn-out plot where Lars von Trier seems almost determined to make as little happen as possible. Nothing interesting happens, let alone anything approaching suspense. The actual Element of Crime methodology about entering a suspect's frame of mind sounds intriguing but what this involves is never particularly clear in actuality. Moreover, the fascination with forensic psychology that came a few years later with The Silence of the Lambs (1991) makes The Element of Crime seem like a rudimentary stab in the same direction that instead goes nowhere. Some of the dialogue is incredibly pretentious: "I'm going to fuck you back to The Stone Age" or "Why do you keep torturing yourself?" "I believe in joy," and in regard to sex "I'll get God in there as fast as I can," "And He'll only stay until I get up."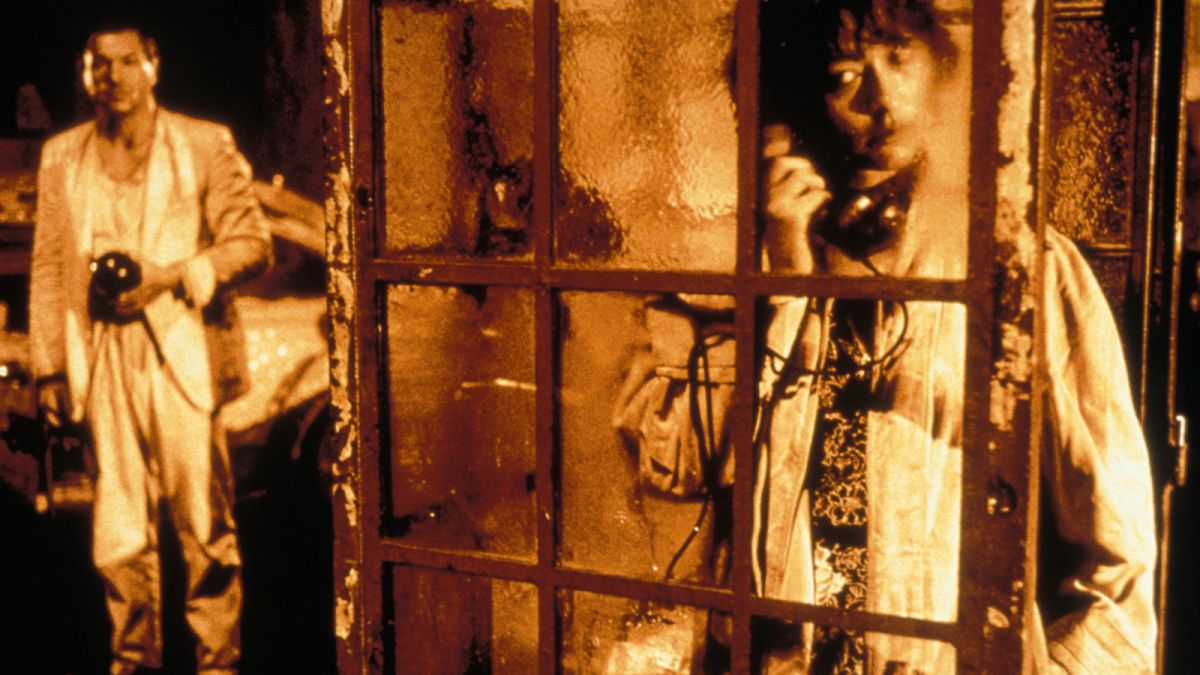 The Element of Crime played some international film festivals when it came out and even received a technical award at Cannes but received a very mixed response. It is impossible to guess back then that Lars von Trier would emerge as one of the finest directors in the world today.
Lars von Trier's other films of genre interest as a director are:– Epidemic (1987), a peculiar meta-fiction about filmmakers making a film about a plague and hypnotism; the black comedy tv mini-series' The Kingdom (1994) and The Kingdom II (1997) set in a haunted hospital, which were both released cinematically in the West; Breaking the Waves (1996), an emotionally devastating film about a woman's masochistic sacrifices for her husband, which eventually arrives at a fantastic climax; Antichrist (2009), a film about grief that spirals into madness and extreme torture scenes; the End of the World film Melancholia (2011); and the serial killer film The House That Jack Built (2018). von Trier was also Executive Producer on Kingdom Hospital (2004), the Stephen King scripted, US tv series remake of The Kingdom. von Trier's production company Zentropa Entertainments have also produced and co-produced numerous other films. Of genre note are the Icelandic Magical Realist quest Cold Fever (1995); the Swedish fairytale The Glassblower's Children (1998); the surreal Old Dark House thriller Impotence/Powerlessness (1998); Possessed (1999), a plague film about The Devil returning at the Millennium; Kat (2001), a horror film about a possessed cat; the Dogme film Truly Human (2001) about an imaginary man becoming real; The Last Great Wilderness (2002), a Gothic thriller set in the Scottish Highlands; Thomas Vinterberg's near-future romance It's All About Love (2003); In Your Hands (2004), a Dogme film about miracle healing prison inmate; the remarkable puppet fantasy Strings (2004); the ghost story Behind External Calm (2005); the dark reality-twisting Norweigian film Next Door (2005); Princess (2006), an animated film about an anti-porn vigilante; the fantasy Island of Lost Souls (2006); the horror film Echo (2007); the satirical dystopia How to Get Rid of Others (2007); Through a Glass Darkly (2008) about a girl receiving a mysterious visitation; the Dystopian film Metropia (2009); and Perfect Sense (2011) set in a world where people are losing their sensory perception.
---
---