(Riget II)
---
Crew
Directors – Morten Arnfred & Lars von Trier, Teleplay – Lars von Trier, Tumas Gislason & Niels Vørsel, Photography – Erik Kress, Music – Joachim Holbeck, Special Effects – Lars Holding Andersen & Arnette Rolfshoj, Makeup Effects – Kim & Lis Olsson, Production Design – Jette Lehmann & Mans Cmr. Lindholm. Production Company – DH TV/Danish Broadcasting Corporation/Zentropa Entertainments.
Cast
Ernst Hugo Järegård (Dr Stig Helmer), Holger Juul Hansen (Dr Einar Moesgaard), Kirsten Rolffes (Sigrid Drusse), Soren Pilmark (Kroshoj), Peter Mygind (Mogge Moesgaard), Birgitte Raaberg (Judith), Ghita Norby (Rigmor), Udo Kier (Little Brother/Dr Aage Krueger), Jens Okking (Bulder Drusse), Erik Wedersoe (Ole), Ole Boisen (Christian), Louise Fribo (Sanne), Baard Owe (Professor Bondo), Vita Jensen & Morten Rotne-Leffers (Dishwashers), Henning Jensen (Bob), Birthe Neumann (Mrs Svendsen)
---
Plot
At The Kingdom hospital in Copenhagen, Stig Helmer returns from Haiti with a potion with which he intends to turn his rival Kroshoj into a zombie. However, his plan goes astray and Stig must find and revive Kroshoj's corpse before he is arrested for murder. Meanwhile, Judith, having been impregnated by the ghost of Dr Aage Krueger, has given birth to a freak baby that has an adult's head, a giant elongated body and a soul that is half-human, half-Devil. The baby is now wanted by Aage Krueger who is in reality Satan.
---
The four-part Danish tv mini-series The Kingdom (1994) was given a cinematic release in arthouse theatres in English-speaking countries where it was split into two two and-a-half hour parts. There the name of co-director Lars von Trier, then riding high on the success of Cannes hit Zentropa/Europa (1991), was sufficient to carry it to audiences.
The result was a delightfully eccentric piece of black comedy that suggested a head-on collision between Twin Peaks (1990-1) and ER (1996-2009). The series however was left unfinished, ending on a cliffhanger with the birth of the ghost-impregnated baby and a 'to be continued' credit. True to their word, Lars von Trier, co-director Morten Arnfred and the entire cast return here three years later to continue the saga, which once again aired as a four-part mini-series in Denmark and was released elsewhere as a theatrical two-parter.
However, The Kingdom II, although not unenjoyable, is a relative disappointment over its predecessor. There is a certain ricketiness to the story. It comes with the distinct sense that Lars von Trier and Morten Arnfred are not so much continuing a story that is waiting to be completed than they are making the saga up as they go along.
Many aspects of the original have undergone noticeable changes. The character of Dr Aage Krueger (played by von Trier regular Udo Kier) goes from the shadowy figure of a doctor who killed a young girl in the first mini-series to now become The Devil himself; the ghost ambulance from the first mini-series is now unconvincingly passed off as being a group of med students conducting daredevil bets. Most noticeably, the pivotal character of Mary, the ghost of the little girl that haunted the hospital in the first mini-series, is almost entirely dropped from the sequel bar a token dream appearance.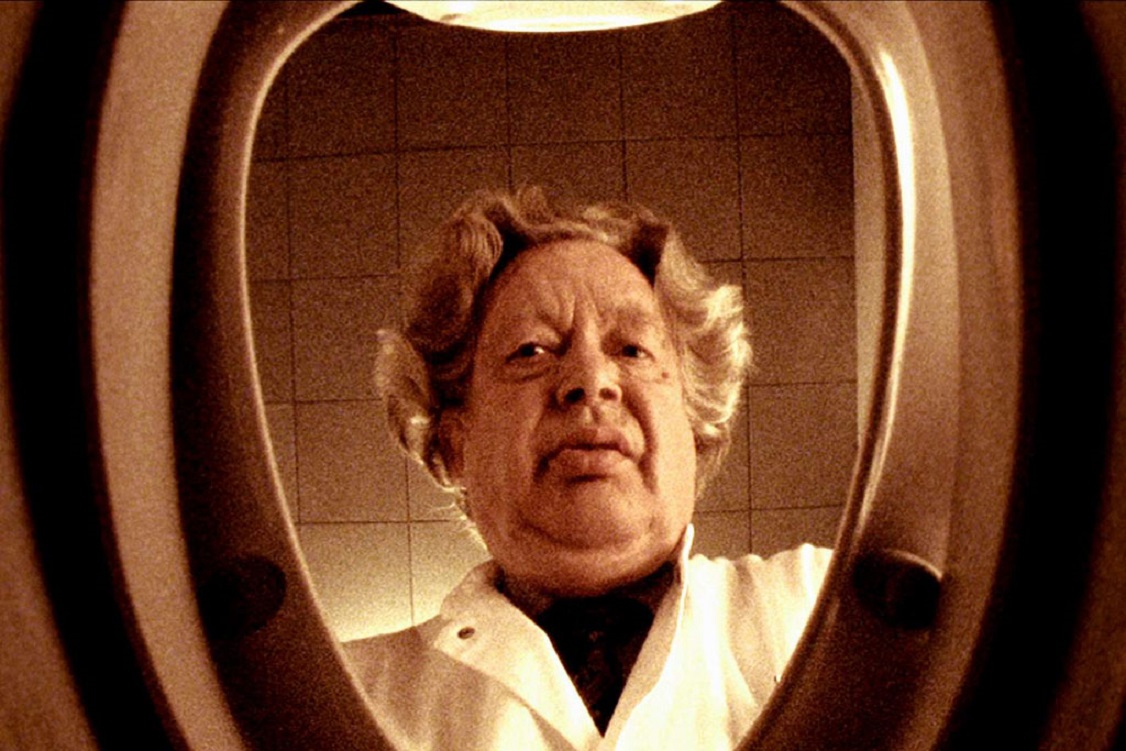 Furthermore, the tone of the second series has changed somewhat – with the sidelining of the ghostly Mary and the sequel's principal concentration on the more mundane fates of the various lead characters, the sequel loses much of the eerie sense of otherworldliness that hovered over the first series. Although there is some substitute in the bizarre scenes with Udo Kier playing a baby that has an adult head and a twelve-foot tall elongated body, wailing to his mother and the two cooing over the future they might lead together.
The Kingdom II feels at times overly long but it is largely carried by its sense of black comedy. The chief joy here once again is Ernst Hugo Jaregard's hilarious performance as the conniving, disgruntled Swedish surgeon. There are some highly amusing scenes in his ongoing battles to avoid bailiffs or in his plans to zombify his rival that keep going wrong. Birthe Neumann has an extremely funny part as an overly efficient secretary who, after the decision that costs must be kept down by buying low denomination stamps, pops up to ask whereabouts on a letter entirely covered by stamps she is meant to place the address.
Although the most hysterical sequence in the entire film is the character of a Jamaican faith healer who wanders in to heal a concussed Kirsten Rolffes and removes a large clump of bloody tissue from the back of her head and eats it, noting "It's the next best substitute since they took the Vitamin C out of Danish beer."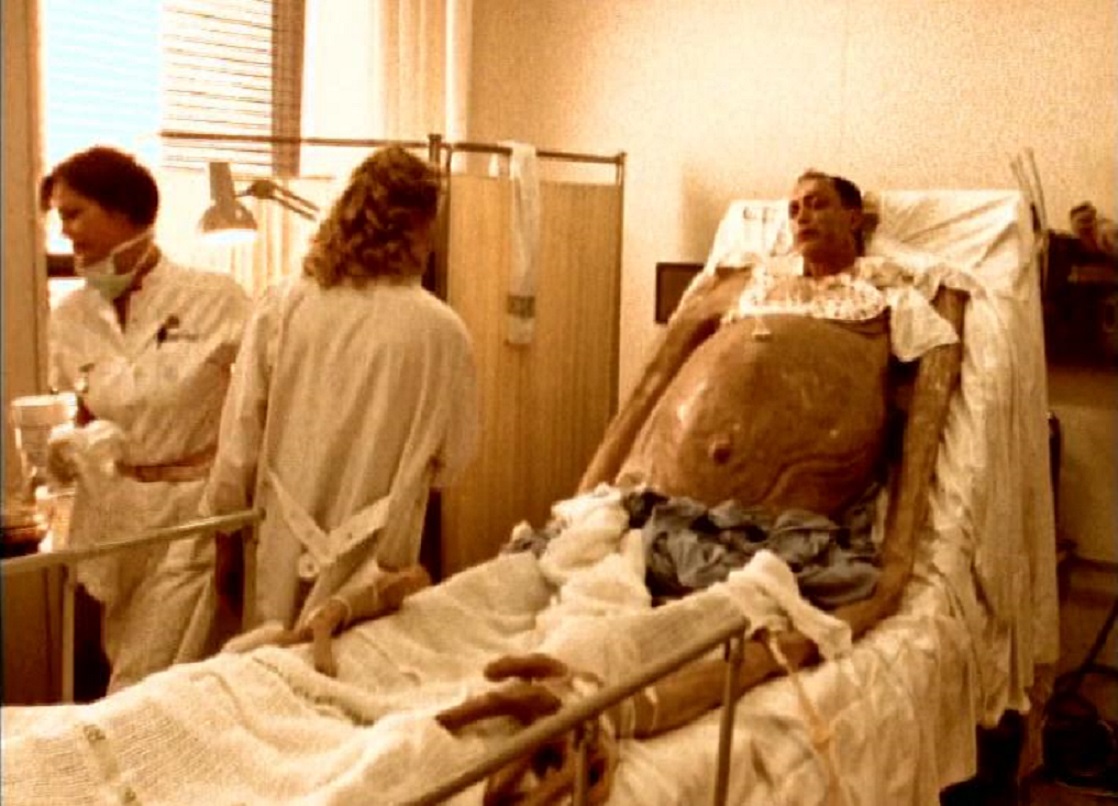 The biggest downside to The Kingdom II is the end credit 'to be continued' and the realisation that one has sat through another five hours with no end in sight and that this means another three years and another five hours to wait for the saga to be wrapped up … if that. However, with the deaths of both Ernst Hugo Järegård and Kirsten Roelffs subsequent to this, the likelihood of any concluding chapter now seems slim. That said, von Trier did eventually make his return to the Rigshospitalet after 25 years with The Kingdom: Exodus (2022), reuniting many of the remaining original cast.
The Kingdom was brought up and made into an English language tv series with Kingdom Hospital (2004) with a script from no less than Stephen King. However, this only adapted the first mini-series and pretended that the plot elements added on or explained in The Kingdom II had never occurred.
Lars von Trier's other films of genre interest as a director are:– the decayed future film noir The Element of Crime (1984); Epidemic (1987), a peculiar meta-fiction about filmmakers making a film about a plague and hypnotism; Breaking the Waves (1996), an emotionally devastating film about a woman's masochistic sacrifices for her husband, which eventually arrives at a fantastic climax; Antichrist (2009), a film about grief that spirals into madness and extreme torture scenes; the End of the World film Melancholia (2011); and the serial killer film The House That Jack Built (2018). von Trier was also Executive Producer on Kingdom Hospital (2004), the Stephen King scripted, US tv series remake of The Kingdom. von Trier's production company Zentropa Entertainments have also produced and co-produced numerous other films. Of genre note are the Icelandic Magical Realist quest Cold Fever (1995); the Swedish fairytale The Glassblower's Children (1998); the surreal Old Dark House thriller Impotence/Powerlessness (1998); Possessed (1999), a plague film about The Devil returning at the Millennium; Kat (2001), a horror film about a possessed cat; the Dogme film Truly Human (2001) about an imaginary man becoming real; The Last Great Wilderness (2002), a Gothic thriller set in the Scottish Highlands; Thomas Vinterberg's near-future romance It's All About Love (2003); In Your Hands (2004), a Dogme film about miracle healing prison inmate; the remarkable puppet fantasy Strings (2004); the ghost story Behind External Calm (2005); the dark reality-twisting Norweigian film Next Door (2005); Princess (2006), an animated film about an anti-porn vigilante; the fantasy Island of Lost Souls (2006); the horror film Echo (2007); the satirical dystopia How to Get Rid of Others (2007); Through a Glass Darkly (2008) about a girl receiving a mysterious visitation; the Dystopian film Metropia (2009); and Perfect Sense (2011) set in a world where people are losing their sensory perception.
---
---