---
Crew
Director – Simon Fellows, Screenplay – Jayson Rothwell, Producers – Albert Martinez Martin & Mark Williams, Photography – Christopher Ross, Music – Christian Henson & Joe Henson, Visual Effects Supervisor – Jonathan Hills, Visual Effects – Stranger (Supervisor – Paddy Eason & David Wahlberg), Special Effects Supervisor – Jason Troughton, Production Design – Lisa Marie Hall. Production Company – Mark Williams Films, LLC/Future Films (MIW) Limited/2b Pictures/Sherezade Film Development Company/Screen East Content Investment Fund.
Cast
Maggie Grace (Alice Dodgson), Danny Dyer (Whitey), Nathaniel Parker (Harry Hunt), Matt King (Gonzo), Bronagh Gallagher (Hattie), Steve Haze (Midge), Pam Ferris (Doochey), Gary Beadle (Felix Chester), Garrick Hagon (Louis Dodgson), Anthony Higgins (Rex), Christian Patterson (Dean & Dom), Amanda Boxer (Bag Lady), Paul Kaye (Caterpillar), Dave Lynn (Jack/Jacqui), Fiona O'Shaughnessy (Hooker)
---
Plot
Alice is fleeing from pursuers when she runs out into the street and is hit by a taxi. Finding that she cannot remember who she is, the driver Whitey takes her with him. He is searching for a birthday present for the local crime kingpin Harry Hunt. He drops Alice off at a bus stop only to then hear on the news that she is the daughter of billionaire Louis Dodgson who is offering a two million dollar reward for her return. Meanwhile, Alice has taken some pills in an effort to jog her memory and has been dragged away by an assortment of strange characters on a journey through the underworld.
---
Alice's Adventures in Wonderland (1865) and its sequel Through the Looking Glass, and What Alice Found There (1872) are key works of fantasy. The characters and Lewis Carroll's nonsensical rhymes have become embedded in popular culture. There have been an enormous number of filmed Alice in Wonderland adaptations (see below). A number of these have made efforts to modernise the story with the likes of Woody Allen's Alice (1990), Alice's Misadventures in Wonderland (2004); Alice (2009) with Alice entering into a dark science-fictional wonderland; Alice in Murderland (2010), an Alice in Wonderland-themed slasher film; Alyce (2011), another modernised urban translation; and The Other Side of the Mirror/Alice: The Darker Side of the Mirror (2016), a dark retelling.
Malice in Wonderland was shot in various locations along the east coast of England. It was a production mostly made up of local crew and actors with the imported name of Maggie Grace, who was then hot on the basis of tv's Lost (2004-10), and some moderately well-known British actors like Danny Dyer, Pam Ferris, Paul Kaye and Anthony Higgins in assorted roles.
The idea behind Malice in Wonderland is to translate aspects of Lewis Carroll amongst the colourful denizens of a British urban environment and criminal underworld. This results in some amusing interpolations. The White Rabbit that Alice follows down the rabbit hole into Wonderland in the book becomes Danny Dyer's taxi driver Whitey who runs Maggie Grace's Alice down. Wizened dwarf actor Steve Haze is supposed to be the Dormouse. Alice sits at a bar and drinks alongside a man with a large walrus moustache who we take to be The Walrus. Christian Patterson plays two dim-witted nightclub bouncers who are the equivalent of Tweedledum and Tweedledee. Alice doesn't take any potions to make her big or small but does digest an assortment of pills she picks up in a phone booth in an effort to help her regain her memory.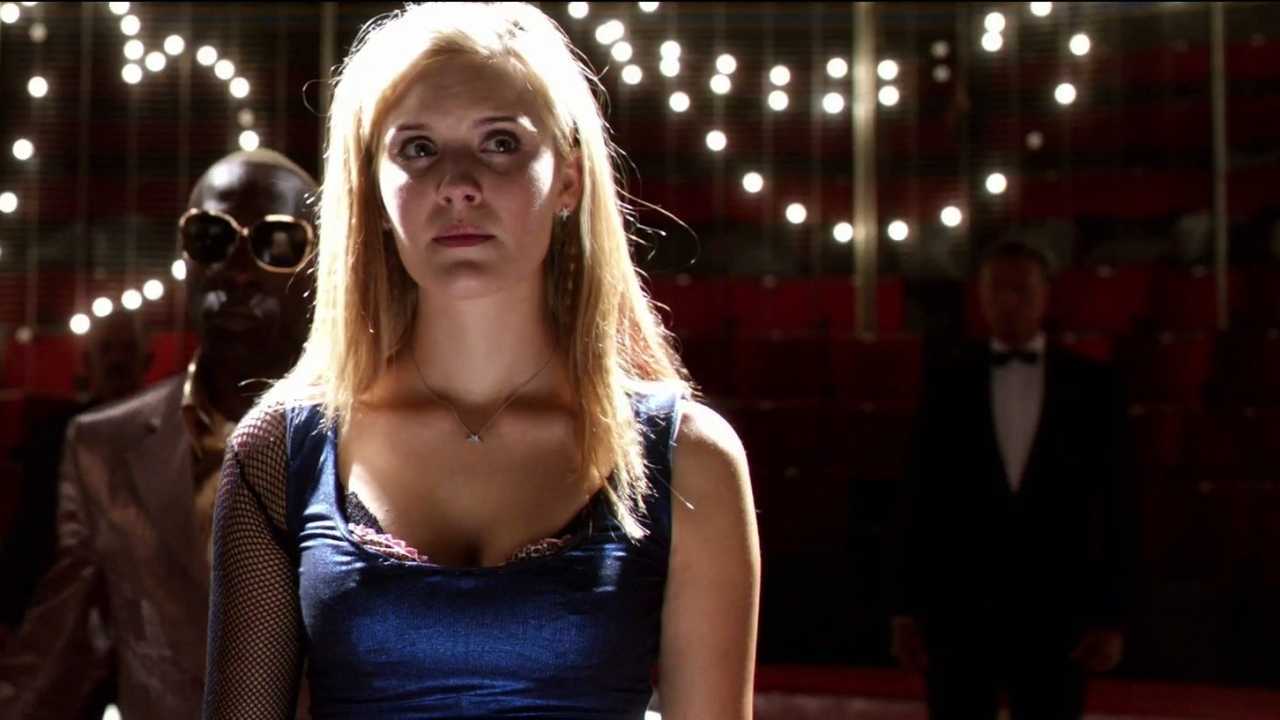 Some of the interpolations are undeniably bizarre – like Paul Kaye with an outrageously fake Jamaican accent driving a vehicle around in a cloud of marijuana smoke who is meant to be The Caterpillar. Gary Beadle turns up as a radio dj called Felix Chester – in other words, the Cheshire Cat – and gives Maggie Grace advice from video billboards. In one of the more entertaining scenes, we get a female Mad Hatter (Bronagh Gallagher) who holds her tea party in a greasy spoon diner and then inducts Alice into her world of truck stop prostitution whereupon Alice drives off with a truck of prostitutes, giving Hattie cause to complain later that Alice "stole her tarts." The Red Queen is the male crime kingpin whose birthday it is where he decides to place Alice on trial – later we see that his sexual preference is towards other men and he is at one point accused of being "an old queen."
The film makes vivid use of multi-colour lighting schemes to turn the city streets into Wonderland, even if there is not much in the film that can be called outright fantasy. The film does reach a strange kind of time warp ending where Maggie Grace is able to rewind events back to when she was fleeing at the start and then takes Danny Dyer with her on a journey to discover her parentage. Director Simon Fellows rushes through everything at a giddy, slightly frenetic pace. But in the end it is a film that is more entertaining in conception – ie. in seeing the ways it reinterprets each of the Wonderland characters – than it is a particularly great or absorbing film.
Malice in Wonderland comes from British director Simon Fellows who had previously made the Satanic impregnation film Blessed (2004) and the action films 7 Seconds (2005), Second in Command (2006) and Until Death (2007). Subsequent to this, Fellows made the documentary God the Father (2014) and the thriller Steel Country (2018).
The other screen adaptations of Alice in Wonderland are:- Alice in Wonderland (1903), a silent British short; Alice's Adventures in Wonderland (1910), a silent American short; Alice in Wonderland (1915); Alice Through the Looking Glass (1928); Alice in Wonderland (1931), the first sound version; Paramount's Alice in Wonderland (1933) with an all-star cast of the day including W.C. Fields, Cary Grant and Gary Cooper; the partly stop-motion animated French Alice in Wonderland (1949); the classic Disney animated version Alice in Wonderland (1951); the NBC tv version Alice in Wonderland (1955); the modernised Hanna-Barbera animated tv special Alice in Wonderland, or What's a Nice Kid Like You Doing in a Place Like This? (1966); the NBC tv production Alice Through the Looking Glass (1966); the all-star British film Alice's Adventures in Wonderland (1972) featuring Michael Crawford, Ralph Richardson, Peter Sellers, Spike Milligan and Dudley Moore; the BBC tv production Alice Through the Looking Glass (1974); the Italian tv mini-series In the World of Alice (1974); a 1976 Argentinean film version; a pornographic version Alice in Wonderland (1976); a Spanish film version Alice in Spanish Wonderland (1979); the Belgian film Alice (1982), which features equivalents of the Wonderland characters in the modern world; a US tv production Alice in Wonderland (1982); a US tv version Alice at the Palace (1982) with Meryl Streep as Alice; a BBC musical version A Dream of Alice (1982) with Jenny Agutter as Alice; a British tv series Alice in Wonderland (1985); Irwin Allen's all-star tv mini-series Alice in Wonderland (1985) featuring Roddy McDowall, Telly Savalas and Shelley Winters; a BBC tv series Alice in Wonderland (1986); the animated Alice Through the Looking Glass (1987); having been combined with the Care Bears in the animated The Care Bears Adventure in Wonderland (1987); Jan Svankmajer's bizarrely brilliant Claymation animated Alice (1988); the US tv series Alice in Wonderland (1991); the British tv version Alice Through the Looking Glass (1998) with Kate Beckinsale as Alice and an all-star cast; the Hallmark tv version Alice in Wonderland (1999) with Tina Majorino as Alice and an all-star cast; Tim Burton's big budget Alice in Wonderland (2010) and its sequel Alice Through the Looking Glass (2016); and the modernised tv series Once Upon a Time in Wonderland (2013-4). Also of note is Dennis Potter's tv play Alice (1965), which explores Lewis Carroll's relationship with Alice Liddell, the young girl who became the model for Alice, and the later film Dreamchild (1985) in which the real-life Alice reminisces back on her memories of Lewis Carroll and the writing of the story.
---
Trailer here
---