---
Crew
Director – Bruce McDonald, Screenplay – Don McKellar, Story – Bruce McDonald, Don McKellar & Allan Magee, Producers – Bruce McDonald & Colin Brunton, Photography – Miroslav Baszak. Production Company – Shadow Stars.
Cast
Don McKellar (Pokey Jones), Valerie Buhagiar (Jackie Bangs), Earl Pastko (Mr Skin), Peter Breck (Mr Watson), Johnny Askwith (Claude), Art Bergmann (Otto), Tracy Wright (Margo), Tav Falco (Motorcycle Gang Leader)
---
Plot
Pokey Jones, a barber in a small Canadian town, finds a dead body in his backyard. Jackie Bangs arrives, claiming the body is that of her brother and persuading Pokey to drive her to New Orleans for the funeral – although in reality, she does not know the person and is only using the body to hide a package of cocaine to smuggle across the US border. As they cross the border, the journey down Highway 61 proves an unfolding history of rock'n'roll for Pokey. The two of them gradually become involved. Pursuing them comes The Devil who has signed a contract for the soul of the deceased and needs the body for completion of the pact.
---
This was the second film from Canadian director Bruce McDonald. McDonald first appeared with Roadkill (1989), to which Highway 61 is a loose sequel of sorts, and went on to the acclaimed Hard Core Logo (1996), The Tracey Fragments (2007), the excellent horror film Pontypool (2008) and other effort such as Hard Core Logo 2 (2010), which does feature some fantastic elements with a singer possessed by the spirit of the former film's star, This Movie is Broken (2010), Trigger (2010), the Halloween horror Hellions (2015) and Dreamland (2019), a crime film that also features a vampire.
The film was also the second screenplay from Canadian actor-writer-director Don McKellar – McKellar had debuted with the script for Roadkill for McDonald and went onto write acclaimed works like Thirty-Two Short Films About Glenn Gould (1993), the cursed violin cross-historical portmanteau The Red Violin (1998) and the excellent science-fiction film Blindness (2008), while making his directing-writing debut with the fine end of the world film Last Night (1998) and going onto the subsequent non-genre Childstar (2004) and The Grand Seduction (2013).
Highway 61 plays like a road movie as directed by Jim Jarmusch. It has a loose, episodic and amiable plot that covers a good deal of ground – within its running time it manages to be a rebel movie of sorts and a romance, a road movie that consciously trips through rock'n'roll mythology, and also an unusual and appealing fantasy. Being a Canadian film, it holds an outsider's view of the USA – it derives a visual poetry from the desolate emptiness of the American backroad countryside.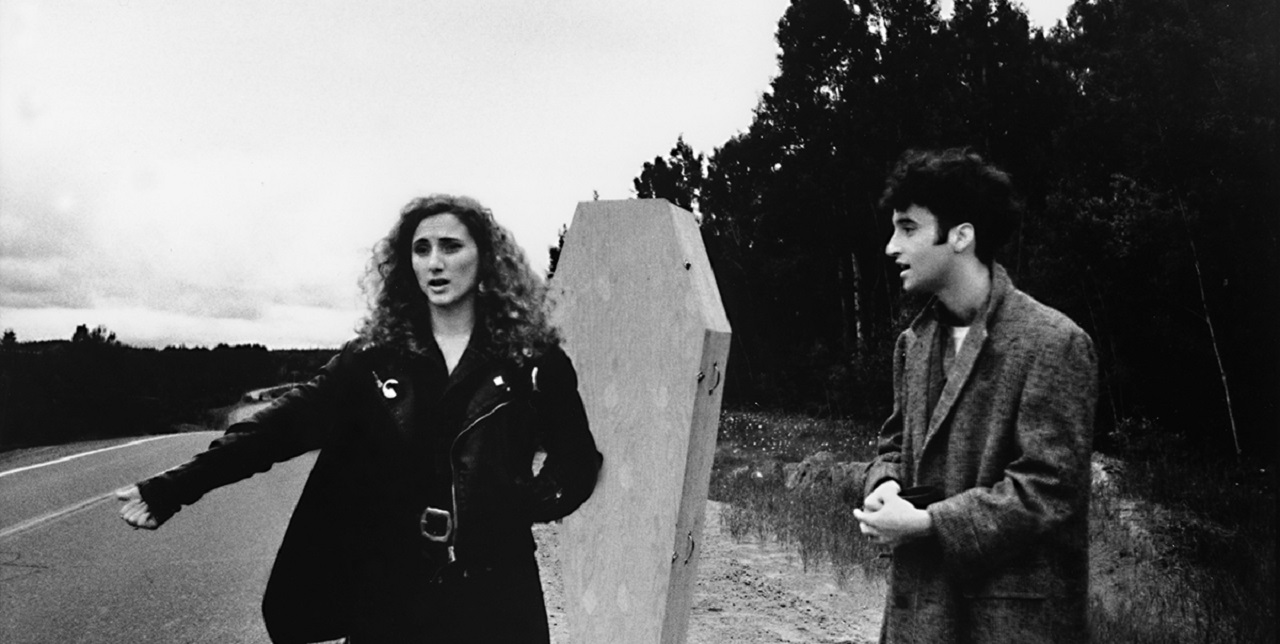 However, what drives the film is its eccentric sense of humour. It comes filled with a series of wonderfully odd cameos and set-pieces – the hunt around a rock star's mansion with handguns to catch chickens for dinner; Don McKellar's attempt to shave the leader of a gay biker gang; Art Bergmann's appearance as a rock star who has taken too many drugs who in the middle of dinner announces, "Let's have sex. You can join in too, Pokey – I'm bisexual"; a cameo from Dead Kennedys' lead singer Jello Biafra in an hilarious caricature of a US border guard; or some of the wonderfully nonchalant exchanges between Don McKellar and Valerie Buhagiar – "Do you want to have sex?" "No thanks, I'm alright."
All the lead characters give appealing performances, particularly Emil Pastko's suave Devil. Indeed, he is the most winning character in the film, especially in some of the scenes like where he wins every single round at a church bingo game; or when he appears to the young Watson girl and tells her future – "You're not going to be a star – you're going to be ugly, fat and you're going to spend your life working as a checkout cashier." The character Emil Pastko plays is treated ambiguously – it is also possible to interpret him as merely being a deluded lunatic.
However, his exploits are not particularly well tied to the plot in terms of motivation – the film does not make it clear, for instance, why he has to reclaim the body. Surely the Devil collects sold souls rather than bodies? What does chill one though is when he gives a list of what many of his victims sold their souls for – cans of beer, tickets to rock concerts – and how pathetic a vision of people's lives it momentarily offers.
---
---