---
Crew
Director/Screenplay – Don McKellar, Producers – Niv Fichman & Daniel Iron, Photography – Douglas Koch, Music – Alexina Louie & Alex Pauk, Digital Visual Effects – Buzz Image Group (Supervisor – Stephane Landry), Special Effects Supervisor – John LaForet, Production Design – John Dondertman. Production Company – Red Violin Productions/Rhombus Media/Odeon Films Inc/Le Sept Arte/Canadian Broadcasting Corporation/Haut et Corte/Canada Television and Cable Production Fund/Telefilm Canada/Equity Investment Program/The Canadian Film or Video Tax Credit.
Cast
Don McKellar (Patrick Wheeler), Sandra Oh (Sandra), Callum Keith Rennie (Craig Zwiller), David Cronenberg (Duncan), Tracey Wright (Donna), Genevieve Bujold (Mrs Carlton), Robin Gammell (Mr Wheeler), Roberta Maxwell (Mrs Wheeler), Sarah Polley (Jennifer Wheeler), Karen Glave (Lily), Trent McCullen (Alex)
---
Plot
The world is due to end at midnight – there are six hours left. Architect Patrick Wheeler tries to escape his family's attempts to celebrate a Christmas dinner, desiring to spend it alone and refusing to treat the day as any different by engaging in meaningless gestures. He is instead drawn in to helping a woman Sandra make her way home so that she can commit suicide with her husband. However, the city around them is collapsing into anarchy. Meanwhile, Patrick's best friend Craig determines to spend his remaining hours fulfilling all of his sexual fantasies, while a gas company executive sets out to call every client and assure them the gas will be kept on until the very end.
---
Last Night was one of several films commissioned from various directors around the world by French production companies Haut et Corte and Le Sept Arte to commemorate the turn of the millennium. Others in the series included the Taiwanese The Hole (1998), the Belgian The Wall (1998), the Brazilian Midnight (1998), the Spanish The First Night of My Life/My First Night (1998), Hal Hartley's The Book of Life (1998) and Life on Earth (1998).
Last Night is the Canadian representative and marks the directorial debut of actor/screenwriter Don McKellar. Best known as an actor, Don McKellar had previously written the delightfully eccentric road movie Highway 61 (1991), as well as the cross-historical The Red Violin (1998) and subsequently the excellent science-fiction film Blindness (2008), another film about the collapse of civilisation. Don McKellar's one other directorial outings to date, outside of several short films, have been the non-genre Childstar (2004) and The Grand Seduction (2013).
It is never specifically mentioned that Last Night is occurring around the millennial turning point. Rather, Don McKellar uses it as the springboard for an intriguingly thoughtful What If? drama – to ask how various people would meet the end if everybody had only six hours left to live. In interviews, McKellar stated that he did not want to make another Deep Impact (1998) or an Armageddon (1998). The difference between these and what he is attempting to achieve is immediately apparent – where Deep Impact and Armageddon are driven by state of the art special effects and feature only cliche-ridden human dramas, Last Night is low-key and driven by characterisation.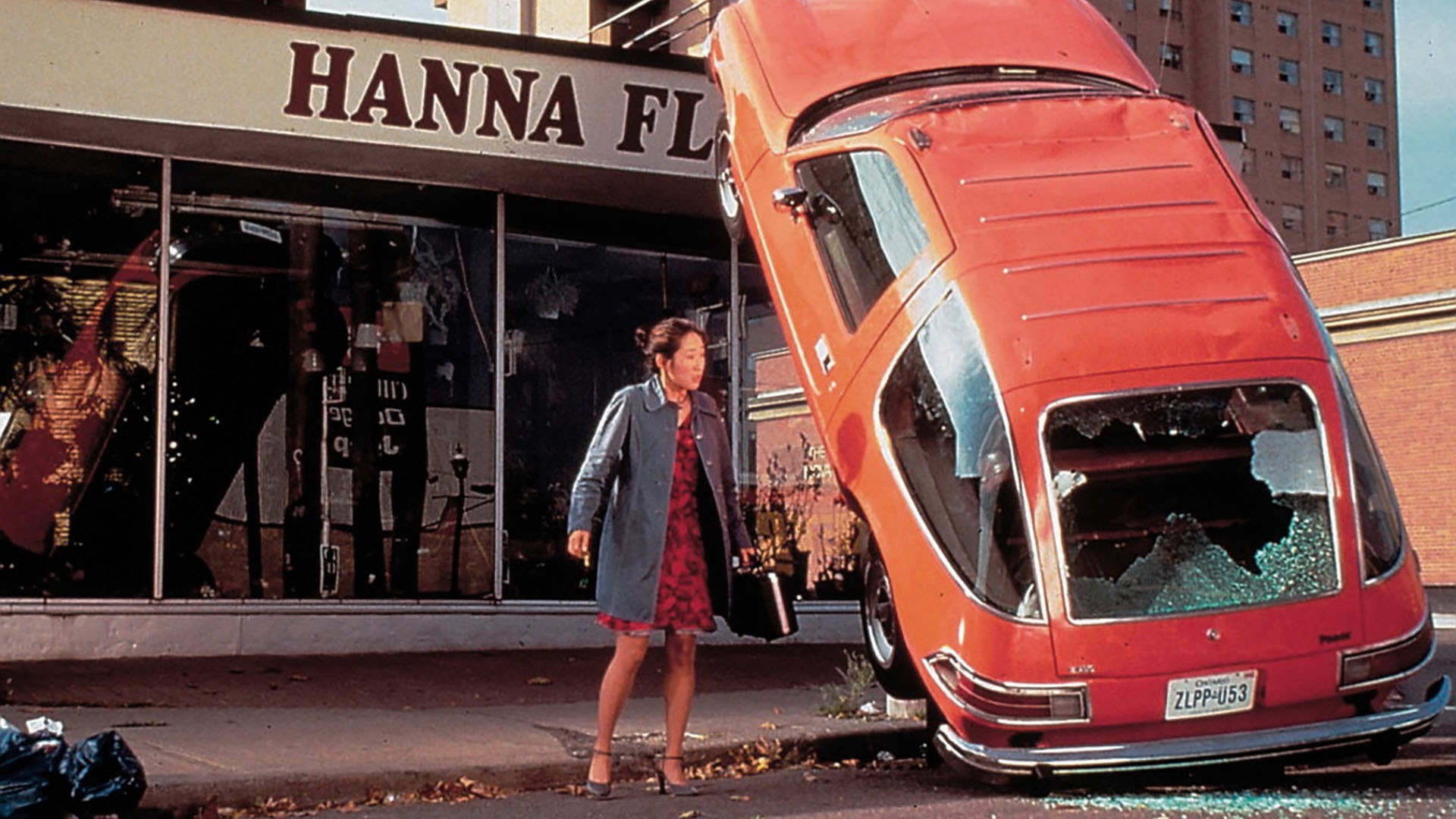 Don McKellar has said his model for his film was The Day the Earth Caught Fire (1961), although the film he comes closest to is the little seen Miracle Mile (1988) and to some extent the The Last Night of the World segment of The Illustrated Man (1969). McKellar is unconcerned with the show-stopping spectacle of disaster movies to such extent that the type of disaster that is about to occur is never specified apart from a vague reference near the end about how there is no night anymore, which suggests something to do with the sun. The only special effects that McKellar offers is the simplest effect of having the screen white out when the disaster comes.
Where Don McKellar eschews special effects, he achieves considerable dramatic effect with small, nevertheless potent background details – the radio station on the soundtrack that spends the hours counting down the Top 500 songs of All Time; the casual suggestion that McKellar makes to Sandra Oh that she just steal a car to drive home and her sudden realisation that civilised nicety does not matter anymore (the subsequent attempt to steal a car amusingly sends up every action movie cliche of trying to jump start a car); the hooker who says that she only wants to experience an orgasm; the people who sit on a tram car waiting even when they know no driver is coming.
McKellar does have a certain awkwardness in handling some of the actors in the early scenes but the film quickly absorbs and builds a strong climax. Unlike Deep Impact et al, none of the characters are cliches, each are written with depth and complexity. Perhaps the nearest that Don McKellar comes to cliche is reserving the humour for the most obvious target – Callum Keith Rennie as the friend who is determined to fulfil all his sexual fantasies – but even that produces an extremely funny scene where Rennie awkwardly propositions McKellar about trying gay sex. Maybe also one would have liked to have seen a little more given over to David Cronenberg's executive character who remains a relative enigma. However, these are minor faults in an otherwise original and intelligent End of the World drama.
(Winner in this site's Top 10 Films of 1998 list).
---
Trailer here
---