---
Czechoslovakia/France/UK. 1994.
Crew
Director/Screenplay – Jan Svankmajer, Dialogue from Faust Plays and Stories by Johann Wolfgang Goethe, Christian Dietrich Grabbe & Christopher Marlowe, Producer – Jaromir Kallista, Photography – Svatopluk Maly, Animation – Bedrich Glaser, Art Direction – Jan Svankmajer & Eva Svankmajerova, Choreography – Daria Vobornikova, Puppet Performers – Josef Podsednik & Jaroslava Zelenkova. Production Company – Athanor/Heart of Europe Prague K/Lumen Films/BBC Bristol/Koninck/Pandora Film.
Cast
Petr Cepek (Faust), Andrew Sachs (English version: All Voices)
---
Plot
Faust, a Czech worker, takes a map being handed out to passers-by in the street and follows it to a back street theatre. Donning a magician's costume, he tears through the stage backdrop to find himself in an alchemist's laboratory. He creates a baby out of clay and brings it to life. He is visited by giant puppets of an angel and the Devil that alternately imprecate him to study theology or the dark arts. He conjures up Mephistopheles, a giant head that takes the form of his own face and he commands to be his servant. He agrees to sell his soul to the Devil puppet and commands it to show him the marvels of the world.
---
Faust was the second feature film from Czech animator Jan Svankmajer. Svankmajer's bizarre Claymation puppet shorts that he had been making since the 1960s made him an underground figure. Svankmajer's previous feature film was Alice (1988), his own take on Lewis Carroll, a work of unparalleled bizarreness that turned Lewis Carroll's Alice in Wonderland (1865) into something akin to Eraserhead (1977).
Faust is an altogether different kettle of fish. It doesn't quite climb up there alongside the sheer outlandish bizarreness of Alice's visions of animated beds and animal skeletons. What Jan Svankmajer has done is to have created a film composited from all of the classic versions of the Faust story, including Johann Goethe and Christopher Marlowe, the two classical voices who shaped the story of Faust between them, as well as the 19th Century German writer Christian Dietrich Grabbe, plus comedia dell'arte-styled puppet theatre versions. Svankmajer regards the film as an empty stage out upon which the classical renditions of Faust emerge as their own bizarre vignettes. There is no dialogue in the film other than speeches that are taken wholesale from Goethe, Marlowe et al – the film could almost be a silent film with narrated accompaniment.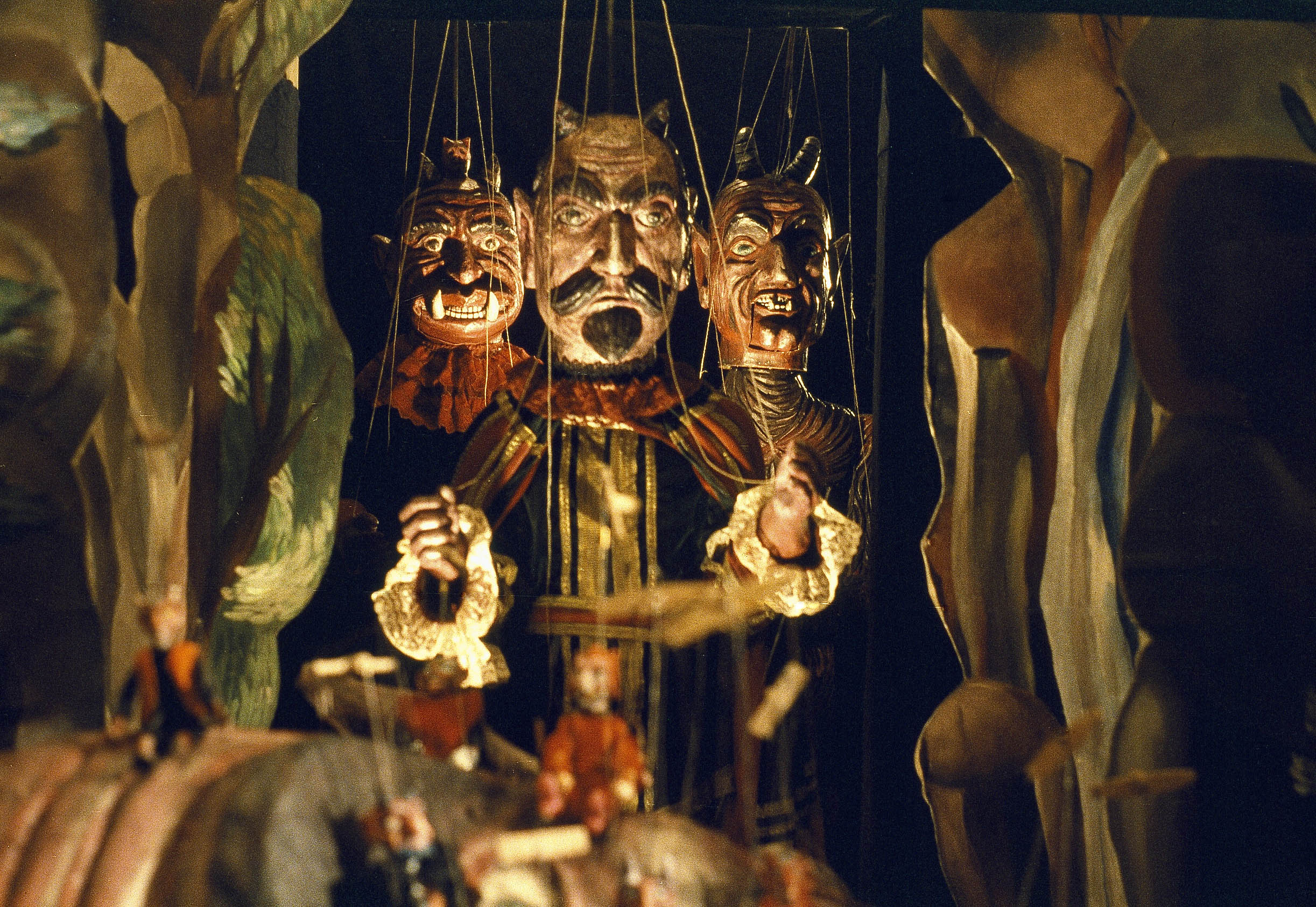 Visually the film is wild. The visitations by angels and demons are hallucinatory stuff – giant stone heads that roll through gardens and down onto poles where they are performed as human-sized puppets replete with visible hands. (We even see a pair of hands rippling a sheet of metal to affect the sounds for a storm at one point).
One marvellous piece of surreal bizarreness is the sequence where Faust agrees to sign the contract for his soul where the quill is repeatedly snatched out of his hand and snapped by invisible plaster angels only for another stone Devil's head rolls in out of which emerge dozens of plaster devils that then set to beating up and stabbing the plaster angels.
There is a very funny sequence with a puppet minion calling up and then banishing a puppet Devil who must rush out onto the street and get in and out of a set of clothes every time his name is called, so much so that he ends up being exhausted. There is also a wonderful live-action sight gag where Faust goes to an outdoor cafe where he is handed a drill and bit and a wineglass and indicated to drill into the table – he does, whereupon a fount of wine gushes forth from the tabletop.
Svankmajer flips back and forth between stage and reality – having Petr Cepek dress up in costume and enter the past, go through stage sets, or pull back to reveal scenes are set on stage. There are even scenes where actors don the puppet costumes and end up conducting elaborate puppet scenarios. However, the constant flips between reality, stage, puppetry and human are so bewildering that the film eventually exhausts somewhat.
Jan Svankmajer's subsequent feature films were Conspirators of Pleasure (1996), a surreal film about sexual fetishism; the hilarious Otesanek/Little Otek (2000) about a mother who decides to treat a log of wood as a baby; Lunacy (2005) about lunatics having taken over an asylum; and Surviving Life (2010), a surreal blend of dream and reality; and Insect (2018).
---
---